Onlypult is a media platform for bloggers, digital agencies, and businesses that allows you to work with SMM conveniently. On it, you will find scheduling posts, analytics, mini-sites — all social networks in one browser tab. You can work on your own or invite your team to work on the current project.
In the first six months of 2023, the Onlypult team released 25+ completely different updates to help you implement your SMM strategy even more effectively.
Onlypult continues to work on comprehensive platform optimization. We fix bugs, update system components, and work on feedback.
Read more about all the news and releases in this article.
Changes in the Publishing section
We refined the look of the section to make scheduling even more convenient.
5 options for displaying posts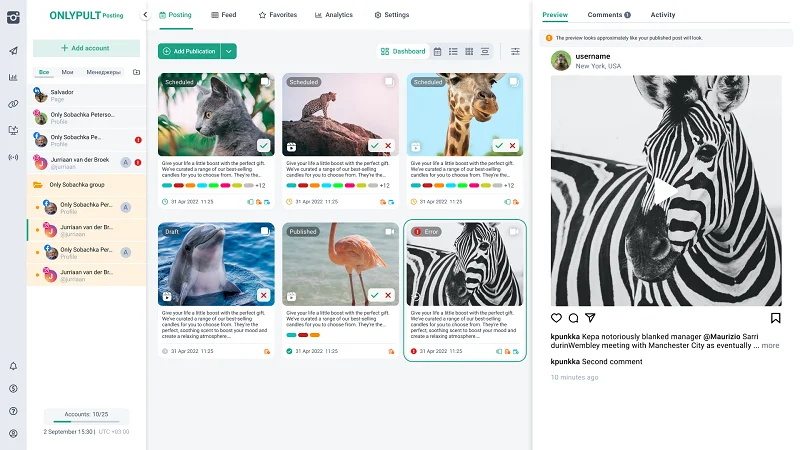 To customize the appearance of the Posted and Scheduled Posts panel, click the Publishing tab on the left-hand menu. It opens an interactive bar for working with posts.
You can set the post view type in the feed in one of the following options:
Dashboard mode is the most convenient way to work in the Onlypult interface. It is customizable and shows all the functionality suitable for teamwork;
Grid mode, where the posts are displayed three in a row;
Calendar mode that provides for scheduling posts.
Coming soon: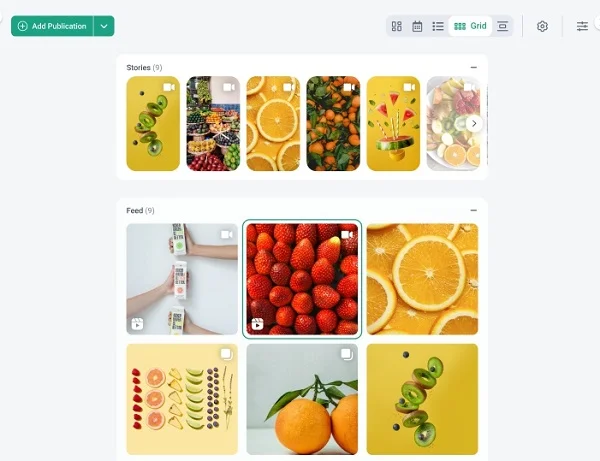 Post previews for all social networks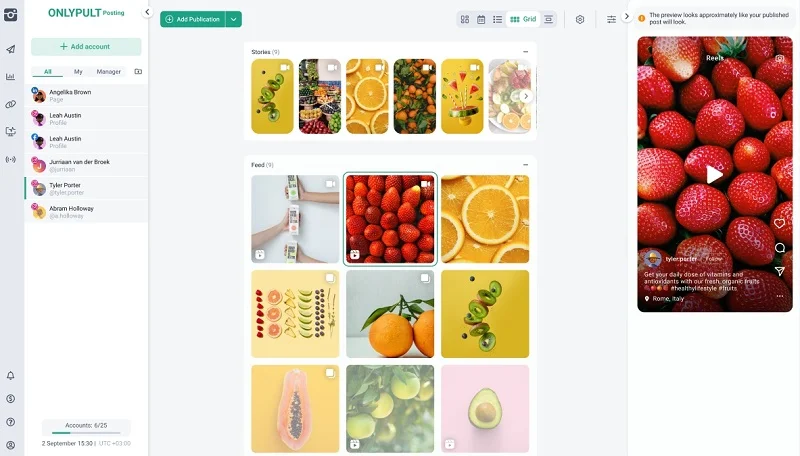 Now you can see how your posts will look regardless of the social network. A preview of a future publication appears in the window on the right side.
Improving filters and post sorting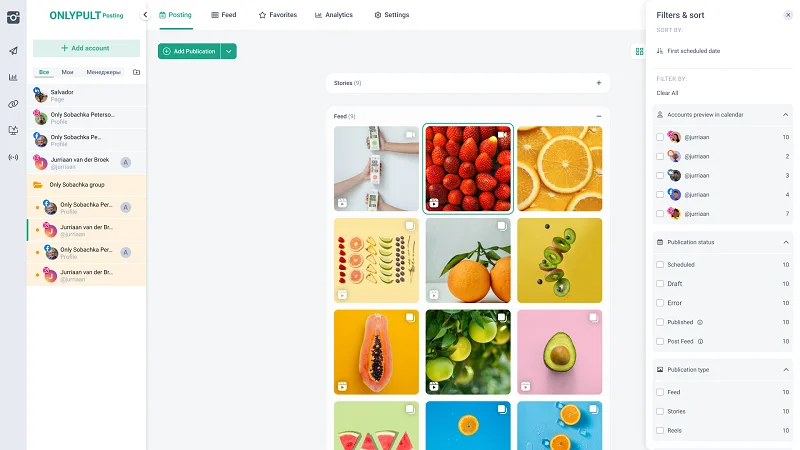 We've added filters and post sorting: by creation date; by status (Drafts, Scheduled); by publication type (posts, stories, reels); you can also add tags for each post type.
You need to click on

to open a workspace to work with filters and sorting.
Refinement of mass actions with posts
One of the Onlypult advantages is that you can upload many posts in a few easy steps.
Regular posting just got easier! Now you can select or move to Drafts or delete a group of posts.
Onlypult is going to improve the simultaneous handling of multiple posts further.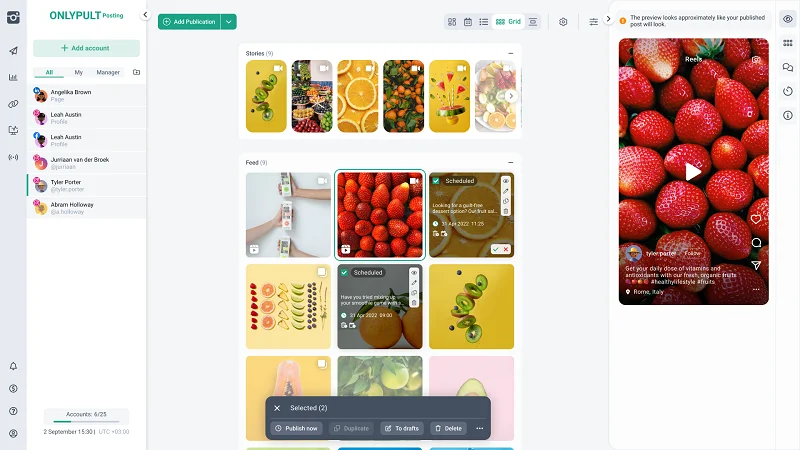 Scheduling posts by grid via drag n drop
This tool allows you to build a visual grid and gives you an idea of what the grid of posts on the social network will look like after publication.
Changes in the Facebook posting
Reels
Short videos attract the attention of new audiences. You can add visual effects and music from your device or original audio tracks to Facebook reel videos.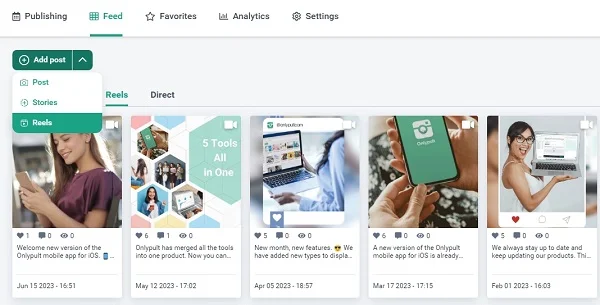 Publishing the first comment
They say that Facebook algorithms reduce post impressions if the published links lead to competing services. Therefore, you can insert links in the first comment under the post.

What updates are available on Instagram Business
One of the core advantages of a business account is detailed statistics. The data helps you track how catchy your content is to subscribers and analyze the effectiveness of your advertising campaigns.
You can see Instagram Business statistics for the profile and separate posts. Convert your account to a business one to work on Onlypult more conveniently.
Posting stories directly
Posting Instagram Stories is now available without notifications through the app.
To upload a clip, click on Add post and then on Stories. A window opens where you can create stories, add descriptions and hashtags.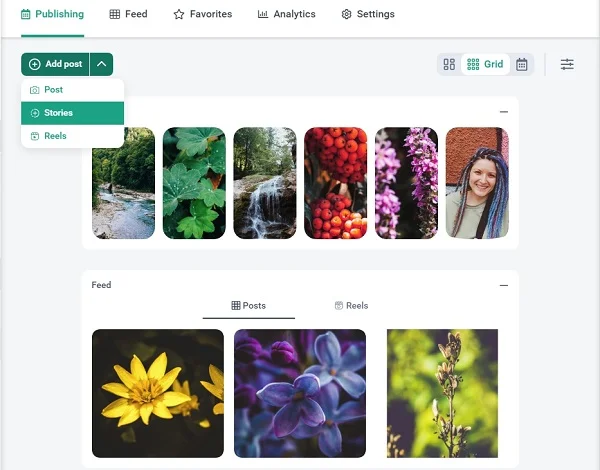 Disabling comments, hidden likes
Bloggers often turn off comments when posting promotional content to avoid too many spam messages.
You can turn off comments if you publish 'hot' issues or controversial topic content.
Another trend is hidden likes under the post. This way, Instagram wants to increase engagement and reach (for official advertising).
To select these settings, press the gear and set the switch to the right.

Video Thumbnails support
To create a Thumbnail for a video, you need to upload it, click the Edit button, then upload and crop a Thumbnail or select a frame from the video.
The Trim icon lights up at the top of the editing window.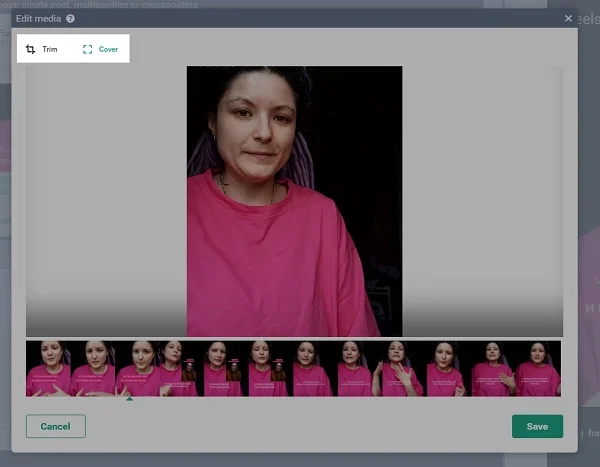 Shopping Tags
Shopping Tags are to tag products in Instagram posts and automatically publish content to the account's store from Onlypult.
You need to set up a store on Instagram to use this functionality. You'll be able to manage your catalog, create collections, customize your store, etc.
You can add up to 5 tags to each image in a post. If it is a carousel, you can specify up to 20 tags — and, as in the case of a single image — up to 5 per image.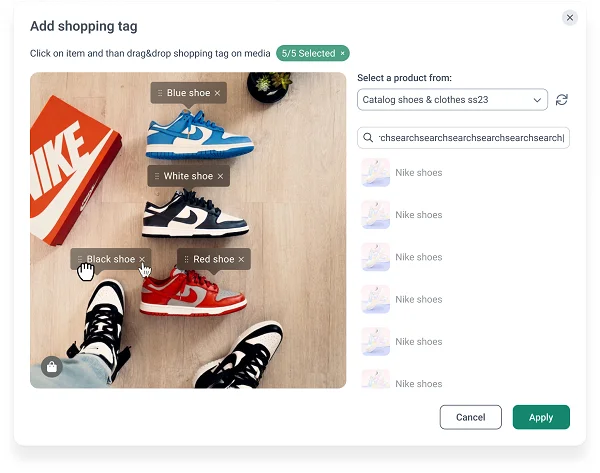 What's new on Telegram, TikTok, VK Stories, and Twitter
We've added the ability to add long Telegram posts to Onlypult. Now, the number of characters without media is 4000. For publications with media (photos, videos, etc.), the character limit is still 1024.
A new API version. The TikTok Content Posting API supports new features, including automatic post creation. The developers of Onlypult updated the service to a new version of the API and switched from the current version to the new one.
You can now schedule VK stories in a group or on a public page. To add a group or page, tap the Add account button and select the desired option. If the page is added already, give additional permission to publish stories.
The company introduced new high-cost plans for third-party apps — in particular, for social network management services. As some bloggers and brands working with the platform note, it's unclear who the new pricing model is aimed at. Many companies are giving up integration with Twitter, but nothing has changed for Onlypult users. The plan will not change — you can still work on Twitter.
What's new in Onlypult Analytics
Onlypult Analytics presents a business solution for analyzing social network actions. It will help increase brand awareness, build loyalty, and improve customer focus.
It's vital to keep track of the statistics for each of your Instagram accounts and see what's popular with a specific target audience right now.
Logo customization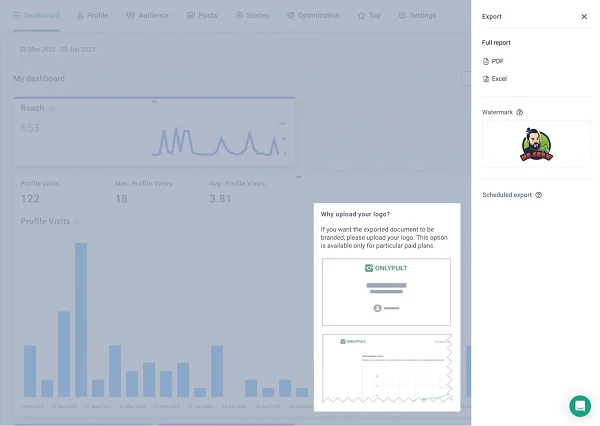 For the convenience of creating reports, Onlypult introduces a new function of branding the exported document.
The logo will be added to the document automatically. It is helpful for marketing agencies and company departments to provide reports to clients and management.
Regular report export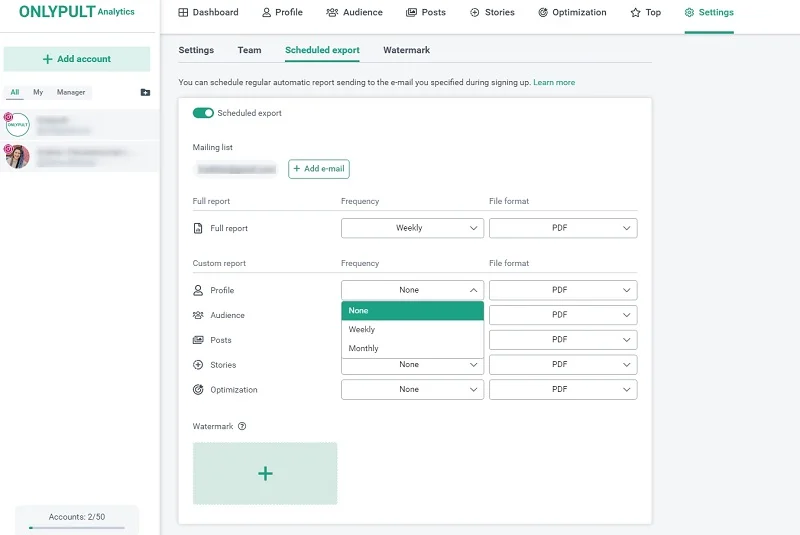 You can receive the report on a schedule to the desired e-mail address.
It is helpful for digital agencies to send information about the work done and statistics on accounts every reporting period.
We disabled the old Analytics and increased the speed of report generation
We have all accounts migrated to the new Analytics now, and all previously uploaded project data are preserved. In addition, you can generate reports faster now.
IOS mobile app
The application with full functionality works only for IOS — the Google Play version is still in development.
Don't miss the following mobile app updates:
New photo stocks appeared: Pixabay, Unsplash, and Giphy. More choices of images and GIFs for your posts. We made a new convenient file download.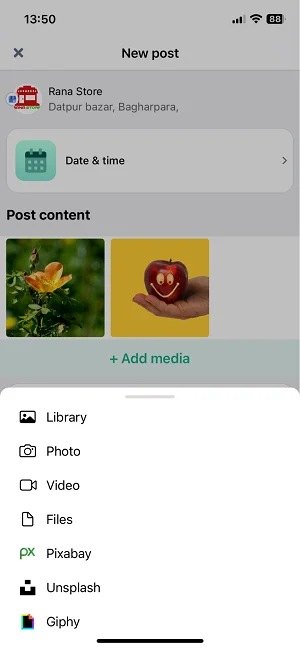 Updated previews in posts for Pinterest, YouTube, and VK. Simplified work with voluminous content.

Finalized Team section design.

You can now use the Link title field to work with LinkedIn.

The Publish now feature is updated. It is available in the Scheduled posts section.

The Plans section is redesigned.