Over the recent years, the platform's unique features and audience have turned LinkedIn into an important marketing tool, especially for the B2B segment. In this article, we'll explain how this social networking platform (initially designed as a recruiting tool) has become a channel for business promotion and how to get new leads on LinkedIn in 2021.
LinkedIn: a digital B2B marketing tool
At first glance, LinkedIn seems to be a traditional social network focused on user professional achievements. According to the statistical data, the platform has 722 million registered users – less than the audience of Instagram (over 1 billion users) or Facebook (2.7 billion).
Based on this data and general information, many marketers opt for Instagram and Facebook as key SMM platforms. The above-mentioned social networks are really advantageous for targeting ads in the B2C segment; however, LinkedIn is more suitable for the B2B segment, providing more effective promotion techniques. It's proven by the statistics – compared to other social networks, LinkedIn ensures higher B2B conversions.
Percentage rating of leads in the B2B segment taken from different social networks: 80% from LinkedIn, 13% from Twitter, and 7% from Facebook respectively.
Initially, LinkedIn was created as a social networking platform to establish professional contacts. Detailed career description in a user profile significantly increases the chances of getting a promising job interview invitation. For 18+ years, LinkedIn has accumulated an enormous audience of adult professionals: 60% of users are aged 25-34, while 17% of users are 35-54 years old. Registered users include not only ordinary employees but also senior managers and CEOs. That is the crucial reason why LinkedIn should be seriously considered for promoting a business.
Promotion tools available on LinkedIn are a real find for marketing specialists. The social network features 200 targeting options allowing you to define a specific business area, its location, company size, and other crucial details. Besides, legal tools let you to get in touch with specialists working for a particular company. This way, marketing professionals have opportunities to advance their companies and attract desired leads. Last but not least, many SMM tools not requiring paid promotion are highly effective on LinkedIn.
As we can see, LinkedIn is the best social network for B2B promotion. Marketers can get more leads by making use of the following platform advantages:
A large audience of professionals interested in products for solving their business tasks;
Effective targeting techniques, including those aimed at the company and the position held;
An opportunity to use SMM techniques to generate organic traffic;
Global audience reach in the English language.
How to create a company profile on LinkedIn
To get leads and convert them into clients on LinkedIn, you have to create a company profile.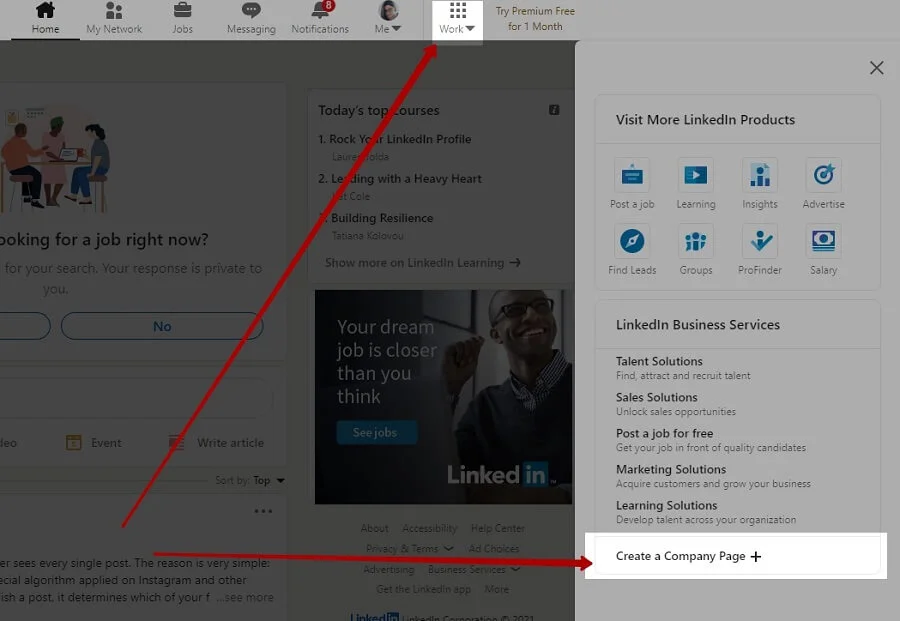 Start by registering a user profile (a company employee). Next, click on "For work" in the upper right corner and choose "Create a company page" in the drop-down menu. Going to a new page, select one of the suggested options:
Small business (up to 200 employees);
Medium or large business;
Brand page;
Educational institution.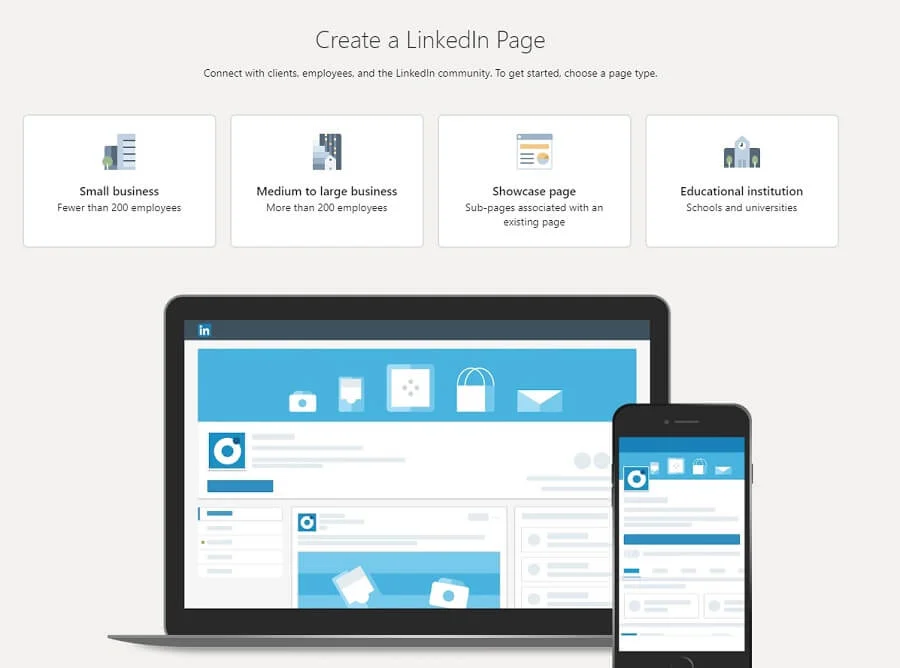 After that, you should fill in the company profile. Pay special attention to the company description. The text block limit is 2.000 characters. It doesn't mean that you must use the entire limit and describe the whole brand history. Instead, highlight the company's key strengths and business area so that the audience can grasp the idea of your competitive advantages or specific product features.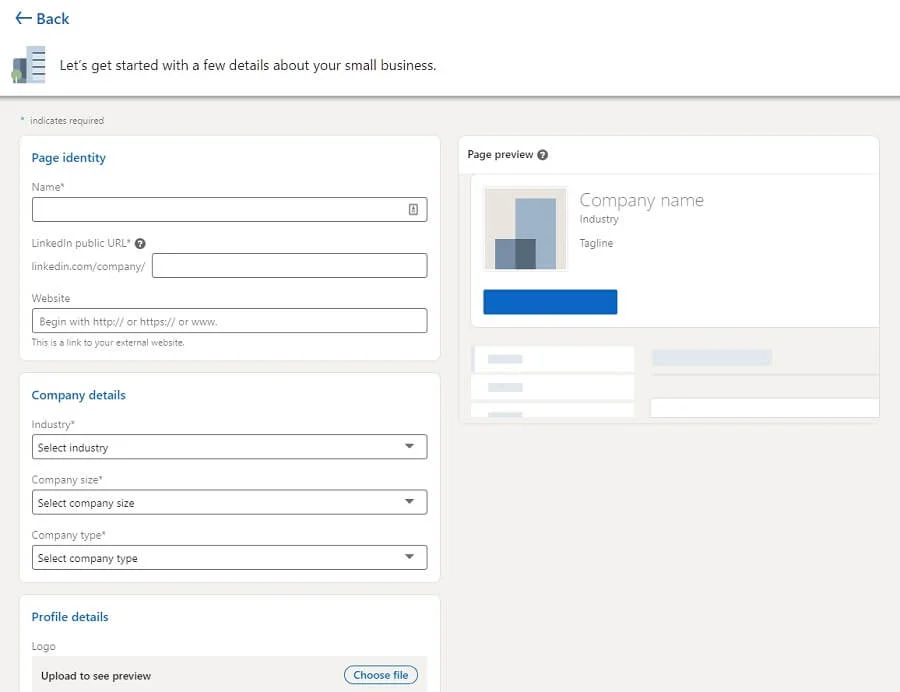 Now let's have a closer look at the promotion tools on LinkedIn. For our convenience, let's group them into two categories: free tools and paid promotion.
Free promotion techniques on LinkedIn
Develop the content strategy
"Free techniques" don't imply paid content promotion. However, content generation itself requires marketing expenses. And since content generation is an ongoing task, you should play smart when planning your time and budget.
By the moment your target audience gets to your company profile, you should already have a developed content marketing strategy. Like in any other social network, a large number of posts are published daily on LinkedIn. For example, more than 100.000 articles alone are published every week. That means that you have to compete for the audience's attention. Otherwise, you won't get organic traffic. Companies with posts published at least once a week enjoy twice more audience engagement.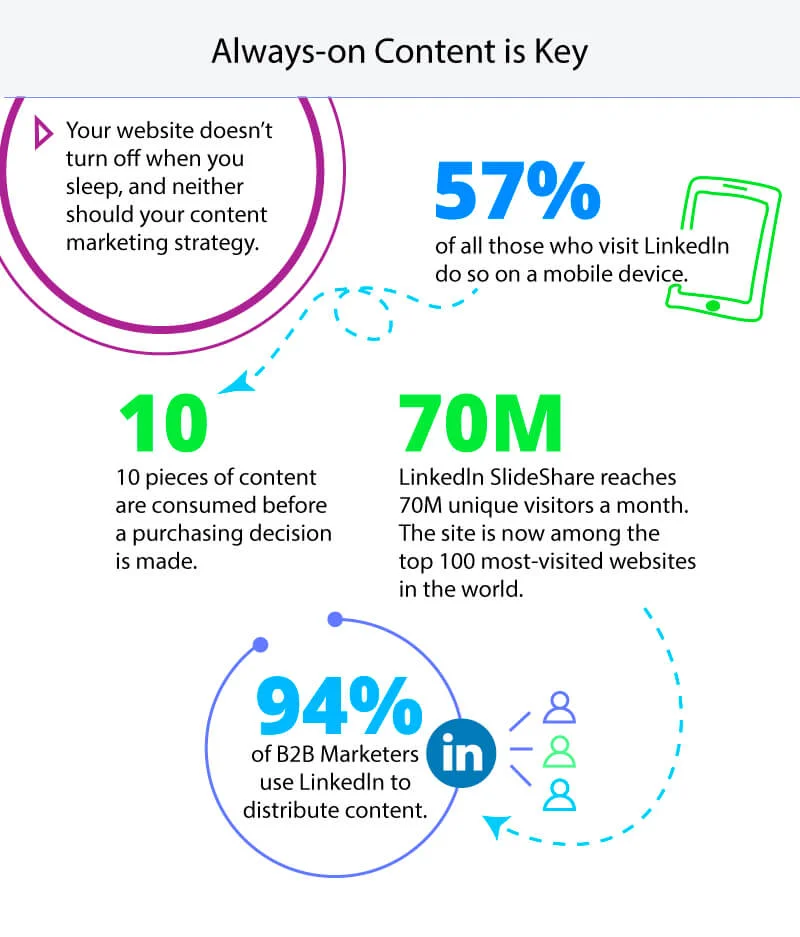 The main advantage of content strategy is getting organic traffic and increasing sales volume. According to the statistics given by LinkedIn, a potential customer interacts with 10 pieces of content (not necessarily in social networks but throughout a digital customer journey) before making a purchase decision.
Create engaging content
It'll be rather difficult to attract an audience by posting only short news. Thus, varied content types should be successfully used on the platform, taking into account their potential.
Articles are much more popular than regular posts; they have "viral" potential. 2.A large, high-quality image added to the publication increases its popularity twice. LinkedIn advises using images with a resolution of 1200x627 pixels.
Videos get reposted 20 times more often than texts.
Compared to regular video posts, LinkedIn Live broadcasts (the service is available since 2019) increase the number of reactions by 7 times, the number of comments by 24 times.
Communicate in groups
Professionals across the globe are eager to share updates in their business field. Some may talk about new opportunities, while others might warn about possible negative experiences. So, in thematic groups dialogs arise among people who have a good understanding of issues and tasks related to a particular business field. If you regularly participate in conversations in such groups and build a positive image of your company, you can win the attention of your target audience free of charge, establishing contacts with a large number of people.
Create your groups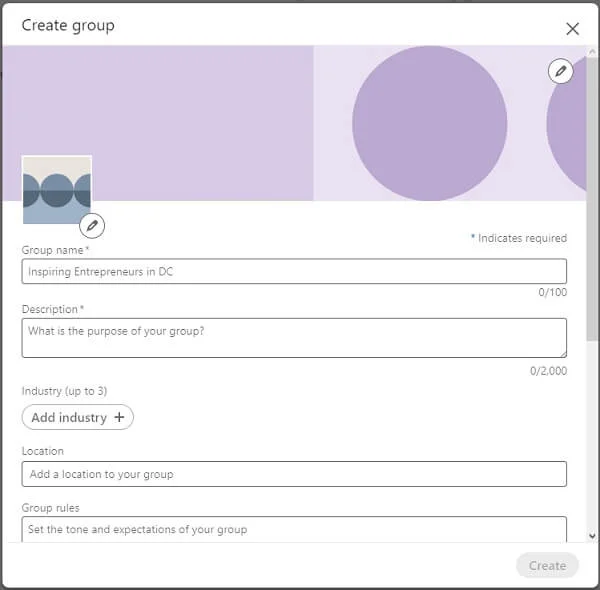 Sure enough, the longer a social network exists, the more thematic groups are created. But you can always analyze the existing communities and think about a new group meeting the demands of your target audience. The group can be open or available only by invitation.
Remember: the crucial task is to create a positive image of your company and build trust-based relations with the community members. Having your group does not provide instant sales but helps build an expert image of your business.
Paid advancement on LinkedIn
Viewing ads on LinkedIn increases the chances of making a purchase decision on average by 33%. Before proceeding to the description of existing techniques, mind that the LinkedIn audience is known to ignore aggressive advertising that forces customers into purchasing. B2B audience is not the one inclined to make emotional or impulsive decisions — that's why you shouldn't expect these people to turn into potential customers after watching a couple of your ads. On the contrary, your ability to get them interested and build trust-based relations will be highly appreciated. Therefore, you should use paid promotion methods keeping in mind that they'll result in slow conversions.
Use retargeting on LinkedIn
Social network retargeting (Matched Audiences) is an effective tool allowing you to share ad posts with users who have already visited your corporate website. Besides, using Matched Audiences option, you can add contacts of potential customers; by doing so, you can reduce the sales department workload and remind a potential client about your business at the same time.
Contact niche specialists
Chats on LinkedIn are possible only after establishing contact with a user. It is one of the guiding principles of this social network: building real relationships and excluding random spam. However, if you choose a paid option called InMail, you can contact specialists from different companies even if you haven't established contact with them.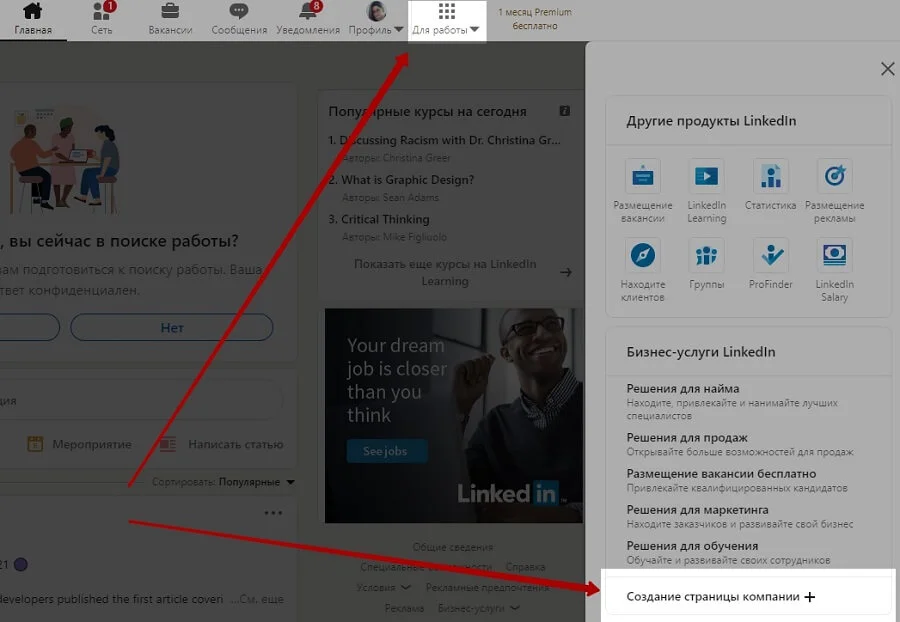 To use it, you have to upgrade to a Premium account. Depending on the subscription type, each user is granted several InMail messages to be sent within a month.
Promote unique content
Like any other social network, LinkedIn allows paid post promotion. It's a brilliant opportunity to advertise your company and highlight your product application.
Integrate LinkedIn with your purchase funnel
LinkedIn Sales Navigator is another marketing tool at your disposal. In addition to premium features like InMail and advanced site search, LinkedIn Sales Navigator provides lead sync with popular CRM systems:
Salesforce;
HubSpot;
Drift;
G2;
Outreach;
Oracle Sales Cloud.
What is even better, LinkedIn Sales Navigator offers automatic lead searches based on the search history and profile views.


By 2021, LinkedIn has indeed become a quality platform for advancing both general businesses and specific products. The network global coverage and audience interested in finding solutions are advantages of this platform available to everyone. Thanks to a variety of promotion tools, attracting leads on LinkedIn is much easier than on other social networks.