Social networks monitor users' preferences regularly and release new updates to satisfy their changing needs. We have reviewed the most useful new features on social networks that have been recently released.
Pinterest
New opportunities for businesses
When many people have to stay at home, it becomes more important to support small businesses. In the last two weeks of April, the number of "help small enterprises" searches have increased by three times in comparison with the previous two weeks, while "home office setup" searches have increased by 70% because people look for ideas for remote work. Also, Pinterest registered an increase in search requests for "employee gifts" by 4 times, while searches for "care package ideas" have doubled.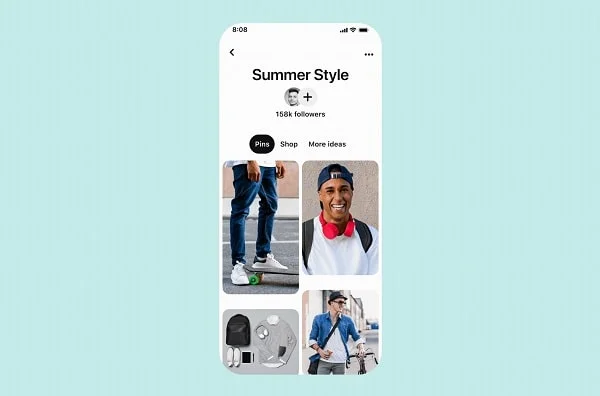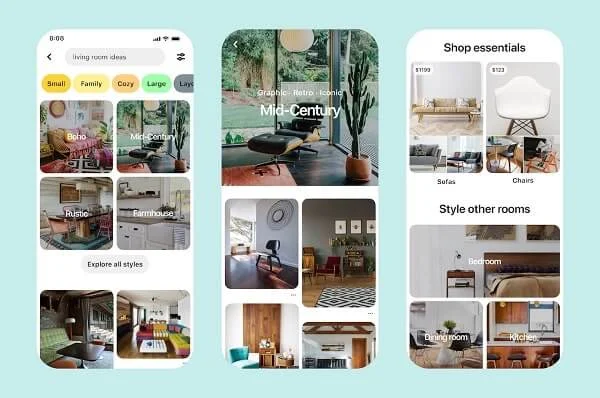 Photo source: https://newsroom.pinterest.com/
To satisfy those searches, Pinterest announced a new feature that allows buying directly from pins, by searching, as well as through recommendations for home décor.
Pinterest also tries to simplify the purchase process from retailers, who comply with the reliability criteria. That is why the Verified Merchant Program has been recently launched, which gives a blue checkmark to verified merchants.
Shopping Spotlights with influencers
In May, Pinterest launched a completely new function under the name "Shopping Spotlights" that offers expert recommendations by stylish influencers and bloggers. Now users can easily buy ready-made ideas based on the current trends on Pinterest.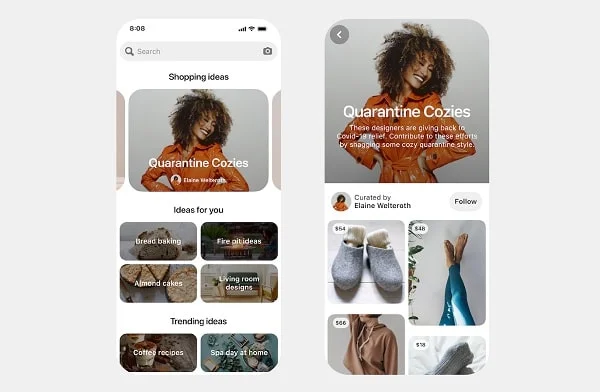 Photo source: https://newsroom.pinterest.com/
Better planning
With an increase in the creation of boards focused on virtual activities (+50% from March to April), for example, virtual teaching and virtual celebrations, Pinterest decided to simplify the organization of boards. Now users can add notes to their board to list the ingredients for a recipe or keep tabs on projects and add dates to boards.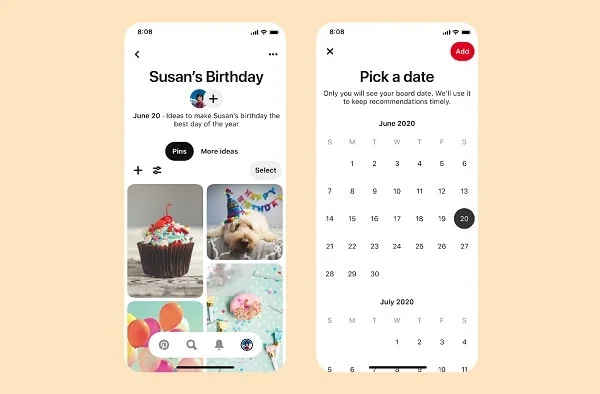 Photo source: https://newsroom.pinterest.com/
New functions allow tracking your projects, receiving timely recommendations, and new automatic grouping of pins into sections that will help to organize ideas into topics.
Partnership with Shopify
As a part of initiatives aimed at supporting small businesses, Pinterest launches a new app with Shopify that allows more than one million Shopify sellers to quickly upload their catalogs to Pinterest and turn their products into pins in several clicks.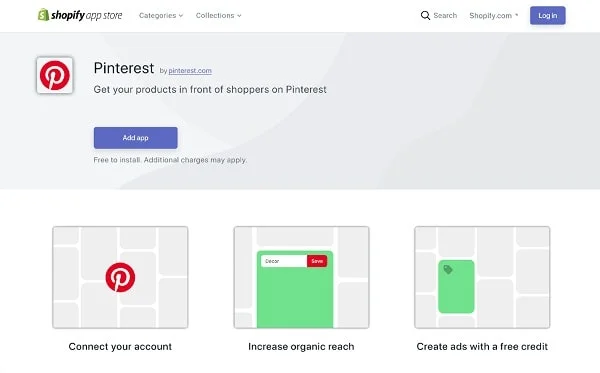 Photo source: https://newsroom.pinterest.com/
Pinterest App on Shopify comprises several features for purchases, such as tags, catalog upload, automatic weekly update of products, and Ad purchase interface. For Shopify sellers, it means simple settings and increased brand visibility through Pinterest, as well as creating reports and tracking results. The app automatically creates a link between a particular shop and Pinterest, which makes it convenient for companies of any size.
Telegram
New functions to manage chats
Telegram has many users who use the app not only for chats with friends but also for work and learning. An increased number of messages makes it harder to find the required chat. Telegram organized chat folders to make managing chats easier.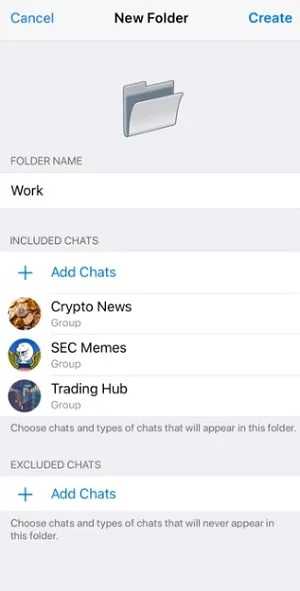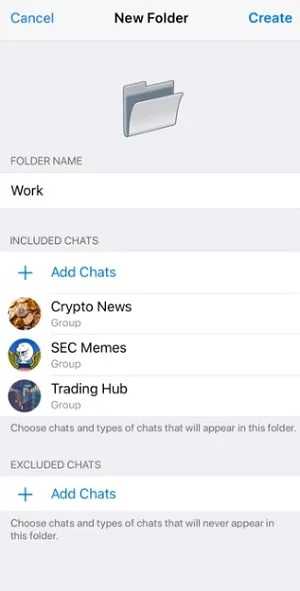 Photo source: https://telegram.org/blog/folders
With folders, users can organize chats according to topics, for instance, work, study, family, entertainment, etc., which makes it easier to find messages.
Also, there is a new function that archives chats and allows reviewing chat and channel statistics.
Other news and Telegram updates
The number of Telegram users has reached 400 million, having increased by 33% compared to the previous year.
The popularity of Telegram can be explained by many functions to work and study, especially recent ones. It resulted in a daily increase of Telegram users by 1,5 million people a day.
Aiming at combining security and communication convenience, developers of Telegram are planning to launch a function of secure group video calls by the end of the next year.
Moreover, the company updated the quizzes by adding the correct answers, which now helps to check your knowledge and complement it by taking the tests.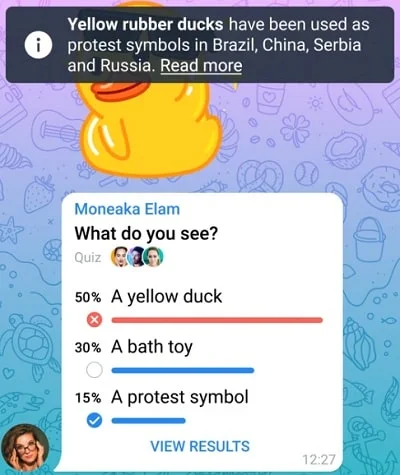 Photo source: https://telegram.org/blog/400-million?ln=f
Other updates
To support students who have to skip school during quarantine, Telegram announced a competition to create tests for online education. The prize fund for the competition is EUR 400,000.
A new directory of free stickers will comprise the best 200,000 stickers that have been created recently.
Being able to use layers in charts and animation makes animated menu for controlling files on Android much more convenient.
A new document control panel for macOS users, a possibility to access the menu directly from the profile, as well as drawing features on images will make Telegram more user-oriented.
Another new feature is the darts game that was added to chats along with animated emojis.
TikTok
Donation Stickers
At times of uncertainty and drastic upheavals, the major part of the society has joined the efforts to support each other and help those in need. The social network TikTok has created Donation Stickers that introduce new methods of donating money to support charity organizations in TikTok videos and TikTok LIVE.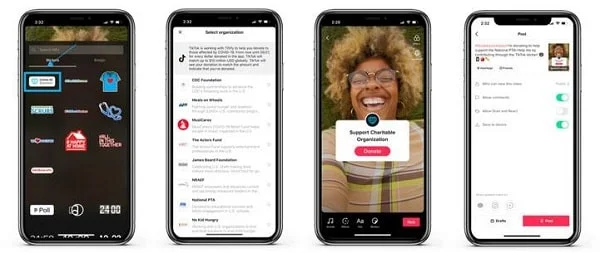 Photo source: https://newsroom.tiktok.com/
Users can add Donation Stickers to their video and live streams like all other creative effects on TikTok. If you tap a sticker on a video, a new window will appear, where you can donate the sum of your choice without having to leave the app. The donation is transferred by a charity platform Tiltify, which provides a secure transaction process.
Twitter
New conversation features
Since last year Twitter is working towards giving people more control over their conversations, starting with an ability to hide replies. Developers are now also testing new ways to start a conversation with a random, fleeting thought. Now new parameters are being tested that will allow users to choose who will be able to reply to their Tweet and join the conversation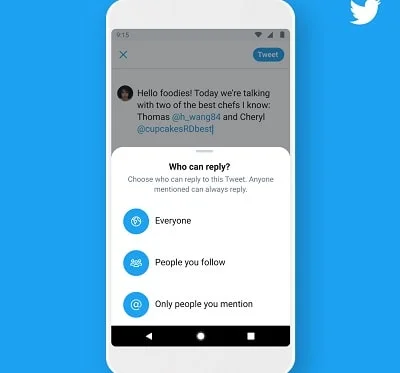 Photo source: https://newsroom.tiktok.com/
Users, who can't reply, will still be able to view, retweet, retweet with comments, and receive similar Tweets.
YouTube
Google Play Music transfer
In May, YouTube Music made it possible to transfer Google Play Music library simply. Before the end of the year, users will still have access to Google Play Music. After that, it will be blocked, and all the music libraries will only be available on YouTube. Even now, users can use both services, which makes the transfer more natural.