Every day brings different events into the world of social media: websites are forging ahead, adding more and more new functions. Do you want to stay tuned to the latest news? We have summed it up for you. Let's have a close look at each of the social networking services and examine their updated features in detail.
Facebook
Facebook Neighborhoods
Facebook is beginning to test a new section called Facebook Neighborhoods. Its main goal is to help build and strengthen local communities on Facebook. The feature is a specific section in the Facebook main app that aims at helping you connect with your neighbors, participate in local events, and discover new places nearby.
The company's representatives say that people have always used Facebook for keeping local community businesses, asking for advice in local groups, supporting each other, and meeting neighbors who share common interests. The pandemic highlighted the importance of such connections, and that's how the idea of this section was born.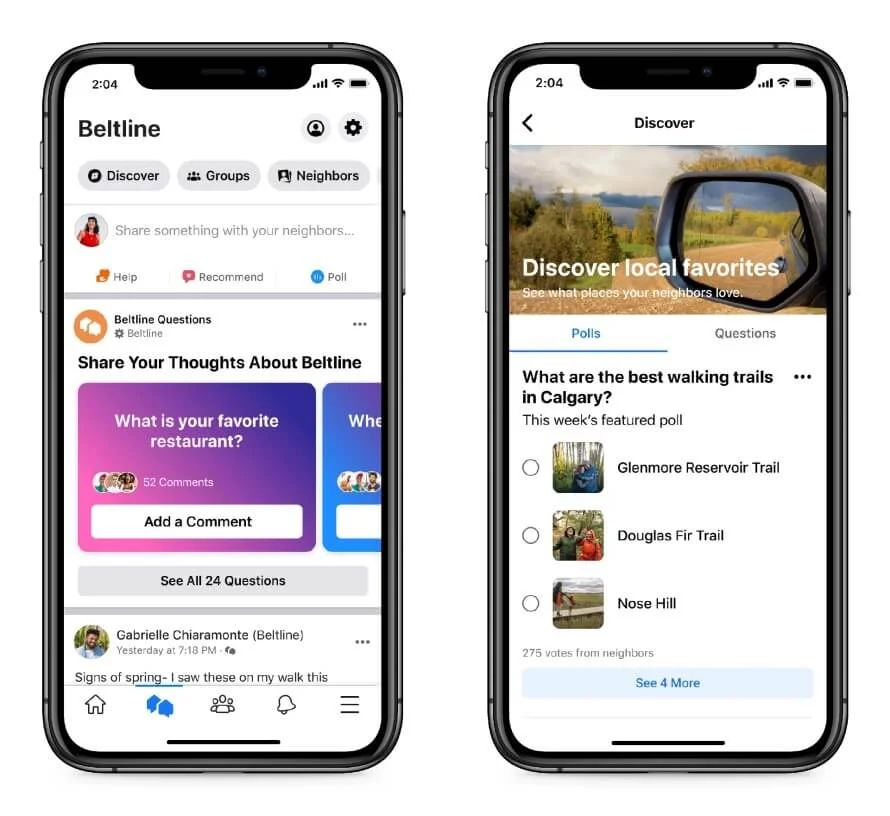 https://about.fb.com/
Facebook Neighborhoods will have groups dedicated to every neighborhood. The profile data is automatically taken from your main account. The section will be available for all users who are 18 or older, indicating their neighborhood. The users can join their neighborhood or nearby neighborhoods. After joining the service, you can add interests, favorite places, and information about yourself so people can get to know you and connect with you. You will be able to answer Neighborhoods' questions and help develop and grow your local group.
New possibilities for sharing audio experiences
The continuing rise of audio used for communication on the platforms did not go unnoticed by Facebook. The developers are working to make audio messages easier to record and more fun. They promise that quite soon, people will have a chance to record audio messages for their friends and insert different sound effects and even quotes from popular songs.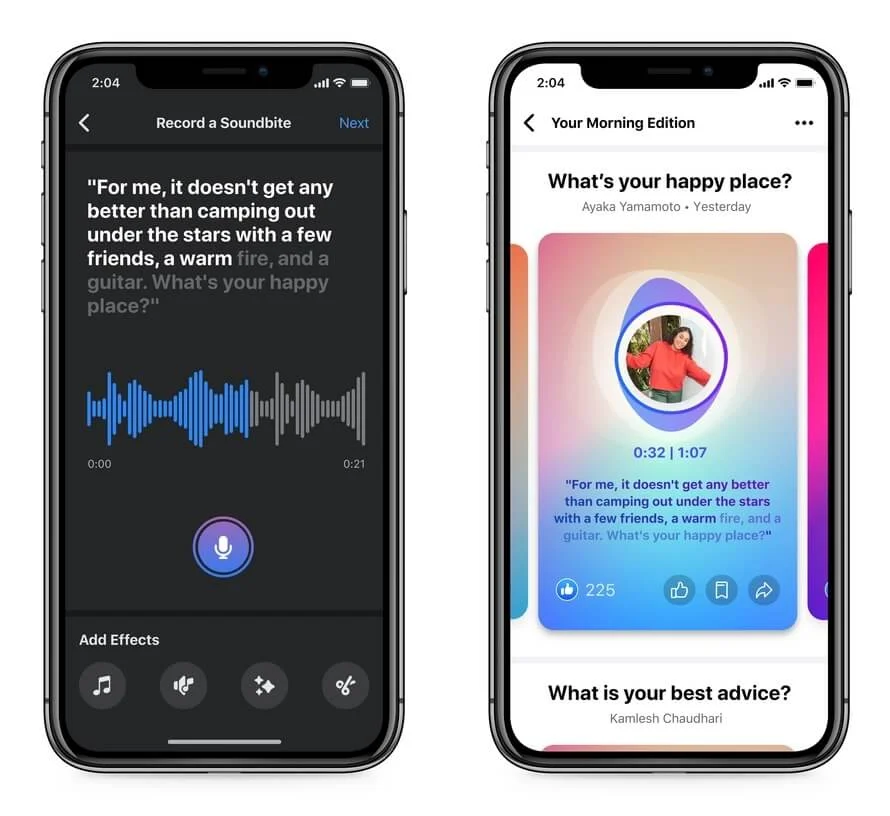 https://about.fb.com/
One of the most awaited updates is an automatic audio-to-text transcription. Besides, technological advances in AI will make it possible to increase audio quality, even if you record on a busy street corner.
One more helpful addition: you will be able to use music from the Facebook Sound Collection in the background of your story, mix audio tracks, sound effects, voice effects, filters, etc.
Tools to adjust commenting audience
Facebook has introduced a new tool for managing comments. It will allow people to control and manage commenting audiences. For example, options can range from any user who can see the post to only friends or people you tag.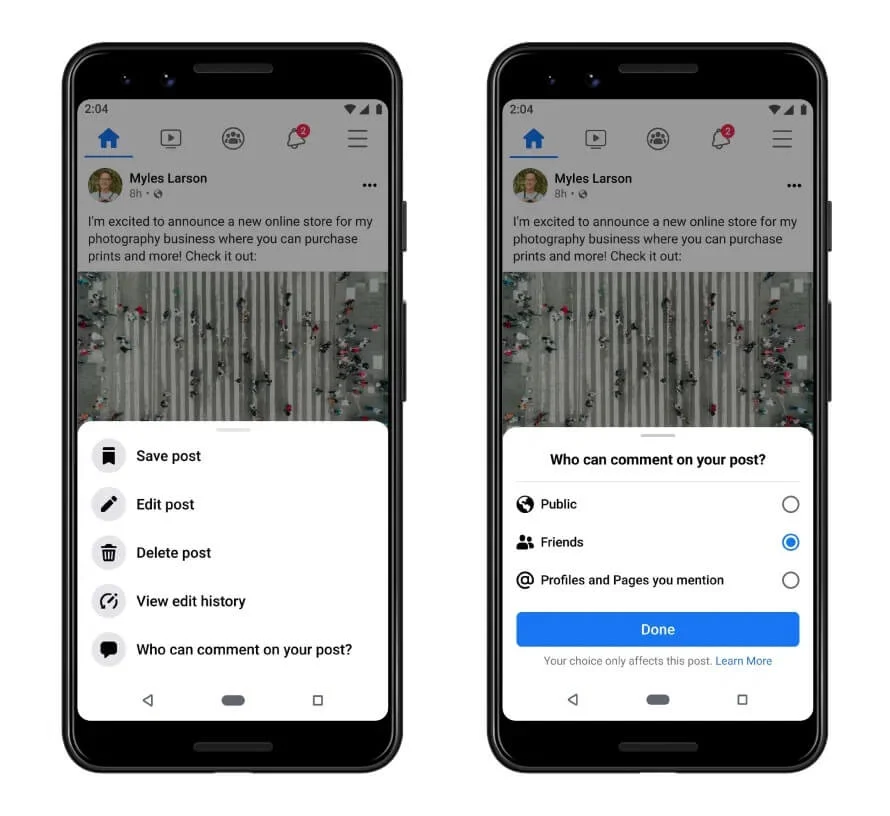 https://about.fb.com/
Two-factor authentication using a security key
Facebook has expanded two-factor authentication support. Now, the password can be confirmed not only by using an SMS code sent to a mobile phone but also by using a physical security key. It's a small device that can be plugged into your phone.
Such authentication will help better protect accounts, preventing them from malicious hacking. It's crucial for celebrities, politicians, human rights defenders, etc. Anyone who cares about account security can use it.
Instagram
Hiding likes
A short while ago, everyone on Instagram and Facebook could hide their public like counts. The site has been testing hiding like counts to see if it might change people's experience on Instagram. Hearing both from people and experts, the specialists concluded that such an approach can be beneficial for some people; however, it can be annoying at the same time. That's why this setting is optional and can be turned off at any moment. The Instagram policy is to provide people with a maximum possibility to feel comfortable when using the app.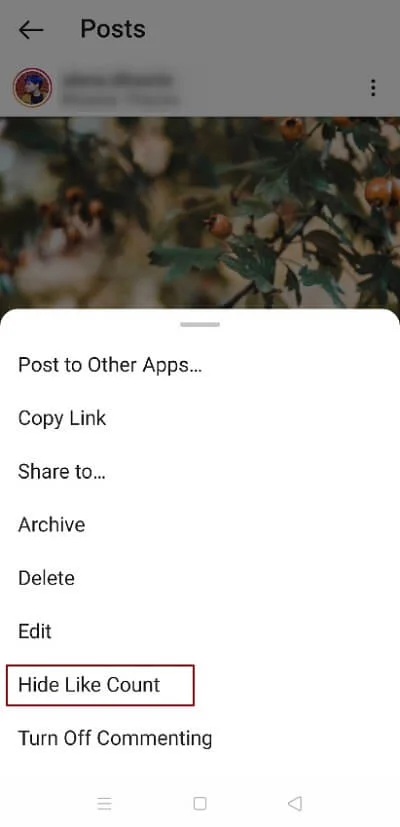 Starting from May 26, 2021, everyone has an option to hide like counts on all posts in the feed. There will also be a possibility to hide like counts on your posts so that other users can't see how many likes your posts get. This way, you can focus on the photos and videos being shared instead of hunting for likes. You can choose to hide like counts either before or after sharing a post.
Instagram Lite
As a response to the coronavirus consequences and forced relocation of many people from big cities, Instagram has introduced the Instagram Lite app. This new app for Android is designed to provide the correct functioning of the social networking service while using minimal traffic. As the company stated, they wanted to provide people living in rural and remote communities with an opportunity to use all features of SMM platforms comfortably.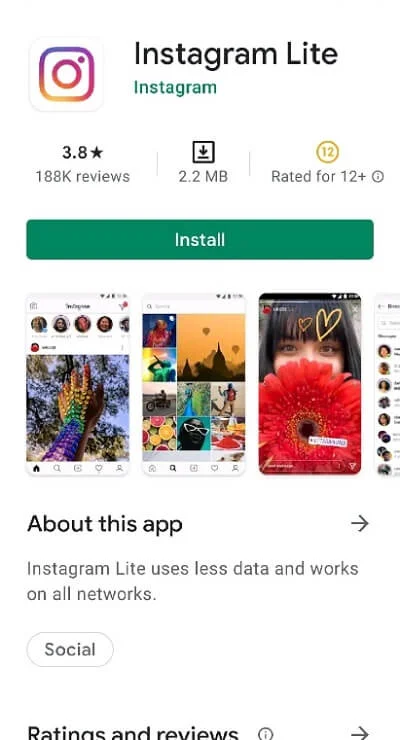 &nbsp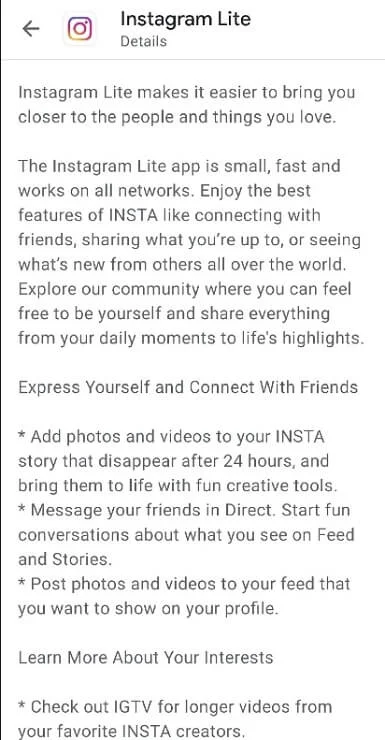 The app is available in more than 170 countries. The company emphasizes that though, for example, the users in North America may not face such problems, we should not forget that people in many other regions don't possess the most up-to-date mobile devices or high-speed mobile Internet. Instagram Lite app requires only 2 MB to download on Android (the full-size version is somewhat close to 30 MB). To retain the key features, the team took a page from the Facebook Lite book by offloading most of the code from the app running on a smartphone into the Cloud. Besides, the team removed much of the data-rich animation and got rid of particular icons.
Live Rooms
The new feature will give people the possibility to go Live on Instagram with several people. The maximum number of participants of a live broadcast is 4. The developers hope that the new feature will open up more opportunities for online Live streaming: for instance, people can start talk shows, host jam sessions, organize workshops, or just hang out with friends.
Besides, the Live Rooms app also gives more opportunities to develop a business. For example, sell goods while broadcasting Live or start a fundraising campaign. In addition, Live viewers can purchase badges to show their support or gratitude.
Protecting young people
Instagram is introducing more updates to keep the youngest community members safe. The developers are focused on implementing new technologies for verifying people's age online. A person must be at least 13 to use Instagram.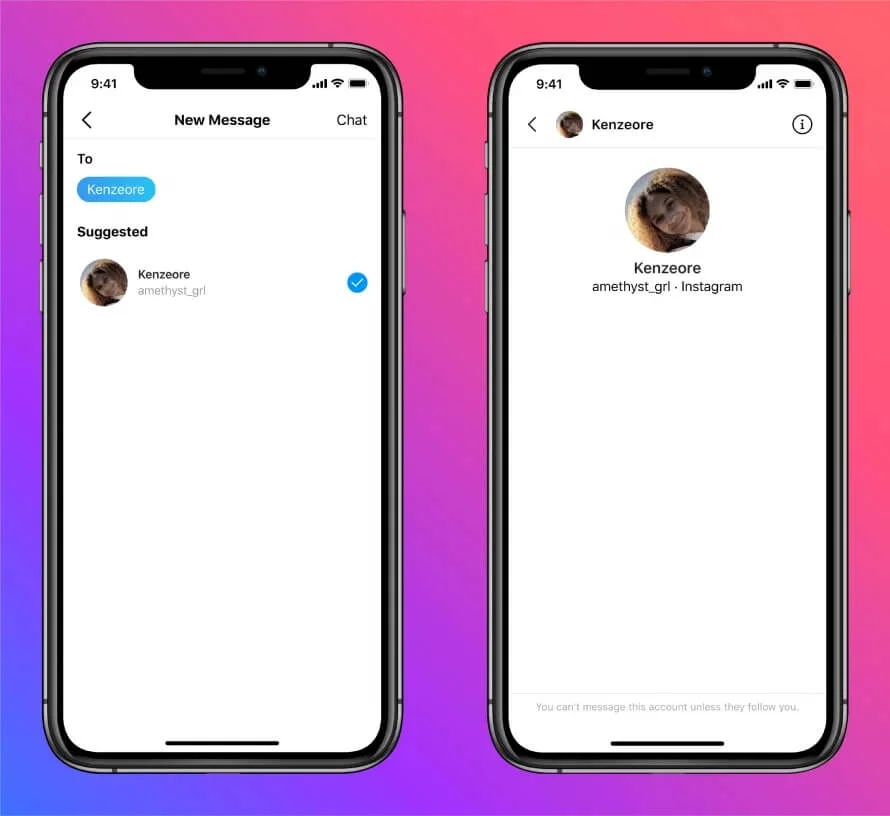 Another catchy feature is restricting messages between adults and teens. This new feature prevents adults from sending messages to underage people (under 18) who don't follow them. In this case, an adult will receive a notification that the DM option is not available until the underage person signs to follow. With the help of this feature, social platform creators hope to prevent inappropriate actions and misleading interactions against the young audience.
YouTube
Ads in all videos
The management team stated that starting from June 1, 2021, YouTube will run ads on all videos posted on the platform. From now, any payments that the users receive under the agreement with YouTube will be regarded as royalties. The social networking service plans to launch monetization even for the channels that aren't in YouTube Partner Program.
Blogger tax
The site will introduce a tax for bloggers outside the USA. Letters with this information were sent to all video bloggers with a deadline of March 21, 2021. Earnings from getting views in the US through premium versions, sponsorships, super-chat are already taxable in the US. From now on, this practice will be applied worldwide. To receive the revenues, one will have to submit the TIN, the name of the legal entity, and the name of the channel. If no tax info is provided, YouTube will have the right to withhold 24% of total earnings.
Twitter
Twitter Spaces
Starting from May 10, 2021, Twitter has provided an opportunity for everyone with 600 or more followers to host a Space. The company's developers explain this decision by the fact that such users are most likely to have a successful experience of hosting Live discussions.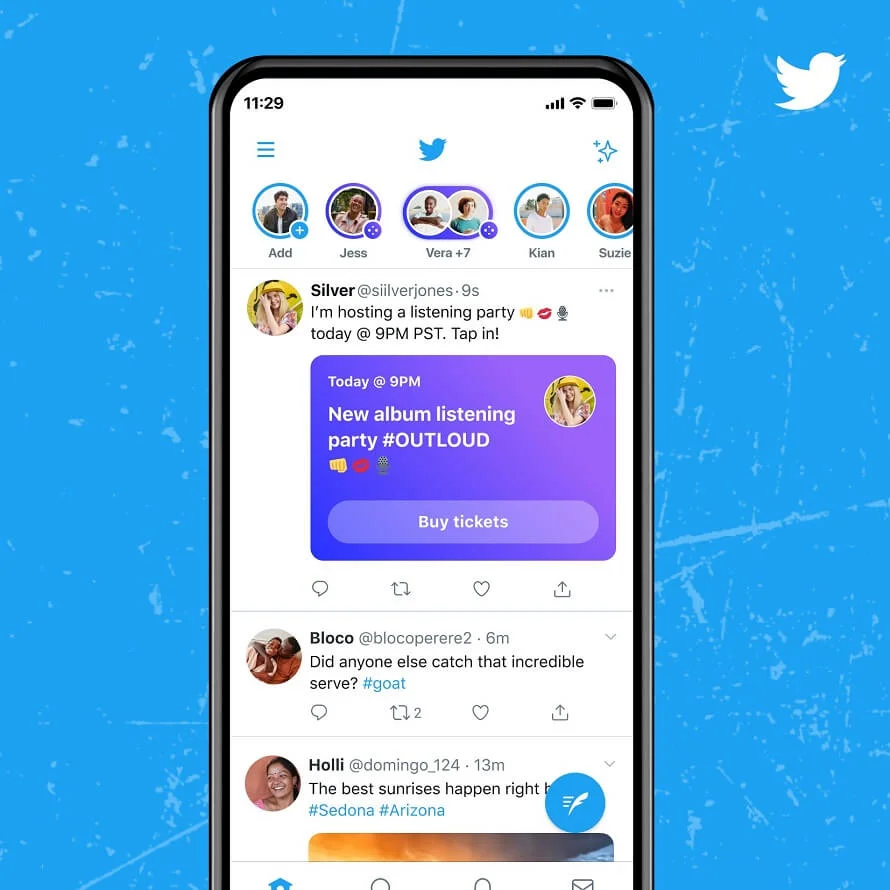 https://twitter.com/TwitterSpaces/
When hosting such a Space, one may choose to send audio messages to all participants or the selected individuals. One more interesting feature: it will be possible to ask the chosen people to speak. Administrators of such audio spaces will have the ability to manage the conversation, select people to deliver speeches, and invite or delete participants. Quite soon it will be also possible to sell tickets for such events.
Telegram
Payments 2.0
The Telegram update is connected with the payment system. This instant messaging service has already introduced an option allowing users to pay for goods or services using the Telegram bot payment system. However, the app creators paid even more attention to the issue and further upgraded the feature. Now merchants can accept credit card payments in any chat, relying on 9 integrated third-party payment providers. There is a possibility to do it in any chat, including channels and groups. Available payment systems include YooMoney, Sberbank, Payme, CLICK, ECOMMPAY, PayMaster, Stripe, and LiqPay. Such an approach to payment services makes sales possible in more than 200 countries.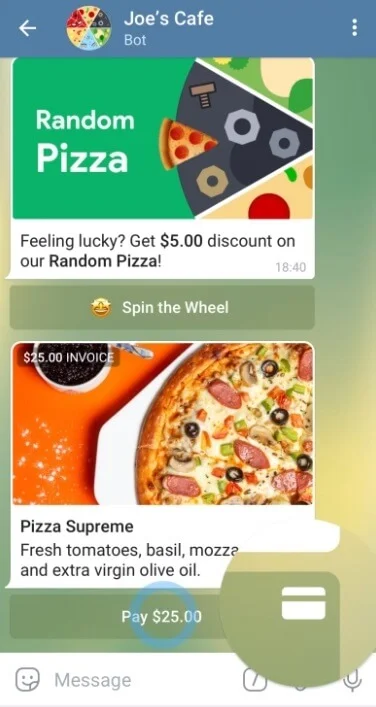 https://telegram.org/blog/
The new payment options are available for users on both mobile or desktop apps. Moreover, the developers have introduced the feature for buyers to add a tip to show some extra love, for example — to their favorite artists or food delivery drivers. Telegram itself doesn't collect payment information and takes no commission. Payment details are sent directly to the payment system — and the delivery details are sent to the seller. The Telegram Bot Payment service is free; one can start using it on his own.
Scheduled Voice Chats
Telegram has made voice chats very convenient. In addition to an already existing option of immediate calling, admins of channels can now schedule a Voice Chat. This option will be useful for business people and remote teams, infopreneurs, and friends willing to catch up. The countdown will display information about the scheduled voice chat meeting. One can be sure that this information won't get lost in long messages. Besides, if you, for example, deliver lectures, you can create separate chats with scheduled times for different groups.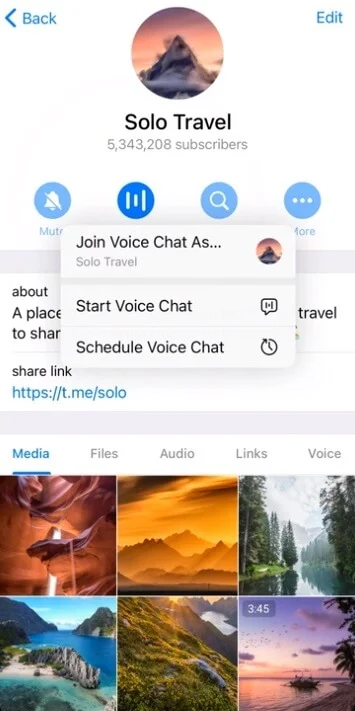 &nbsp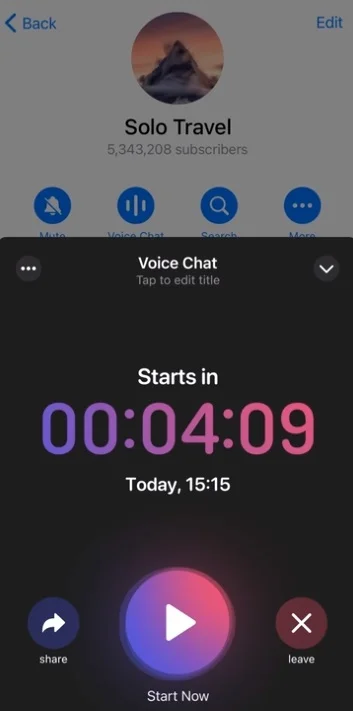 https://telegram.org/blog/
Once the scheduled voice chat is arranged, the users in your group will see a colorful countdown at the top of the chat. It will show how much time is left before the scheduled chat starts. Those who are interested in the chat can opt to receive a notification when the voice chat begins. This function will help solve the problem of long-running gatherings for the meeting.
Pinch-to-Zoom
Telegram continues to simplify photo and video editing. Recently it has added a Pinch-to-Zoom option. There is no need to download photos and videos; now, they can be expanded directly from the chat by pinching the sides. It is very convenient when you work with documents and images containing many tiny details.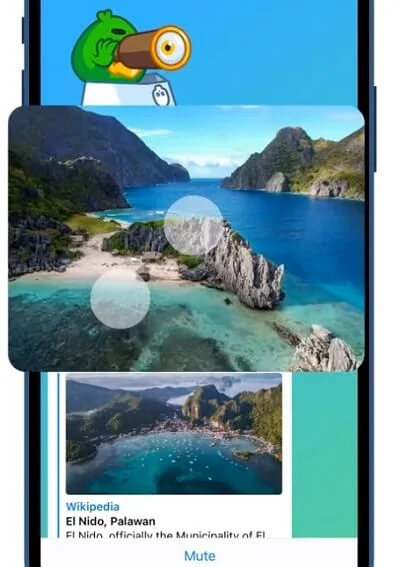 https://telegram.org/blog/
Pinterest
Widget for iOS
Pinterest has introduced its newest widget option for iOS called "Interests". It will help users find fresh and engaging content right on their home screen. When searching for inspiration, you can browse a range of interests, including beauty, fashion, home décor, and many others. To download this widget to your home screen, you should long-press an open space on your home screen, select the (+) icon in the top left corner, and choose Pinterest. You can place the widget on the screen appearing when you swipe to the left, or just among other icons.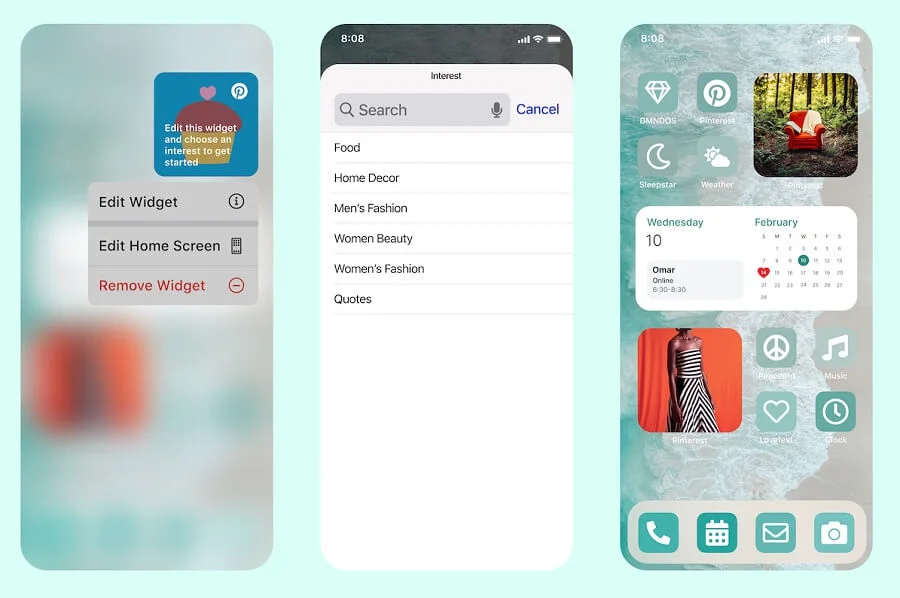 https://newsroom.pinterest.com/
The system will automatically select the content that could be of potential interest to you.
Expanding partnership with Shopify
Pinterest is constantly trying to increase the possibilities for online shopping. Pinterest has already expanded its partnership with Shopify, adding 27 more new countries to the list. It includes Austria, Germany, Brazil, France, Italy, Spain, Switzerland, Great Britain, and Australia, to name but a few.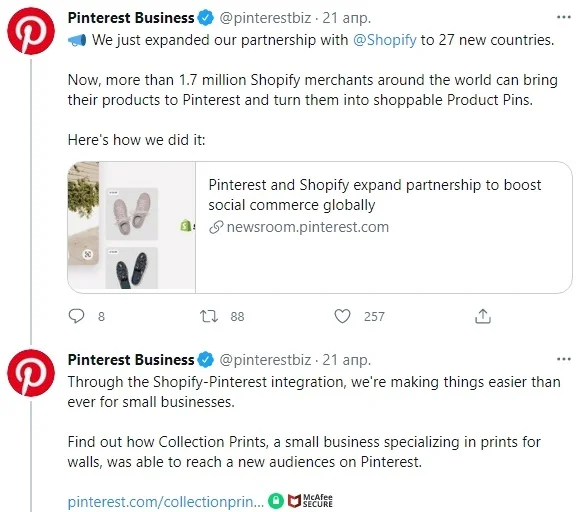 Nowadays, more than 1.7 million Shopify merchants worldwide can easily and quickly bring their products to Pinterest and turn them into shoppable Product Pins. Shopify users can also advertise on Pinterest and set up dynamic retargeting.
Multi-feed
Pinterest is launching support of multichannel catalog feed. This new option will make it easier for businesses to download products to multiple feeds at once from a single Pinterest Business account. Shopify sellers, as well as anyone who has a business account on Pinterest, can now add products to 20 feeds at once from one account.
Besides, it will be possible to specify the type of currency, language, and additional local data for each specific feed. Working with several channels simultaneously will make collaborating with clients worldwide much easier, adapting the content according to their demands.
TikTok
Job spotlight for generation Z
TikTok has announced the launch of a job search service for generation Z. This social networking service is now testing a tool that will allow brands to search for potential employees. The platform isn't integrated into the application, opening as an individual web page. TikTok users can easily initiate the session with just one click. The main focus of the webpage is to provide information about job vacancies, internships, and job offers for recent graduates. Job seekers can post their resumes in video format and use creative ways to talk about their work experience and motivation. Also, anyone can add their resume to the profile as a link.
Shopping within the app
TikTok has started testing shopping options within the app. The platform announced its plans to compete with Facebook in this area; it has already launched trial cooperation with various clothing brands. The new feature may resemble the integration of shopping options into Instagram, with one page containing information about listed goods and prices.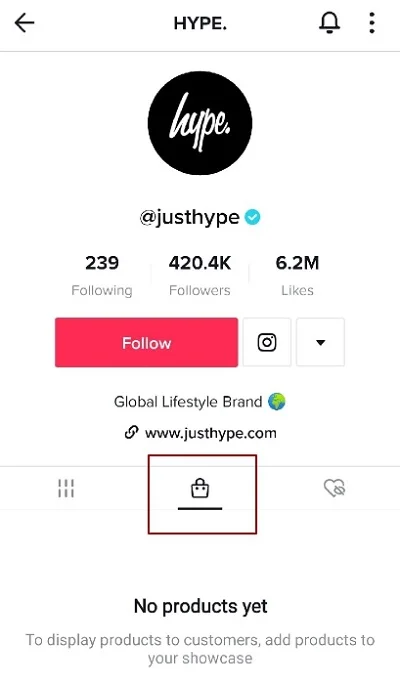 Viber
Simplifying communication with brands
Viber has presented a new feature that will allow brands to improve communication with their audiences and at the same time allow customers to chat with brands like with their friends. The users will now be able to send messages, photos, and videos using the Viber gallery or internal camera. Until now, it was only possible to send documents. By the way, the size of files that the users can share in business chats has also increased from 25 MB to 200 GB. All documents that you send to brands are protected by encryption codes.
Business chats will now use a camera, photo gallery, and document icons. They are located under the keyboard, the same way it's done in private chats. The update aims at making life easier for buyers. For example, if you face difficulties when trying to assemble the product or use it, you can contact the company representatives with a couple of clicks and ask all your questions.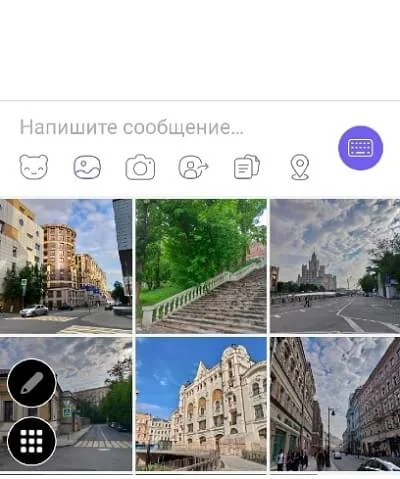 There's no need to wait for an answer from the support service or call the store by phone. The update is intended to simplify the process of applying for refunds, submitting complaints, etc. Besides, with the help of this feature, one can easily arrange appointments with the required specialists.
Using the Pin-to-Top option, you can pin messages of interest to the top of business chats with one click. This option becomes available only after the app is updated to the latest version.
WhatsApp
Privacy Policy
In the past six months, WhatsApp has been involved in a scandal concerning new privacy policy rules. The problem with these rules is that the users receive a non-rejectable notification informing them that the new rules have come into effect. The notification can't be rejected or closed, it will be displayed again and again until you accept it. By this, the messenger service doesn't leave its audience much of a choice. If the user doesn't agree to new rules, in a few weeks, WhatsApp promised to limit the functions available, with the final disconnection that could follow in 2 weeks if the user still has not accepted the rules. Later on, WhatsApp softened its position and promised to limit only the functionality. The users who have not accepted the new rules will be able to get calls and notifications, but they won't be able to read or send messengers in WhatsApp. If the users do not accept the new conditions, the messenger may consider them inactive and delete their accounts after 120 days of such inactivity.
Under the new conditions, WhatsApp users must agree to share their personal data with the Facebook advertising system and application families so the latter could work with audience preferences.
The new rules came into effect on May 15, 2021, and the messenger now has the right to block calls and messages of users who haven't given their consent. Such an uncompromised approach regarding the changes in the messenger's policy has already led to the situation when Germany has banned WhatsApp from collecting data of German users for the next 3 months.
Video calls using a desktop app
WhatsApp has enabled one-to-one voice and video calls on the desktop app. Last year the company broke its record, having registered 1.4 billion voice and video calls in one single day.
Answering via a bigger screen makes it easier to work with colleagues and helps enjoy communication with your family when you see them more clearly. The messenger's window is resizable and can be adjusted to the size of your monitor; it can be also set to be always on top of other windows.


As you see, the world of SMM is experiencing constant changes. Follow our blog to get the most important news and updates.