Why Stories are important
If you don't post Stories and only post in the feed, you limit the profit that you can get from your profile. When the users visit your account and see that there are no Stories, they will think that this is a dead account that does not publish new content.
Stories show the account's activity level. So, Stories are important, as they increase engagement. The users will trust you more if they see Stories where you talk to them, show something interesting, share your daily life and behind-the-scenes details. It's hard to sell products or services without using the Stories format on Instagram now.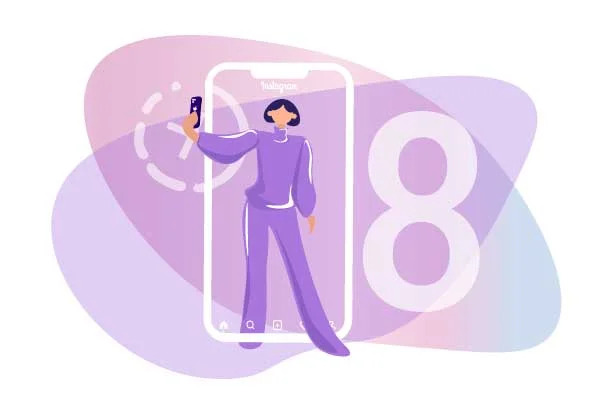 8 rules to increase your Story coverage
1. You need to post Stories regularly
You should upload new Stories during the whole day, week, month. If you work on your Instagram account, you should constantly create Stories. A common mistake is to post a lot of Stories at the same time. It is better to do it evenly. Balance is very important. You should find the right timing and just upload it – at least a few times a day.
2. Add fewer ads to Stories
You don't need to share all the feed posts in Stories or fill your Stories with ongoing advertisements. It is a common mistake many corporate accounts make — they add endless ads to Stories or share every post they publish in Stories.
The ad posts in your account should not take up more than 15-20% of the total video length. Out of 10 posts, only two should contain advertisements.
For Stories, the rules are stricter: if you post ads every day, the users will see them, but they will probably not like this attitude. Stories are needed to establish contact, ensure informal communication with your audience.
3. Use Stories to show your daily life
It is all about telling your stories in Stories. If you post Stories chaotically, they seem incoherent. Storytelling is important for this type of content, the narration when you reveal a certain topic or question by posting several Stories in a row. First, you involve people, you ask them questions, and then you can try to find a solution for them.
4. Use live communication
Stories are a format of video and live communication. It's not enough just to publish pictures with text copies and layouts prepared by your designer; you need your "talking head". Not necessarily only yours, if we are talking about a corporate account - your colleagues and employees can take part, too. You need to show the content and communicate with the users.
Stories remind us of looking through a keyhole - what's behind the door? You can open this door a little and show the users something special: look, this is how we work, these are our colleagues, here is our office. This does not mean that you only need to disclose personal topics. The emphasis here is on what you show behind the scenes. Do not hesitate to show the life that is happening around you because everyone is interested in spying and following it.
5. Add text transcripts to Stories
If you post videos, be sure to add a text transcript to your Stories. Not necessarily word for word – at least a couple of sentences describing the topic of your 15-second video.
About 40-50% of users watch Stories with muted sound. If you add a small text transcript to the Story, for example, two sentences, the users will have a rough understanding; even though they won't hear you, they will be interested.
6. Use different angles
When you post a Story with a talking head, avoid posting four or six Stories in a row using the same background – otherwise, the users will get tired. Clip thinking works in Stories: the users get bored when interacting with monotonous content. Shoot yourself from different angles, choose new locations. You need to ensure that the picture changes during six to eight Stories so that users feel that something is happening, something is changing.
7. Add interactivity to Stories
Stories need interaction. Endless narration like on YouTube doesn't work in Stories. Stories can be thought of as a conversation with a friend. When you communicate with friends, not only are you talking, but friends are also inserting their comments, asking questions, you are answering, discussing. The Story follows the same idea. Therefore, be sure to use interactivity – any formats that you can think of: ask questions, ask the users to vote, and choose options. Besides, you can conduct tests, guesses, or quests.
8. Show the backstage
The last tip is to show the inner kitchen. That is the simplest and best option currently working. The users are interested in the things happening in the company, in the life of the office, jokes, get-togethers, everything that happens behind the scenes. These Stories will be watched, they will be popular. Don't be afraid or ashamed of it!