Recently, Instagram announced that in the coming year, the company would focus on functionality that allows the monetization of accounts through working on a personal brand or developing a business. The main emphasis will be on the video format.
The social network continues to develop actively. Most updates are for creating a media platform: users receive information, create content, learn news from friends, and buy goods — all at once.
Three main tasks are: to inspire creativity, help discover new interests and communicate, and create a community.
Another direction in the strategy is to ensure the safety of children and adolescents. The application develops various functions for parents to monitor and manage the use of social networks by children.
'One of the main transformations in our business right now is that social feeds are going from being driven primarily by the people and accounts you follow to being driven by AI recommending content that you will find interesting from across Facebook or Instagram, even if you do not follow those creators.' — said the head of Meta Mark Zuckerberg in his report for investors.
In this article, we talk about the updates for December 2022 — January 2023.
Flipping between a profile photo and a 3D avatar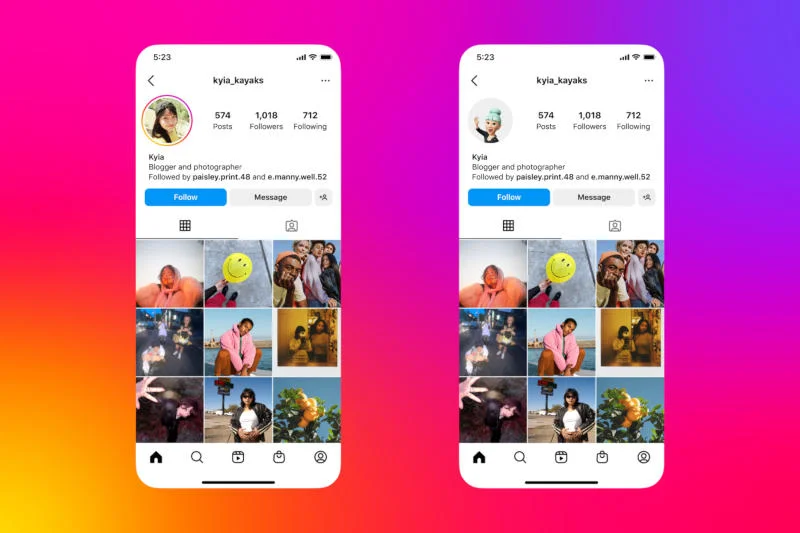 Now you do not have to choose between a photo and a 3D avatar. Source: about.instagram.com/blog
A dynamic profile image is available to users. Users can showcase the photo and the linked 3D avatar: which are 'flipping' in-stream.
You can select an avatar by pressing the Edit profile button — it will get added to the main photo. When opening a profile, flip the avatars by swiping.
The app started to test 3D avatars about three years ago in response to Snapchat. Last year, they launched three-dimensional avatars. 3D avatars are available on Facebook, Messenger, and WhatsApp.
Silent Mode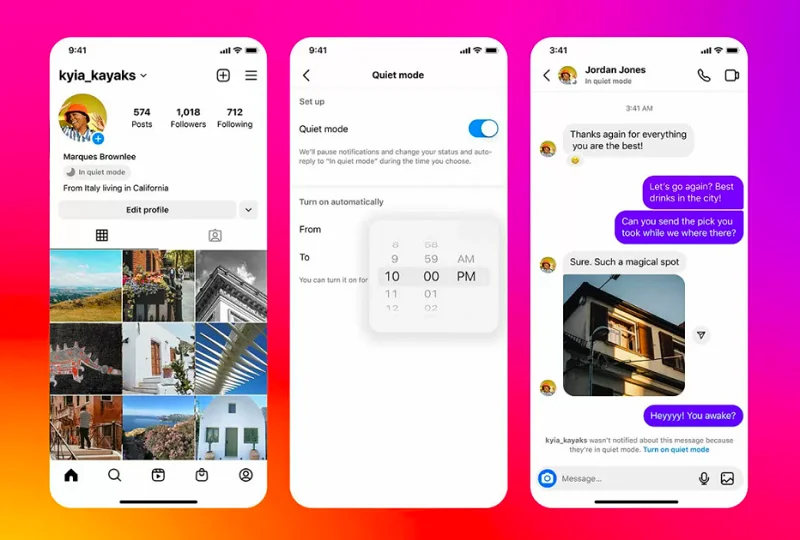 The new functionality will help you not miss anything important — even offline. Source: about.instagram.com/blog
The new option is designed to help users set a period of time when they are focused on vital tasks and do not want to be disturbed by the social network. The Silent Mode feature is available in the USA and a few other countries now, but after testing, it will be available for all users.
A special button will appear on the main profile screen; you can use it to disable all notifications. When someone texts a user in Silent mode, they will receive an automatic reply.
Thus, the application will not send any notifications during the set period. It will also show other users that the account is in silence mode.
As soon as the user is back, they will get everything missed: mentions, messages, comments, and will see what happened during the 'silent mode' time.
Music in posts
The main feed and text posts become as vital as reels and stories. A photo and text to it or a carousel with pictures and short texts is again a popular format.
Moreover, it has recently become possible to add music to posts. Most likely, that was why the creation and publication of posts are gaining attention, and the platform will promote them again.
However, do not abandon other formats: adapt the content plan and use all the options for working with content.
Hidden words in the "Recommendations" section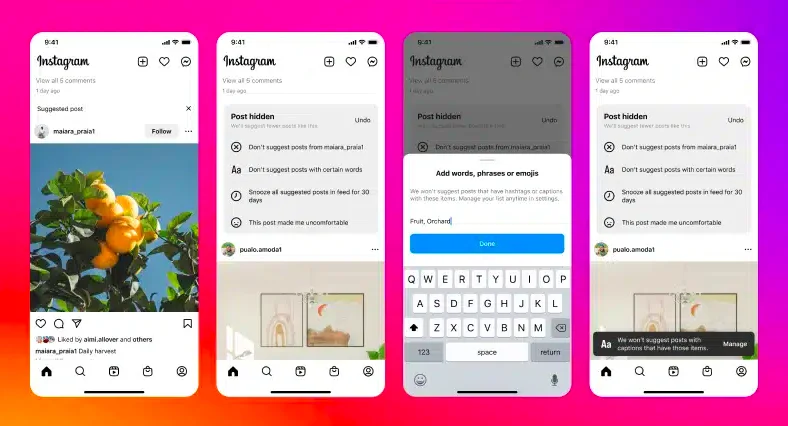 Shape the feed the way you want to see it. Source: about.instagram.com/blog
Instagram improves the option to hide comments or direct messages containing particular words. The users can use the Recommendations section to manage it now.
It means that content having "hidden words" will not be displayed in recommendations — in a hashtag, for example. You can add words and even emoticons.
Access to this functionality is in the Hidden words section in the privacy settings.
Multi-selection of posts on Instagram Explore
The Explore section is manageable. It is for making the Instagram algorithm 'learn' what content you want to see in Explore. If you press the video or image and hold it, the Not interested button will appear.
With the help of multi-selection, the user can quickly manage their Instagram Explore.
Reels achievements
Video content continues to evolve. Reels creators can receive one of the awards after publication:
Trendsetter. Videos with popular effects and music.
Creative streak. Two Reels posted within a week.
Leader. Videos with poll, test, or slider stickers.
Co-creator. Publishing a video jointly with another account.
You can view achievements for each individual video. To do this, click three dots and select 'Achievements.'
December Updates that you might have missed
Group profiles
It is a way to communicate with loved ones. Instagram functionality allows you to create your own group profile or join an existing one: and share stories, messages, and photos.
The content goes to the group profile and is displayed only to other group members.
Instagram Candid Stories
The mechanics are similar to the BeReal app: only the users who upload similar stories can view their friends' Candids.
'Candid stories' will capture an image from the front and back camera at the same time.
Instagram Notes
Instagram Notes is like Twitter. You can share small posts with friends: the length limit is 60 characters.
Notes are in the Incoming section, but only for those users whom the author marked when sending it.