Among the leading trends of the coming year, marketers assign one of the core roles to social media. Coupled with the fact that paid advertising is becoming a need due to high competition, TikTok, Pinterest, and Snapchat are becoming catchier every day to brands through provision tools for working with advertising companies.
On the other hand, there is an increase in influencers on social networks. Investing in agents of influence gives visible results not only in terms of generated leads but also in getting more and more coverage and brand awareness.
In addition, the opportunity to sell inside the platforms is of increasing interest. Therefore, the global goal is to win the battle for the audience's attention and establish more profound and trustful relationships with customers.
Telegram announces new functionality
Telegram's news of recent months is about reaching a new level of content design. In addition, the interface is becoming more user-friendly.
Picture-in-picture playback. It allows users to view videos simultaneously with other chats or applications open. To switch to the desired mode, click the PiP icon in the media viewer. To change the size of the player window, you can drag it.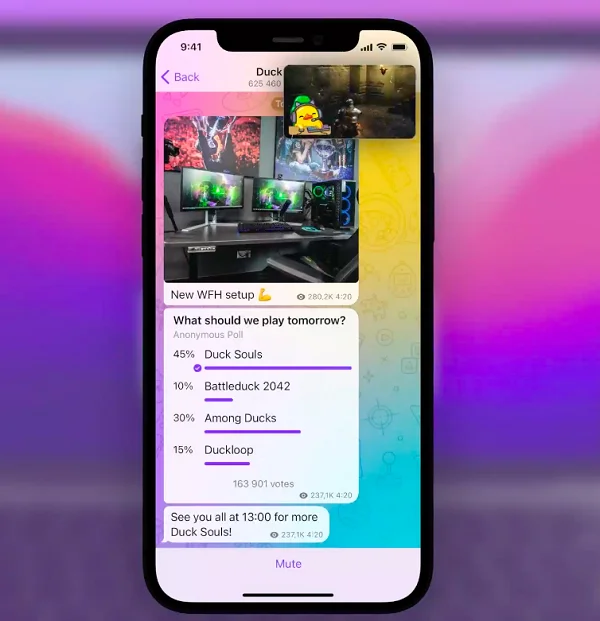 "Picture in Picture" to view videos and simultaneously use other chats. Source
Bot interfaces. Developers create various flexible interfaces for bots using JavaScript. Bots, thus, will soon be able to replace the usual websites — for example, online stores, games, and services.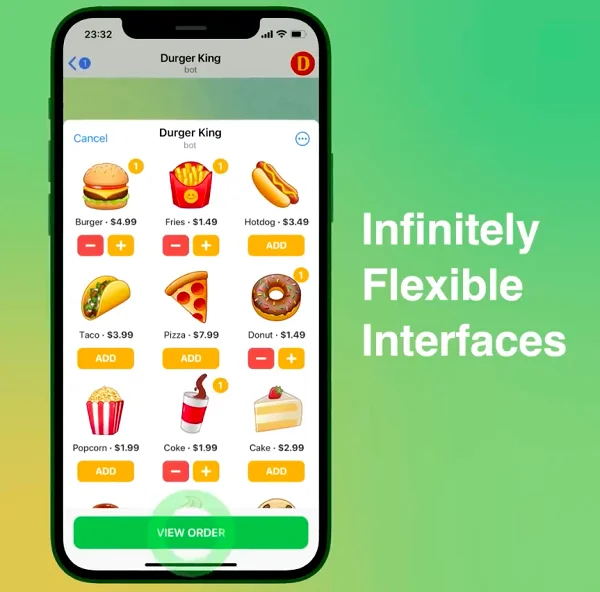 A convenient option for those who want to place an order is for example @DurgerKingBot. Source
Streaming software. It is now possible to broadcast live in groups and channels using OBS and XSplit programs. It will allow channel owners to diversify broadcasting: for example, add graphics. When starting the broadcast, select "Stream with…", then insert the data into the selected streaming software.
Instagram is becoming more and more user-friendly
A chronological feed is back to Instagram, which will help users build their own feed how they want it to be. Two new ways to display the feed — Following, and Favorites — posts in both sections will be arranged chronologically. You can add up to 50 accounts to Favorites.
Another important news about the social network is that Instagram is launching autogenerated captions for IG Feed videos: you can also disable them. It will help make the content more accessible to hearing-impaired people. The feature is available in 17 languages, but the developers plan to add more languages and countries.
TikTok makes advances to brands
TikTok was expected to grow rapidly this year and has announced several updates. Most experts confidently stated at the end of last year: that TikTok will become one of the core platforms brands will use to attract the audience they need — millennials and generation Z.
TikTok Pulse is a new solution for contextual advertising. TikTok Pulse is designed to give brands simple and effective tools and controls to launch and analyze advertising campaigns faster.
​​​​​​With TikTok Pulse, marketers can increase brand awareness, as users will place advertising next to the catchiest content. Twelve categories — from the latest cosmetic life hacks to games — allow you to attract the most relevant audience.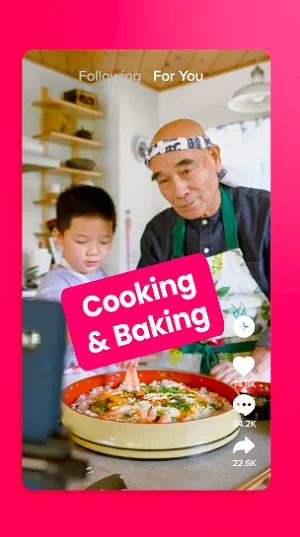 &nbsp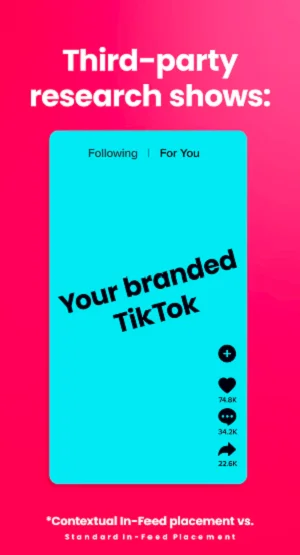 TikTok Pulse gives a new tool for brands. Source
Another news in the spring of 2022 is the opening of the Library of creative possibilities on TikTok. At the very beginning, the Library will be filled with entertaining content from GIPHY, including a collection of clips. The clip is a GIF with sound and allows you to share well-known quotes and reactions. The new functionality will let users utilize GIPHY to express creative ideas via the content visually.
Library of creative possibilities. Source
Elon Musk bought Twitter: the second breath of the social network
One of the last month's core pieces of news in the digital world is that entrepreneur Elon Musk bought Twitter. Compared to other social networks, Twitter does not have the most users, but at the same time, there are many influencers who have an impact on the social environment. At the pitch session, Elon Musk spoke about his global plans and vision for the coming years.
The developers plan to implement monetization through advertising — Twitter Blue in particular — for which users pay $ 3 per month to access premium features. According to forecasts, it is expected that Twitter Blue will have 69 million users by 2025.
The presentation does not mention any specific innovations, but one thing is clear: the platform has clearly received a powerful surge of interest.
Pinterest against fake news
It is the first platform that created the principles of combating fake news about climate change. According to the new policy, the social network will remove content that denies the existence or consequences of climate change. Content that contradicts established scientific knowledge is prohibited. It is aimed at avoiding misleading users.
Pinterest is recruiting Pinterest Creators, who will produce content that helps inspire subscribers and users of the service to a greener life. The platform will also create editorial materials on lean living, recycling, and food waste minimization.
Pinterest has previously banned misinformation on the topics of health and politics. In particular, advertising campaigns on weight loss and political advertising undergo strict moderation.
New social networks of the near future
Despite the active development of giants, new platforms regularly appear among social networks that show great promise.
Supernova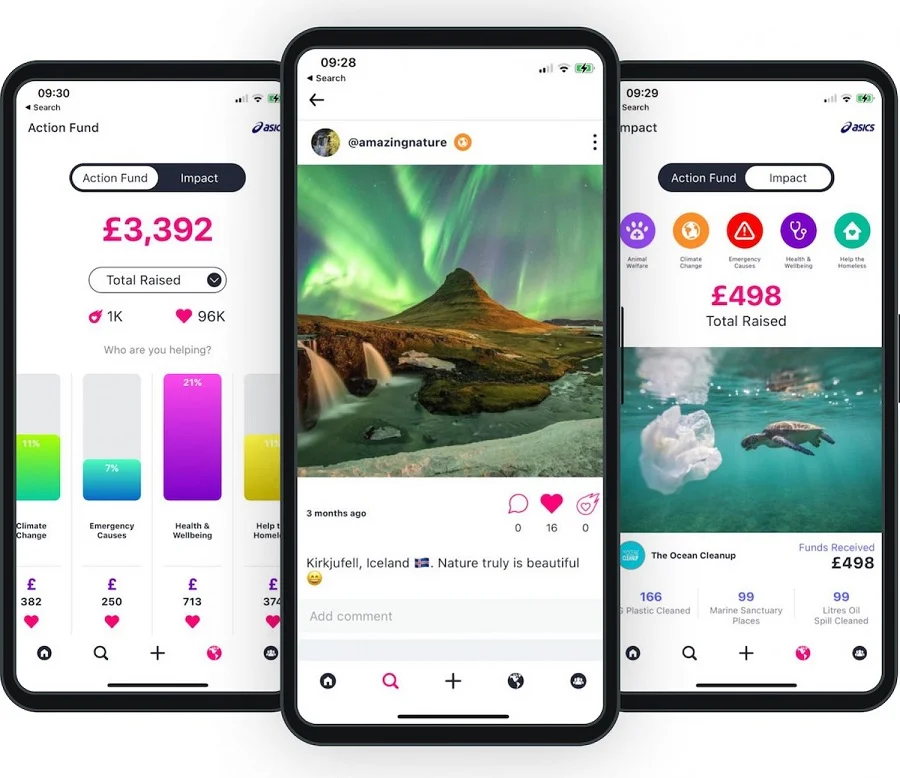 Supernova is a new social network. Source
The startup is positioned as an alternative to Facebook and Instagram. It will be aimed at millennials and a younger audience ready to use the social network actively. The service founder said in the presentation that they would transfer about 60% of advertising revenue to charitable organizations. At the same time, the money will be distributed depending on the "likes" of users: participants will be able to choose. Among the global problems are climate change, assistance to the homeless, protection of human rights, and animal welfare.
BeReal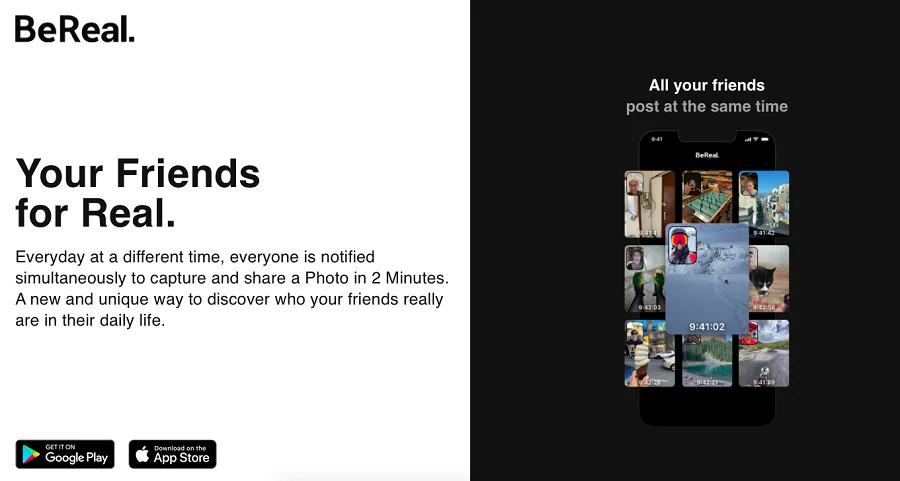 The BeReal platform is similar in its concept to Instagram. Source
The platform was created in 2020 by French entrepreneur Alexis Barrayar. The platform is similar in concept to Instagram — users post photos, but with some exceptions: firstly, there are no filters, and secondly, the user has a particular limit on posting images. Active monetization and the presence of bloggers and influencers on Instagram have led to users not seeing their friends' feeds — they see endless advertising. You won't be able to create a perfect image in BeReal.
Substack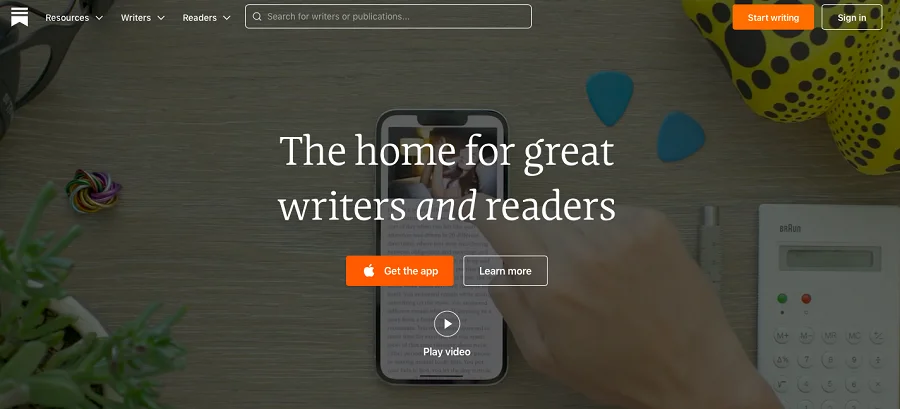 A new RSS reader was created especially for Substack authors. Source
The subscription news distribution platform has launched a mobile application for iOS, which, according to the plan, will allow you to opt out of email. A new RSS reader was created specifically for Substack authors. Users can view the feed of updates to which they are subscribed instead of tracking them by email. The main page will help you find new authors who may be interesting to you. It will become an additional tool for promotion. An Android version is in development.