Communications Today every company in any industry uses online tools for running a business daily. In this article, we will review ways to improve team interaction and efficient tools for communicating with clients.
Guiding principles for choosing communication tools
Internet communications are vital for the development of any company. A small high street coffee shop can communicate with their clients via Instagram. However, the efficient performance of mid-size and large businesses depends on professional communication tools.
As things stand right now, there are dozens of tools for internet marketing aimed at business communications. Functionally, some of these tools can complement or clash with one another instead. It is essential to choose suitable means to facilitate the work process without causing unnecessary problems to avoid making employees' work processes harder by running the same process in different programs.
To organize effective business communication, we recommend choosing more large-scale tools first and then moving to smaller ones:
You can appreciate the value of a particular business communication tool only when you start using it. Moreover, the advantages of some systems only become evident after a long time. It is true about CRM and tools for project management. For this reason, we recommend signing for longer trials before buying a license if possible.
Bear in mind that integrating tools into work processes can be time- and effort-consuming for certain employees, and permanent trials of different systems can harm your business processes. If you doubt that the chosen platform fits your requirements, try using it on a limited number of employees. If the focus group is happy with the tool, you can apply it to all the company departments.
1. VoIP-service: Nextiva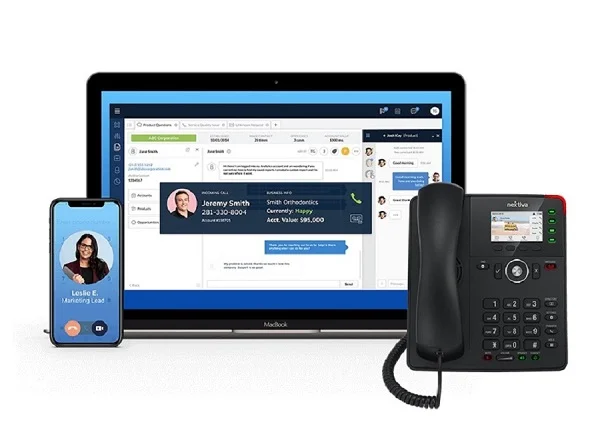 The year of foundation: 2006
Nextiva is a unique service for communicating inside the company and for the work of the sales and client support departments. Basically, Nextiva is not only the standard landline but also a video conferencing service. Unlimited voice and video calls are available in all the subscription tariffs.
More advanced tariffs have the option of running video calls and conferences with an unlimited number of participants. The most advanced tariff plan has analytics tools for CRM integration for efficient cooperation with clients.
The cost of the package is different in monthly and yearly plans and depends on the number of employees added to the system. The more employees you have — the lower the price is for every Nextiva user. There is no free Nextiva version. But the company can buy the minimal tariff plan trial called Essential.
The main functionality:
Unlimited voice and video calls;
Integration with Outlook and Google Contacts;
Optional CRM system integration (Salesforce, Zendesk);
Mobile applications.
The price for one user in a monthly subscription is US$24.95 (Essential), US$29.95 (Professional), US$39.95 (Enterprise), and US$60.95 (Ultimate).
The monthly price for one user in a yearly subscription is US$17.95 (Essential), US$231.95 (Professional), US$31.95 (Enterprise), and US$52.95 (Ultimate).
2. Videoconferences: WeBex by Cisco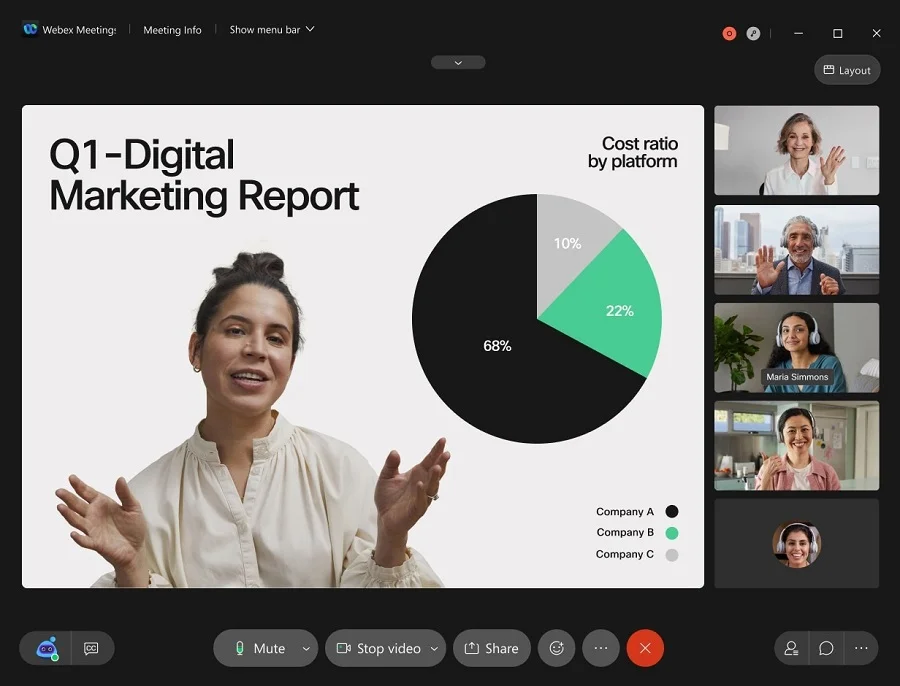 It is easy to choose a qualitative service for video conferencing. If you don't want your communication to be constantly interrupted by "Your screen is frozen!" you need to choose a reliable platform. A good option can be WebEx by Cisco. The service provides convenient communication even before the conference has started. The app has an intuitive interface with a chat feature and an option to send instant reactions with emojis.
WebEx provides an instant switch between a desktop and a mobile device. It is very convenient when your phone battery is running low — or you need to change the place because of background noises. Besides, noise removing feature in WebEx is implemented at a very high standard. The speakers' voice remains absolutely clear when background noises are removed. Visual materials, for example, presentations are easily integrated into the video: speakers on such video conferences look very realistic as if they are offline.
The main functionality:
Up to 100 users in a subscription;
Up to 200 participants in a conference;
Up to 24 hours of a video conference;
Real-time speech translation into other languages;
Up to 10GB on a cloud disk for saving conferences;
A free version of WebEx is only available for one speaker and the maximum number of conference participants is 100.
The price per month for 1 employee is US$14.95 (Starter) and US$29.95 (Business).
With a yearly subscription, the monthly price for 1 employee is US$13.50 (Starter) and US$26.95 (Business).
3. Webinars: GoToWebinar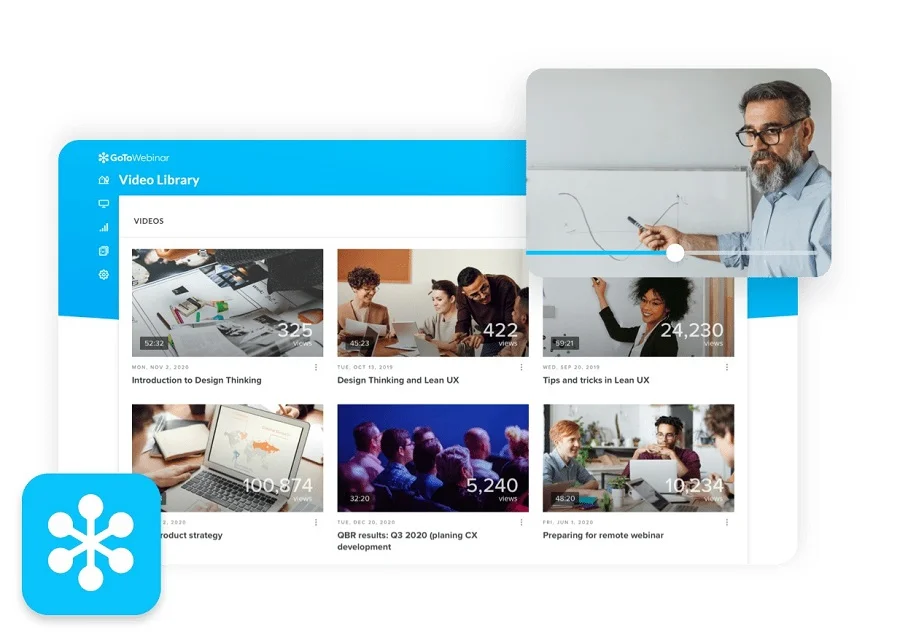 The year of foundation: 2003
For running webinars professionally, it is recommendable to use professional services. The idea of the specific program GoToWebinar is that the content users can save a lot of time and money for the creation and distribution of content. GoToWebinar is suitable for different scenarios: training new personnel, communicating with clients, and selling webinars as a product.
GoToWebinar has implemented several helpful features to make the running seminar process more successful and effective. A webinar can be recorded and added to the cloud beforehand, which is particularly useful if you run repetitive events, for example, onboarding new users. In the live-stream mode, GoToWebinar allows connecting up to 3000 viewers. The upcoming webinars can be announced in advance by sharing register forms. Future viewers can ask questions by filling out a particular template to help the speaker plan the webinar accordingly.
There is no free version of the service, but you can sign up for a 7-day trial.
The main functionality:
Tools for analyzing webinars;
Polls and O&A;
Saving webinars in the cloud on a local disk;
Integration with CRM systems.
The monthly price for one license as part of a yearly subscription is US$89 (Starter), US$199 (Pro), and US$429 (Plus).
4. Project-management: Wrike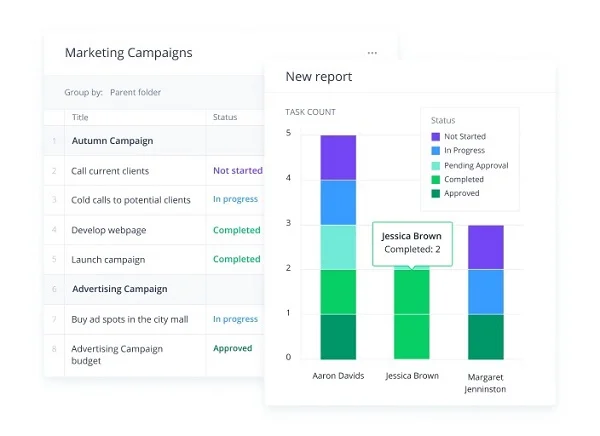 The year of foundation: 2006
Wrike is one of the oldest and most popular services for project management. Currently, 20000 companies across the world are using Wrike. The exclusive popularity of the service can be attributed to the efficient actions taken by the developers. The Wrike interface can be translated into seven languages. Except for the basic English version, the interface is available in French, Spanish, German, Portuguese, Italian, Japanese, and Russian.
Wrike is aimed at communication in teams for solving business tasks. The tasks in the service can be displayed as a list, Kanban board, or Gantt chart according to users' choice. Wrike developers have created templates for facilitating the work processes of any department: for developers, marketers, creative and, IT teams.
The free Wrike version has the main features of the platform. It includes integration with virtual cloud services (Google Drive, Dropbox, Box, MSF Office 365, and OneDrive) and 2GB of system cloud storage.
The main functionality:
A sleek interface that is very accessible in the desktop web app and mobile app;
Generation of interactive Gantt charts;
Ability to share documents and tasks;
Ability to send requests inside the system.
In addition to the free version, Wrike offers trial periods for all the tariffs.
The price per month for one user is US$9.80 (Professional) and US$24.80 (Business).
5. Communication inside the company: Slack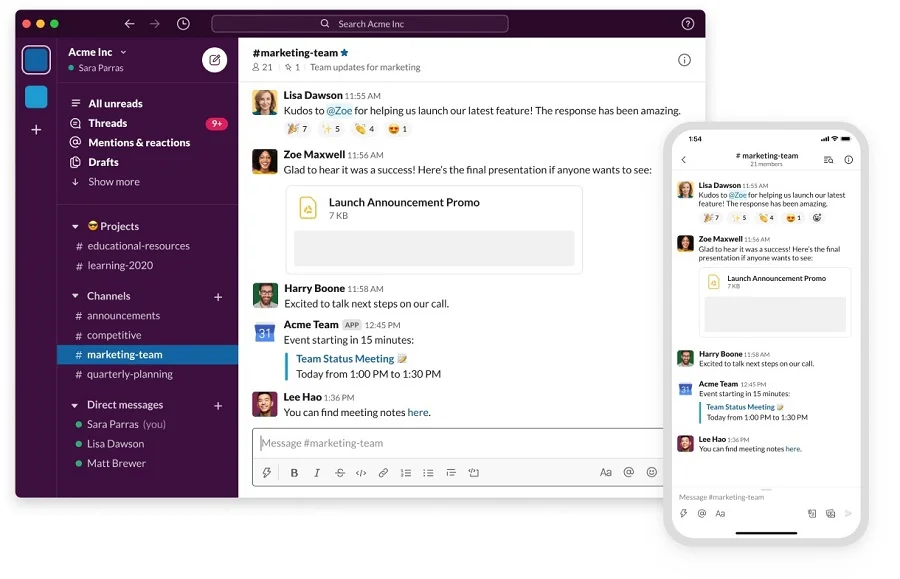 The year of foundation: 2013
Convenient and quick communication between employees, departments, and inside departments is a task that cannot be solved with the help of traditional messengers. Slack is an effective tool for business communication. The service is in demand among companies as it guarantees convenient communication in private and group chats. Slack also allows storing helpful corporate files inside the system, for example, r onboarding instructions and materials. A vital advantage of the service is integration with 2400 other platforms to enable work with different documents.
Famous brands use Slack. The official website mentions such cases as Target, Lyft, BBC, HelloFresh, and Shopify. One of the multiple advantages of the company is that it makes communication reliable which data-protection certificates prove.
Another advantage is that Slack has a free version that allows accessing most functions with particular limitations.
The main functionality:
Access to the last 10,000 or all messages available;
Optional integration with dozens of apps such as Google Drive and Office 365;
One-on-one phone and video calls;
Optional 15-member video conferences;
Mobile apps for iOS and Android.
The price for an employee is US$8 (Pro) and US$15 (Business).
With a yearly subscription, you pay US$6.67 (Pro) and US$12.50 (Business) for an employee.
6. Communication with clients: Zendesk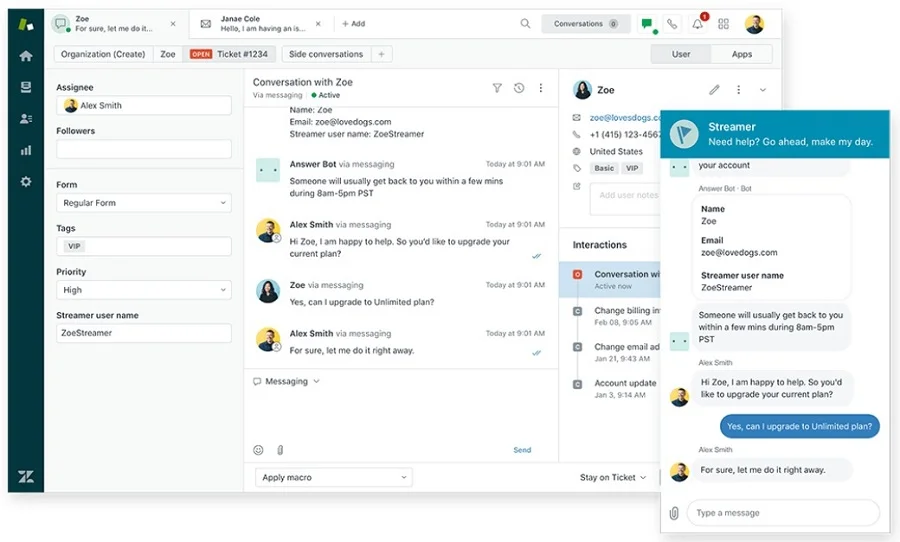 The year of foundation: 2007
In 2021, it is pretty hard to establish effective business processes in the client department as internet users often use different tools to communicate with the brand. The Zendesk service allows companies to build convenient communication channels of brands with users. The tool enables dealing with requests via a chat on the website, emails, social networks, and SMS.
Zendesk has implemented a lot of helpful tools. For example, pre-programmed chatbot templates and integrated analytical tools display every aspect of client service performance. Moreover, the analytical insights of Zendesk allow building a representative client persona.
Even though all Zendesk tariffs are subject to payment, even the most affordable plan has all standard functions. Companies can request a trial version, and startups can enjoy a free version for half a year.
The main functionality:
Bundling requests from SMS, messengers, social networks, and web apps;
Support of voice messaging;
Up to 500 automated answers;
Optional multilanguage content for clients.
With a yearly subscription, the monthly price for one employee is US$49 (Suite Team), US$79 (Suite Growth), and US$99 (Suite Professional).
7. Email marketing: Mailchimp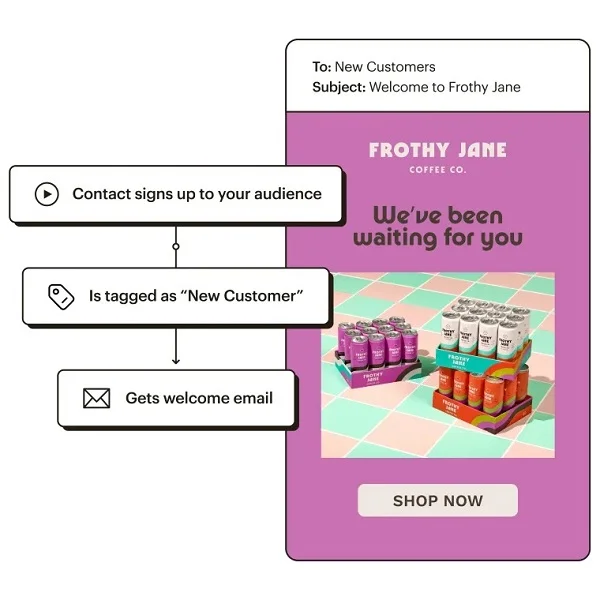 The year of foundation: 2001
Email marketing plays a significant role in building qualitative communication with clients. According to Data & Marketing Association, every dollar invested into email marketing leads to $42 ROI. Whether your ROI will be higher or lower than the average number to a certain degree will depend on your choice of the program for online mailout. Mailchimp is a leader in this services segment.
The main advantage of Mailchimp is the c simplicity of use along with colossal opportunities for automation and analytics. You don't need to have much experience in the field, to set up automated mailouts. It will not only result in emails — but also leads converted into clients. Moreover, users have access to extensive analytics: from how many emails are opened to the money spent by recipients when being redirected from emails.
A Mailchimp completely free plan that allows sending emails up to 2000 recipients is a great solution for small companies.
The main functionality:
Drag and drop templates;
Building landing pages and lead generations;
Splitting the mail lists into segments;
Optional behavioral targeting;
The price per month for mailouts to up to 1500 contacts is US$20.99 (Essentials), US$51.99 (Standard), and US$299 (Premium).
8. CRM: Salesforce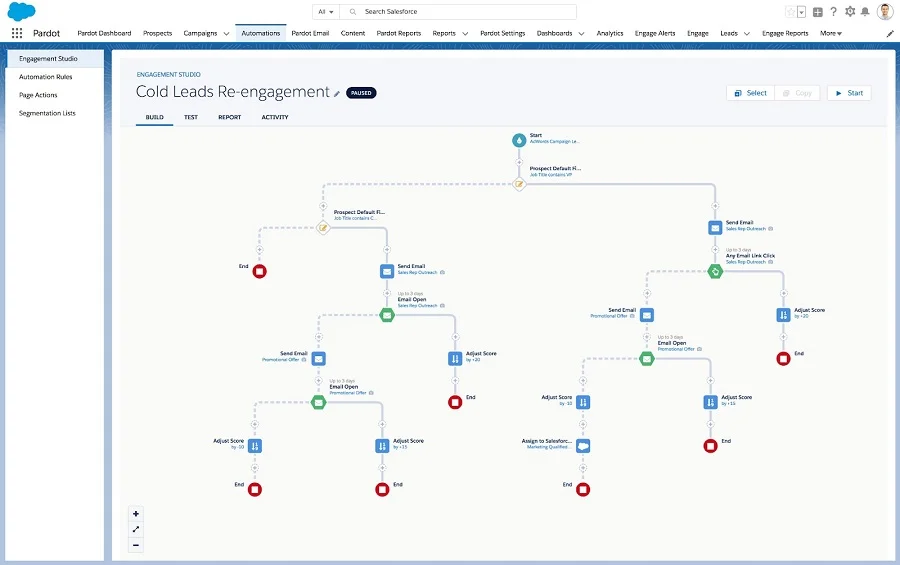 The year of foundation: 1999
RM is the most comprehensive implementation of a business communication system. Such services facilitate communication between companies and clients. They also make it easier for employees of different departments of the company. Using effective CRM such as Salesforce increases customer lifetime value (LTV). According to the official data, implementation of CRM increases lead generation by 44%, customer retention by 45%, and revenue by 37%.
Salesforce is one of the oldest and most popular CRM clouds. It offers the most large-scale tools and integrations with different economic sectors. You can choose a suitable tariff and find out more about the peculiarities of implementation on the company's official website.
Salesforce doesn't offer a free subscription, but you can sign up for the 30-day free trial.
The main functionality:
Convenient contact and sales funnel navigation;
Integration with your email box;
Automatic transfers to further stages of the sales funnel;
Optional sales forecasts.
With a yearly subscription, the price per month for one employee is US$25 (Essentials), US$75 (Professional), US$150 (Enterprise), and US$300 (Unlimited).
9. Sales team management: Gong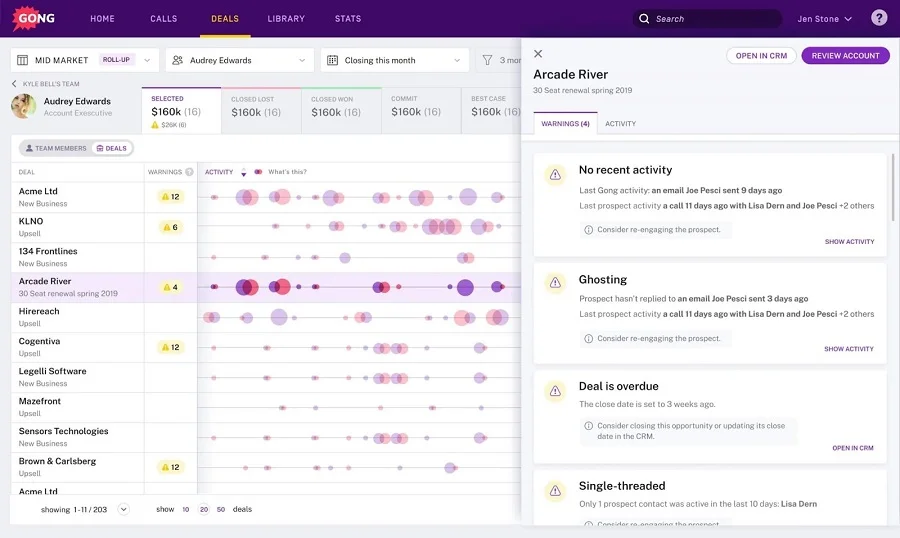 The year of foundation: 2015
It is a specific service for the sales department and a more precise tool than a traditional CRM. The task of this service is to analyze the data for the closed and unsuccessful deals to provide representative information for further actions. For example, you can generate the most effective behavior scenario which, most likely, will close the deal successfully.
At the stage of lead introduction, there are different stages when a part of the contacts is lost. Gong allows you to study the pattern as the program has search functionality that provides access to phone calls, emails, and any other contact point used by any of the clients.
Gang doesn't offer a free subscription plan and doesn't disclose the price for their services. To request prices, you need to fill out a form to indicate the number of staff of your sales department (6 segments varied from 2 to 1000+ employees).
The main functionality:
Integration with CRM;
Integration with messengers and emails;
Archive with all interactions with clients;
The price will be disclosed on request.
10. Helpdesk: Kayako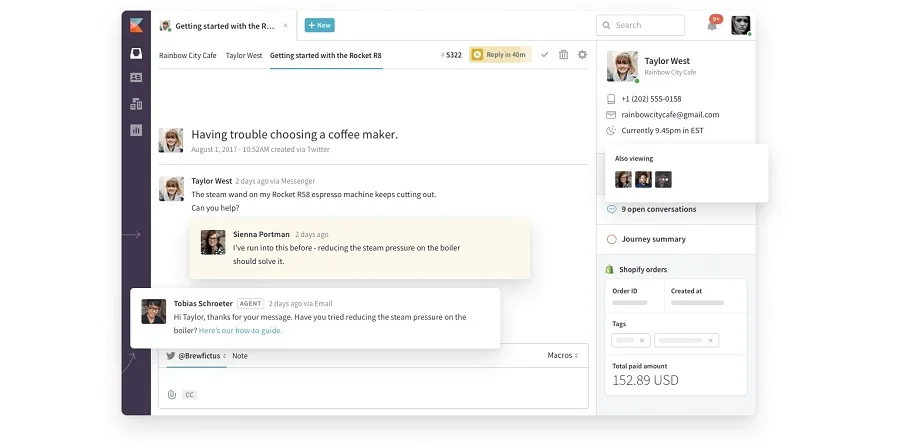 The year of foundation: 2001
When it is required to answer the question of a very concerned client, it is pretty hard to communicate through all the channels at once. Kayako service can help you with it. It displays all the client requests from chats on websites, messengers, emails, and website request forms. The program saves all the requests, and even if a user writes on Facebook the first time and an email the second time, the client service team will have an opportunity to learn the exact path of the client.
One of the advantages of Kayako is that you can add some incoming messages into one joint folder. Thus, the client service team can efficiently track standard client requests and challenging cases.
Kayako doesn't offer a free subscription, but users can sign up for a 14-day trial.
The main functionality:
Chat requests from the website, emails, Twitter, and Facebook;
Automated saved templates;
Optional database and support desk;
Optional integration with Salesforce.
The price per employee per month is US$20 (Growth), US$60 (Scale), and US$59 (Classic On-Prem – for installing on servers of the company).
Modern tools for business communication speed up all the processes: communication between employees, interaction with clients, and, as a result, help achieve business goals faster. When choosing the tools for your company, especially if it is a big enterprise, it is a good idea to consider the functionality of these apps. Ideally, the same team of specialists should be in charge of choosing new company tools to avoid the situation of apps interfering with each other.
Moreover, when choosing the tools for business communication, it is vital to check the integration options between services. You can use a video conference service separately, but communicating tools for chatting with clients and sending emails should be integrated into a single system.