Digital marketing at the present stage of development is a complex system of interrelated tools that ensure the effective operation of the website and quick communication with the audience. In this article — you will find ten applications to help you grow your business.
Marketing tools for business development
Modern Internet marketing involves using various tools as well as numerous promotion channels. It is necessary to determine the website SEO correctly. Develop paid promotion through contextual advertising or social media. Developing social media accounts has become vital for businesses, and that is much work of creating visual and textual content.
Each element of Internet marketing involves direct or indirect interaction between the business and the client. Everything that companies create as part of a marketing strategy should help the client choose or remove possible objections if the product is complex and requires careful check by the client.
If the company has formed a large marketing department, and there is no shortage of professional and temporary resources, then it is possible to deal with all the tasks related to Internet marketing. When a new company or small business does not have sufficient human and time resources, it will be convenient to gradually increase the load on marketers to work effectively with promotion channels.
Considering the effectiveness and importance of the specific tools, as well as the amount of mandatory work, we can see the following steps of solving problems:
Creating a website;
Building a sales funnel using a CRM system;
Setting up mail sending;
Creating Google Ads advertising;
Creating social media accounts;
Launching advertising in social media;
SEO analytics and website visibility improvement.
When creating social media accounts, a company needs to produce relevant visual content constantly. To do it, you should involve designers, possibly also photographers and videographers.
Google Analytics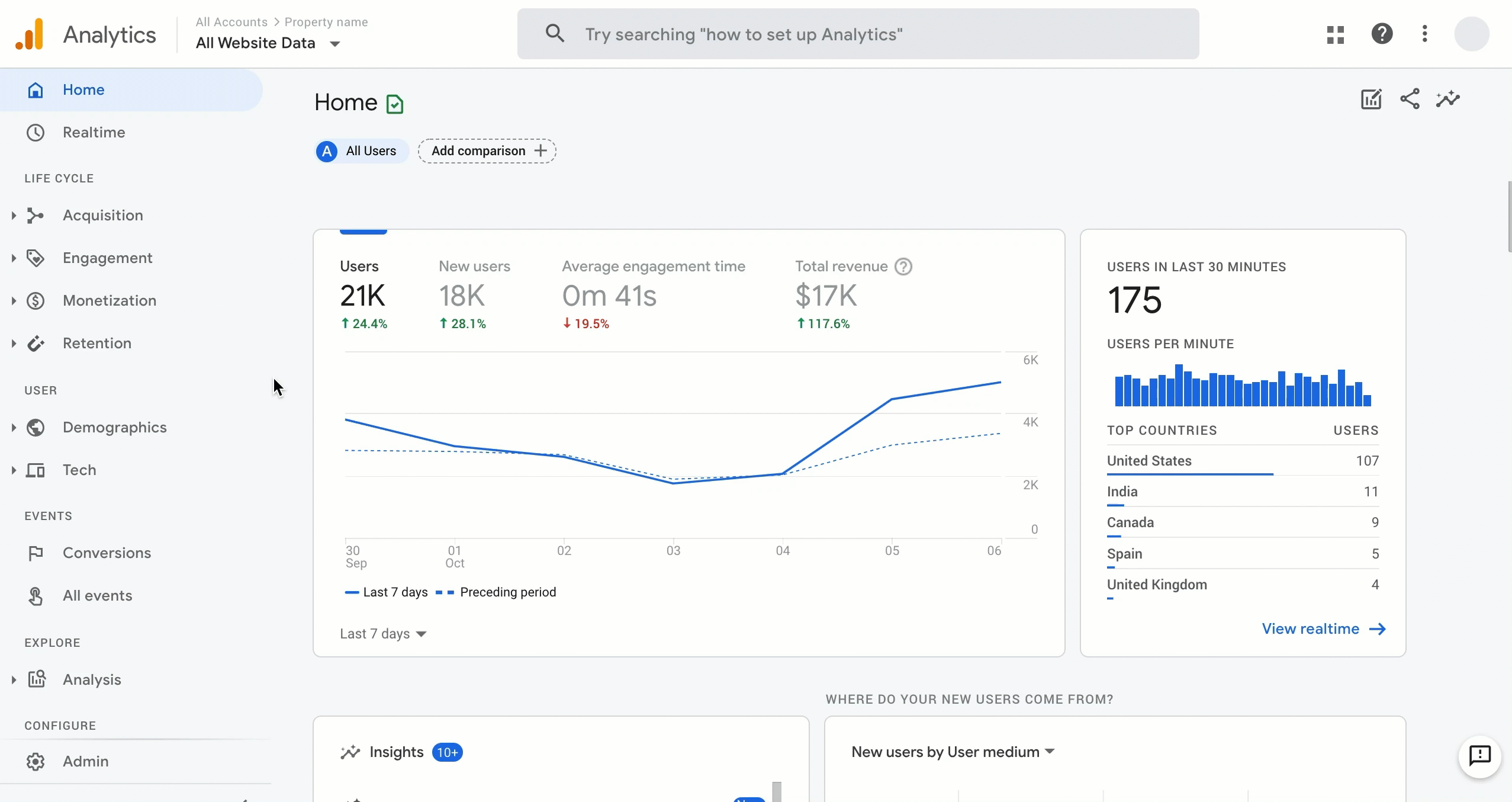 Date of foundation: 2005
Google Analytics (GA) is a universal tool for analyzing all kinds of user activity on the website. The data is available both in real-time and in the form of reports on particular parameters or user demands. Using GA allows you to understand the behavior of website users, optimize UX and increase conversion.
There are two huge advantages of Google Analytics making the system very popular — versatility and no fees. GA is compatible with literally any CMS (content management system). It allows you to integrate GA on small business websites and big online stores.
It is worth noting that it is easy to set up GA, and the interface is pretty intuitive. Although the system contains a lot of information, finding the data you need is quite simple.
Main functionality:
Providing maximum data about website visitors (pages viewed, time, region, gender and age of the user, etc.);
Detailed reports on user activity on the site (entrance and exit pages, sources of access to the site, etc.);
Integration with SRM-systems for building a sales funnel, determining the user's path, and determining the conversion;
Easy integration with Google Ads and Google Tag Manager.
Using Google Analytics is free, but you need to have a Google account to use the system.
Google Ads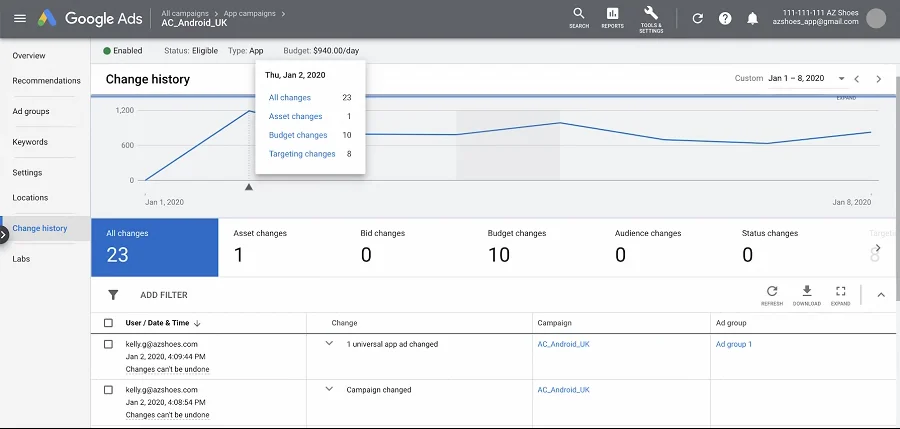 Date of foundation: 2000
Google Ads is a vast online advertising platform. Ads can be displayed in search results and third-party sites through Google Display Network. Google Ads data is easily integrated into Google Analytics reports, which allows you to build a customer journey accurately.
Working with the Google Ads Cabinet is quite simple, and along with completely manual settings for advertising campaigns, it is possible to use Google suggestions. When entering data to display ads on search query pages, the marketer determines the list of keywords to show the ad. They set the maximum CPC and daily budget, define the geography and time of the ad, and can also set the preferred category of users to whom the ad will be shown.
Main functionality:
Keyword Planner helps you select a list of relevant search queries for which ads will be shown;
AdWords Express - an optional set of automatic rules for quickly setting up advertising campaigns;
Ability to set up remarketing - showing ads to users who visited the site in the past.
Using the Google Ads advertising account is free, but ads are displayed only with a positive balance. Money is deducted for the click or view number depending on the advertising campaign settings.
Facebook Business Suite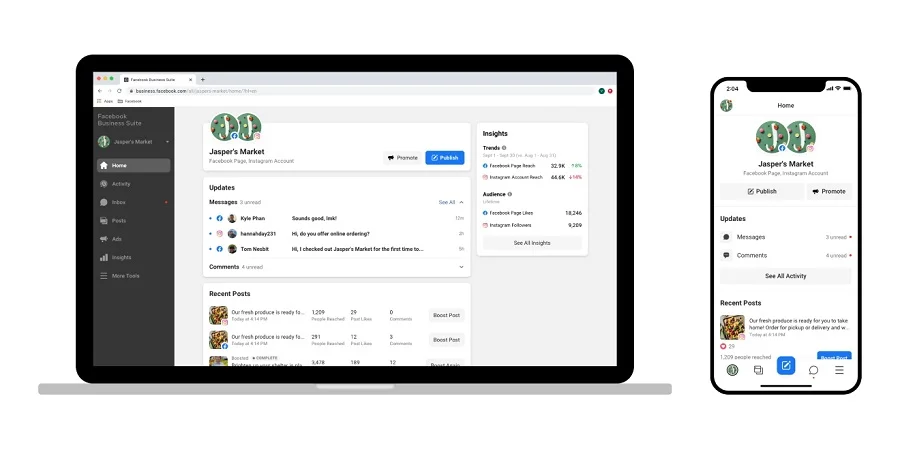 Date of foundation: 2020
Various Facebook advertising cabinets have been around for a long time, but in 2020, the corporation, now called Meta, introduced a completely new product. The purpose of the Facebook Business Suite is to combine advertising, posting, communication with subscribers, and a store within one platform within Facebook, Instagram, and Messenger. If other social networks and messengers are not relevant for Internet marketing purposes, Facebook Business Suit ensures efficient work of the SMM department in a company of any size.
The application allows you to analyze the audience behavior on social media corporate pages and place ads on social networks and Messenger. Further, the app plans to augment its capabilities by integrating with WhatsApp. The suite is more convenient to use as a web application, but you can also check up-to-date data in a specific mobile application.
Main functionality:
Building advertising campaigns in Meta products;
Analysis of engagement in Instagram and Facebook;
Quickly follow comments and send saved replies.
Using the Facebook Business Suite is free, but registration of the business page on Facebook is required (even if promotion on the social network is unnecessary). Money is deducted for the click or view number depending on the advertising campaign settings.
Semrush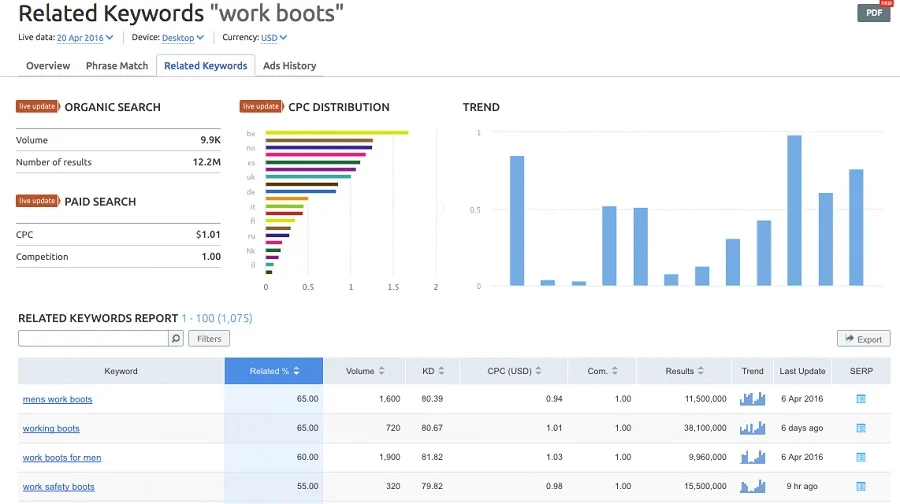 Date of foundation: 2008
Using SEMrush allows you to improve the SEO of your site comprehensively. On the one hand, the program checks internal sites to improve page visibility for search engines. On the other hand, SEMrush suggests important keywords and determines what search parameters competitors use and how they are ranked in organic search results.
SEMrush is a complex product that includes many tools. The need to use each of them is due to the complexity of the projects. Analytics and reporting tools are also relevant for different target audiences — from small companies to large ones. This approach to product formation explains the significant price difference.
Each paid package has a trial period.
Main functionality:
Keyword tracking;
Monthly and historical reports on metrics;
SEO-analytics of site pages.
Cost per month: US$119.95 (Pro), US$229.95 (Guru), US$449.95 (Business)
Mailchimp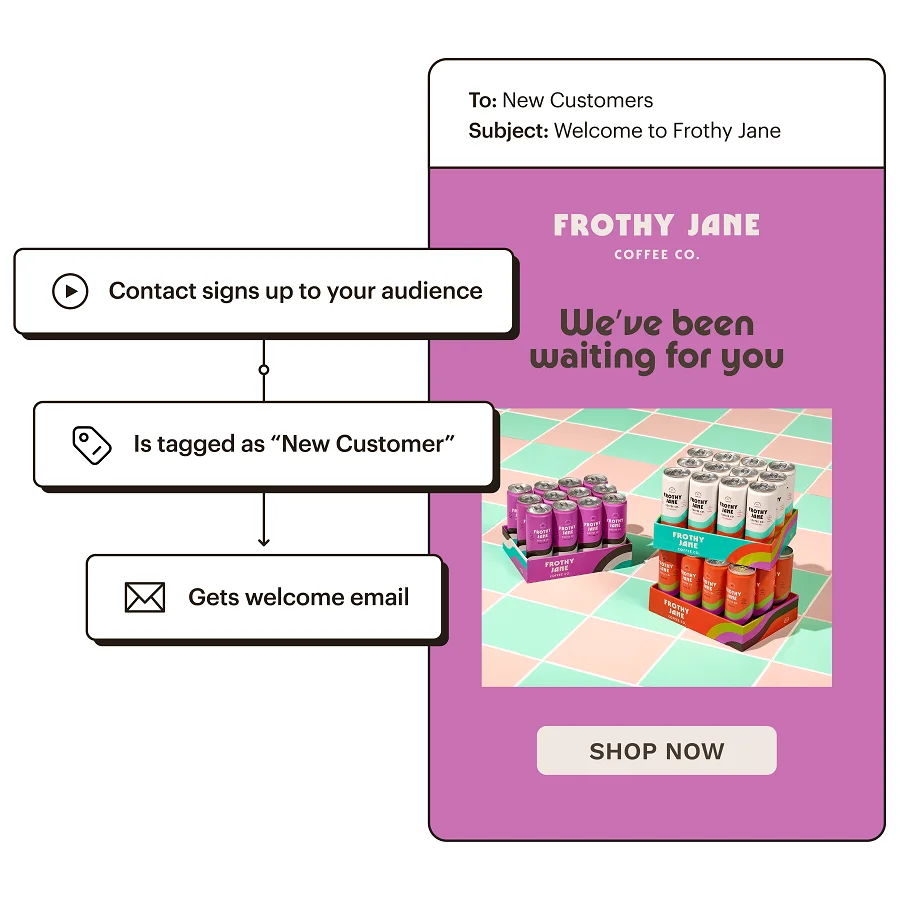 Date of foundation: 2001
Mail marketing is crucial for building high-quality communication with customers in all business areas: from retail to news media. According to the Data & Marketing Association, a $1 investment in mail marketing provides a $42 ROI. It is average data, but the benefits of quality mail marketing are clear. Automated mass mailing according to the subscriber base requires special services, and Mailchimp belongs to the leaders in this segment.
Mailchimp's interface is intuitive. Extensive automation options make this service as convenient as possible, even for beginners in mail marketing. Users have access to many analytical data — from opening mails to the amount spent by recipients when getting redirected by clicking on e-mail links.
The Mailchimp absolutely free plan is an excellent solution for small businesses — you can send e-mail to up to 2,000 contacts.
Main functionality:
Drag and drop building templates;
Building a landing page for lead generation;
Dividing the mailing list into segments;
Optional behavioral targeting.
Cost per month for 1500 contacts: US$20.99 (Essentials), US$51.99 (Standard), US$299 (Premium)
Salesforce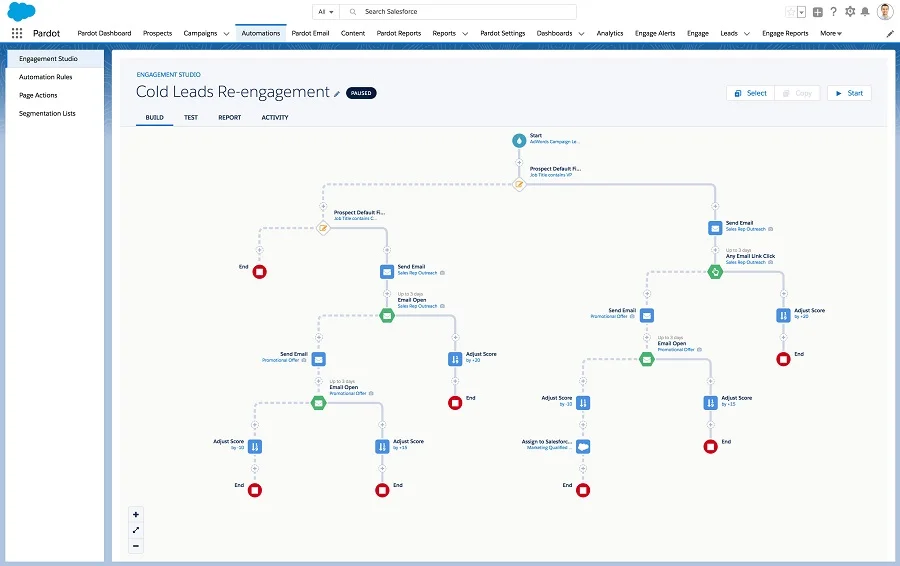 Date of foundation: 1999
CRM (customer relationship management) services perform several functions. The main task is to build communication between the company and customers. Integrating effective CRM systems — such as Salesforce — allows you to increase customer lifetime value (LTV). According to the official data of the service, the use of CRM systems increases the generation of leads by 44%, customer retention by 45%, and sales revenue by 37%.
Salesforce is one of the oldest and most popular cloud CRM systems. The product contains a maximum of tools and integrations for various sectors of the economy. The system is for large enterprises with a long customer journey and small companies — the first purchases of which are made by customers impulsively as a reaction to Instagram ads. You can choose a suitable model and get acquainted with the implementation features directly on the site.
Salesforce does not provide a free subscription but does offer a free 30-day trial.
Main functionality:
Convenient navigation through contacts and sales funnel;
Integration with e-mail;
Automatic transitions to the next stage of the funnel;
Optional sales forecasts.
The monthly cost for one employee per one month billed annually: US$25 (Essentials), US$75 (Professional), US$150 (Enterprise), US$300 (Unlimited).
Onlypult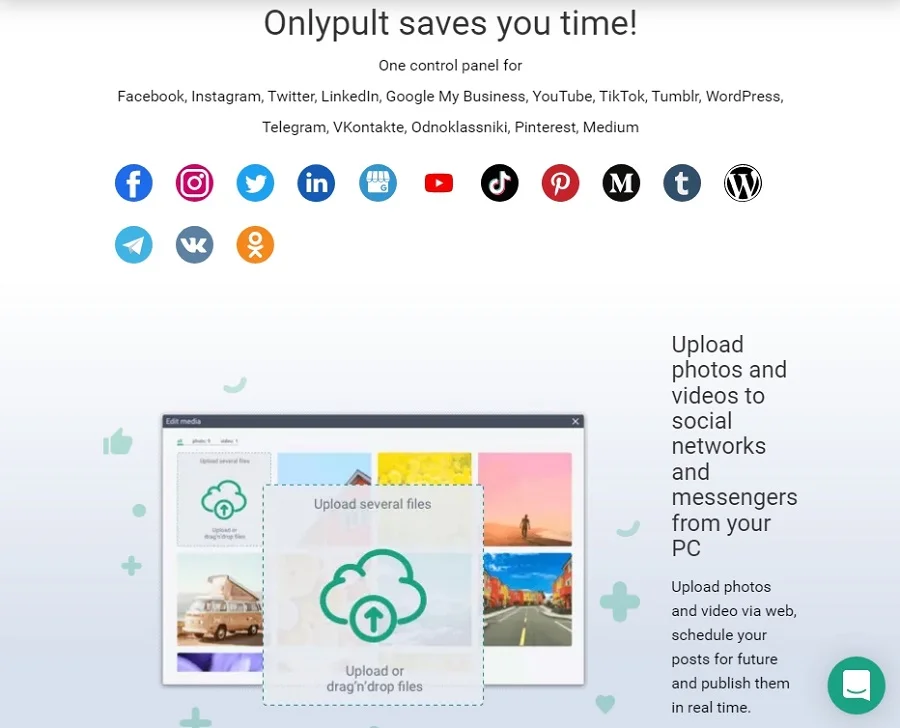 Date of foundation: 2015
If your company maintains several social media accounts and approvals by the marketing and design departments take a lot of time, then the implementation of Onlypult optimizes workflows. One Onlypult account allows you to post and track the activity on Instagram, TikTok, LinkedIn, YouTube, and other social media.
The Onlypult account has its own media editor, which allows the collaboration of several employees. The platform lets you create micro landing pages to integrate them into promotional posts on various social media. Media landings enable you to involve the audience in purchasing a product more effectively and, at the same time, provide you with detailed analytical data on user activity.
Another vital function is monitoring social networks, which allows you to find out where and who mentioned the brand in public posts.
Main functionality:
Unlimited posting on social media - up to 40 accounts;
Photo and video editors;
Bilder, Monitoring, Streaming.
Cost per month: US$10.50 (Start), US$17.50 (SMM), US$34.30 (Agency), US$55.30 (Pro).
Canva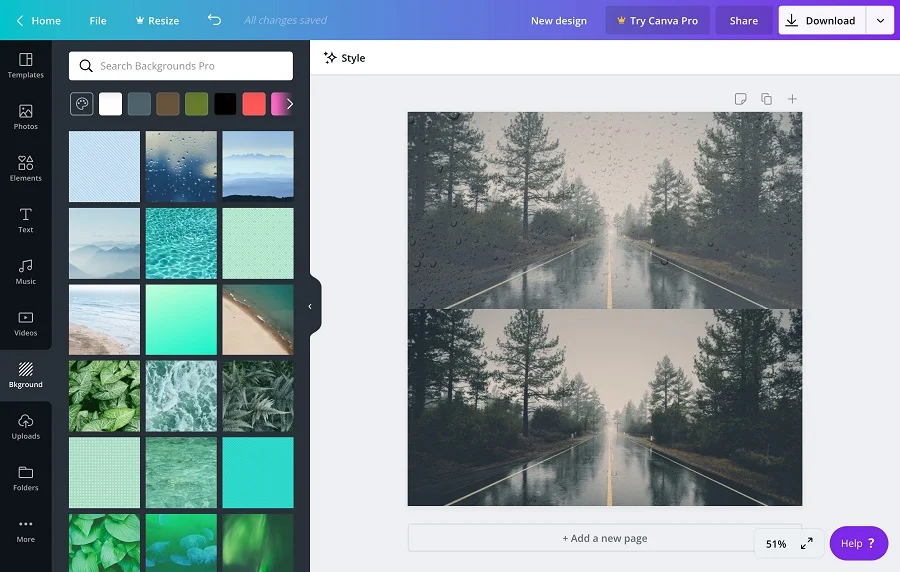 Date of foundation: 2013
Canva is an essential service that mainly helps you solve two problems: create a stylish presentation and prepare publications for social networks. Accordingly, the two main categories of users are companies that need well-designed pdf documents or PowerPoint presentations and small SMM departments that need to create engaging posts using a minimum of funds.
A big draw of Canva is its extensive library of free templates. That's why Canva should always be in the bookmarks of any marketing professional. Even if you need to prepare a report once a year, there is nothing easier than doing it with Canva.
The paid subscription allows users to access premium templates and stock photos to create presentations and social media posts.
The paid version of Canva comes with a 30-day trial.
Main functionality:
Simple constructor based on preset templates;
Optional access to 100+ million stock photos;
Optional access to 100 GB of the virtual disk.
Cost per month when billed monthly: US$12.99 (Pro).
Cost per month when billed annually: US$119.99 (Pro).
Adobe Premiere Rush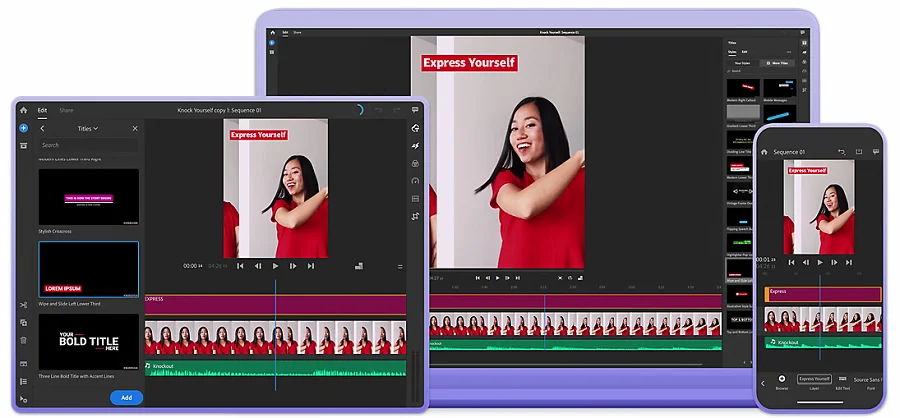 Date of foundation: 2018
If you're a social media poster and don't want to post directly from your phone, then Adobe Premiere Rush is the program for you. This Adobe app allows you to edit videos on PC, iOS, and Android smartphones. The application is much simpler and cheaper than the professional analog of Adobe Premiere Pro, so anyone who has ever edited video for stories on Instagram will be able to figure out the functionality.
The application allows you to combine up to 7 video tracks, correct colors, add text, slow down and speed up the video, and add transitions between frames. When creating a project, the user chooses a video aspect ratio and frame position: vertical or horizontal. Using Premiere Rush will allow you to make a video without unnecessary financial and time costs, which will differ from the usual recording on a video camera.
Adobe Premiere Rush is available for free and has a paid version — both are separate and bundled with other Adobe Creative Cloud applications.
Main functionality:
Video editing with resolution up to 4K UHD;
Adjustment of color correction and brightness;
Access to music tracks from the Adobe library.
Cost per month: US$9.99.
Artlist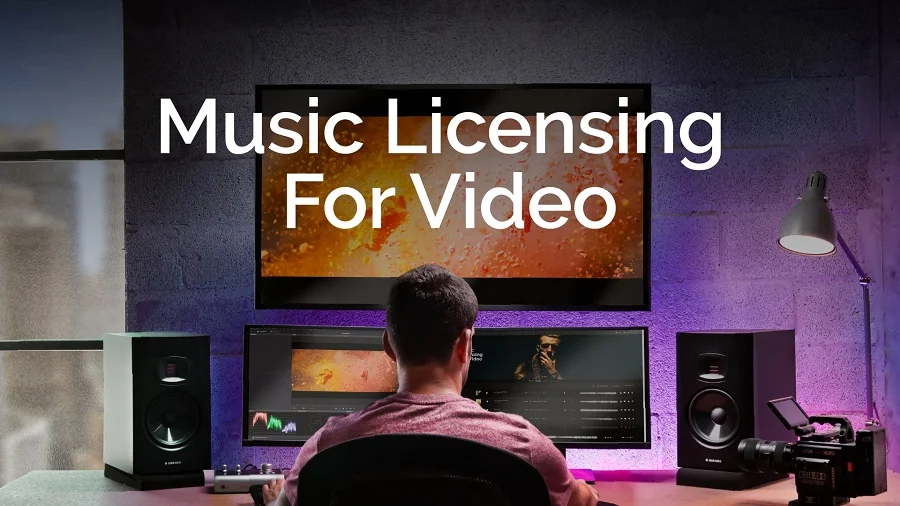 Date of foundation: 2016
Creating a modern promotional video is impossible without adding good music. Although there are many platforms on the market where you can download music by paying for each track or even getting some of the content for free, Artlist offers the most effective access to quality soundtracks for advertising. The company provides unlimited downloading within a subscription.
Initially, Artlist focused only on large companies — so the Artlist license covers all possible uses for tracks. They can be added to TV ads or used in commercials created for clients (for example, an advertising agency). Of course, soundtracks are suitable for corporate social media. Now there is a personal license for bloggers — the use of music is allowed on all social networks.
Please note that music from Artlist is used by Google, Apple, Nike, Mercedes, Samsung, Netflix.
Main functionality:
Unlimited download of tracks by subscription;
High-quality soundtracks in different genres;
Convenient navigation through the track base;
Catalog of sound effects.
Monthly cost when billed annually: US$9.99 (Personal), US$16.60 (Unlimited).
Cost per month when billed monthly: US$14.99 (Personal).


In our selection, we have given examples of the most popular applications. We did not cover the complexity of the tool and the cost of the subscription. The main criterion was the ease of use and understandability to specialists of any level. Even if you do not have to deal with a particular ​​Internet marketing area, you will quickly complete the task using the programs above.
When choosing the best product for your company, you should note that it is difficult for specialists to retrain during work. If you doubt the choice of several similar proposals, then the responsible officer should first establish the pros and cons of all alternatives. At this stage, it is convenient to use product trial versions. The optimal application is then bought and used by all marketing people.