Any business, regardless of size, can manage audience loyalty and raise profits with the proper use of social networks. SMM services today provide tools that allow you to reduce SMM costs and, at the same time, influence the user's decision to purchase a product.
Social networks have long turned from a simple means of communication between friends into an effective channel for brand promotion. Social media has many advantages in the customers' eyes — especially in the consumer goods field. Example:
See genuine user reviews;
Detailed study of how a product or/and a service works;
Direct communication with brand representatives;
Subjective perception of the tone of voice of the brand.
All the listed features of interaction with the brand fall within the Communication category. For brands, communicating with the audience through social media is an opportunity to build audience loyalty. The company development directly depends on the quality of communication between the brand and customers, both current and potential. This development is expressed, among other things, in an increase in the LTV of customers.
Along with the organic growth of the audience through posting in corporate accounts, another vital element of the SMM strategy is paid promotion. So, in the case of organic audience growth, we use analytics to understand further account development steps better. Optimization of advertising campaign expenses depends on analytics data in case of paid promotion.
Many tools have been developed for social media corporate blogs. The functionality of such applications allows:
Develop the design of posts for social media;
Generate paid promotion of posts;
Communicate with the audience;
Analyze the reach of posts;
Analyze the activities of SMM specialists.
Each product has its own strengths, so prior to choosing an app, it is crucial to define the objectives of the SMM department first.
Onlypult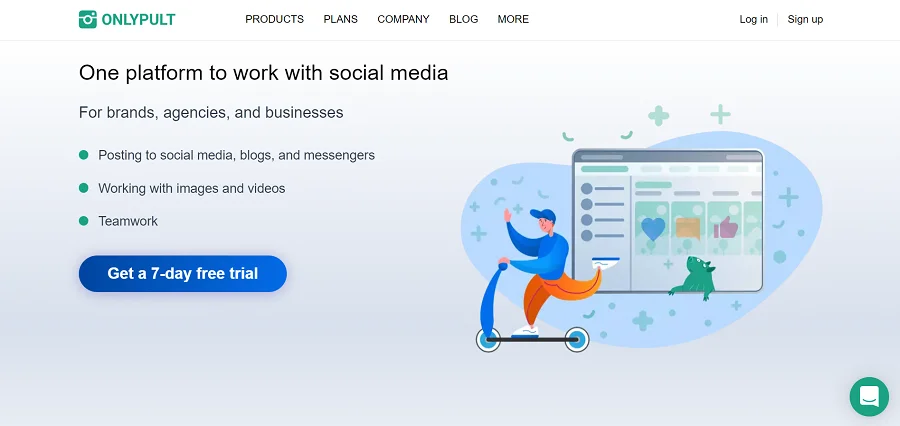 Founded in: 2015
If a business has several accounts on different social media, it is quite natural to use a tool that helps not only with Facebook products. One of the most effective tools today is Onlypult, a service that combines access to Instagram, TikTok, LinkedIn, YouTube, and other less popular social networks.
Onlypult not only facilitates the posting process but also reduces the cost of the production of marketing materials. The platform allows you to create mini-landing pages to integrate them into ads posts on various social media. Landing pages help to involve the audience in purchasing a product more effectively and, at the same time, provide detailed analytical data on user activity.
Another vital function of the Onlypult cabinet is social media monitoring, which allows you to find all brand mentions in public posts.
Basic functionality:
Unlimited social media posting — up to 40 accounts;
Photo and video editors for posts;
Analytics on all promotion channels.
Cost per month: US$10.50 (Start), US$17.50 (SMM), US$34.30 (Agency), US$55.30 (Pro).
Sprout Social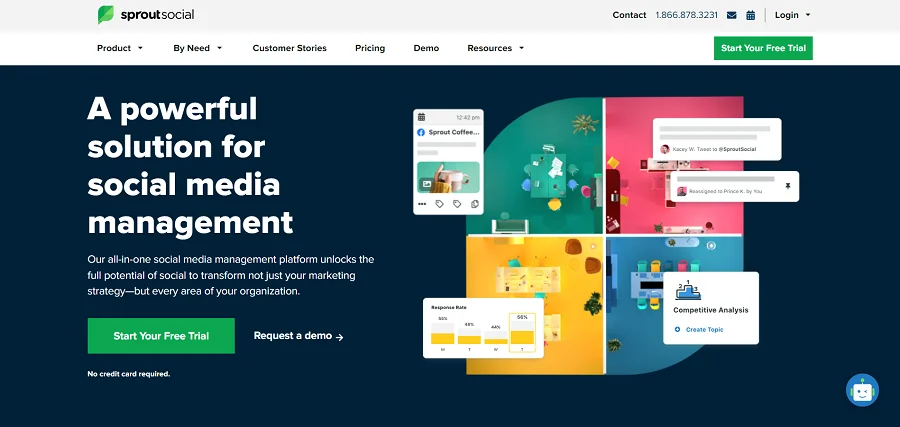 Founded in: 2010
Sprout Social combines the capabilities of a deferred posting tool and a service for collecting social networks analytics. The service suits large companies better and global brands thanks to this feature. The relatively high monthly fee is also calculated, given the capabilities of a large business.
Sprout Social provides several stages of working with social media. Stage one — creating content for Facebook, Instagram, Twitter, and LinkedIn accounts. Stage two - communication with the audience and collection of analytical data on the brand mention, the level of audience engagement, etc. Stage three – the build-up of a chain of branded content released by the company employees through Sprout Social. It makes employees the brand ambassadors.
New customers get 30-day trial access.
Basic functionality:
Delayed posting to social media;
Monitoring profiles, keywords, and locations;
Building complex analytical reports.
Cost per month: US$99 (Standart), US$169 (Professional), US$279 (Advanced).
Cost per month when paying for a year: US$89 (Standard), US$149 (Professional), US$249 (Advanced).
Agorapulse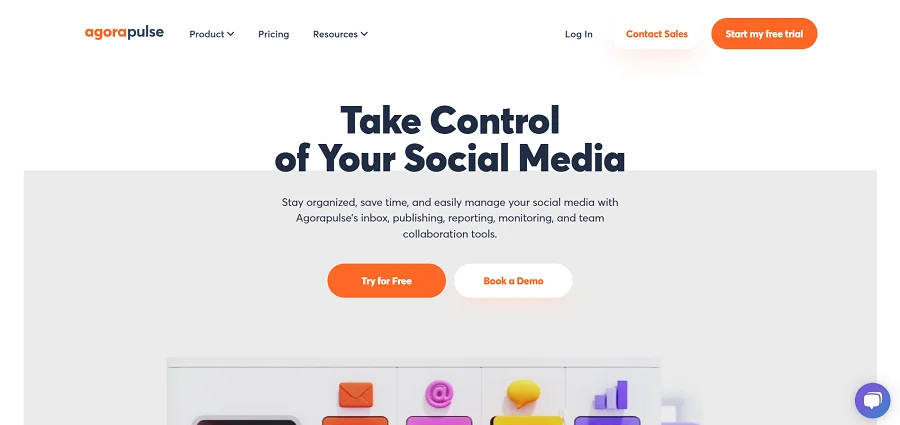 Founded in: 2011
Agorapulse is a social media management service designed for large companies and marketing agencies. Like the above-mentioned programs, Agorapulse allows you to establish a one-window communication way to engage with your audience. The service lets upload scheduled posts to Facebook, Twitter, Instagram, LinkedIn, and YouTube.
The distinctive features of the service include the ability to monitor competitors and tracking brand mentions and geotags. The reports generated in Agorapulse contain analytics on audience interaction with paid and free posts. In addition, with Agorapulse, you can track the effectiveness of all employees of the company engaged in SMM. In particular, check the speed of responses and work with mentions.
The first 15 days of Agorapulse are the trial period.
Basic functionality:
Delayed posting to social media;
Analytics for paid promotion and news posting;
Analysis of SMM team performance.
Cost per month: US$99 (Pro), US$169 (Premium).
Cost per month: US$79 (Pro), US$159 (Premium).
Sendible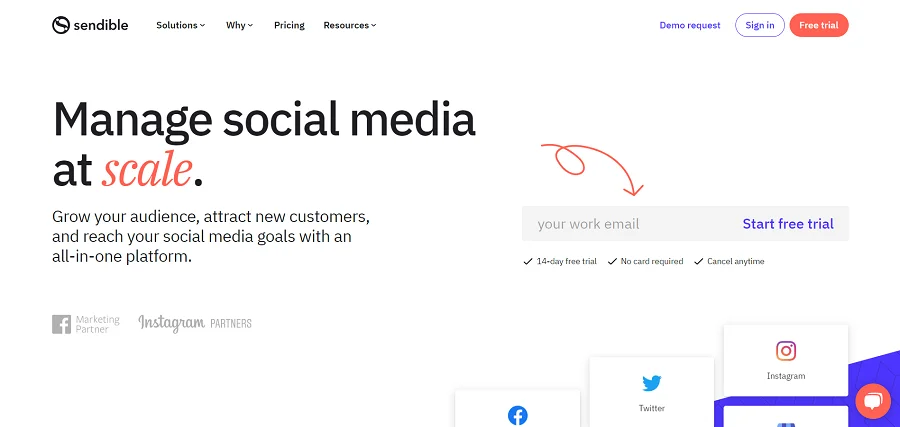 Founded in: 2009
The Sendible SMM service is a unique product designed specifically for marketing agencies that run their client accounts. Given the working conditions of marketing agencies, Sendible has implemented several specialized functions. For example, analytical reports generated by the service for working with SMM, you can quickly draft a pdf presentation for customers. Sendible has a built-in email client for prompt communication with customers.
Sendible has a built-in Canva web app for processing photos, presentations, and stories for a large and complex collaboration in visual content production. In terms of posting capabilities, Sendible resembles previous services, but reports on interaction with posts and website visits are also generated based on Google Analytics data.
All Sendible tariff plans have a 14-day trial.
Basic functionality:
The optimized workflow between your marketing agency and clients;
Convenient system to develop creatives;
Versatile reports, including those obtained from Google Analytics.
Cost per month: US$29 (Creator), US$89 (Traction), US$199 (Scale), and US$399 (Expansion).
Cost per month when paying for a year: US$25 (Creator), US$76 (Traction), US$170 (Scale), andUS$340 (Expansion).
CoSchedule

Founded in: 2013
The CoSchedule is a particular calendar that allows you to put together not social media marketing data only but also all the activities that the marketing department is engaged in. The service is convenient for both large corporations and small businesses. All planned events are clearly located in one space: the publication of a blog article, social media posts, and the launch of a marketing product (presentation or contest game).
The CoSchedule concept is similar to one of a task managers. Event cards are placed on a time grid. If necessary, you can drag events across the calendar. Employees can quickly generate reports on their work directly from the CoSchedule with links to all current tasks.
The trial period of CoSchedule is 14 days, but there is an absolutely free version as well. The main advantage of paid plans is unlimited social media publishing directly from the service.
Basic functionality:
Visual representation of upcoming tasks;
Exporting a task list to reports;
The ability to monitor the marketing department.
Cost per month: US$39 (Pro).
Cost per month when paying for a year: US$29 (Pro).
Crowdfire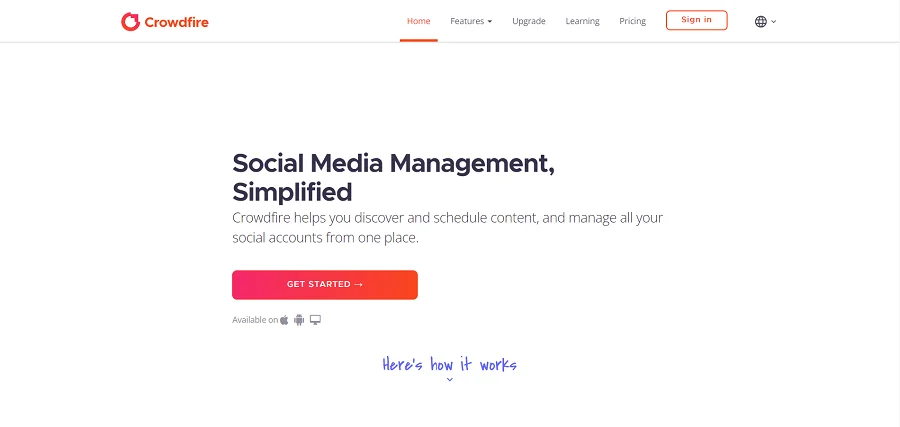 Founded in: 2014
Crowdfire is a tool for posting on Twitter, Instagram, Facebook Pages, LinkedIn, and Pinterest. Unlike other SMM products, Crowdfire is not for developing unique content but for filling social networks with brand mentions. Crowdfire features are most in-demand by marketing agencies that run corporate social media.
The work of the Crowdfire service consists of an automatic mention search of the brand name on the Internet. Thus, marketing specialists always have an update on current news. When forming a post for the social network feed, Crowdfire offers a relevant image that can be used in commercial accounts.
The Crowdfire app is available in a completely free version with a limit of 3 social media accounts.
Basic functionality:
Search for relevant news on the Internet;
Quick creation of a post for social networks;
Scheduled posting of news from a corporate blog to social media.
Cost per month: US$9.99 (Plus), US$49.99 (Premium), and US$199 (VIP).
Cost per month when paying for a year: US$7.48 (Plus), US$37.48 (Premium), and US$74.98 (VIP).
SocialBee
Founded in: 2016
The social media marketing service SocialBee provides maximum convenience for companies and bloggers who need to periodically make identical posts. SocialBee allows you to set up automatic copying of posts for Twitter, Instagram, Facebook, LinkedIn, Pinterest, TikTok, and Google My Business.
SocialBee has an intuitive interface. The program creates a post with a visual part for all necessary social media accounts. It gives an option of batch editing for posts and set automatic repeated posting after a specified time interval or on a specific date. It allows designing posts with core company messages more quickly to save marketing department resources.
SocialBee does not have a free version, but all tariff plans offer a 14-day trial.
Basic functionality:
Batch creation of posts for different social media;
Setting up automatic repeated posting;
Creating a visual part of posts based on the Canva web application.
Cost per month: US$19 (Bootstrap), US$39 (Accelerate), US$79 (Pro).
Tailwind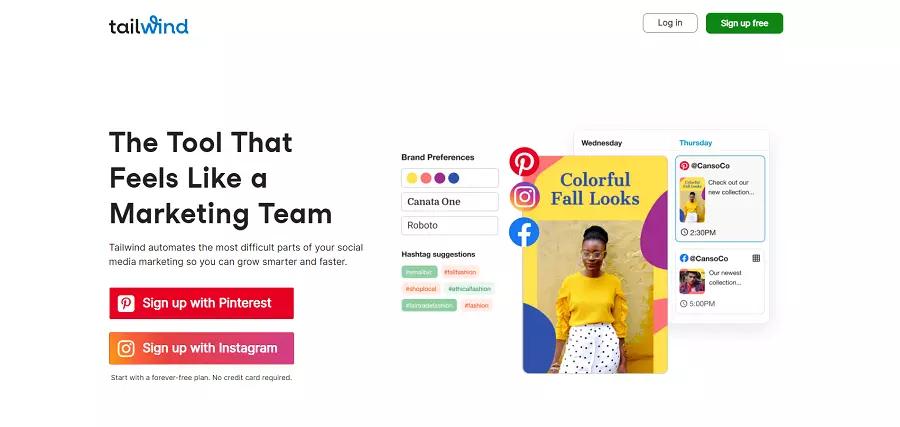 Founded in: 2011
Tailwind works with Instagram, Pinterest, and Facebook. Given the time savings that the service provides for SMM, Tailwind will be especially interesting for small businesses. Companies with little time and human resources get access to rapid design development and optimized posting.
You can also create inscription templates in Tailwind and add a link to your Instagram bio. Thanks to this functionality, users can produce content for social media faster.
The service gives an absolutely free Tailwind plan. However, it is limited to 1 account on Instagram, Pinterest, and Facebook.
Basic functionality:
Graphic editor for social networks;
Deferred posting function;
Search for relevant hashtags.
Cost per month: US$19.99 (Pro), US$39.99 (Advanced), US$79.99 (Max).
Cost per month when paying for a year: US$9.99 (Pro), US$19.99 (Advanced), US$39.99 (Max).
Sprinklr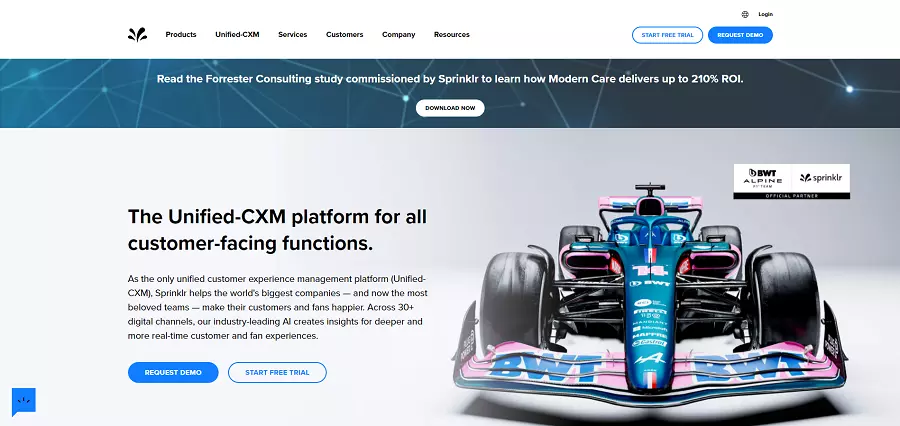 Founded in: 2011
The main feature of Sprinklr (Social Engagement & Sales) is to ensure the most effective communication between potential customers and the brand. The application allows bringing social media marketing of the company to a fundamentally new level as it promotes the development of interest among the audience and ensures it gets a positive impression from communication with the brand.
Sprinklr combines customer requests from 30+ social media into a single convenient online account with all correspondence. However, the main feature of Sprinklr is a high-quality AI system that can understand the client's intentions. A genuine customer support department employee can communicate the user if necessary.
Sprinklr is for using in large companies, so the cost of the application is determined individually.
Basic functionality:
Combining all incoming correspondence from social media in a single application;
AI-powered answering machine;
Integration with CRM systems, catalogs, and customer order history.
Khoros (ex-Spredfast)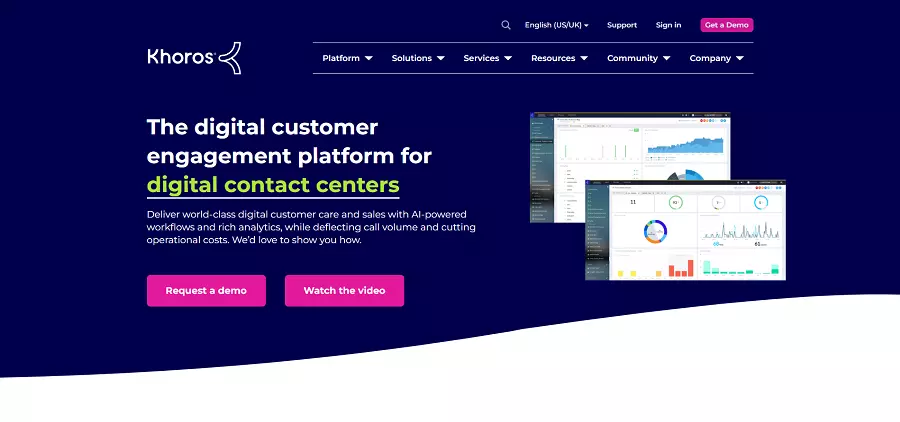 Founded in: 2008
The Khoros service is best suitable for large businesses and global brands, where it is vital to monitor all aspects of the social media marketing strategy carefully. Khoros ensures smooth workflow with both regular posts and paid promotion.
One of the main advantages of Khoros is the ability to control the tone of voice on different social media. Communication with the brand on various social media also happens in a single window. The official website contains testimonies of Khoros clients — world-famous companies. BBC and Hagerty experts note that with the introduction of Khoros, the number of interactions in social media has increased, and audience growth has accelerated.
The service is intended only for using by large businesses, so the cost is calculated individually.
Basic functionality:
Launch of paid advertising campaigns;
Extensive analytics on audience interaction with the brand in social media;
Monitoring of SMM specialist performance.
The features and cost of various services for building work in social media vary. To choose the product that best meets the needs of the business, you should carefully study each service. It would be right to take into account not only the current SMM strategy but also potential growth opportunities. For example, some services have integrated with TikTok, a social network rapidly gaining popularity worldwide.
All current SMM services significantly simplify communication with customers. It is vital for large companies with many social media accounts and small businesses where companies sometimes lack human resources. The transition to SMM systems should be made, at least, when you create a second corporate account.