If you stream on Twitch and want to have a successful Twitch channel, the presence of a banner in your profile is very important. Choosing the right Twitch banner for your channel can help you convey your mood to the subscribers. In addition, you can use it for advertising a partner company's activities and making a profit.
When adding images, including a Twitch banner, you need to follow certain rules set by the platform. For example, you need to choose the right Twitch banner size. Read on to learn how to do it!
What Is the Twitch Banner Size?
The recommended Twitch banner size is 1200 x 480 pixels (5:2 Aspect Ratio) for HD and Full HD monitors. If the height of the uploaded image isn't 480 pixels, the banner height will be automatically changed to 480. The file format of Twitch banners must be JPEG, PNG, or GIF, and the size shouldn't exceed 10MB.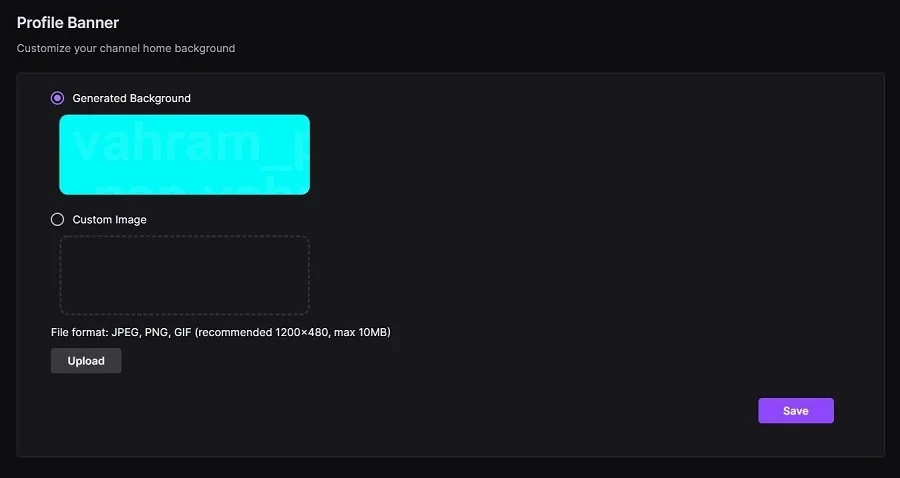 Twitch also recommends making the image as wide as possible and placing the graphics on the left; they will be distorted if the user's browser window is wider than the image width. Adding or changing a Twitch banner is available in the Channel section in the settings of your Twitch profile.
What Is the Twitch Profile Picture Size?
Аnother important attribute of a streamer's page is their profile picture. Twitch doesn't specify the exact dimensions of profile photos. In this case, the aspect ratio is 1:1 - that is, the width and height are equal.

As for the format and size, the requirements are equivalent to the profile banner. Thus, you can upload a profile photo from the Channel section of your profile settings.
Twitch Video Player Banner Size
This banner appears when the streamer account is offline. The video player banner's goal is to leave some kind of message from the streamer, which, for example, can help attract new subscribers. Popular usage of Video player banners is to leave links to accounts on other social media platforms.

The recommended dimensions for a Twitch video player banner or an offline banner are 1920 x 1080 pixels (16:9 Aspect Ratio). The requirements for the file format and the maximum size are the same as for the previous two elements. It should be in JPEG, PNG, or GIF format and less than 10MB.
Twitch Panel Size
The purpose of the Twitch Panel is to tell about yourself and your Twitch channel.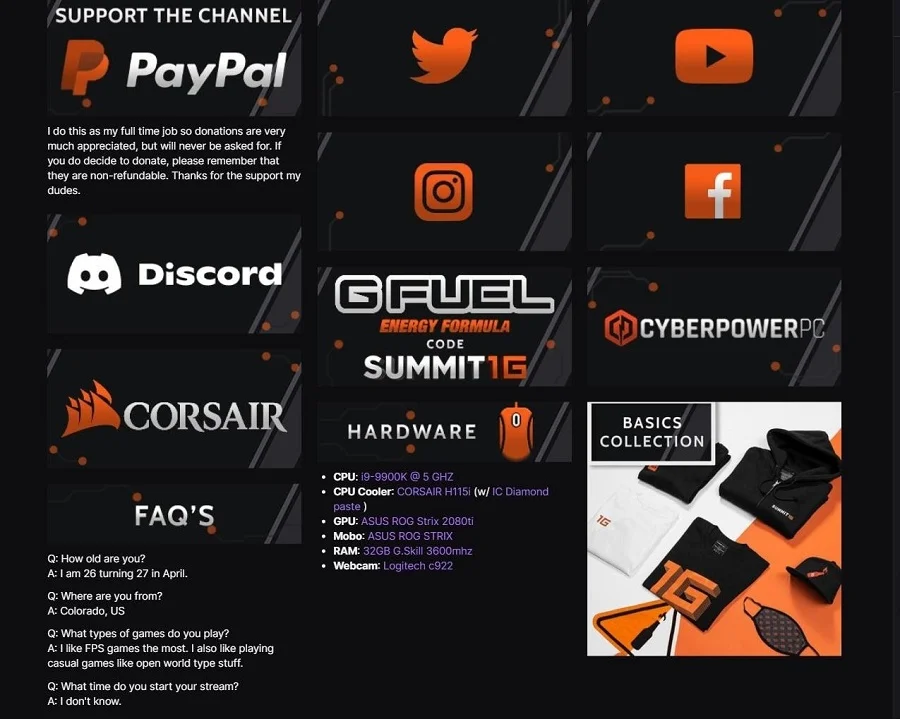 Each streamer is free to choose which panels will be in the profile and their design. The most common panels cover these topics:
About me
Other social media accounts
Schedule
Subscribe
Subs Leaderboard
Donations
Promotions
Partner company advertisement
Hardware
FAQ
Twitch requires panel images to have a maximum of 320 pixels width and 600 pixels height. File format must be JPEG or PNG and no larger than 1MB. Images can be clickable, and in the description, you can use Markdown code.
To add a panel, go to your channel's About section, hit Edit Panels, click the + sign, upload it, and hit Edit Panels once again to save changes.
Twitch Avatar Size
As we have already mentioned, Twitch doesn't specify the size of the Twitch profile picture. There are different opinions about this issue. Some believe it should have a dimension of 800 x 800 pixels, others say it's 1600 x 1600. The only recommendation that Twitch gives is to use an image larger than 200 x 200 pixels to ensure its quality, but this doesn't mean you can't upload smaller images.

And don't forget, profile picture formats are JPEG, PNG, or GIF, and the size should be up to 10MB.
One interesting note: many streamers try to attract viewers by adding a high-quality and professional profile picture. But among the top streamers, some people have an avatar, but this doesn't prevent them from having an army of fans and taking leading positions. Among them, it is worth mentioning the streamer Ranbоо, who, as of 9/4/2021, ranks third in the list of All-time Subs.

Ranboo's profile photo only shows his nickname on a light blue background.
Twitch Thumbnail Size
Twitch provides the ability to record and store streams of your Twitch channel so that fans who missed the stream can watch its recording. This function is called VOD. A Twitch thumbnail is an image that is set for your finished streams in the VOD section. Their function is to make your VOD more presentable and attract the attention of viewers.

When this feature appeared, Twitch allowed you to select a thumbnail from four auto-generated images. Now, there is no such restriction, and you can upload your own picture. There are size restrictions. The thumbnail shouldn't exceed the resolution of 1280 x 720 pixels (16:9 Aspect Ratio), and it must be under 1MB. Recommended file formats are JPEG or PNG. To add a thumbnail, go to the Video Producer section of your profile, open the video options, click the upload button in the window that appears, and select an image for the thumbnail.
Twitch Banner Examples
The cool and bright design for the Twitch banner is one of the key elements of the Twitch channel for attracting new followers and subscribers. And this means an increase in profit for the streamer. Therefore, experienced streamers often use the services of a professional graphic designer to get a unique Twitch banner. When choosing a banner for a profile, different streamers set different priorities for its design and what it should display.

Some promote themselves and their brand, while other streamers promote their clans or partners, advertising their products and services.

Sometimes, streamers just leave a message to tell fans about their mood. The image below is the famous top Streamer AdinRoss' profile banner.

What Makes a Good Twitch Banner?
There are three ways to get a banner:
Use ready-made templates available on the Internet.
Use tools providing banner builder functionality, such as Snappa, Canva, or Adobe Spark.
Hire a graphic designer to create a unique and individual image and stand out as a professional streamer for your viewers.
When choosing a banner, no matter which way you go, you need to be guided by some principles so that your banner serves its purpose with maximum benefit. Those principles are:
Being Audience-Appropriate
To ensure stable growth of followers and subscribers for your profile, you must build a clever strategy. Communicate with your audience. Professional streamers have a Discord channel for this. Open your channel, get in touch with them, and keep an eye on what they are discussing. You can periodically arrange surveys to find out their interests. Maybe they are attracted to your personality, or the content that you share is useful to them. Cooperation with marketers and SMM specialists can bring considerable benefits. Experienced specialists know how to communicate with the masses and identify their interests.
Readability
The design of successful banners has certain characteristics. If you study the profiles of streamers, you can mainly find two types of banners:
Bright banners with rich colors, the purpose of which is to attract attention with its beautiful design.
Minimalistic banners, where the purpose is to convey some message from the streamer or to make an advertisement. In such banners, there is a maximum of a few small images or/and words.
In both cases, there are no long, complex texts that might repel the profile visitor. The main point is to convey some mood or message from the streamer in a few seconds.
Consistency
Brand consistency is one of the strategies that marketers use to build a strong connection between consumers and their brands. Of course, streamers can also use this strategy to strengthen their personal brand. Its essence is to present a brand in a similar way constantly: this is done by using the same words, pictures, colors. Over time, these elements remain in the memory and are associated with a specific brand. It is important to know that the choice of colors may affect how you will be perceived. Psychologists have identified how a particular color affects a person's subconscious. Red, for example, is associated with rivalry and leadership. This color may be suitable for e-sport streamers, where you need to win constantly.
Memorability
Regardless of what will be on the image of your banner, it should cause emotions in the viewer. Experienced photographers use this rule to take photos that will become popular. Research from MIT has shown that pictures containing people are more likely to be remembered. If you stream games, include some popular characters of the game you are playing in the banner. Another study from MIT showed that strange and illogical images in pictures are also memorable.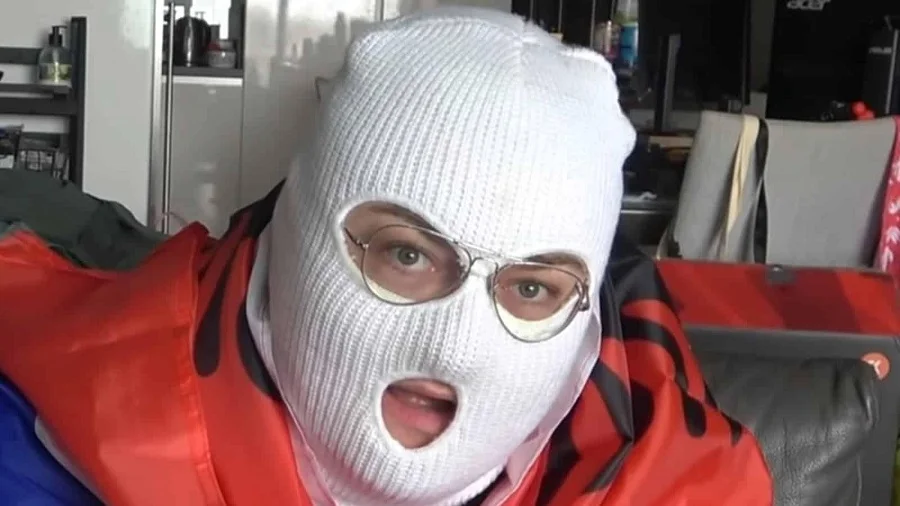 A good example of this is the streamer Anomaly, who makes his streams in a white balaclava and takes photos in the same form for his profile images.