In the previous article, we have already discussed what the difference between viral and standard content is and why everyone is so obsessed with it. We have brought examples of some viral materials, but today it is going to be even better – we have prepared the most successful viral cases on social networks. Learn from successful examples and get ready to start: here we go!
Facebook
The peculiarity of the Facebook target audience is that they love longreads and the most useful and funny content. What does it mean? It means that beautiful collections of pictures and dirty jokes don't work well on Facebook and no one likes them. And many brands target this audience.
#2009vs2019
From the beginning of 2019 users from all over the world started taking part in a new challenge #2009vs2019, which required posting pictures from 2009 and 2019 and showing the changes in appearance. Later the challenge went even further and celebrities such as Anne Hatheway and Pharrell Williams took part. Also, ordinary people started creating memes depicting social changes in the world over the last 10 years.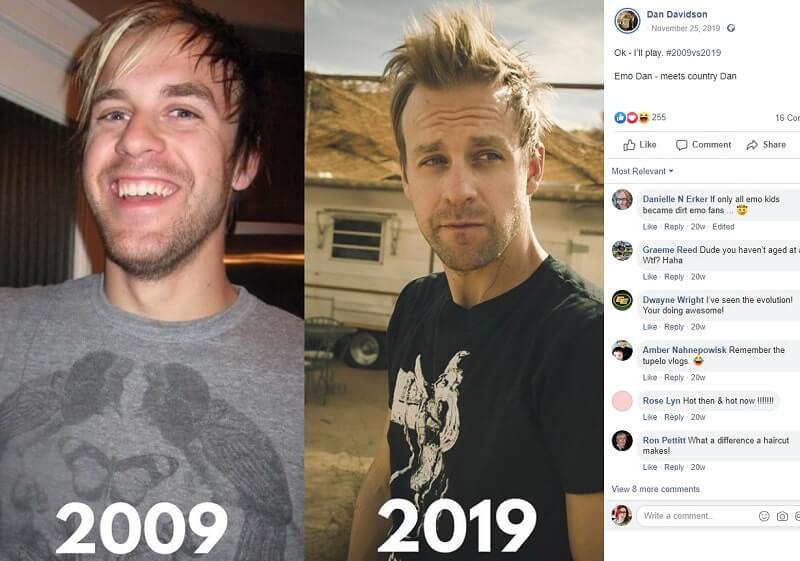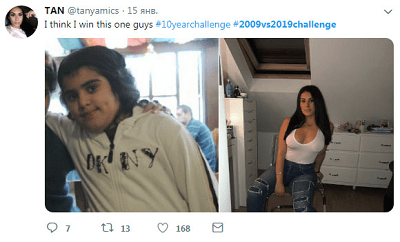 There was an assumption on the internet that the challenge was created and organized by Facebook for more efficient use of personal data. Taking into account the reputation of the company in this respect, you can't deny it. In any case, the challenge went viral and serves a good example of high viral content.
Brands also didn't miss the chance and started to create viral content. It was a good decision because it allowed them to deliver their messages to users in a natural way. Some brands use such content to highlight the quality of their product.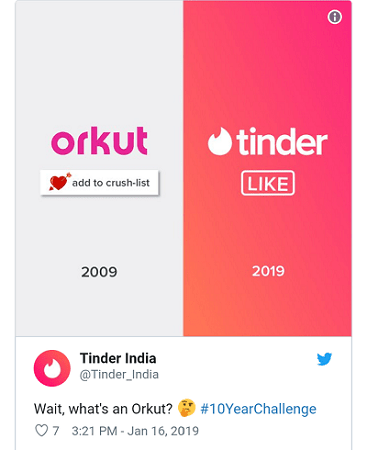 However, some brought up serious changes to the environment.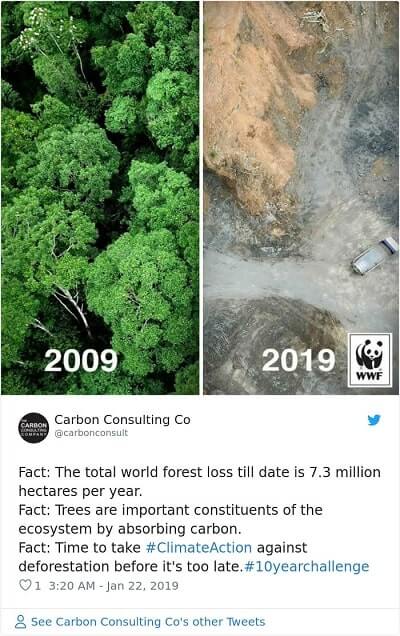 YouTube
Gillette
As a part of the #MeToo movement addressing victims of harassment and violence, the Gillette brand posted a video calling for men to change and become more humane. The video featured examples of boys' and men's negative attitudes, who due to social stereotypes are used to behaving aggressively and violently.
The brand launched a hashtag #TheBestMenCanBe and published an announcement where it promised to support programs aimed at helping men realize their potential and change the world for the better.
Despite the controversy it caused amongst users, the brand withstood a wave of criticism. The sales of Gillette increased, and the video has already been viewed more than thirty-two million times.
The brand, strange as it might seem, used a "hot feminist" trend to its advantage and sent a message to its male audience, which gets too much hate sometimes. Even at the beginning of the video, the #MeToo challenge and women who shared their harassment stories are mentioned. It was that shift from accusations to a positive message that made the video of the brand viral.
One hour and 44 minutes of a dancing Pikachu
This viral video was launched to support the premiere of the film Pokemon: Detective Pikachu. This viral video was launched to support the premiere of the film Pokemon: Detective Pikachu. Sometime before the film release, Ryan Reynolds wrote on Twitter about a probable film leakage, and that the video mysteriously appeared on the YouTube account called Inspector Pikachu. Is there anyone who doesn't want to see the film before the premiere? But when users followed the link, they would get trolled by the marketing team by a video of a dancing Pikachu.
Well done! People liked the video, and it got more than 28 million views. Some people even shared videos showing their children dancing like Pikachu in GIF videos.
Twitter
Twitter is different from any other social network. First, on Twitter people either make jokes or complain - being too positive is not good, and users prefer something bitter or even offensive. Second, here trends change very quickly, thus brands should make a lot of effort to stay relevant. On the plus side, there are many communication features. So interaction with the audience is far easier and more informal. Here you can risk making fun of yourself, your audience, or competitors. In general, Twitter has a peculiar media community that is skeptical about everything. Do you want to make a viral post? Be ready to use self-deprecating just like in the cases mentioned above.
Nibel
To promote his account Nibel shares popular content about cybersport. Thus, a fragment of Keanu Reeves's speech at the presentation of the Cyberpunk 2077 game for Xbox has been viewed more than two million times and retweeted forty-two million times. In the video, during the talk, someone from the hall shouts out "You are breathtaking", and the actor replies "No, you are breathtaking". Partially, this is Keanu Reeves who should take credit for making this tweet viral, but seizing the moment and showing it to masses in the right way also takes talent.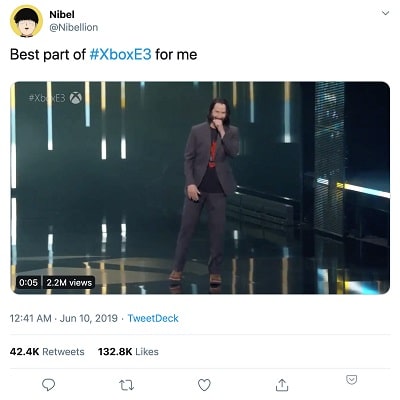 New Dad Notes
A simple and easily available method to create a viral post is to write about the popular content of the day. Thus, the owner of the account @NewDadNotes, who is famous for issuing a book with his tweets where he quotes his dad, follows the old path. The given example shows a tweet about Halloween.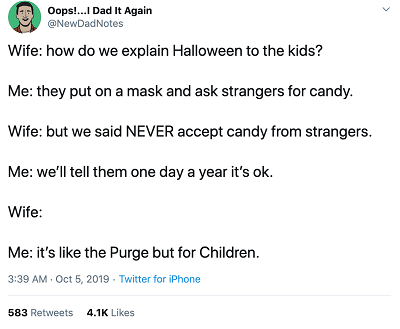 Sometimes he just shares his everyday dialogs:
LG Smart Refrigerator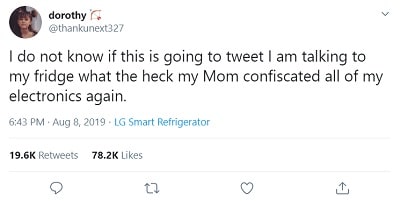 Even though LG initially didn't plan to launch an advertising campaign for their smart fridges, they skillfully used a tweet by a teenager. Her mother punished the girl and took all her gadgets away. Not only the story became over sensational, but also Twitter and LG launched a hashtag #FreeDorothy.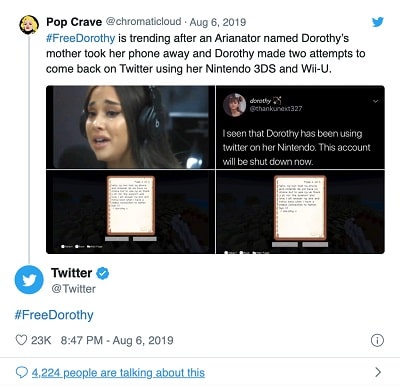 Instagram
Instagram also stands aside from all other social networks, and the reason is the image that always comes before the caption. A user first sees a photo or a video and then reads the caption – this is the mechanism that everyone uses on Instagram in an attempt to attract and engage the audience.
On Instagram, you can achieve virality by:
users mentioning their friends in comments
reposting other users' stories and posts
It is Instagram now that is considered to be the leader of useful and educational content that is shared not only by users but also by some thematic communities.
GoPro
The famous action camera brand publishes the best photos and videos that have been tagged by users on their accounts. That's how they get very attractive and engaging content, which is very popular among users without additional promotion. In its viral campaign, they only use two hashtags: #GoProHERO8 and #SuperPhoto.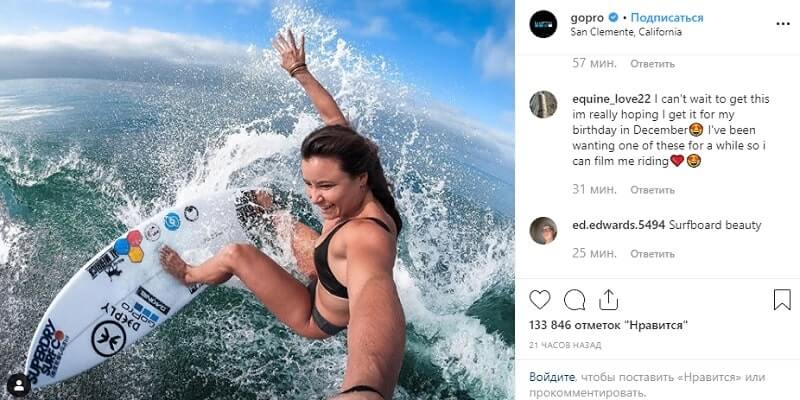 A negative example - H&M
At the beginning of the last year, an advertising campaign for a new children's collection by H&M became the subject of much controversy. The decision to put a hoodie with the writing "monkey" on a black child model was considered racist. Even though the scandal attracted a lot of attention to the new collection, it had such a negative response that the hoodie was taken off the shelves. This is a good example to show that in an advertising campaign every detail matters.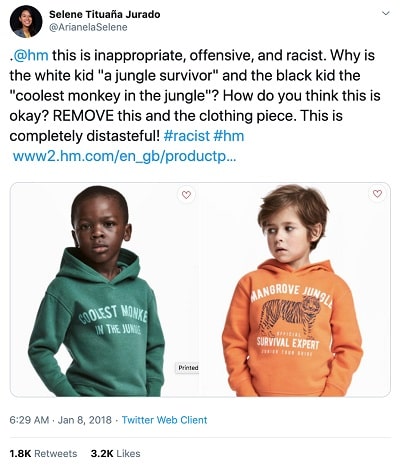 A negative example - Estee Lauder
The cosmetics brand Estee Lauder was also accused of racism at the beginning of the year. The presentation of a new cosmetic product Double Wear Nude Water Fresh Makeup SPF25 got a lot of criticism. Judging by the photo materials, it is obvious that the product was created for the needs of white women, not black.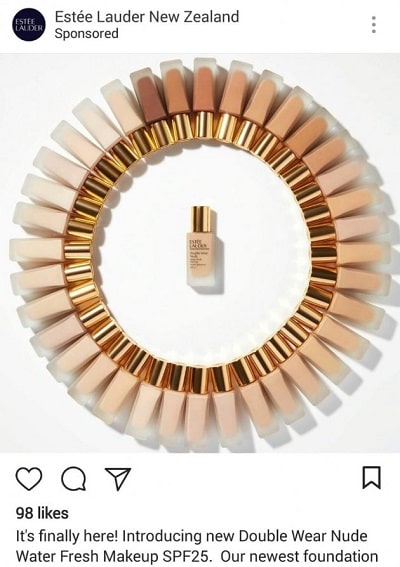 No brand wants such criticism, because nobody wants to lose their audience. That was why the brand team immediately deleted the post, added new colors to the palette, and now actively attract women of different colors to create their visual content. That is why it is important to work out the portrait of your customer and their pain points and needs before launching the advertising campaign for your product.


As you see, creating new viral content is not always easy. But if you are rather courageous and creative, follow trends, and cooperate with other brands, you are likely to achieve impressive results.