Promotion on LinkedIn is perfect for driving traffic to your website, arousing interest in products and services, lead generation for a specific event, and announcing events. Besides, direct marketing and sales are widely used. There are several advertising types that vary in format and purpose.
Sponsored Content
Company posts appear on the user's news feed. You can promote your posts in two ways. In one case, the content that previously appeared on your page is shown on the main page. In the other case, your posts will be shown only to the target audience of your advertising campaign — they will not appear on your profile.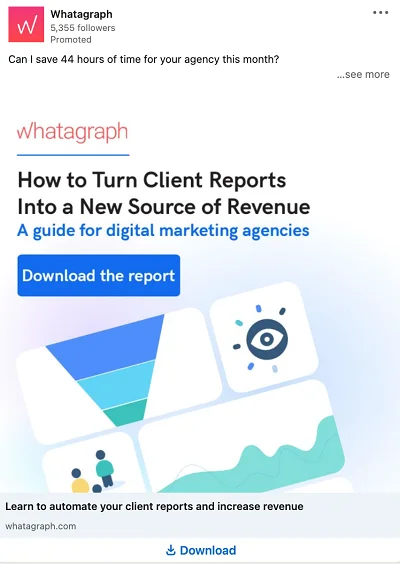 Payment methods vary like this: price per 1000 impressions and per click. This tool is more expensive than others, but it is the best to attract attention to your page. Promoted content has a high reach. It is a helpful way to introduce your company to the audience and increase its loyalty to the company. Perhaps, you can post a video, picture, or carousel.
Advertisements
The structure of LinkedIn Ads is very similar to Google AdWords. Advertisements are in a separate section on the side of the core content. Payment is also made according to the two models — for impressions and for clicks. It looks like this: a title, a picture, a text piece. With LinkedIn Ads, marketers increase brand recognition, and the cost is lower in this case.
Message Ads
Advertising can help you contact users directly via an in-built social network messenger. The cost is based on the bid price and depends on the number of other companies that try to attract their target audiences.
That is a way of building communication with potential customers. This tool features high conversion: the network analytics say that 50% of e-mails get opened. The structure of e-mails is as follows:
Greeting;
Advertising text;
Call to action button.
E-mails are sent to those users who are online at the time of the campaign. And you pay only for delivered messages.
LinkedIn lead accelerator
The new service redirects people to the website with other advertising tools — on the network and other social media. It is convenient because it provides an opportunity to analyze the website audience in view of the position, sphere, company size, and other characteristics. Due to linking a LinkedIn profile, you get information that is priceless for performing some tasks. It is a unique tool to some extent.
Dynamic ads
The algorithm analyzes user profiles, and, as a result, they see personalized ads based on their behavior and preferences. And the page shows only two ads — so almost nobody can miss them.
Such a promotion provides lightning interaction and drives traffic to the target webpage. Besides, you can create a database with potential clients. Personalization and high conversion condition the high cost of dynamic ads.