Just a few years ago, who could have known that TikTok would become and remain one of the most popular social media platforms? It is also a great source of income for many youngsters and is quite an easy way to get famous nowadays.
There's always a one-in-a-million chance that a single short video will make you a TikTok star overnight, but if you really want to become a successful TikToker, you should take your influencer career way more seriously. For instance, it makes a lot of sense to analyze your target audience, keep up with the latest trends, track your post performance, and, most importantly, find the right time to post on TikTok.
Why Posting Time Matters
As an average TikTok user, you might not be familiar with all the marketing tricks that many – if not all – popular influencers have adopted. While people are still extremely skeptical about building a career on a social media platform, it actually does take a lot of time and effort to find your niche and enter the influencer industry.
This isn't just about posting funny memes and cute kittens – a billion other TikTokers post the exact same things. So, your goal is to create unique content that would stand out from a sea of other posts. It may sound nearly impossible, but if you get a little deeper into the mechanics of marketing and learn a bit more about how to promote your own brand, you'll see that you are able to do that.
One of the easiest and most effective marketing techniques is scheduling your TikTok posts. It's a well-known fact that posting at certain times gets you more views and, therefore, gains you more popularity. These time frames are different for all platforms, so it's important to do research on which ones are particularly "successful" on TikTok so that you're able to reach a wider audience.
It may sound pretty easy, but as soon as you start researching what the best time to post on TikTok is, you are likely to stumble across a few pitfalls. Here, we are going to discuss how to find the perfect timing for your content and how to make sure that it is seen by as many people as possible. So grab your phone, open TikTok, and explore all the opportunities that the platform offers while reading the article below!
When Is the Best Time to Post on TikTok?
Interestingly enough, the best time to post on TikTok varies from one day to another. Even if we only consider weekend days or working days, they are not the same in terms of TikTok users' activity.
After analyzing over a hundred thousand posts on TikTok, we're sharing our results with you to make it more clear how social media marketing works. Don't look for particular patterns – just try to stick to similar time frames when making a post on TikTok, and you'll see a huge difference in the number of views, likes, and comments under your videos.
Times are expressed in Eastern Standard Time, and those marked with an asterisk are the times with especially high levels of user activity and engagement:
Mon: 6 a.m., 10 a.m., 10 p.m.
Tue: 2 a.m., 4 a.m., 9 a.m.*
Wed: 7 a.m., 8 a.m., 11 p.m.
Thu: 9 a.m., 12 a.m.*, 7 p.m.
Fri: 5 a.m.*, 1 p.m., 3 p.m.
Sat: 11 a.m., 7 p.m., 8 p.m.
Sun: 7 a.m., 8 a.m., 4 p.m.
| | | | | | | |
| --- | --- | --- | --- | --- | --- | --- |
| Mon | Tue | Wed | Thu | Fri | Sat | Sun |
| | 2 a.m. | | | 5 a.m.* | | |
| 6 a.m. | 4 a.m. | 7 a.m. | | | | 7 a.m. |
| | 9 a.m.* | 8 a.m. | 9 a.m. | | 11 a.m. | 8 a.m. |
| 10 a.m. | | | 12 p.m.* | | | |
| | | | | 1 p.m. | | |
| | | | 7 p.m. | 3 p.m. | 7 p.m. | 4 p.m. |
| 10 p.m. | | 11 p.m. | | | 8 p.m. | |
Everyone's Best Time to Post on TikTok Is Different
Even though there are certain times when posting on TikTok is particularly efficient for your career, every influencer has slightly different posting times. To find out the best time to post for you, you will have to do a full analysis of your followers.
The analysis would include detecting your audience's average age, location (time zone), gender, and what they are really interested in. You can create any type of content on TikTok, and depending on what you're posting, your followers will have different interests, incomes, and locations.
Check out some examples of promotion on TikTok and guess which of their audiences might be the same, similar, or completely different.
If you know your followers well, you'll know what they need and want to see. And the more exciting and interesting your content is, the sooner you'll get a large audience on TikTok.
How to Use Analytics to Find the Best Time to Post on TikTok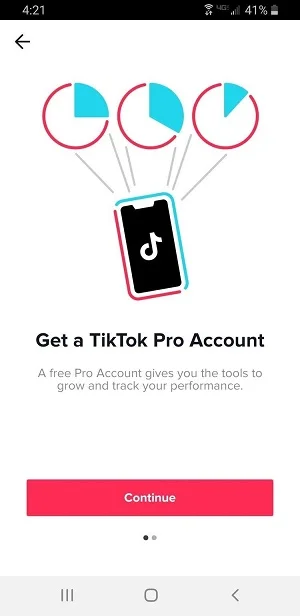 Analyzing your audience sounds exciting until you actually start getting into it. The first and most important question that might pop up in your mind is, "how exactly do I find out how old my audience is and where they are located?" Surely, there's no need to go through every single one of your subscribers to see what language they speak and when they finished high school.
Instead, there is a much simpler way to get all the TikTok analytics, which we are going to talk about below.
1. Get a TikTok Pro Account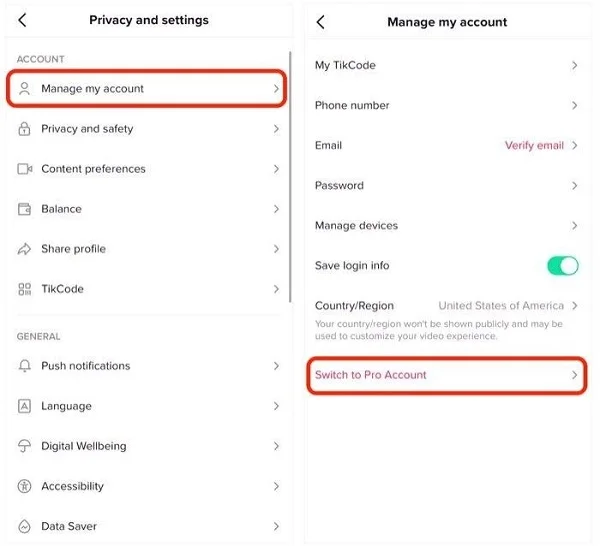 First of all, you need to set up a TikTok Pro account. It's the best way to find all the analytics of your account and get back to it at any time.
To switch to a Pro account, tap the three dots in the top right corner of your profile and open the menu
Select "Manage my account."
Choose your account type and follow the instructions.
You will now see a confirmation message of your TikTok account upgrade.
The setup will not take longer than a minute, yet a Pro account is absolutely necessary if you want to start a career as a TikToker. You also can download and export data to your PC.
Please note that TikTok analytics are not retroactive, which means that once you've upgraded your account to Pro, you'll have to wait another seven days to see insights.
2. Followers
Open the "Followers" tab, and you'll find some useful info on your audience here. You'll be able to see all the territories and countries that most of your followers are from, which is a great way to find out which time zone you should stick to and what's the best time to post on TikTok.
But note that TikTok does not show where exactly in the country your followers are from – a country is as far as you can get, which is fine for smaller countries in Europe, but when it comes to bigger ones like the US or Brazil with multiple time zones, it gets a little more complicated. You'll have to experiment with different time frames and time zones until you figure out which one works best for you.
With the help of the graph, you can track 28 days' worth of data, which allows you to find certain patterns and see when and which posts of yours were particularly engaging.
3. Followers Activity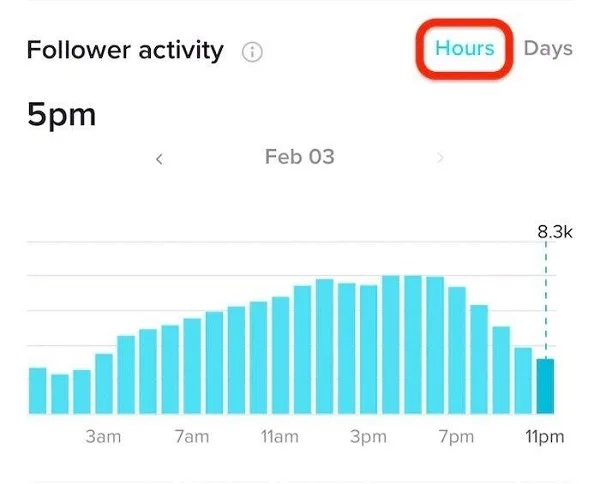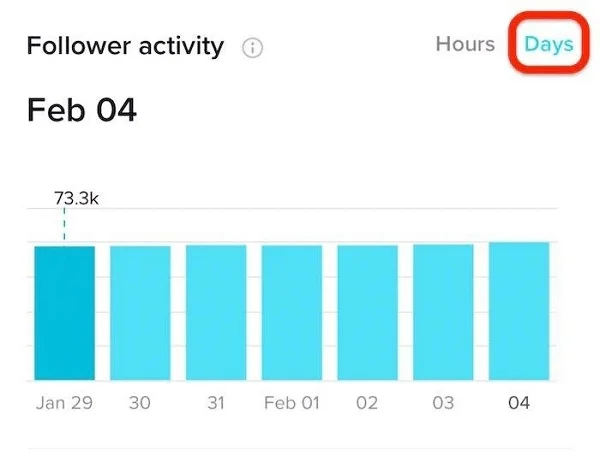 The "Followers Activity" is another helpful tab that will give you a whole lot of information. It's basically a map of when your subscribers were most active in the last 24 hours or on a particular day of the week.
This allows you to see when your followers were busiest. You might want to compare trends over a few weeks to spot some possible patterns within your audience's activity, as that's one of the things you should base your posting schedule on.
4. Convert the Time to Your Local Timezone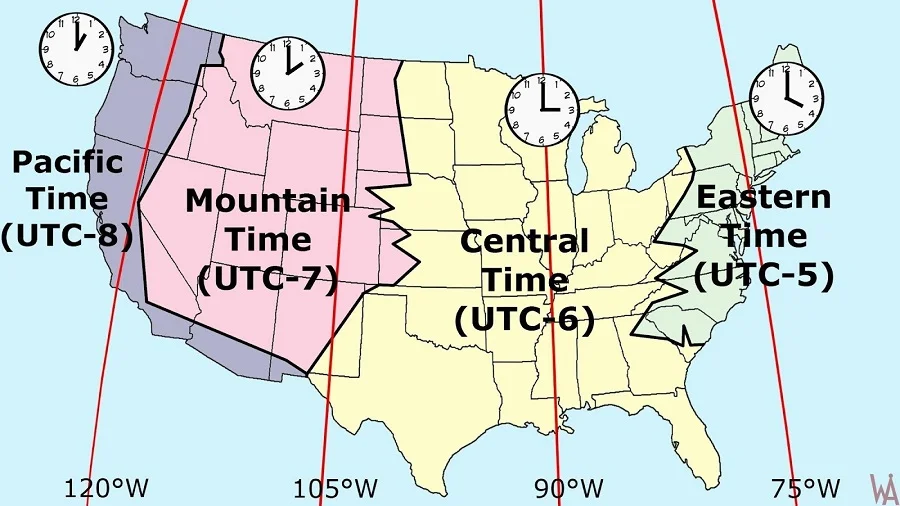 No matter how bad at math you are, you should learn how to convert the time to your time zone and vice versa. In your TikTok Pro account, all your data is displayed in UTC (Coordinated Universal Time), which is the time zone of the UK and Portugal (winter), Greenland (summer), and Iceland (all year round).
If you're in the States, you might have a hard time converting the time back and forth (especially when it changes to Daylight Savings Time) or back to Standard time. Thankfully, there are just so many apps and programs that can easily do it for you in a split second. But don't underestimate the effect of sticking to the time zone where most of your followers are.
5. Track How Your Content is Performing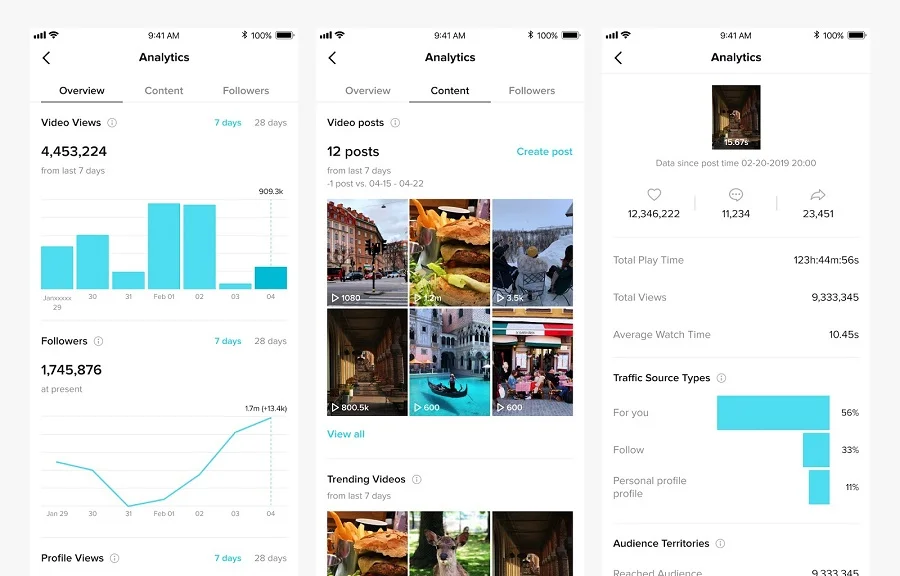 These days, it's hard to predict what's going to go viral and what's not. The world is moving so fast that today's trends may become outdated in just a few weeks, which is absolutely crazy.
Because of that, it's not that easy to assess your post performance and spot trends in your TikTok analytics, as pretty much any choice you make is based on guesswork. Besides, you can only analyze the content that has been posted within the last seven days, which significantly narrows down the field of research.
That being said, if you really want to figure out which posts have been especially engaging, you should do some serious research on your own. This can actually be of great help since trends are what TikTok videos are mostly based on. Your goal as a TikToker is to spot these trends as soon as possible and keep up with them for as long as they are in demand.
Summary
As much as older generations find a career on TikTok ridiculous and absurd, they don't understand how difficult it is to become popular on social media, as this is frankly the most competitive industry in the world.
To gain popularity on TikTok, you need to research your entire audience, find out what your followers expect from you, where they live, and when they are most active on the platform. Obviously, this takes months of research and analysis, but all of this helps you get more likes, views, and subscribers.
To sum up, if you are serious about becoming a TikToker, study your analytics with the help of your TikTok Pro account, figure out the best time to post on the platform, make a schedule to publish videos, and experiment with your content.