Telegram is among the top 10 most downloaded apps in the world and has over 500 million active users over 500 million active users, according to official data. Brands and bloggers run personal channels and create communities as private chats. Chatbots help them answer questions 24/7 promptly — these are online assistants for different spheres of life.
Telegram unites a solvent audience: 35+, higher education, interested in world developments — because of it, the platform is vital for brands and bloggers: the former use channels as an additional marketing tool — and the latter can launch educational products and sell advertising, the placement cost is higher than in other social networks, even with a similar number of subscribers.
Any user can create a chat by bringing together friends or like-minded people on any topic (books, computer games, music, etc.), or a channel on a topic of their interest and, subsequently, monetize it. To succeed, it is necessary to define the goal, use all the functionality for a variety of content, know the tools for promotion and implement them. Let's analyze each of these stages of work on the channel.
Define the target
To develop an action plan and choose a strategy, you first need to set your goal: it largely determines which tools to use for promotion, which content formats to choose, and which KPIs to set for tracking statistics.
What your goals on Telegram can be:
1. Increase sales and traffic to the website, blog, and media
Telegram is an additional source of leads: why can the platform become attractive to brand buyers? Create, for instance, a closed Telegram channel for loyal customers with information about upcoming promotions and sales, give them the ability to choose particular products at a discount, get personalized offers, or help with selecting a product or service. As for bloggers, there may be links to exclusive blog posts that are not visible to other users.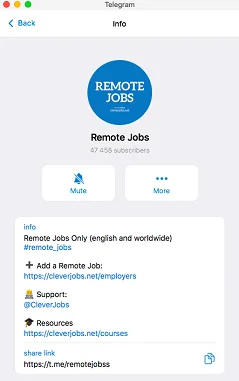 &nbsp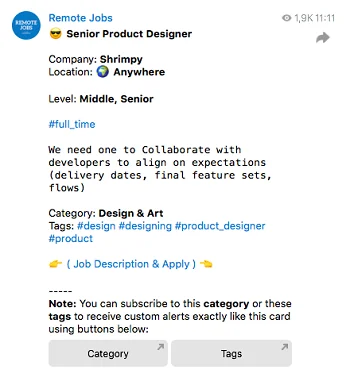 A channel with a job description: to find out more, you need to go to the website, source
2. Strengthen customer engagement
Cross-platforming is an opportunity to strengthen the brand. Each user chooses the most convenient platform to consume content: build your work with content so that the Telegram content gets adapted to the messenger: focus on brief texts, visual content, audio messages, and videos — each platform (Facebook, Instagram, TikTok, or LinkedIn) requires a slightly different approach.
3. Build trusting relationships
Create a community if the leading topic you are writing about allows it — there are closed chats in which like-minded people communicate on issues of interest. For example, a publishing house can set up a book club; bloggers writing about technology can create a chat where they post reviews on new models of gadgets and discusses them with their followers; a digital agency can offer weekly reports on their subscribers' accounts.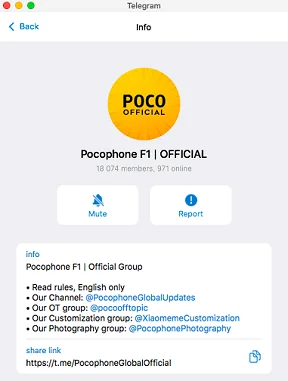 &nbsp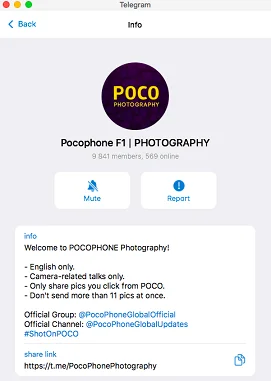 A group for photographers with life hacks and a chat where you can ask for advice, source
4. Create educational products
Lectures, chatbots, and private chats by subscription or with free access are formats that fit into the concept of microlearning. Microlearning, the essence of which is the rapid and concentrated acquisition of knowledge, is increasingly in use when it comes to online courses. Telegram makes it easier for students to study and do their homework: you open the messenger at any convenient time and do not waste struggling with an educational platform.
5. Automate routine tasks
Creating a chatbot is quite simple and opens up wide possibilities. Thanks to chatbots, the number of which grows exponentially every month, brands can create a technical support system, add answers to frequently asked questions, build a sales chain, and send a lead magnet at registration. There are many automation options, everything depends on the resources and the chosen marketing strategy.
Develop all content types
Telegram is primarily perceived as a messenger for exchanging text messages, but this does not bind your channel to only texting. As in other media, Telegram has useful functions for your content plan.
Scheduled posting
Schedule publications for specific dates and times — after two or three months of regular posts and tracking statistics, you will understand when it is more convenient for the audience to receive notification of a new post.
Keep tracking what posts make users unsubscribe and check whether it relates to the time of publication: for example, a community for moms publishes content in the morning when the priority is to get children to school, so the posts cause negative feedback — by noon, moms have a little time to distract themselves and scroll the screen.
Audio/Video messages and chats
On Telegram, the user is used to receiving audio messages or video circles since this is a standard way to communicate with friends — chats are like webinars or live broadcasts on Instagram or Clubhouse — you can save the broadcast recording if you want.
Most often, users speed up audio and video, so try to articulate and be sure there is no background noise — however, no need for your audio messages for every podcast — first, there shall be an illusion of direct communication in a chat.
Comments and reactions
Comments in the channel are under a post in a separate branch — you can only see them by going to the chat under a post: users will see the response to the comment in their messenger: there are notifications.
As for reactions, enable them in the main settings and comments: choose the ones you want, and they will appear automatically — users can click on the reactions under the post or select others from the list.
Spoiler protection
Parts of a text that may become a spoiler for readers can be closed. It is an excellent feature for book or movie reviews. Such a technique is also suitable for creating some intrigue or mystery — as an interactive element in communicating with subscribers.
Of course, you should not overuse this functionality in every post, but use it when needed — if several spoilers hide in the text, clicking on the first opens all the others.
Polls/Quizzes
Anonymous and non-anonymous polls are other tools for communication and interactivity. Besides, they allow you to collect necessary data from real subscribers quickly and supplement research before launching a new product line, for example.
It is convenient to run quizzes using the quiz format: the user sees a question and several answers. Clicking on one of them shows a red cross if the answer is incorrect, or a salute covers the screen if you give a correct answer — leave an explanatory comment for each answer.