When thinking about a personal brand, the 'go with the flow' mentality is the biggest problem. Similar affirmations inherited from parents or adopted at school also affect us: 'don't stand out,' 'copy the others.'
Change your attitude!
What is a personal brand?
A personal brand is your uniqueness, the story you tell about yourself. If you are an expert, that's great; don't be afraid to talk about yourself!
Don't confuse a personal brand and a hundred thousand followers on Instagram. The followers reflect your audience and your media presence. However, a personal brand does not consist of numerous followers.
You may not be a public person. If you enjoy a high reputation in your industry, you don't need to have a hundred thousand followers or to be a celebrity; you just have to be recognized in your domain. This way, you will create a strong personal brand.
Therefore, forget about participating in giveaways on Instagram or cheating with bots; it has nothing to do with a real, cool, strong, and reputable personal brand.
Why building a personal brand on social media?
Some people aren't interested in developing a personal brand. Nevertheless, it is very important. For example, after meeting you as a specialist, many people will try to find you on Google. Having a solid digital presence increases their trust in you and your product/service.
A personal brand also helps if you are an employee, a business person, or a freelancer. Many employers prefer candidates who have an active social position, a developed blog, a personal page.
Your blog, page, or personal website is an indicator of your success, so customers are more likely to choose you. At the same time, a business person may lose clients if he/she does not work on digital presence. People tend to feel loyal not only to a product or a service; they also feel loyal to a person, a business owner.
In addition to such direct benefits as finding new customers, active digital networking brings you advertising contracts; besides, you can attract new customers for free and increase the trust of loyal clients. Personal brand development is long-term work but, after a while, it will bring you income without actively investing time and money. Develop a strong name associated with a service, and the surrounding community of your target audience will buy this service from you.
Personal brand elements
Reach and reputation
Both reach and reputation should be high. If you have a high audience reach, but your reputation is low, building a strong personal brand will not work.
For example, if you do a TV show on a certain topic, but you aren't an expert in this field, you may get a wide audience reach; still, it won't make any difference for a personal brand.
Let's consider another example. You are a great specialist within your department of 5 employees. Unfortunately, a wide audience doesn't know about you, and personal brand is worth nothing.
Therefore, the main goal is to have a good reputation and high reach. A personal brand consists of these two key components.
Legacy and up-to-dateness
Legacy is your professional background: the number of projects, budgets, brands, and the big companies you've collaborated with or worked for. Let's say you made a cool project in 1985 - this is your legacy.
There may be achievements in sport as well. They should not be necessarily related to your current professional career. If you are a candidate master of sports in table tennis, it also forms part of your legacy. Legacy represents your achievements and success as a professional.
However, you must have some fresh achievements, too.
What is up-to-dateness? You should be famous in a professional get-together, participate in conferences, give speeches, run accounts on social media, have recent publications in the press; this set will shape your up-to-dateness.
You can negotiate with several media and gain publicity, contributing your legacy. For media-PR, it is not enough to be published only once.
Some activities need to be done on an ongoing basis. For example, you should promote your Instagram account or a YouTube channel if it suits your business. Another option is performing; this is how you develop the up-to-dateness of personal brand.
Personal Brand Building: a 4-Step Process
Promoting yourself as a personal brand is similar to promoting a corporate brand. You position yourself as a product, showing your best sides. Building a personal brand can be divided into four stages:
Brand identification;
Creating a base brand;
Creating an audience and credibility;
Brand development and maximization.
Such an approach will allow you to draw a consistent strategy and move in the right direction. These steps are presented in the diagram provided below: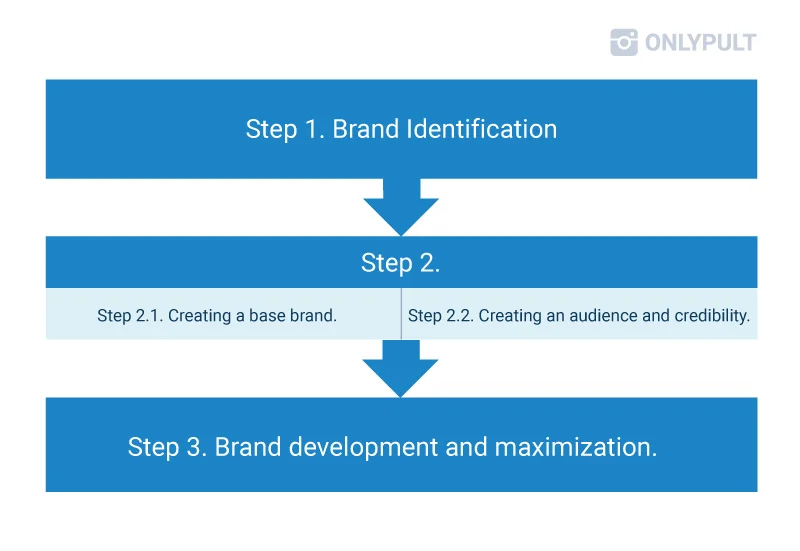 Let's look at all these stages in detail.
Step 0. Brand identification
Before starting, you need to find your niche. Search queries may help you since they indicate the requests for similar services. For example, a photographer can look for such queries as 'photographer' as well as 'wedding photo session' and other narrow queries.
When your page is displayed, it should be useful. After choosing the niche, you need to get prepared.
Reveal your uniqueness
Why creating a Unique Selling Proposition for a personal brand? To make people choose you among dozens of other specialists in your niche.
To determine your unique point, we suggest answering the following questions:
What short-term results do you want to achieve? (Up to a month);
What are your long-term goals? (A year, two years, or longer);
What is your life motto?
Since you are creating a personal vision of yourself, not advertising a product, it would be wrong to compare yourself to competitors. However, to understand your uniqueness and be able to transmit it, answer the following questions:
What can you offer your clients?
How is your professional/personal image?
How do you respond to requests for help? Do you offer your help?
How do you feel about different offline and online activities? In some cases, you will have to create relevant content, give feedback, or decide to ignore a situation. Mind that some newsbreaks are truly important and you will have to react, even if you don't like them.
Answering these questions honestly will help you realize your uniqueness. Write down the answers – that's what differs you from your competitors. Based on these answers, adjust your promotion strategy and content plan; both of these tools should be aligned with your vision of yourself as a brand.
As a result, you will be able to figure out how to position yourself. Remember that your way of self-demonstration should correspond to the real picture. Determine why people should contact you instead of your competitors.
Your brand is a part of you: your character, appearance, opinion, and world outlook. Show your beliefs.
Define your message and media
If you are present on social networks, it means that you are already sending a message to your followers. And for some reason, the users are interested in you, being your target audience.
How to define your message and understand if it matches your development strategy? You can ask your followers:
Why do they follow you?
What are they attracted by?
What do they expect?
Why are you better for them than others in the same industry?
The second process, which we recommend to carry out together with the first one, is to let neutral users familiarize themselves with your page. Since these users do not represent your target audience, they may be more objective when speaking about the message you send and the style you follow.
Next, you need to choose a promotion channel. It is expensive and often unprofitable to launch ads on all social networks at once. Therefore, you need to choose one or several social networks where your presence will bring the greatest benefit.
Analyze your existing social media accounts: the reach, engagement rate, the number of followers, activity rate. We also recommend examining the pages of your peers. Look at the last 10-50 posts of your peers, evaluate their style, quality, all the indicated figures for views, likes, and reposts, the number of comments.
Based on the final analysis, select the most promising social networks. The choice can be subjective if you are uncomfortable with a certain social network or do not like it, however, try to adhere to the guidelines based on objective data analysis. Each niche has a social network that best fits promotion objectives.
For example, major visual content is promoted on Instagram, while the professional community uses LinkedIn. Keep this in mind when considering the choice of social network and the type of posts you plan to share. On the other hand, if you are not afraid of difficulties, you can think outside the box and run your account accordingly.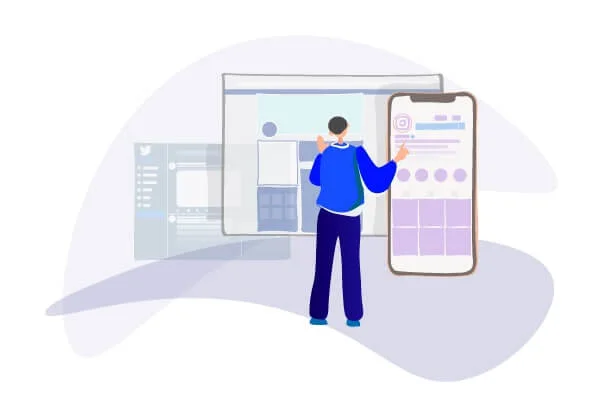 Identify the problem you need to solve
Well, you asked your followers about your strengths, analyzed your account and your competitors. Based on this data, another important conclusion should be drawn: which problem of your followers do you manage to solve, but your competitors don't?
Why are you being followed? The reason may lie in your presentation style, meaning that you make complex material understandable. Another common problem is lack of time. By collecting all the necessary and relevant information on your page, you save time for your followers. And if you also analyze events worldwide and point out key take-aways, you help your audience to form an opinion and vision, saving their time and efforts.
It is important to understand what makes you more attractive compared to your peers. For example, you know how to solve some problems better. You consult more clearly, see the problem more broadly, describe the cases more interestingly. The topic doesn't matter, but you need to figure out why exactly is your performance the best in your niche.
Escalate the problem
Now you know why your current audience has chosen you. To attract new followers, make your strong point even stronger. For example, you give individual consultations and take on large projects. But your followers have noticed that among all other specialists, your consultations are better. So, you can make your consultations even better and reduce the price for the first ten clients per month or one consultation per week. It will help attract your competitors' customers.
Besides, if you don't change your services, but want to attract new followers, you can amplify the problem. For example, a lawyer may reasonably say that every family needs legal advice to receive benefits from the state. That is, you should think of an offer that will make you more interesting for your potential clients.
Remember that in addition to the product, people are motivated by the emotions and impressions they get after the purchase. Other products may be cheaper, of better quality, more convenient than yours, but people will still choose you because you give them positive emotions, self-confidence, or a sense of exclusivity and belonging to the upper class.
Step 1. Building a base brand
So, you have found your unique points in your niche and identified the problem you help solve. If you succeed in exacerbating this problem, you are already on the way to success. Your brainstorming session will bring good results.
Next, start building a brand, not just working on a personal page or blog. The goal is to be remembered, not to create yet another blog.
Let's examine some queries on Google and social media.
Check the search queries
We are all present on social media and Google search. Therefore, we can't say that we are creating a brand from scratch or entering the market for the first time. Actually, the brand is already on the market. The question is how popular it is and what to do to make it even more popular.
Start by searching on Google. To begin with, enter your name and surname. Take a look at search results. Indicate a profession or something that makes you recognizable. Do you have a popular combination of first and last names? It's time to think about how to differentiate yourself. If your surname is Johnson, your name will easily get lost; perhaps it is worth choosing a nickname.
Delete any content that doesn't match your image
Okay, you came up with the image that you want to transmit on social media and your website. However, not all published materials, posts, and photos fit your image.
Remember: a new audience coming to your page won't waste a lot of time.
Define yourself and your brand
Next, you need to think of a unique style for your blog or website. We have prepared a checklist for you:
Logo and profile picture;
Photo style: business, home, casual, etc.;
Image background: outdoors, at home, in a cafe, against the same background;
Image format: square or rectangular, horizontal or vertical;
Text style: scientific, popular, analytical, informative. Which style do you prefer?
Text structure. This also applies to your posting style. Determine the average length of a paragraph, sentence, whether or not to use lists, how to arrange them, whether to make intervals between paragraphs; how the text should look visually, with no regard to the content at this point.
Design features: the use of emoticons, dialogues, the printing on the posts' images;
Content features. The use of popular language, slang words, specific terminology. Maybe you have a catchphrase to add to your posts?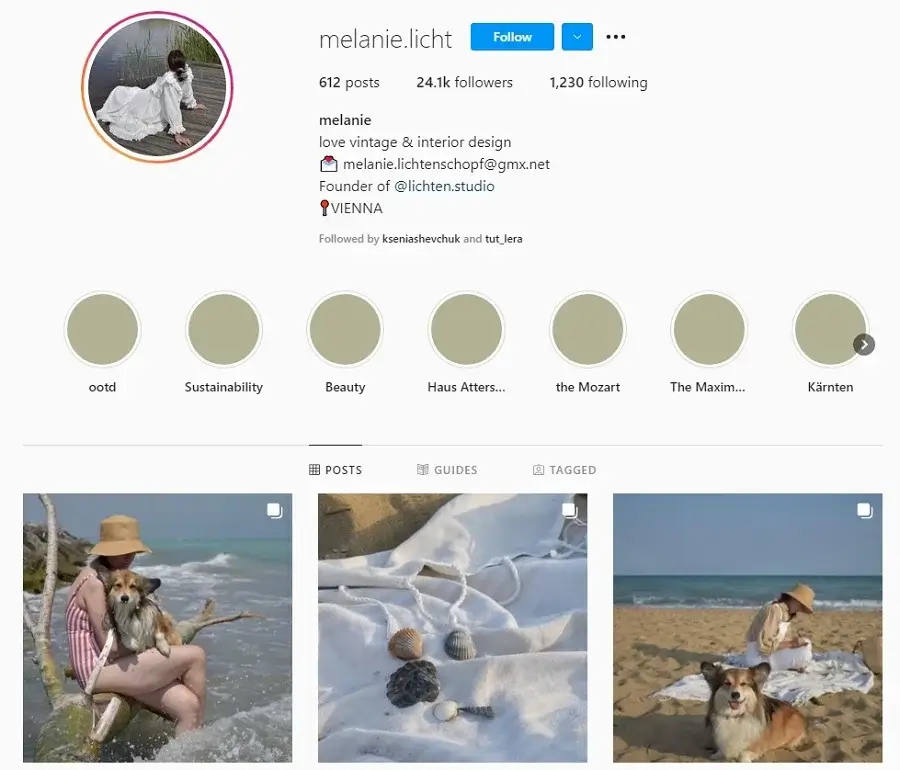 By going through this list item by item, you can make your brand more recognizable. Choose the points that are convenient and organic for you; later on, you can decide about the rest of them. If some aspects still seem incomprehensible – it's okay, put them off for a while. Or, perhaps, the solution will find you by itself while you will be working on publications.
Create your identity
We have already written about forming a unique selling proposition and finding your style. But what to do with this information?
You must create your page so that even when reading some of your posts, the followers can understand that this is your account. For instance, this may be very useful if your posts are copied to thematic public pages. In this case, your style of presentation will tell your followers that this is your post, even if your authorship isn't mentioned.
We have already described a unique page design. Below please find a short checklist for post design:
Aligned photo style. All photos must follow the same style. It can be a range of colors, a method of photo processing, and so on;
A certain look of the post, the same style of text presentation;
Special style when writing posts. You should be recognized by your text;
Personal features. Smile at the end of the post, a verse in the middle, certain words, and phrases.
It's time to bring your page to a coherent style. As we usually recommend, if there are a lot of early posts and editing will take much time, change at least the last 3-6 posts and stick to your style in the future.
This does not apply to Instagram, where it is necessary to bring at least the photos on one full page to the same style; these are 9 posts and Highlights. Instagram photo previews serve as your business card for all users.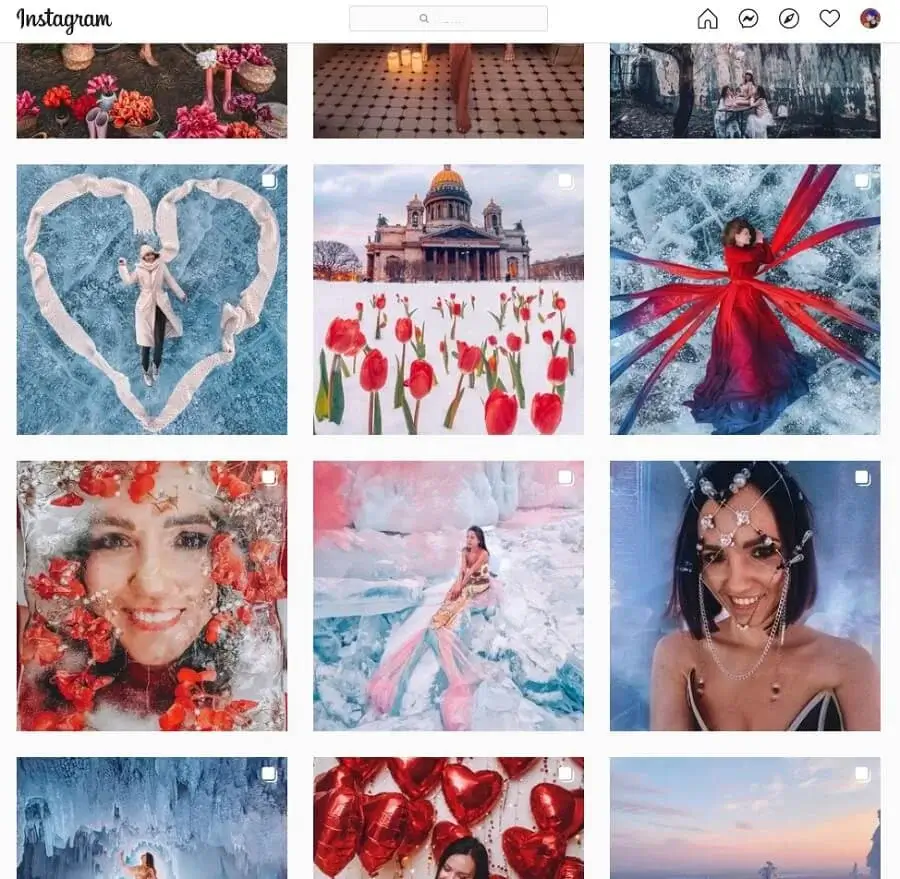 Follow your strategy and respect the deadlines
You have determined how you see yourself and how you want to be seen by your followers, identifying which sections of your social media presence strategy do not correspond to this vision. It's time to revise the entire development plan. Remember to follow your new publishing and promotion strategy. Please meet the deadlines, because both people and network algorithms love predictable bloggers.
Create and redesign your website
The information provided above is suitable for social networks and a personal website. However, a website has its features.
Remember, people won't go looking for your name on Facebook or Twitter — they will look for it on Google. It will be very helpful if they can find you. Create your website, at least in a blog format, and duplicate your posts from social networks. It will be nice if you can add unique content, but this is not necessary.
The peculiarity of social networks is that we cannot change the appearance of the entire page. We can change our group, pictures, and profile image. Therefore, in social networks, we must adapt to the invariable parameters of the page and be responsible only for content quality. If you have a website, you are the king; you are also responsible not only for your content. You decide about the font, the color palette, the active buttons. And your existing website, most likely, does not meet the personal style requirements that you have just established. Redesign your site to show your personality and highlight the problems you solve better than your competitors.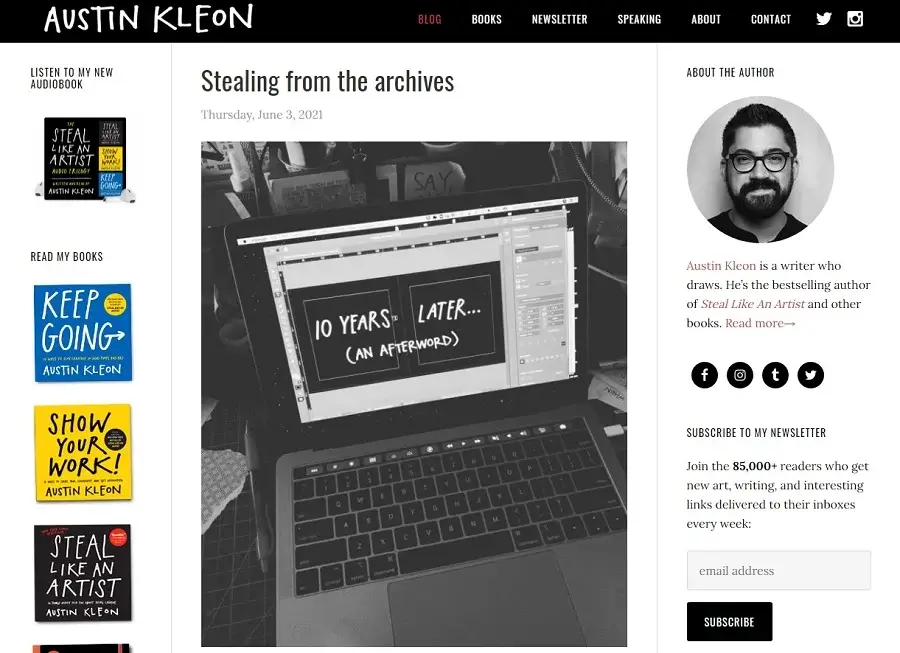 Develop a content and social strategy
The promotion strategy is likely to change while creating a personal brand. Or you will have to develop it from scratch if you have never promoted yourself before.
A content plan will help you stay consistent. Develop categories to easily categorize all your scheduled posts. You can let a professional work on it, or you can create it yourself according to your niche requirements. Plan specific posts at least a week in advance.
In addition, the content plan should have clear publication guidelines. Categories can be connected with the day of the week, dates, monthly topics, etc. Social media algorithms give higher reach to accounts that post regularly. The followers will also be more comfortable with predictability. If they know for sure that on Thursdays at 7 pm the 'Interesting cases' section is published. They will be waiting for your posts, forming a habit and a bond between you and the audience.
Choose convenient channels in the promotion plan:
Targeted advertising on social networks;
Seed promotion in thematic groups;
Contextual advertising in search engines;
Links to other websites.
All promotion methods have advantages and disadvantages. You need to choose the most profitable ones in your niche because using all promotion channels simultaneously is too expensive. Try one channel, then another one, and so on, until you find a working scheme for your particular situation.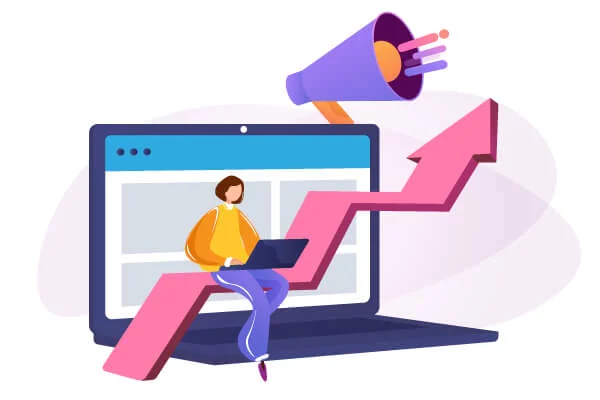 Step 2. Increasing authority and growing your audience
After aligning your blog or website with your vision, you need to think about increasing the confidence of your audience. It is not enough to attract the users; you need them to stay on your page.
To increase people's confidence, you should:
Be predictable. Publish predictable content at predictable times. Few people will visit your page at random times; post at the same time – and people will know when to come.
Show your competence in the field. You won't attract clients if you post cats and memes on a legal blog. Be relevant to your domain and prove that you can truly be liable for your product.
Show that you are on the same page with your customers. If you have a professional blog, balance scientific and conversational aspects. You should rather explain some terms and avoid complex wording.
Show how you can solve the problems of your target audience.
These tips will help increase your followers' confidence in you. Indirectly, the same tips will let you attract new users. People show worthy content to their friends, make reposts, and simply recommend you. Trust will allow your audience to grow in the long run.
Step 3. Brand development
You have attracted target audience members, you are blogging, and you seem to have reached your limit. Don't be confused. How to further develop your brand without spending extra money?
To expand your audience, you need to make your blog more interactive. This can be done in several ways:
Post the content that you want to save or send to a friend. It may be a list of books, articles, interesting facts. The approach varies depending on the domain. At the end of the publication, you can also make a call-to-share – it works.
Diversify your content. Add the categories that boost user activity. Voting, questions & answers, ambiguous statements. Add engaging questions to each post, such as 'Don't you agree that …'. And make sure to reply to comments. It will increase the reach of your posts.
Organize a competition with real prizes, make targeted ads. It will attract new followers, and if your prizes are not for a wide audience, new followers will not leave after the awards are distributed. Promising a smartphone is a bad idea because many users attracted by this offer do not represent your target audience. Instead, give away your book or a thematic gift. In this case, new followers will largely belong to your target audience.
The main engine in promoting your brand is your followers; they bring new customers with reposts and mentions. In addition, word-of-mouth referral is still the main argument supporting the reliability of a brand and the quality of its services.
Great examples of personal branding
There are many personal brands worldwide everyone knows. We gathered the most popular ones.
Elon Musk
When we say 'Tesla', we think about Elon Musk; when we say 'SpaceX', we think about Elon Musk. He has definitely made his name popular all over the world. How did Mr. Musk manage to do it?
Elon has only two success criteria: unique technologies and a bright personality. All the products promoted by him are unique in their quality, reliability, and stylish appearance. First, the whole world was discussing the name of Musk's son. Next, the trend was that Tesla's spare parts were not labeled as 'Made in the USA', but as 'Made by people on Earth.' Do you remember how Musk launched a car into space? All these actions were commented on online; they were bright, memorable, and extravagant. He has chosen a promotion strategy and has been sticking to it for many years.
Oprah Winfrey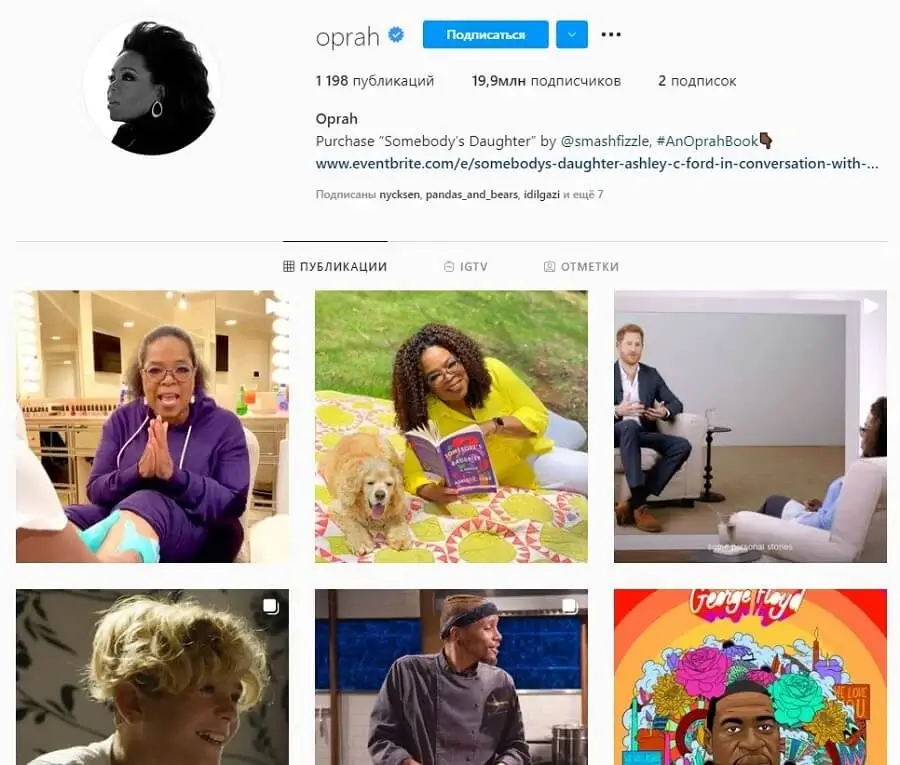 Most brands, even personal ones, are associated with a product or an owner. But there are exceptions, like Oprah. Everyone knows her name, but why is she popular? What is she doing? Why do we know her?
Oprah herself says that she is known thanks to two rules of her life: to be consistent and use her name. Starting as a TV show host, she has become one of the most influential people for her audience. Many people want to know Oprah's opinion: she delivers on her promises and lives by her words — her advice has been helpful for many years.
Nick Vujicic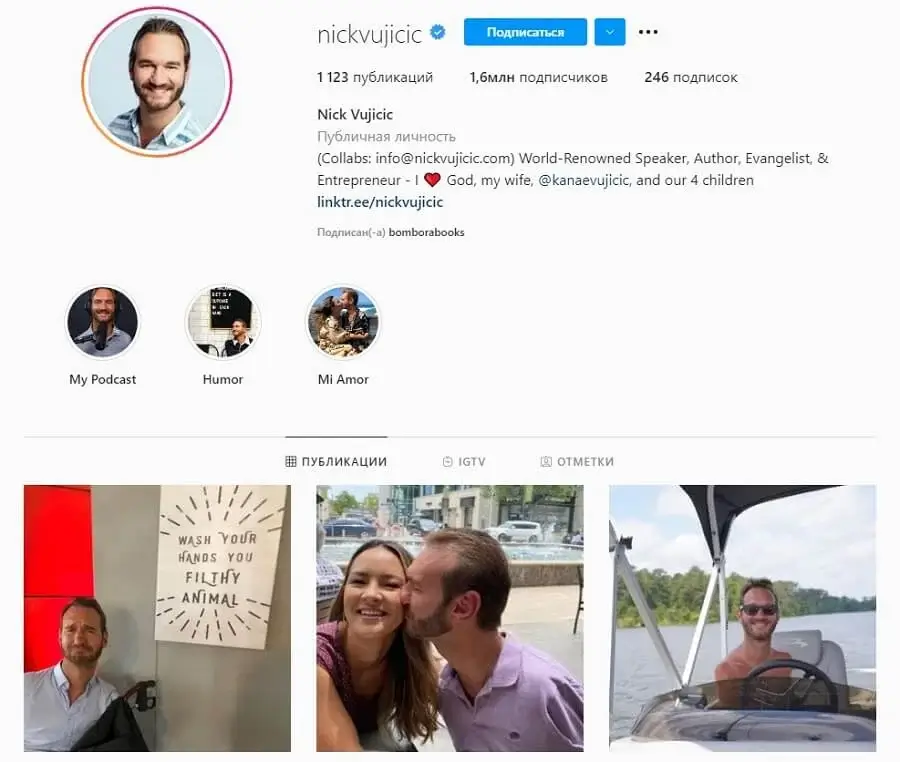 He is a person who has physical limitations, but no limits in mind. Many people know his endless optimism and self-confidence. His lust for life helped him write books, make plans for seminars and training, and sent him on a journey around the world. He managed to show that physical disabilities don't make you worse – you just need to find yourself. His personal brand has become popular thanks to his honest and engaging life story, careful advertising, self-presentation, and a clear message. Nick shows us that flaws are your strength, and no matter what, you should never give up and lose faith in yourself.
Personal Branding Tips for 2021
We would like to give some tips on how to best position yourself.
Don't try to do everything on your own. To identify your strengths and weaknesses, you may need a mentor who can also soberly assess your promotion strategy and ideas. Focus on improving yourself and your content, and delegate routine actions. Entrust the creation of visual style to a professional designer, targeting – to a target manager, and so on. Your task is to be a specialist in your field, not a specialist in all areas at once.
Use reviews, certificates, and other evidence of your competencies. How else can your followers be able to receive objective information proving that you are a good specialist? Do not avoid negative reviews; solve the problems instead and present them as cases when you managed to overcome difficulties.
Expand, but wisely. Let's imagine that you are a photographer. You have an attractive Instagram account, and you want to grow. A smart solution would be going to Pinterest, starting a channel on YouTube, or creating a website. A bad decision would be to promote on Twitter, a platform lacking visual content.
Go beyond social media boundaries. Seminars, training also bring results. Besides, you can write an article for a magazine, or even a book on your field of expertise. It will greatly increase your popularity and awareness in general.