The number of accounts, posts, likes, and comments on social media is constantly growing. You can notice that some of them manage to cut through the noise, and some of them don't.
However, social media success isn't random, and there are many factors affecting your online presence. The one thing all influential brands have is a clear social media plan. This guide will show you why it's important and walk you step-by-step along this process.
What is a Social Media Plan?
A social media plan is a thorough blueprint that defines your actions on social media. It answers crucial questions about your content, who's consuming it, and how you want it to affect users. Generally, it is tied to a certain social media goal like increasing brand awareness, generating new leads, forming an online community, offering customer services, and so on.
Why Do You Need a Social Media Plan?
Having a social media presence is no longer optional for businesses. The longer you wait to take it seriously, the more you lose. Here are a few of the ways social media marketing can improve your business:
Making your website more visible to all Internet users;
Building trust with customers and potential clients;
Establishing more partnerships;
Staying ahead of the competition and finding new, creative ways to shows off your product/service;
Giving your brand a personal touch.
Your prospects are searching for companies online, and you have the power to affect whether they find information about your brand. More importantly, you can ensure that the first result from search engines is the webpage you can control. If they find your social media profile first, users will view content curated by you.
For example, you have Instagram and Facebook profiles that are performing extremely well. If users search your company name on Google, these pages will be the first ones they come across. If your social media plan takes all your goals into account, you can convert visitors into customers.
In terms of user trust, a strategy helps you answer questions that affect buying decisions. Let's analyze three scenarios that could happen when people are looking at your social media networks:
There are no social profiles, which makes you seem less trustworthy.
Your accounts aren't active and provide no relevant information. In this case, you also lose a few trust points and risk losing a client.
They come across your profile, and it's filled with informative, entertaining content. As they learn about your brand and values, they will see you as reliable service and connect with you on a deeper level.
The final thing we want to focus on is fostering partnerships through social media. Just like regular users are looking for your brand online, potential partners are doing the same thing. You can form useful referral partnerships and look for niche influencers that your target audience will connect with.
8 Steps to Create a Social Media Marketing Plan
If you don't know where to start with your content plan, we've created a step-by-step system to cover all the bases. Remember that this plan is not set in stone, so you can be flexible in how you want to apply it. Use this model as a baseline and adjust it depending on your particular situation.
Step 0. Evaluate the Current State of Social Media Marketing
Before you jump into the planning process, evaluate what your social media currently looks like. What do you know about the social accounts you're already using? Do you need to focus more on some of them? Do you need to tap into new networks?
Consider the following factors:
Audience. Most likely, you have different audiences across different platforms. Compare them by key characteristics and see which audience demographics overlap.
Time. See how much time you spend on individual accounts. If there is a correlation between how devoted you are to a social media platform and its performance, it will give you great insights.
Resources. Create an overview of how much money you're spending and what you are going to need for your goals. This includes copywriters, designers, videographers, etc.
Evaluate the state of your current social media accounts to determine what you're not satisfied with. In order to make improvements, you should learn from your mistakes whenever you uncover them.
For example, you could analyze your average metrics across all of your platforms. Let's say your primary audience is on Facebook, Twitter, and Instagram. Make a comparison table of your followers, following accounts, mentions, shares, and likes. Keep this information as a starting point and refer back to it throughout the campaign.
Step 1. Define Metrics & Set Main Goals for Your Social Media Plan
There is a well-established tool used in goal setting called SMART. This approach states that for a goal to be a reality, your goals need to follow several conditions:
Specific – Let's take an example of growing your Twitter followers.
Measurable – You can set the goal of doubling the number of your existing followers.
Attainable – Don't be sure of yourself; see whether it's even possible to double your followers at this point.
Relevant – You might not need to attain Twitter followers, and, instead, you should head over to Instagram.
Time-based – Set a time frame like achieving the goal in 6 months.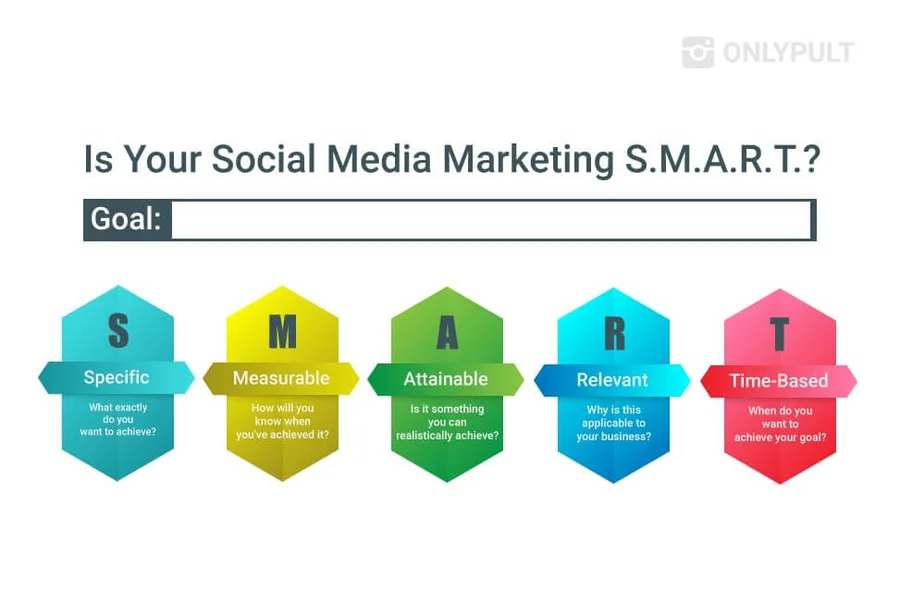 Some areas of social media presence are more important than others. For example, you could work on brand awareness, public relations, community of advocates, sales and leads, etc. As a manager, you need to decide which goals you need to focus more on. Here is an example of how you can prioritize goals: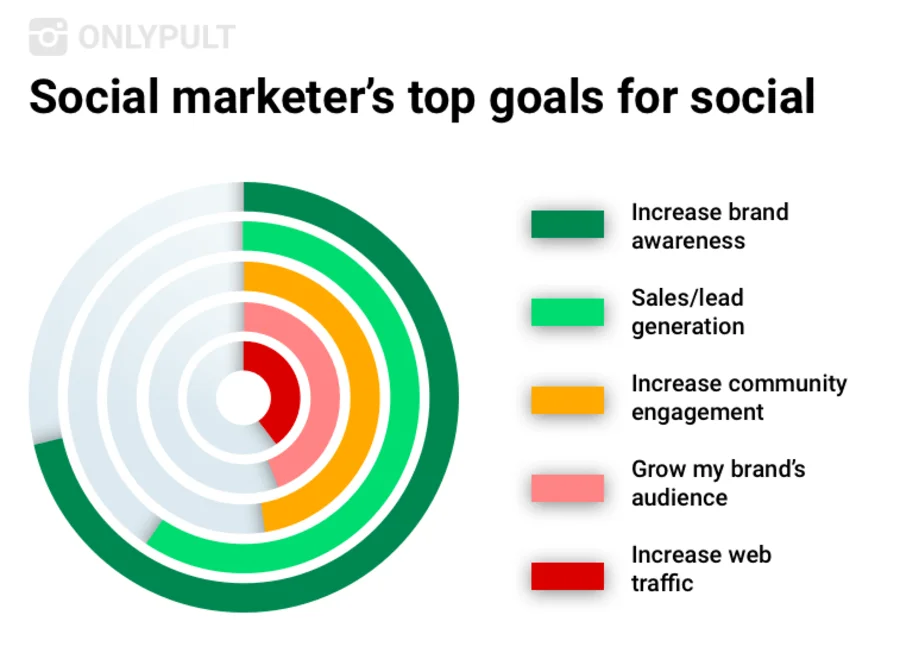 In terms of metrics that you should track, we can pinpoint the following five:
Reach – Number of followers / fans / subscribers / connections and visibility percentage;
Engagement – Public shares, likes, and comments;
Acquisition – Activities to gain a fan, follower, subscriber, reader, etc.;
Conversion – Percentage of consumers who take the action you want them to take;
Activity – Photo and video sharing, blogging, reviews, and posting of other content.
Make sure to actually turn these metrics into actionable insights. There is no use in collecting plain numbers if they won't guide your future improvements.
Step 2. Learn Your Audience
We intuitively know how to best communicate with different types of people in our personal life. Similarly, your social media plan should recognize the specific user type that you will target your content at.
Humanize core target groups of your customer base by crafting an audience persona. It helps you understand each general segment of your customer base without lumping them all together. This method is based on determining the specific needs and desires of your customer.
Dig into your statistics and learn as much as you can about people who are interacting with your brand online:
Age
Location
Job title
Income
Pain points (that your business can solve)
Most used social network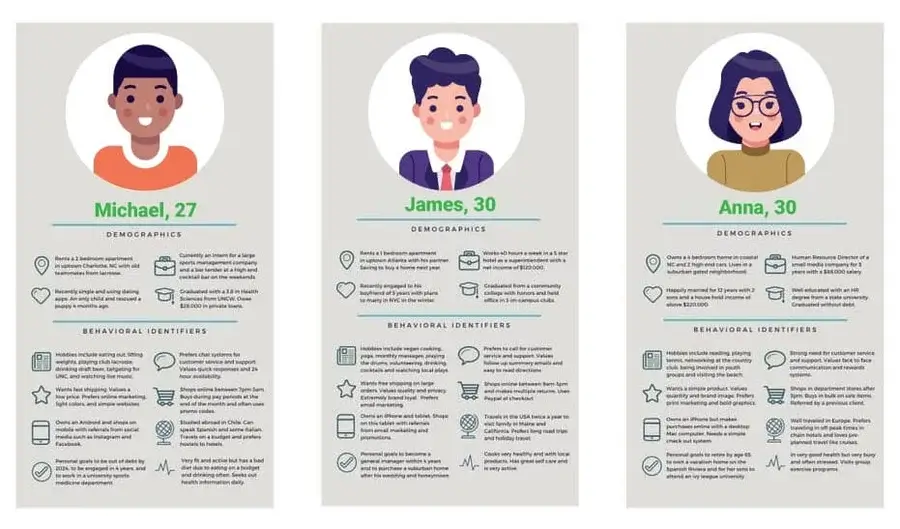 Most often, you will end up with several personas because people may buy your products for different reasons. One group could be looking for distinctiveness or individuality. In other words, they need to be in possession of things which are not possessed by others.
Another group's buying motivation could be comfort - or the desire for comfort. It's one of the important emotional motives used in every industry: retail, travel, transport, beauty, and many others.
Step 3. Conduct a Competitive Analysis
A competitive analysis is aimed at identifying your competitors' strengths and weaknesses. Just like you can learn from heavy-hitters in your industry, and what they're doing right, you can see what strategies aren't performing as well.
Conduct the analysis in the following four steps:
Determine your key competitors. This includes identifying relevant keywords, checking what brands are ranking for them in search engines, and looking at social search results. You might find that your top competitors are brands that aren't even similar to yours.
Learn what they're up to. What social networks do they use, and what kind of data can you collect from them? Track the same metrics (if possible) as you do for your own social profiles.
Do a SWOT analysis. This term is short for Strengths, Weaknesses, Opportunities, and Threats. A SWOT analysis pays equal attention to the internal, positive, and negative aspects of your activities.
Integrate media monitoring data. In addition to generating monthly or annual reviews, incorporate real-time data in your next analysis. This will help you stay aware of social conversations involving your competitors and industry at any time.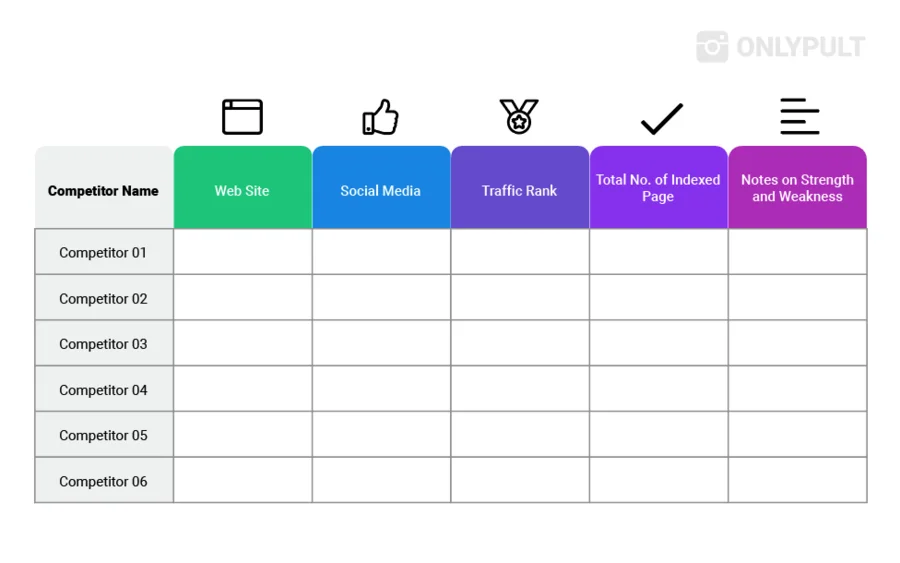 By the end of the competitor analysis, you should a good understanding of:
When you should be posting your content;
How frequently you should do it;
Best posting times for your industry;
Language and tone of voice you should use;
Type of content performing well in your niche;
Frustrations and complaints from users.
Step 4. Collect Ideas & Find Inspiration
Surf the Internet and other accounts to see the most successful social media campaigns. This will help you learn more about what the general audience prefers. There are patterns that occur in many popular online marketing campaigns, and you will benefit from learning what they are.
You don't have to necessarily look for posts in your specific niche. If you broaden your search, you might find something unexpected yet useful. After all, it's not always the topic that made the campaign viral. Sometimes it's the approach that social media marketers utilized, which you can always take lessons from.
For example, take a look at the Starbucks unicorn drink. The roll-out of this Frappuccino made many headlines and won the hearts of Starbucks' younger audience. It was only available for one week and generated nearly 155,000 Instagram posts during that time period. Starbuck used the trend and went heavy on reposting user content.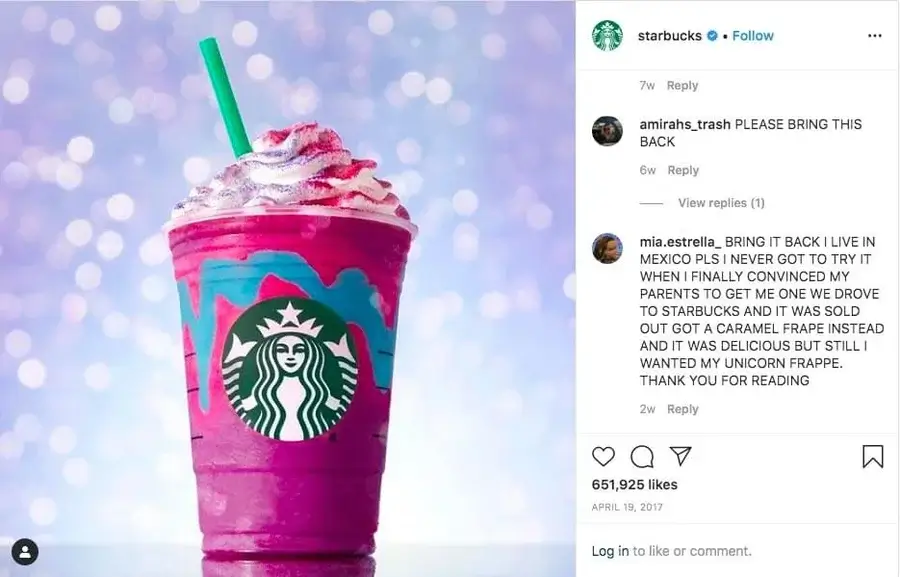 For several years in a row, Spotify gave its users a data-rich gift at the end of the year. The platform generated customs playlists of users' top songs throughout the year. They could also look up the total minutes of music streamed, top genres, and artists. The best thing for the company was that many users were happy to share their playlists and essentially offered a free promotion.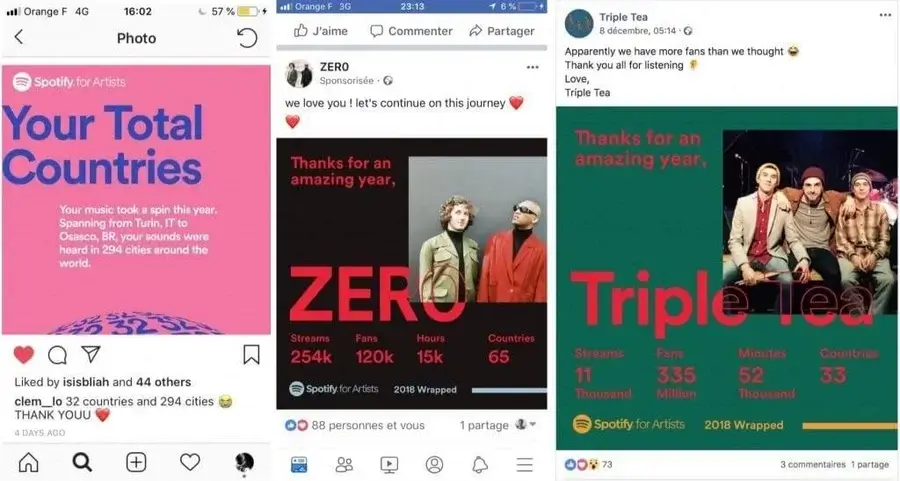 Another great example of using vivid online reactions is IHOP. The International House of Pancakes suddenly started advertising itself as the International House of Burgers. The outrage resulted in thousands of users sharing their reactions and gaining more than 15,000 retweets.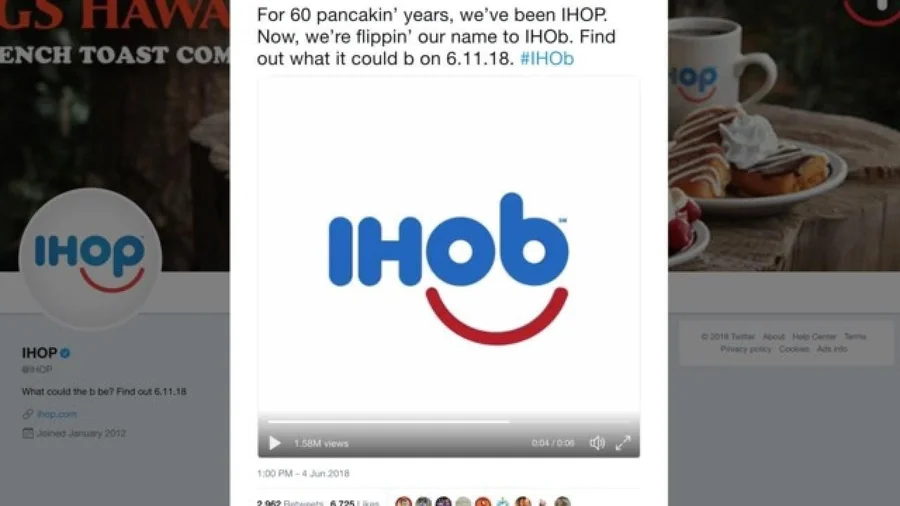 Step 5. Fill Out Social Network Profiles Properly
Unfortunately, you won't get the chance to show off your content to users if they click off of your profile. Your social media profile is the equivalent of a landing page on your website. This is your chance to make the visitor interested in your page.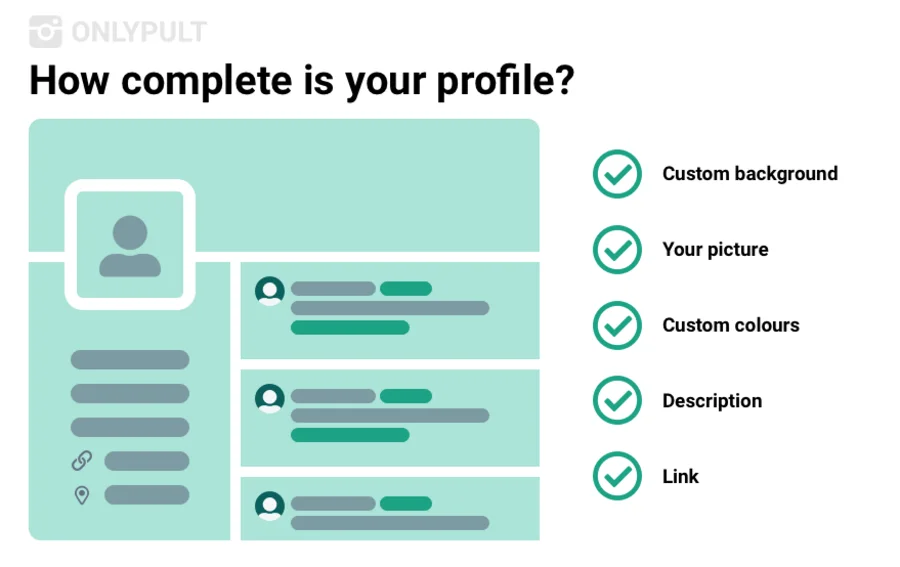 Let's explore what behaviors are best for the most popular social media platforms. Here are our recommendations for crafting an effective Facebook profile:
Upload an eye-catching profile picture to make a good first impression;
Make your username and URL easy to remember;
Include as many business details as possible;
Tell your story in the About section;
Add a call-to-action and a pinned post.
Optimizing your Instagram profile should include these steps:
Convey your personality in the 150-character bio;
Try hashtags and emojis;
Use spacing and line breaks;
Include one type of contact information, like a link to your website;
Add your address and add a corresponding button Get Directions
Lastly, let's see what you can do for Twitter:
Use the entirety of 160-character limit;
Include the right keywords;
Use humor and catchy phrases;
Tactfully insert a humble brag;
Add your website and other social accounts.
Step 6. Create a Posting Calendar
Before you can proceed to make content, you should plan it out. Each social profile might need unique content, or you should at least adjust it depending on the platform used. Assign meaning to your posts that reflect the business goals you've just set.
Place different posts in your posting calendar. If you always promote your products and services, users can get fed up fairly quickly. Apply an 80-20 ratio:
80% of your posts should be informational, educational or entertaining;
20% should be a direct promotion of your company.
The planning process is essential if you don't want to waste company resources. It's significantly easier to make adjustments before you actually make content. Once you make a rough plan, you could use scheduling tools to see how it would look on your grid/timeline. You can use scheduling tools or bulk scheduling to check the format of your posts.
Onlypult is a service that supports social media content calendars and helps you manage different types of content on each channel. You can plan and schedule your activities ahead of time to always stay in the lead. Plus, making a calendar on Onlypult helps you space out posts and share them at the optimal times.
Step 7. Create Content
The specifics of making content depend on what you've decided to post. By now, you should have ample information in order to make high-quality content that will strike a chord. Remember that, along with creating posts from scratch, you can share and repurpose user-generated content.
Based on the competitive analysis and current social media trends, define your tone of voice. It refers to the distinct voice that your brand uses to "speak" with your audience. This will ensure a unified reputation across all communication channels.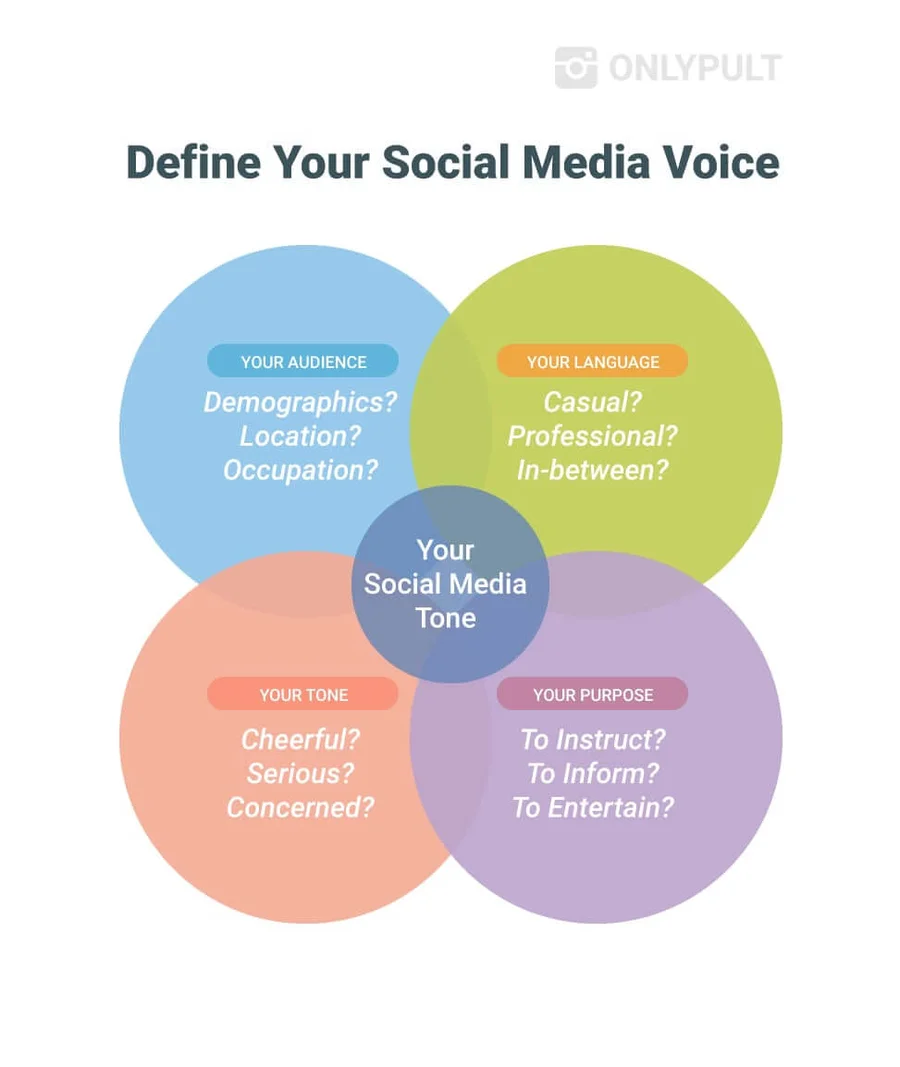 At this point, your content is ready to be posted. However, you should remember to be flexible about it. Online trends come and go, so you should be ready to act quickly sometimes. This approach is called situational marketing.
Over the years, we've seen trends like the Cinnamon Challenge, the Kylie Jenner Lip Challenge, or "Storm Area 51". Regardless of what you think of them, it's beneficial to tap into that area. Catch the general sentiment and make your posts relevant to the current events.
Also, be ready to change the tone of voice for different platforms. Since social media networks have their own unspoken rules and different demographics, you need it to be reflected in your narrative. For example, Instagram can be more cheerful, whereas LinkedIn is more professional.
Step 8. Test, Evaluate & Adjust Your Strategy
When you finally post the content, the work isn't done. One of the best things about social media is that your account's performance is measurable. This ties in with the topic of social media analytics and built-in data, as well as using specialized services to track data.
Set up tracking before your campaign begins and track key metrics described in step 1. Once this data starts coming in, use it to re-evaluate your strategy. See what posts are making a bigger impact and make future posts follow the same pattern.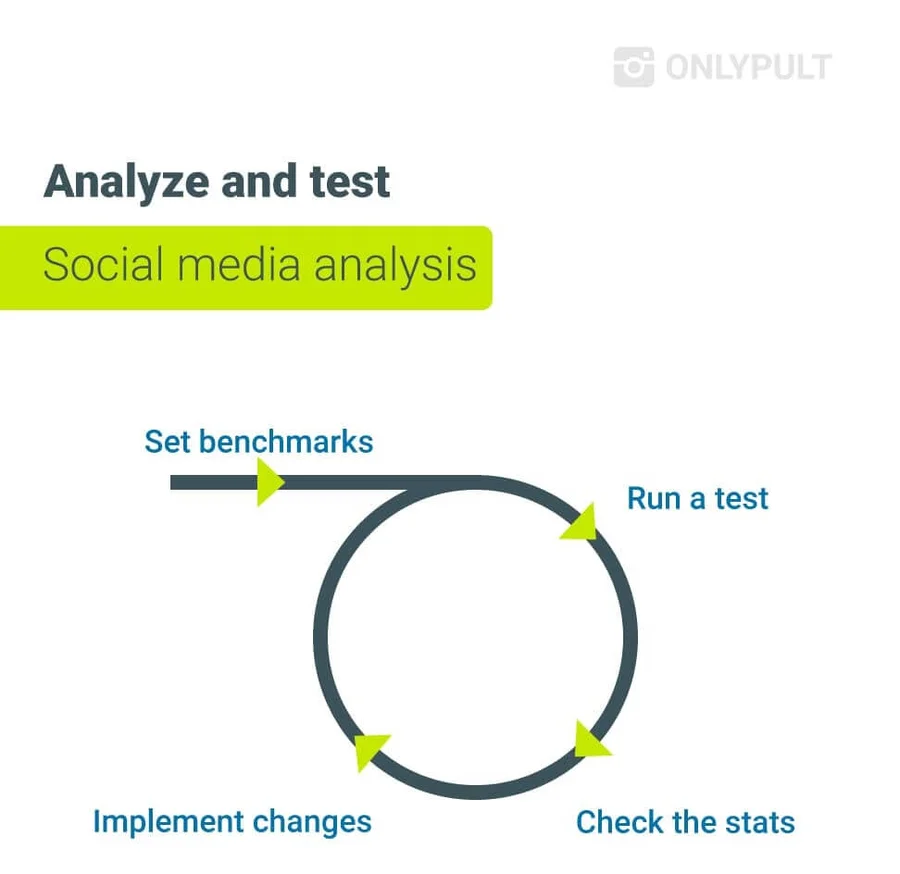 The reason for looking at your metrics is not because you should be doubtful about your decisions. In the social sphere, things change at lightning speed. People's attention shifts quickly, new platforms emerge, and trends become irrelevant. Your social media strategy should be a dynamic script that should take into account the volatile nature of the Internet.
When you make adjustments, let everyone else on your team know. If you expect them to work towards a single goal, keep them updated.
Social Media Marketing Plan Template
The best way to organize a social media plan is to create a content calendar. You can use Google Sheets, Excel spreadsheets, or a specialized service. All activities can be divided into categories based on:
time and date of posting;
type of content and social channels;
title or description of the content;
links to supporting documents;
people responsible for creating and posting.
Below are a few templates for social media plans. They include key points that help social media managers navigate all the activities. If there is any additional information that the manager would like to include, like reminders or promotions, they can add it to the table.

It's up to the manager to decide what will make navigation easier. For example, the next template is color coordinated based on the social media channel the content is aimed at. As you can see, the table is not uniform. Some accounts imply posting more frequently, like the ones with larger user bases.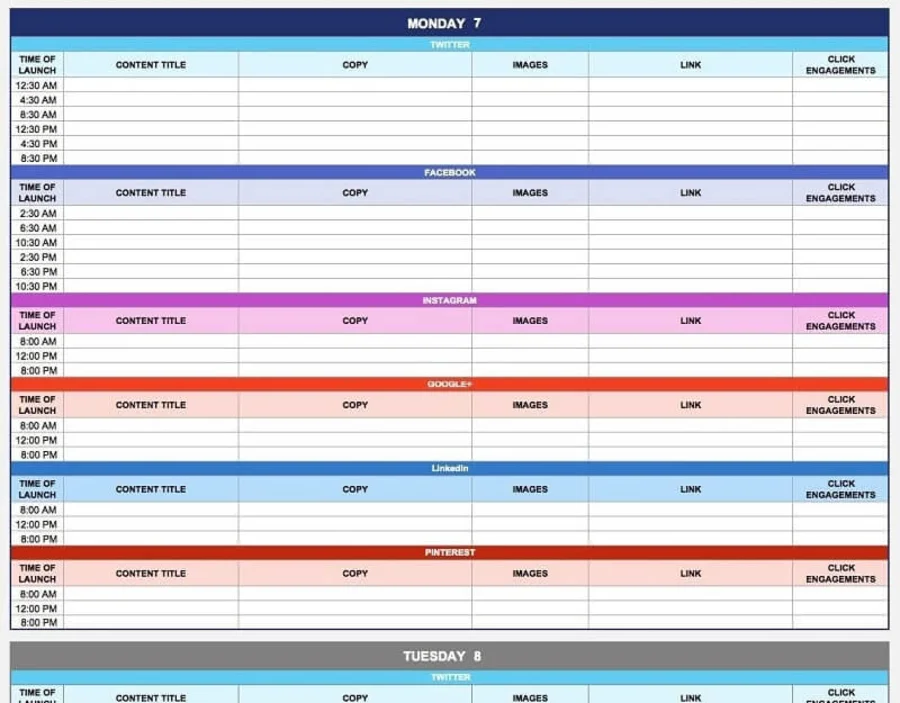 The last template is mostly time-focused. If the manager accurately calculated the best time for posting on different platforms, this plan works really well. It specifies who's in charge on a given day, what the content is about, and anything else that the manager needs quick access to.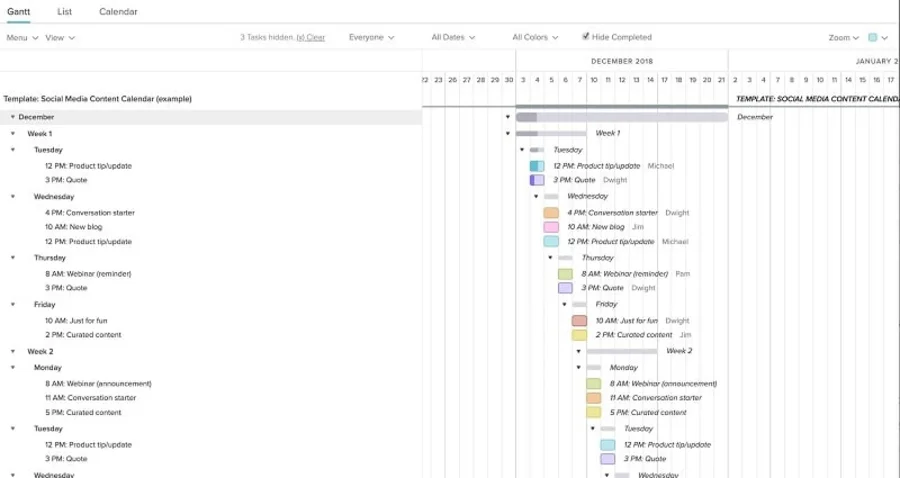 Onlypult Social Media Post Planner
Onlypult is a platform for social media post planning with extensive functionality. For example, it includes the ability to manage multiple accounts, schedule posts, and change them in calendar mode, edit photos, and a lot more. Also, you get access to the analytics reports that present data in an easy-to-digest way.
While social networks are predominantly used on mobile devices, that's not the case for managers. Working on your social media accounts is significantly easier with a web-based platform. You can see the full layout months ahead and make changes for scheduled posts whenever needed.
Scheduling Instagram and Twitter content isn't easy because of its API, but Onlypult manages to overcome this limitation. To schedule posts on your social media planner, you need to:
Go to the Onlypult website.
Sign up for a 7-day free trial or choose a paid plan on the homepage.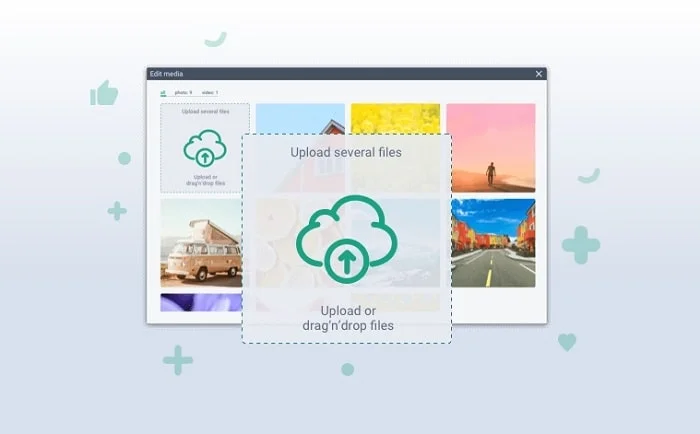 Create a social media account, which will take you to the dashboard.
Click Add Post and drag the files you want to be scheduled.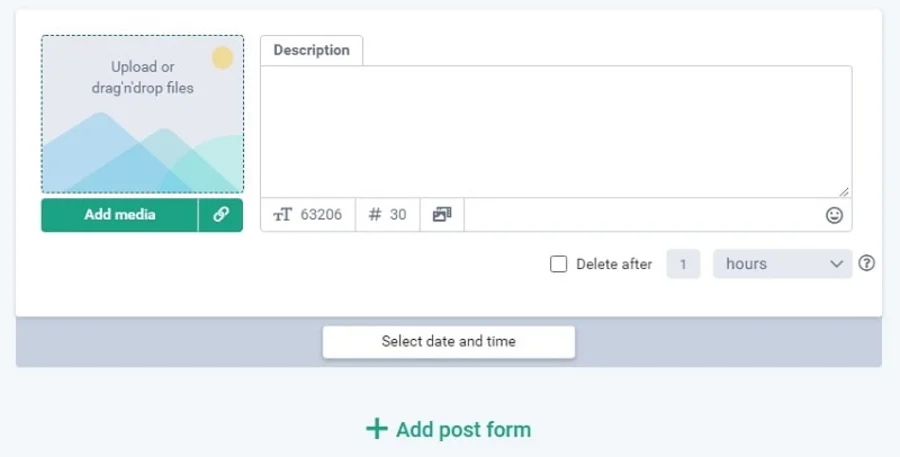 Add the description, hashtags, first comment, and all the general information you normally include in your posts.
You have the option to choose both photos and videos, as well as photo albums.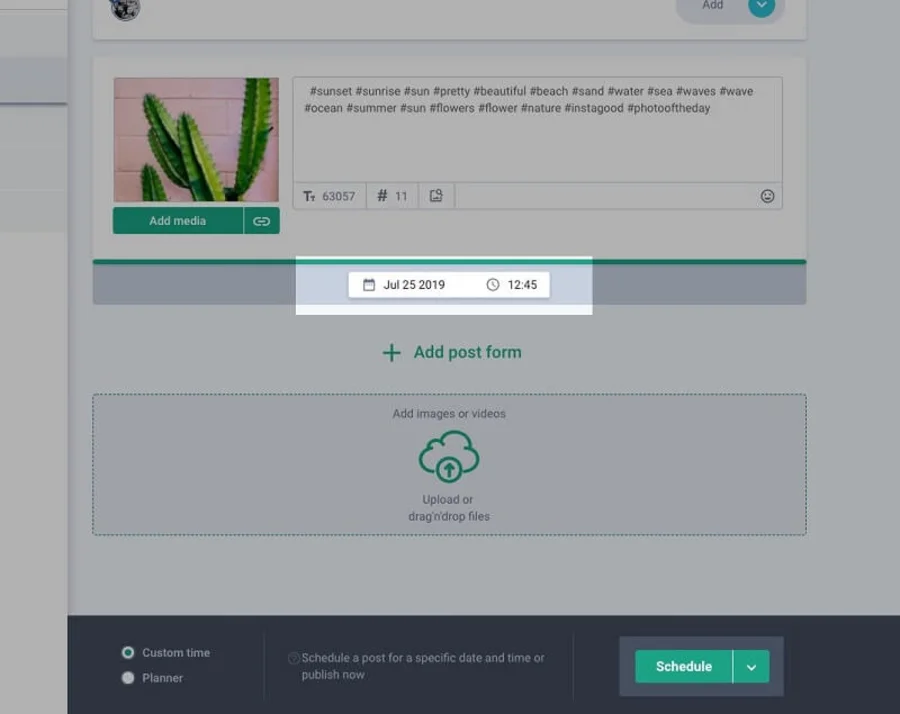 Specify the time and date when the post needs to go up.
Click Schedule, and you will be directed to your dashboard again.
As you can see, the entire process won't take you a lot of time but will provide all the extra perks of post planning. This will make sure that you always have great content ready to be posted. Afterward, you can analyze its performance and optimize your strategies for social media marketing.