Nowadays, almost every business has to be present on social networks. Do you want to stay ahead of the competition? Then we advise you to learn the core updates that have occurred in recent months on different social networks.
Facebook
Facebook Fantasy Games
In early September, Facebook launched Facebook Fantasy Games in the US and Canada. The app works for iOS and Android. It is a simple game that can help sports and TV fans to predict the outcome of a show or match in a game format. The main focus is on increasing user interaction and engagement with the platform.
Besides, participants can create their own Fantasy League and compete with other fans. For example, you can create a football team where all participants are athletes and receive points for their key actions. Players have to collect points to win. Fantasy Leagues can be single and multiplayer, and the participants can leave comments and compare their results.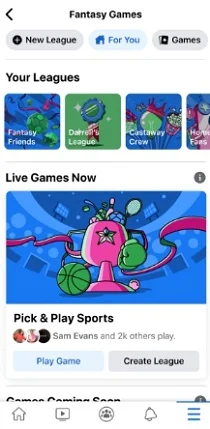 &nbsp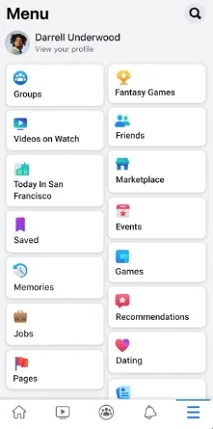 about.fb.com
The first game that Facebook launched was Pick & Play Sports. That is where fans can earn extra points for predicting the best player or winner of the match. They also receive bonuses if they guess several things in a row during a game session. Collaboration with Survivor (CBS), Bachelor (ABC), and Major League Baseball is planned for the near future.
Poll-game Most Likely To
For its 10th anniversary, the Facebook Messenger app has added several new features, including the poll game Most Likely To. This format is for diversifying chatting. The idea of the poll comes from Instagram. In this format, people can use the Who-is-most-likely-to…?-effect. Two users can stand side by side and tilt their heads to the right or left when answering questions. There was a similar trend on TikTok, where couples were asked questions about each other. Examples of questions could be, e.g., "Who is most likely to go fighting with the zombies when everyone runs away?"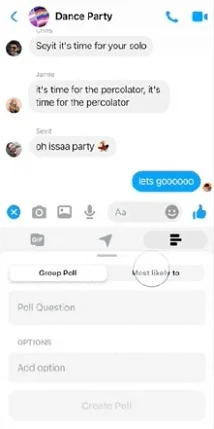 about.fb.com
To play the game Most Likely To with friends, you need to click on the group chat button with four circles in the lower-left corner. Users can either enter their questions or select them from the proposed options by clicking on the button with a dice. If you use the Messenger desktop version to start this game, click on the blue plus sign, select the Polls option, and continue with Create a poll.
Cash gifts via Facebook Pay
Facebook has introduced a new way to send money directly through the Messenger app. So far, this feature is only available to US residents, but we can expect its further expansion. When someone sends you money as a birthday present, you will receive a gift sticker in the messenger. After your click, it will turn into money. You will also see the festive balloon animation. Once you have verified your Facebook Pay account, you can immediately send gifts when you click on a button in a post about a holiday event.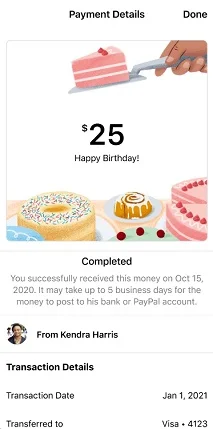 &nbsp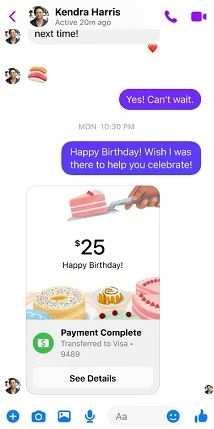 about.fb.com
Customizing phrases with emoji
Facebook Messenger is testing a new way to fill in the phrases you set. For example, when you type in "Happy birthday", the animation with festive emoticons will automatically appear. You can apply this option to any phrase like "Good morning," "Congratulations," "Ha-ha," "Thank you," or any other phrase or your local meme. It helps to make communication livelier and more vividly sharing emotions with friends.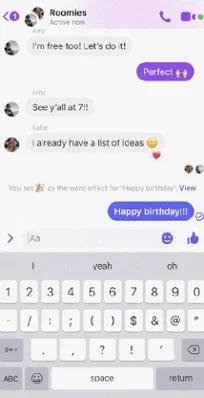 &nbsp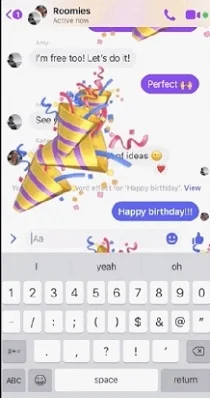 about.fb.com
Settings redesign
Facebook has redesigned its app settings structure to make it easier to use built-in tools. To better user experience, now all settings are grouped into six categories with sub-categories: Account, Preferences, Stories, Permissions, Personal information, and also Community standards and Legal policy.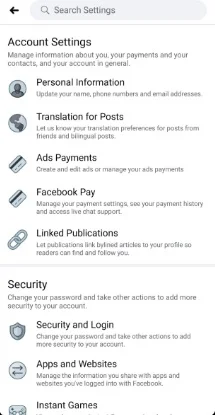 &nbsp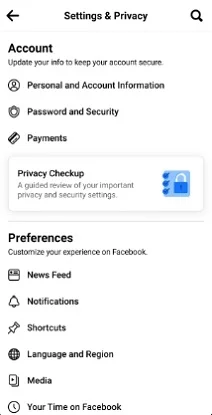 about.fb.com
Experts are sure that this will help users to better navigate through Facebook features and eliminate unnecessary inconveniences. So if earlier the settings of the news feed were in separate categories, now it is combined with other similar options. The redesign of Facebook settings can be seen already on iOS, Android applications, in the mobile version, and FB Lite.
Sound emoji
A few years ago, iPhone owners could share animated images of animals or create their characters, but this function did not have great success. Now users can create sound emojis and share them in chats. There is no need to set up the musical accompaniment - Facebook has already provided everything for you. Each sound fits the emoji by meaning: a laughing face laughs, drums make a characteristic beat, and a ghost makes scary sounds. Of course, not the entire collection of icons has their accompaniment for now, but the developers promise to replenish the media library gradually.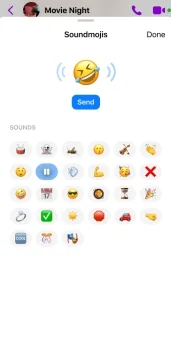 about.fb.com
To send emojis with sound, click on the emoticon in the message input field and go to the far-right tab. Before submitting, you can listen to the mini-track and select the appropriate option. It is one of the most creative Facebook updates right now.
Facebook Bulletin
The company has launched a new platform — Facebook Bulletin. It is a service for sharing news and valuable materials with partly paid access. This platform will be a place where people can create collections of podcasts, articles, etc. They will be published both on a Bulletin website and duplicated in the Facebook news feed. Each author will have an opportunity to customize their page, name, logo, and theme colors as they like. In addition, it will be possible to customize the layout style, add media content, and more.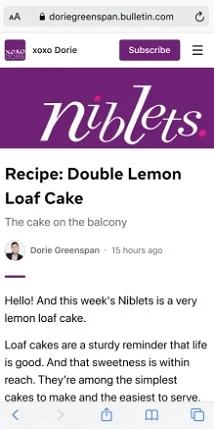 &nbsp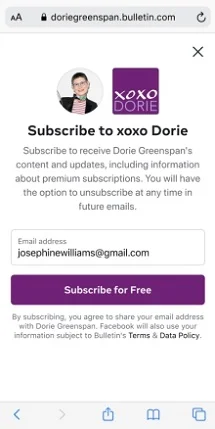 about.fb.com
Content makers can customize the access level. You can ask users to pay for content like the core materials, the ability to comment, membership in a closed group, or access to the voice chat. During the promotion, creators will be able to target and segment users. For the best marketing strategy, the Facebook Bulletin platform will also provide analytics tools. Bulletin uses the Facebook Pay financial system. According to predictions, the reach of the audience can get around 2.85 billion people worldwide.
One billion dollars to support creators
Mark Zuckerberg announced that he plans to pay $1 billion to content creators on Facebook and Instagram by 2022. Specific platforms are created where users can learn about bonus programs.
This decision is the result of the need to compete with TikTok and other social networks. Also, as the Facebook founder pointed out, the company wants content creators to make a living for that money. Bonus payments will be available for creators to achieve particular results:
The In-Stream bonus allows video-makers who use in-stream advertising to get additional income.
The Facebook Stars system also lets users earn money for likes from fans. That means that users should buy stars to show their support and interest in the content. To achieve goals (for example, get 5 thousand stars), Facebook will give $150 as a bonus.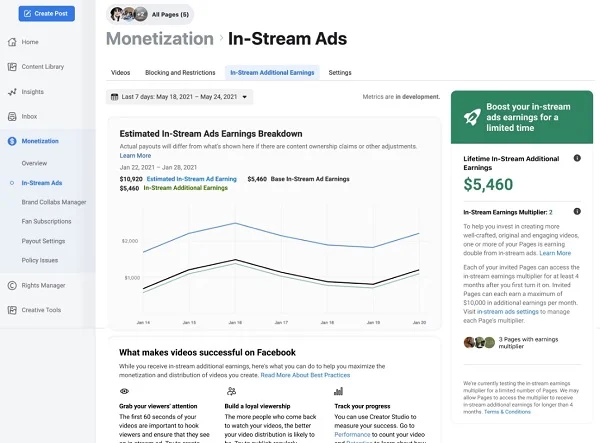 about.fb.com
There will also be one-time bonuses on Instagram, such as getting money for creating IGTV posts, videos in Reels, and earnings on donations.
Instagram
Protecting users from bad experiences
Instagram continues to introduce additional features that will limit negative comments, insults, and bullying. In this regard, they have added several new features.
First, it will be possible to limit the number of comments and requests in private messages during the surge of increased attention to the person. This option automatically hides requests and comments from those who do not follow you for a long time or those who have recently followed you. You can set restrictions manually in the privacy settings — the Restrictions tab.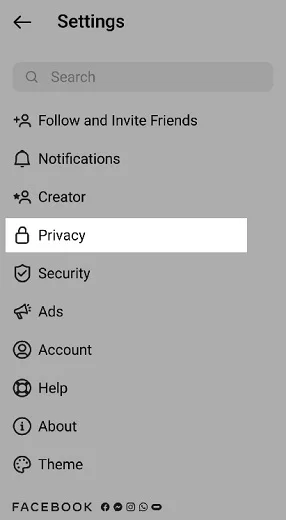 &nbsp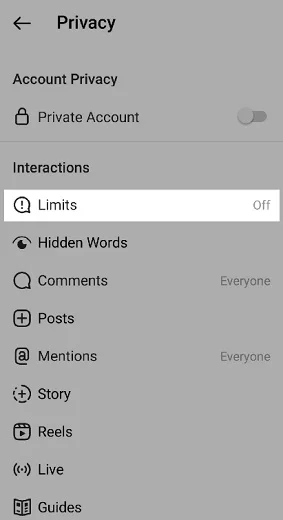 You decide for how long you would like to set restrictions, and this time is up, Instagram will remind you to turn off the function. In addition, the system may prompt you to activate this setting if it notices an increased surge of attention to your account.
The developers noted that after the Euro 2020 finals, the research revealed a surge in racist comments about the players. They do not want to restrict people from using the platform and completely disable comments and messages. But the new feature allows users who have become the object of increased attention to continue to live normally and communicate with the audience.
Secondly, Instagram plans to issue stricter warnings to people who use hate speech and write offensive comments under posts.

When users try to write an offensive comment, they receive a warning notification. If the system identifies that a user publishes insults several times, then the system warns about the punishment like hiding the users' comments and deleting the account.

Third, Instagram is bringing its Hidden Words feature to a global level. It is aimed at better filtering offensive requests that users receive in private messages. The system can also hide comments and messages that are recognized as spam. This option is now available worldwide.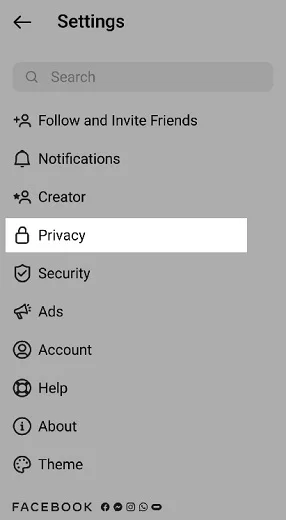 &nbsp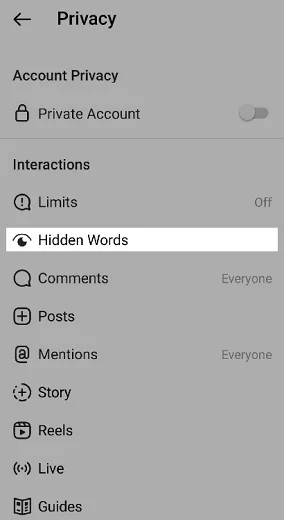 This feature includes not only words but also hashtags, emoticons. You can create a list of words by which you would like to limit incoming requests. If a person wants to send you a request with any of these words, it will be displayed as hidden in your messenger. If you click on it, the protection will disappear, and you will be able to read it.
Instagram notes that they feel responsible for the experience people get on the platform and plan to take action to keep everyone safe.
New policy for underage users
Instagram continues to strengthen its policy to protect underage users from suspicious strangers. On the one hand, the social network wants to give everything that users like in the social network, but on the other hand, it wants to ensure their safety.
In this regard, all accounts of underage users will be set as private by default. For users that the system has identified as potentially suspicious, it will be more difficult to find profiles of young people. This category includes accounts owned by adults and recently blocked due to a complaint from a teenager. They will not see posts by underage users in the feed. They will only be able to find the profiles of underage users by searching for their names, but they will not be able to follow. Such adults will see comments under posts, but they will not be able to leave comments.
In addition, there will be restrictions on advertisers targeting youth.
However, Instagram has no plans to keep all teenager accounts strictly private. Users who already have an open account only will receive a notification explaining all the benefits. And new users — if they wish, will be able to open their profiles for public viewing. The minimum age to sign up for Instagram is 13. Also, when registering, the system will now ask for the exact date of birth and automatically determine existing users by their holiday posts. To collect more accurate data, Instagram asked already registered Instagram users to share their date of birth by using a reminder in the feed.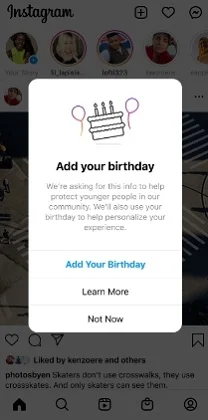 &nbsp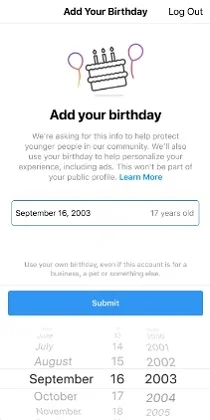 about.instagram.com/blog/
Repost to Stories
The app has released an update in which there will no longer be a button for reposting posts to stories. Now, to duplicate the publication, you will have to save it first, then go to the author's story mode and click on the sticker with a smile. After that, you need to select the Share sticker and select a specific post from the saved publications. And you can make a report only after that.
This update has raised a wave of outrage among bloggers. They point out that this will cause difficulties for beginners. Since Instagram algorithms rely heavily on the followers' interaction with posts, this is critical for promotion and rates. The complicated repost process will lead to the fact that users and beginner bloggers will make fewer reposts. That means that their coverage will drop.
Instagram Drops
In the process of developing the Shopping section, Instagram announced the launch of Drops. The core mission of this platform is to allow brand fans to watch the upcoming replenishment of the assortment and not miss a new product. In this section, you will learn about the features of new products and the announcement of the sale start. According to the developers, this will make Instagram an even more attractive place to develop e-commerce business.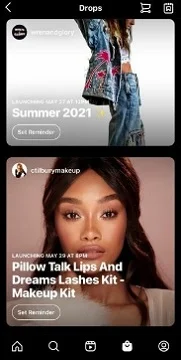 &nbsp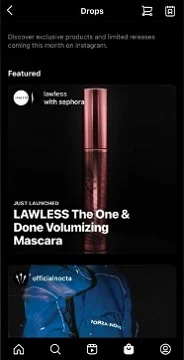 &nbsp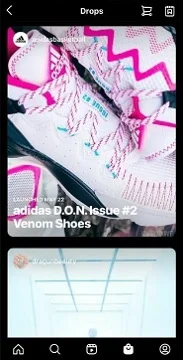 about.instagram.com/blog/
Use more new features promoting goods to keep up with competitors. Create content for your customers which is convenient to use — follow links, buy without leaving the app, and follow the updates of your favorite brand.