As social platforms are on the rise, therefore it is essential for business owners to understand how to take advantage of social media. Social media has over 4.26 billion users, and 92% of marketers think that social media is beneficial for their business.
A good social media campaign can transform your business into a success. However, it can be time-consuming as you must go through multiple tasks such as analyzing, planning, creating content, customer listing, and graphic designing.
You need to use several tactics and tools to make your marketing journey successful. Without powerful marketing tools, you cannot create and share valuable content to attract an audience or drive reasonable engagement.
What is Social Media Marketing?
Social media marketing is a form of digital marketing that uses social media apps or platforms. Marketers use social media to promote their products or services. Social media marketing enables business owners to:
Build a brand awareness
Increase sales
Attract a new audience to their websites
Build a community of followers
What are Social Media Marketing Tools?
The tools that help markets in their social media marketing campaigns are called social media marketing tools. Today, many tools make your job easier as a social media marketer. A perfect marketing tool will align with your organization's goals and drive excellent results. There are multiple tools available for different tasks. All you need to do is to pick the best tool that meets your requirements the best.
What are the Different Types of Social Media Marketing Tools?
Based on the functionality and features, there are 6 main types of social media marketing tools.
Social Media Scheduling Tools
A social media scheduling tool is software that allows marketers to create and publish content automatically at a specific time. Marketers can create content in advance and share it with the audience at a predefined time.
Social Media Analytics Tools
An analytic tool helps the social media marketer track, analyze and measure the performance of social posts and campaigns. With the help of this tool, you can analyze the performance of all your social media campaigns, such as Facebook, Instagram, and TikTok.
Social Media Monitoring Tools
Social media monitoring tools allow you to understand what people say about your brand, products, or services. They also provide insight about your competitors and industry.
Social Media Listening Tools
Social media listening tools are based on functionality similar to monitoring tools. The key difference is that they provide a broader picture of discussions and conversions from social media. Furthermore, social media listening tools also allow you to design better strategies based on what is being said online about your brand.
Social Media Reporting Tools
Social media reporting tools provide the functionality of presenting your social media marketing campaigns in charts and graphs. In this way, they help you understand your strengths and weaknesses better.
Social Media Engagement Tool
Social media engagement tools are designed to get a greater response and improve customer engagement rates across your social media channels. Using these tools, you can manage the comments and messages of the buyers in one inbox.
Why Use Social Media Marketing Tools?
Social media marketing tools are very beneficial for your marketing campaigns as they help to reduce your efforts and get results more quickly. Without using these tools, your marketing strategy may fall flat, and you will fail to get desired results. Social media marketing tools help you to plan, create, publish and promote your content. They also help to measure your campaign success rate. This way, you can devise marketing strategies that work best for your brand.
Feature of Social Media Marketing Tools to Consider
Every software has its own functions and features. Surely a tool that can fulfill your maximum marketing needs is the best. Here are some features to consider for social media marketing tools.
It should be easy to use
It should have high accuracy
Should have keyword monitoring
Good listening feature
Should be able to analyze targeted audience interests
Functionality to manage, schedule, and publish content on all social media channels
It should facilitate to manage social media channels in one place
Top Social Media Marketing Tools to Use
Plenty of social media marketing tools are available in the market. They differ in their features and functionality. Here we have put together a list of top social media marketing tools.
Onlypult
Onlypult is packed with a collection of social media marketing features. If you are looking for perfection in social media management, Onlypult is there to help you. It enables marketers to manage multiple accounts from a single dashboard, post photos and videos instantly, schedule them for later, and interact with customers' comments. Some best features of Onlypult are listed below.
Publish and manage posts on social networks from a single dashboard
Built-in editor to design engaging social posts
Manage multiple social accounts from one window
Provides popular hashtags in your niche
Allows auto-delete functionality for promotional posts
Improves interaction with the audience
Analyze and track your business success rate and volume growth
HubSpot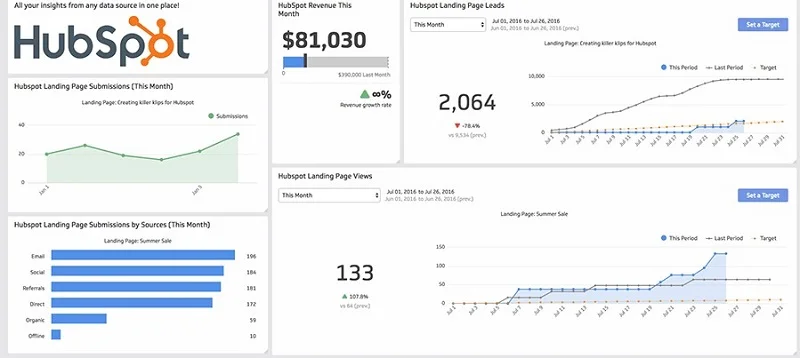 Image source: https://www.klipfolio.com/integrations/hubspot-dashboard
HubSpot is an all-in-one marketing software that starts at $50 per month. You can integrate all your marketing efforts into a single platform through HubSpot. HubSpot enables you to monitor your brand, create and schedule posts and calculate engagements automatically. Apart from these, here are some excellent features of HubSpot.
Publish your post on multiple platforms such as Facebook, Twitter, Instagram, etc
Schedule your post to publish at the right time
Easily compare results across your marketing channels
Allows to target specific audience
Monitor audience, interactions, and conversions precisely
Monitor brand and audience-relevant keywords
Buzzsumo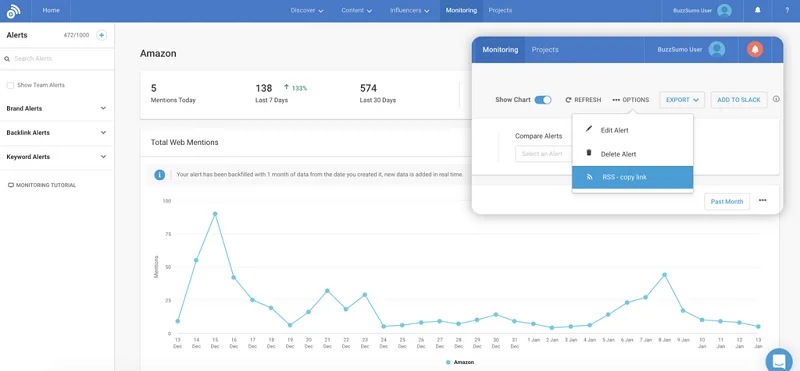 Image source: https://buzzsumo.com/blog/build-content-marketing-dashboard/
Buzzsumo is a very helpful tool for the research phase of marketing strategy. Research is a crucial part of every marketing strategy. It helps you to know what is suitable for your brand and whether it works for you. Buzzsumo is especially a server for research purposes.
Some of the top exciting features of Buzzsumo are:
Discover the most shared content on social media channels
A useful tool to collect data and generate ideas
Helps to create high-performing content
Monitor content results
Provide competitors analysis
Find influencers related to a particular topic
Sprout Social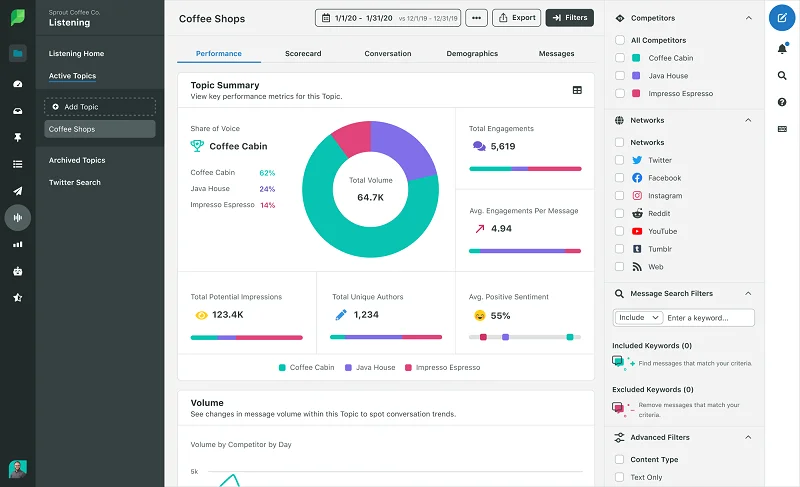 Image source: https://media.sproutsocial.com
Sprout Social is an all-in-one social media marketing tool. It combines several marketing tools in one platform, such as social media monitoring, scheduling, and reporting tools. It is an excellent tool for teamwork as it enables users to coordinate and delegate tasks efficiently.
Some of the notable features of Sprout Social are as follows.
All-in-one social media marketing tool
Customer relation management
Best tool for teamwork
Provide accurate performance reports
Effective tool for improving audience engagement
Buffer
Buffer is mainly a social media post-scheduling app. It offers two main functions that are Buffer Publish and Buffer Analyze. By using Buffer publish, you can create posts and schedule them to publish at a specific time. Buffer Analyze allows you to track the performance of your social post and create results reports. The best features of Buffer include the following:
Customize days and times to schedule your posts
Track the real-time performance of your social posts
Reply to social posts from inside the Buffer
Allows to add team members
Calculate customer reactions to each post
Adobe Express
Adobe Express is a graphic design tool. Visual content plays a vital role in marketing campaigns. Adobe Express is an excellent tool that will help to fulfill your visual content needs. Adobe Express is a user-friendly and easy-to-use software. There are many ready-made banner templates available that you can use to design social posts.
Furthermore, you can edit and remove background from images online through Adobe Express. The best features of Adobe Express are:
Create your brand identity with a fantastic logo, colors, and fonts
User-friendly interface
Drag and drop easy editing
Allows to schedule posts for Facebook and Instagram
Thousands of free templates
Mention
Mention is an extremely comprehensive tool for social media marketing. It can monitor mentions about your brand, product and services, and competitors in real-time. It provides you the functionality to respond to social media comments and mentions from inside the software. Furthermore, you can find influencers for influencer marketing and analyze your competitors through Mention software. Some of the powerful features of Mention are:
Track social media mentions of your brand as well as competitors
Provide accurate in, depth insight and reports for your brand mentions
Able to track 1 billion sources across the web
Measure competitors data
Find relevant keywords to design a better marketing strategy
Provide easy-to-use and detailed dashboard
Hootsuite
Hootsuite is the most prominent social media used by more than 18 million people. It is a social media management tool that allows you to create and schedule content, measure your marketing success, run social ads, and much more. Hootsuite facilitates you to handle multiple social media accounts from one dashboard. The top most exciting features of Hootsuite include:
Monitor multiple streams from one screen
Connect with 35 social media networks
Schedule bulk social media posts
Connect with customers through social media listening and analytics
Allows collaboration across team members
Monitor comments and mentions from one place
Provide detailed analytics data
Provide relevant keywords to target specific audience
Offers 30 days free trial
Conclusion
Social media marketing is a strategy rather than a task. There are many tools available to use for marketing campaigns. You must select the best tools that match your marketing efforts and goals. In this detailed article, we unveiled must-have social media marketing tools. These tools will help to run and monitor your marketing campaigns more effectively.