Analytics is an essential element of any strategy, and, needless to say, this rules social media marketing as well. It is often said that what can't be measured can't be improved. But with such a wide array of platforms, this process can be overwhelmingly complex.
This guide explains how the right social media analytics tools will help you measure your marketing activity easily and accurately. Most importantly, we've compiled a list of the best services that will maximize your campaign performance.
What is Social Media Analytics?
Social media analytics is the result of collecting data from social media platforms for the purpose of making more informed business decisions.
The scope of "social media" includes not only websites like Twitter or Instagram, but also forums, review sites, blogs, and news outlets. Therefore, in addition to basic analysis, this process generates an in-depth perspective on consumer behavior on social media.
The reasons for doing social media analysis is gaining a competitive advantage through better comprehension of the brand, learning from customers, and improving products and services based on consumer experience.
How Does Social Media Analytics Work?
Data analysis answers questions of "Who? What? Where? When? Why? and How?" The three steps it takes to answer them include:
Data identification – This means focusing on data that is of interest, such as type of content, region, platform, language, time, ownership of content, etc.
Data analysis – This step involves converting data into insights. In its most basic form, data analysis is done by organizing data elements and determining how they relate to each other.
Information interpretation – Once you identify underlying patterns and relationships, you can structure them into a narrative and use it in the decision-making process.
What Social Media Analytics Should I Track?
Marketers are overpowered by the amount of information they receive from social media. Some of it is important to your business, but some data will be irrelevant to your goals. Here is what you should be focusing on.
Reach refers to the total number of users who have seen a particular piece of content.
Metric to track: Audience Growth Rate
Insight: Connect a customer's participation to the amount of revenue your business generates
Relevant indicators: Audience Growth, Total Followers
Engagement measures a long-term relationship between the customer and the brand reflected in the public shares, likes, and comments.
Metric to track: Average Engagement Rate
Insight: Assign meaning and give context to user actions
Relevant indicators: Reach, Overall Engagement, Audience Growth Rate
Acquisition refers to the channels that lead visitors to your website or account.
Metric to track: Visitor Frequency Rate
Insight: See where new or returning visitors are coming from and focus on these sources
Relevant indicators: Click-Thru Rate, Impressions from Social Media
Conversion is the percentage of users who have taken the action you want them to take, like downloading a content asset or registering for a webinar.
Metric to track: Assisted Social Conversions
Insight: Confirm the pay-offs of social media efforts and whether you leverage users' decisions
Relevant indicators: Last Click (Direct) Conversions
Activity measures cost per interaction in terms of customer service given on social media.
Metric to track: Customer Service Savings
Insight: See the effects of your social media activity on your company's bottom line
Relevant indicators: Customer Service Costs, Social Media Posts
Built-In Social Media Analytics Tools & Dashboards
When figuring out your social strategy, it makes sense to check what the platforms themselves have to offer. All of the major social media websites provide built-in analytics and dashboards, which can give you plenty of insightful and interesting data.
Facebook Analytics
Facebook Analytics gives you a bird's-eye view of every activity that takes place on your account. To access it, go to your Facebook Business Page and click Insights in the top menu. You can view data for the current day, last seven or 28 days.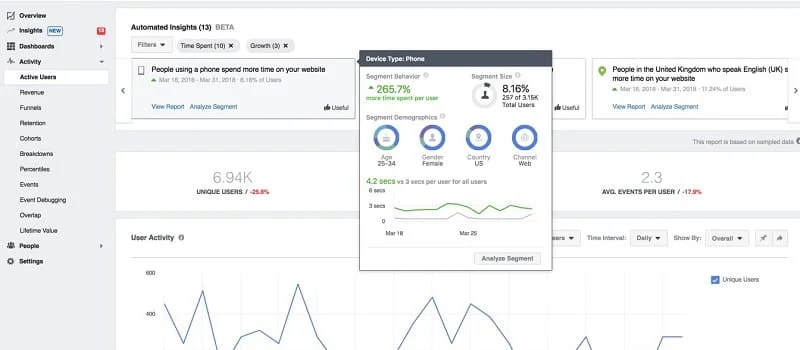 Here is a short summary of the kind of data reports you can get in a matter of seconds:
Actions on page: This shows the combined total clicks on your phone number, your website, and your action button.
Followers and likes: Naturally, you want to see the number of new followers and those who've liked your page, which gives you an idea of the page's popularity over time.
Promotions: These reports from paid content that will help you gauge the effectiveness of ads you're running and determine what content should be boosted.
People: This metric focuses on the demographics overview, like age and gender breakdowns, education levels, job titles, relationship statuses, and more.
Page views: See who visits your Facebook Page, including those not logged into Facebook categorized for each section page, including About, Photos, Home, etc.
Twitter Analytics
Whether you're a brand or an individual, you can click on "More" on the left sidebar and go to "Analytics". This dashboard gives you a 28-day summary as well as month-by-month reports. Here, you can also set a date range and export your data reports.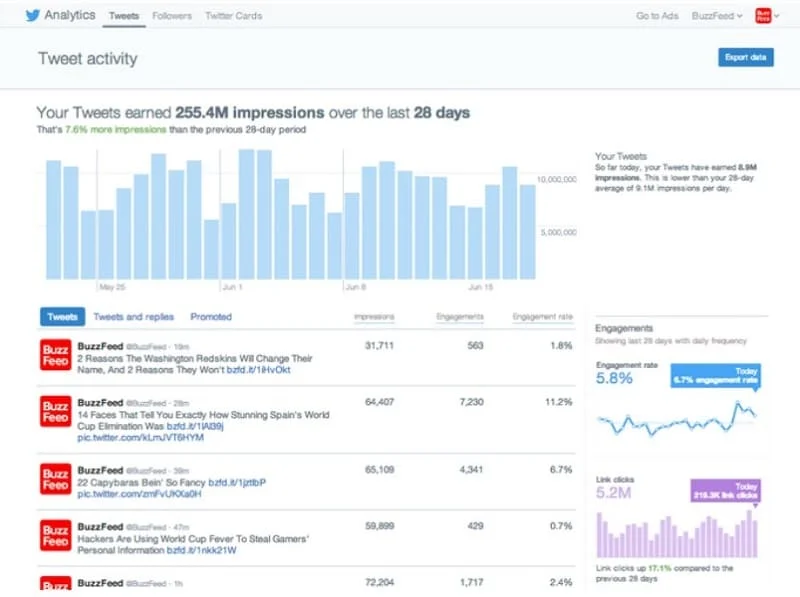 Here are the most valuable statistics for your profile:
Monthly performance: You'll see your highlights from a given month, including top tweets and media tweets, mentions, followers, etc.
Audiences: Learn everything about your user base and what they are interested in to predict what will resonate with your particular audience.
Average tweet performance: Take a look at your impressions, engagement, and clicks per tweet and set your future benchmarks.
Tweet length vs. engagement: Determine your ideal tweet length for the best results.
Instagram Analytics
You can see Instagram Insights directly from your account page by tapping on the bar graph icon in the upper-right corner. Alternatively, you can see analytics for an individual post. It's only available for business pages, but otherwise, anyone can convert their page to see the reports.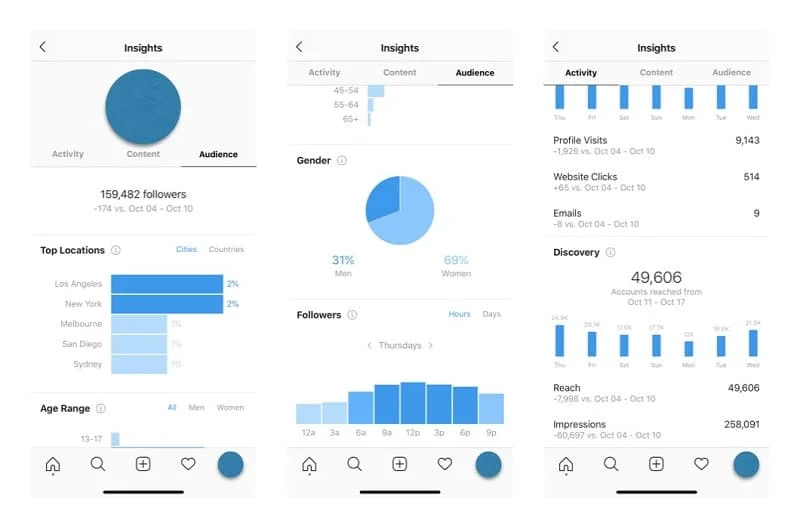 Some metrics that this feature sheds light on include:
Posts: Discover your top posts by engagement rate, the number of unique accounts who clicked Save, average post performance by time and day of the week, and a lot more.
Website Clicks: This number shows how effective your content is for leading users to your website or landing page.
Audience composition: This allows you to see the statistics and top locations for your followers.
Discovery: This one shows you how your content is performing for that timeframe and how many people have seen your content, but aren't your followers yet.
Snapchat Analytics
Snapchat Analytics shows you story views and view time broken down by week, month, and year. To dive into these reports, go to your home screen, and look for a tab labeled "Insights" below "My Story." Here, you will see crucial info of your account performance, especially for paid content.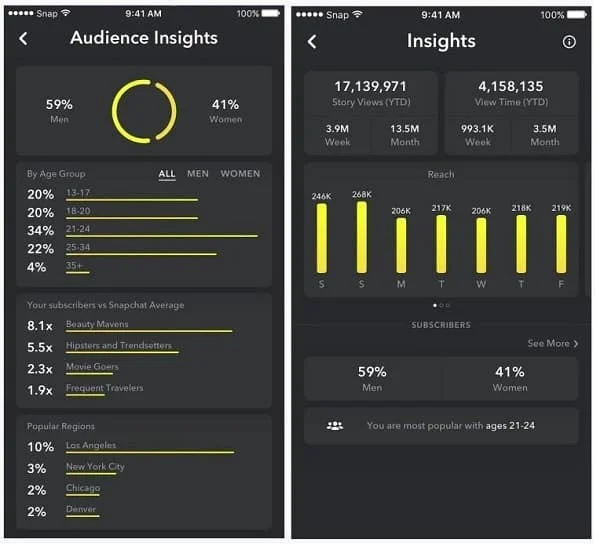 Snapchat offers some unique insights that are intrinsic to this exact platform:
Screenshots: There are no comments, likes, or shares on Snapchat, but you can track your engagement through screenshots.
Completion rates: This metric shows how many viewers watched the entire story from beginning to end.
Fall-off rate: If you see where precisely the audience lost interest in certain content, you can better optimize the structure of Stories to keep people engaged.
Pinterest Analytics
Similar to other services, Pinterest Analytics is available for business accounts – you just need to click Your Pinterest profile. It tracks how users are engaging with your content at any given time.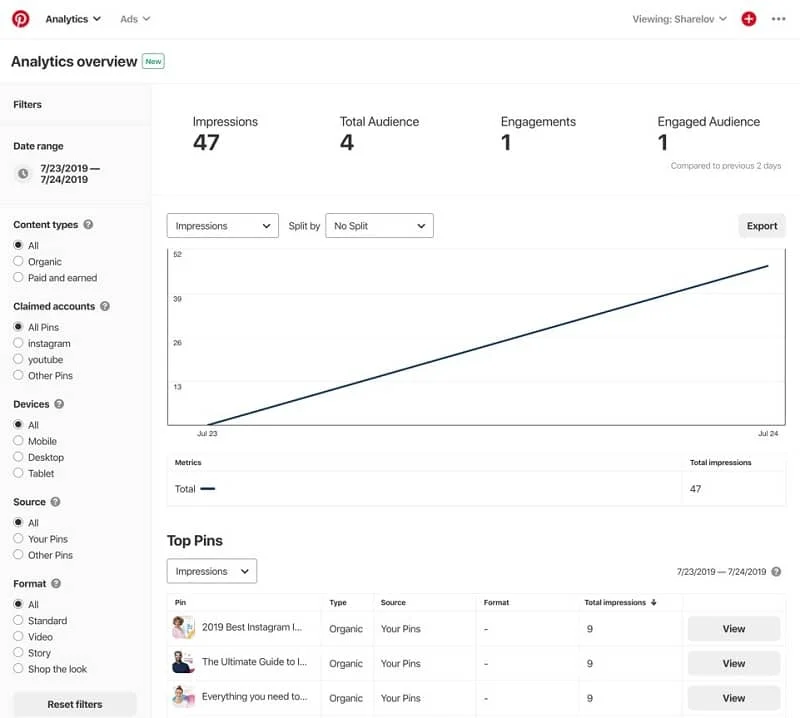 Here are some ways to see how your content resonates with the Pinterest user base:
Pin stats: Everything related to your account since its inception (most re-pinned pins, best pins in search, etc.).
Closeups: This shows how many times users have tapped your pin to take a closer look, which shows whether your visuals make an impact.
Clicks: It measures how many people clicked on your website and whether your content helps you guide users there.
Saves: See how many users saved your pin on their board, meaning whether your content is worth sharing.
LinkedIn Analytics
Lastly, the LinkedIn Analytics dashboard is a good way to monitor the effectiveness of your social strategy on this platform. Go to your toolbar where you can select stats for your Company page (from the past 30 days) and Analytics (deeper insights).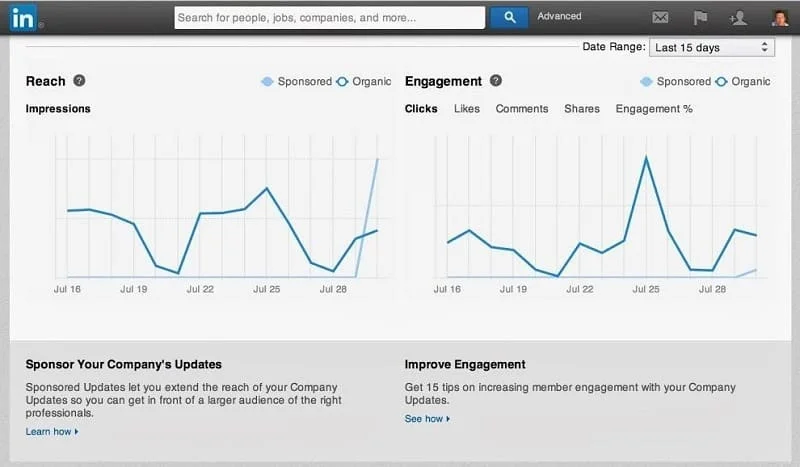 Some metrics that should be of interest to you are the following:
Visitors: These data points include Page Views (total number), Unique Views (views from unique accounts), and Visitor Demographics (comparison between the visitor and follower demographics).
Updates: Actions on each post, including preview, impressions, clicks, followers acquired, and so on.
Followers: You can view your audience by age, industry, company size, function, and employee vs. non-employee.
Top 10 Free & Paid Social Media Analytics Tools in 2022
In addition to whichever built-in analytics services you are using, there are many useful third-party solutions that will give you even more. While they are unified by the topic of social media analysis, they have some unique features and purposes they are best for. We present our top picks for free and paid tools for 2022.
1. Onlypult
Onlypult is a post automation tool and a platform for social media monitoring and analytics. It helps your social media accounts track your posts' performance and, subsequently, deliver high engagement. The interface is straightforward, and all features are easily available with just a few clicks.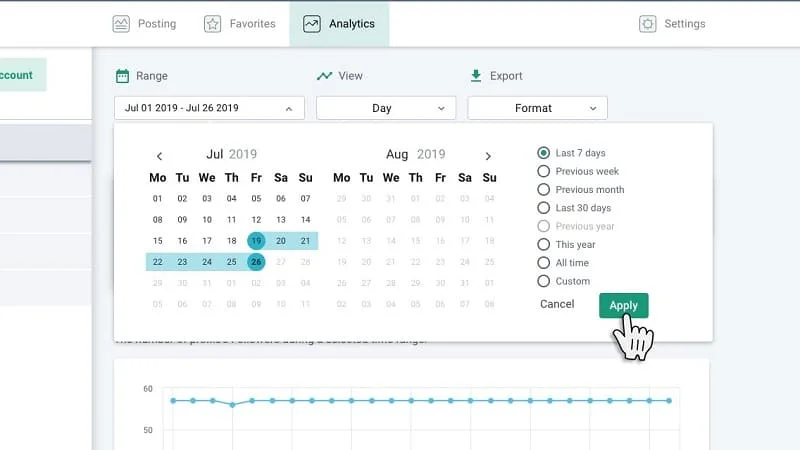 Features:
Follower, engagement, and optimization analytics – You can measure the growth of your account, split test different captions and combinations, and get insight into individual posts.
Multiple account management – There is no need to switch between users since accounts are accessed from one window at the same time.
Following competitor's and influencer's behavior – Learn from other industry players, especially if your audiences overlap. Also, analyze influencers that you can work with in the future.
Automation of scheduling, planning, and posting of your posts – This feature assists with the process of content curation and lets you post content even when managers are unavailable.
Hashtag analytics – Analyze the metrics for the hashtags you use and get custom suggestions.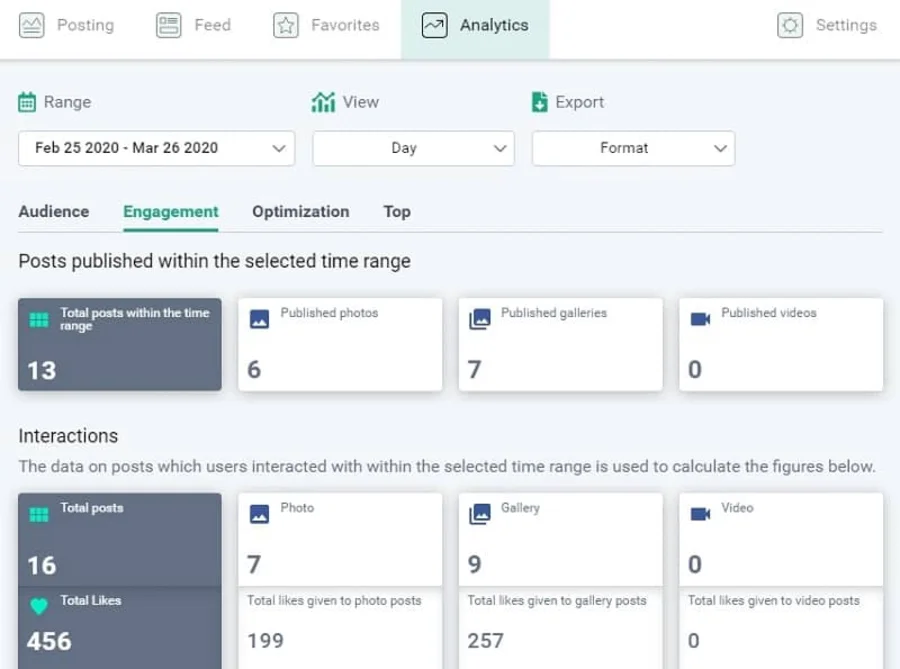 Social Media channels:
Facebook
Instagram
Twitter
LinkedIn
YouTube
TikTok
Telegram
WordPress
VK
Pricing: The Start package costs $10.50/month for annual billing, the SMM plan – $17.50/month, the Agency plan – $34.30/month, and the Pro plan – $55.30/month.
Free Trial: 7-day trial gives you access to all features of the platform with no credit card information required.
2. Buffer Analyze
Buffer Analyze provides you with a unified space for social media analytics and reporting. Also, it allows you to share performance metrics with your manager, colleagues, or clients so that every stakeholder knows how your content is performing. Buffer is considered one of the top competitors on the market.
Features:
Users can measure stories, individual posts, and hashtags.
Posts can be analyzed regardless of whether they were posted through Buffer or not.
You can create custom reports and export them as a PDF.
Track your audience's age, gender, and location, and when and how often you should post content.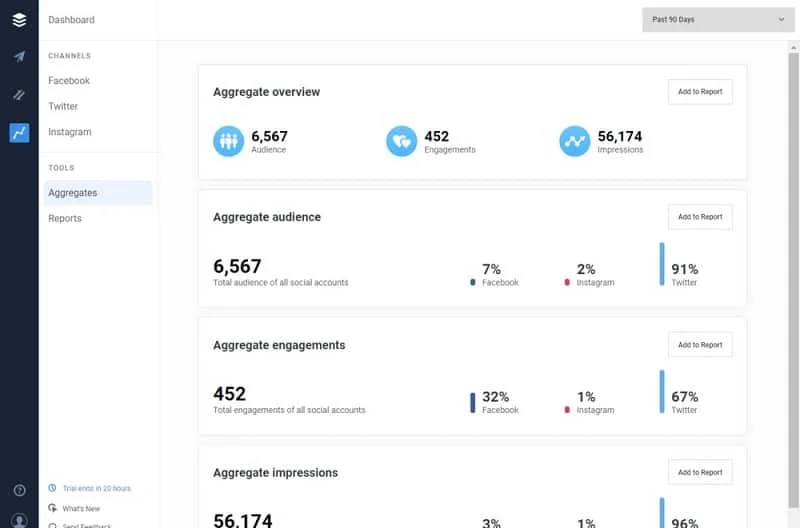 Social Media channels:
Instagram
Facebook
Twitter
Pricing: With monthly billing, Buffer will cost you $35/month or $50/month for premium.
Free Trial: 14-day trial gives you full functionality, and you can cancel anytime.
3. Sprout Social
Sprout Social tracks the overall context associated with your brand and shows intermediate results of marketing campaigns. All reports are easy to understand since they are presented in visual graphs. You can customize them based on the time period you're most interested in.
Features:
There are multiple audience engagement tools.
Competitor analysis helps you adjust your content based on what performs best.
There is a content scheduler to publish posts at the optimal time.
You can use customer support features, such as tasks and Helpdesk integration.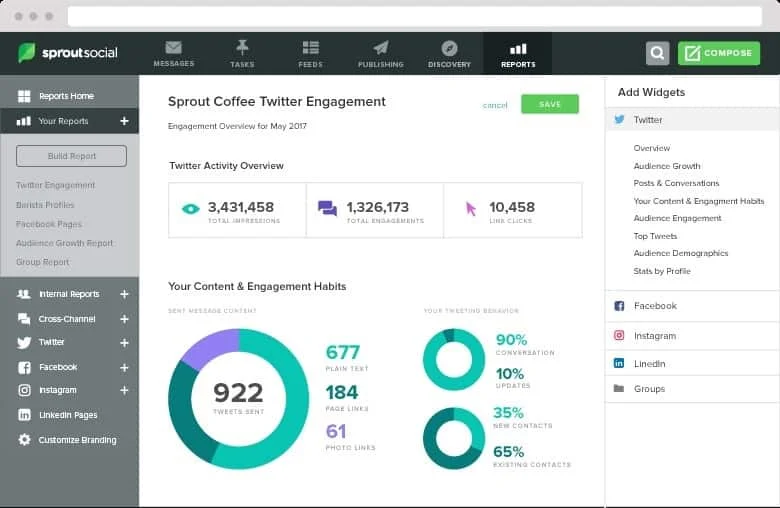 Social Media channels:
Facebook
Instagram
Twitter
LinkedIn
Pinterest
Google My Business
TripAdvisor
Pricing: $99/month, $149/month, $249/month per user with varying functionalities.
Free Trial: 30 days with a cancellation option.
4. Hootsuite
Hootsuite's dashboard may look complicated at first, but actually, features are self-explanatory. You can view data on your posts, likes, comments, and anything else you need about your social media profile. You can set up intervals every two minutes, five minutes, 10 minutes, 15 minutes, or 30 minutes, after which the tab will be refreshed.
Features:
View the statistics for selected posts and accounts in general, categorized by time and engagement.
Save reports in different formats, including Excel, PowerPoint, PDF, and CSV.
For better analysis, there is integration with apps like Brandwatch, KAWO for WeChat and Weibo, Talkwalker, and Unmetri.
Similar to other services, there is scheduling and content curation functionality.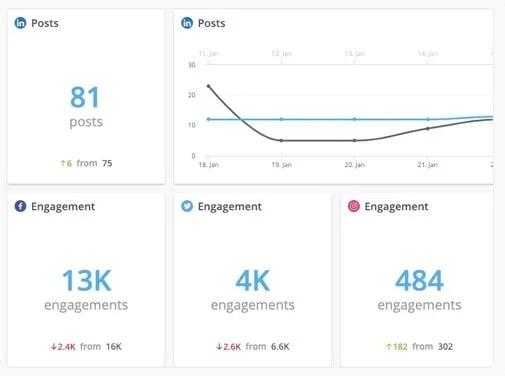 Social Media channels:
Facebook
Instagram
YouTube
LinkedIn
Twitter
Pinterest
Pricing: $19/month, $99/month, $599/month with different numbers of users and social accounts.
Free Trial: 30 days for 3 social profiles, 30 scheduled messages, and 1 user.
5. Sendible
Sendible advertises itself as a platform where you can get an instant snapshot of your social data. The analytics dashboard integrates important applications like Google Drive and Slack to access all your workflows in one place.
Features:
360-degree brand monitoring on all existing social media interactions.
Discover the best social channels generating your traffic to focus more effort there.
The Sendible CRM presents a background, generates insight on user feedback, and even create automatic responses.
Choose between pre-designed templates or create your own reports to later send them to clients via email at any time you like.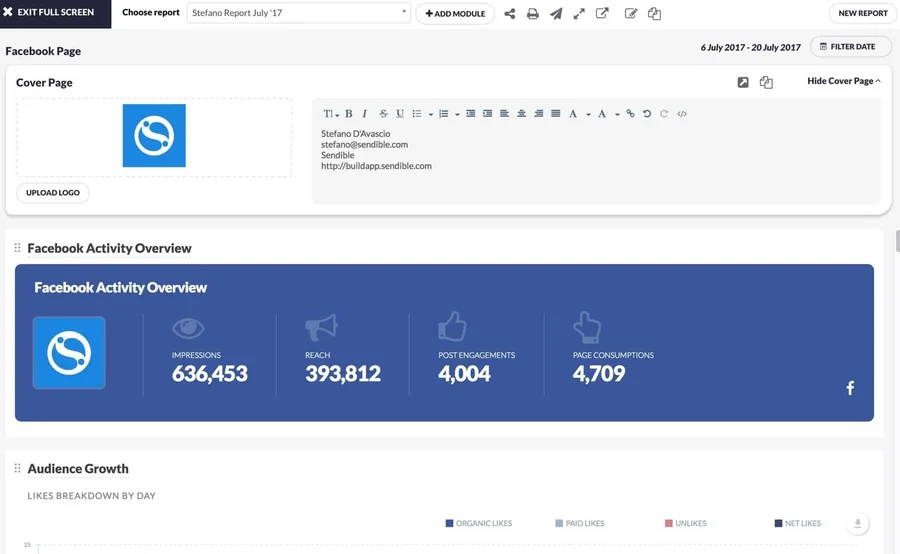 Social Media channels:
Facebook
LinkedIn
YouTube
Snapchat
TikTok
WhatsApp
WeChat
Pricing: The packages start from $24/month; other ones go for $84/month, $169/month, and $254/month.
Free Trial: You can create a free account for 14 days.
6. Awario
Awario allows you to track your growth by looking at your mentions and sorting them by positive, negative, and neutral sentiments. All the data is recorded and analyzed in real-time so marketers can make prompt decisions.
Features:
Create alerts for your brand as well as for your main competitors.
You can view a "share of voice" graph to see how much attention you are getting within your industry.
Analyze your brand or industry keywords in any language and at any given location.
You will have daily, or weekly summaries delivered straight to your inbox.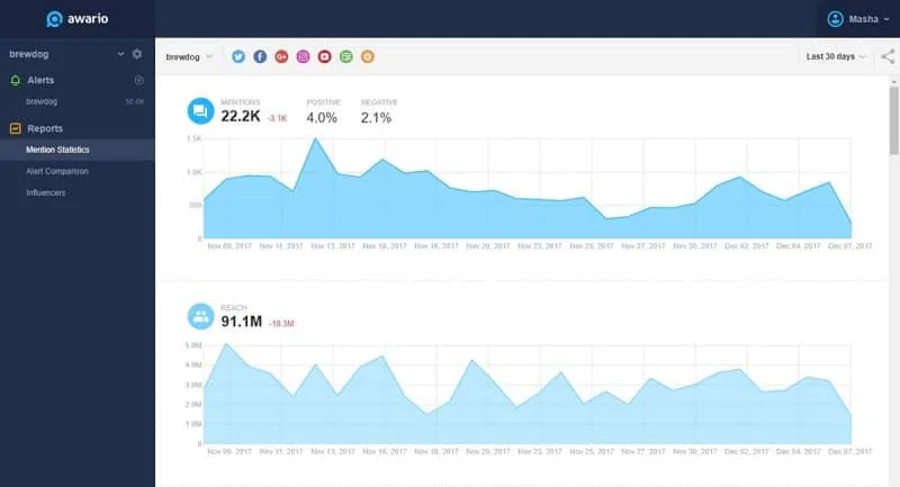 Social Media channels:
Twitter
Facebook
Reddit
YouTube
Instagram
Blogs
Forums
Pricing: Monthly subscription costs $29/month, $89/month, and $299/month.
Free Trial: You can sign up for a 7-day trial with no credit card information.
7. Buzzsumo
Buzzsumo helps you figure out what is trending, what is being shared, and which topics your audience is interested in. It is considered especially useful for a Facebook Business, especially in terms of social share performance.
Features:
Determine factors that make your content perform well – length, posting time, and headlines.
There are several engagement metrics that will help you optimize social marketing strategies.
It will analyze suitable influencers with inside industry knowledge and a relevant audience.
Apply advanced filtering to access only the data that will be of use.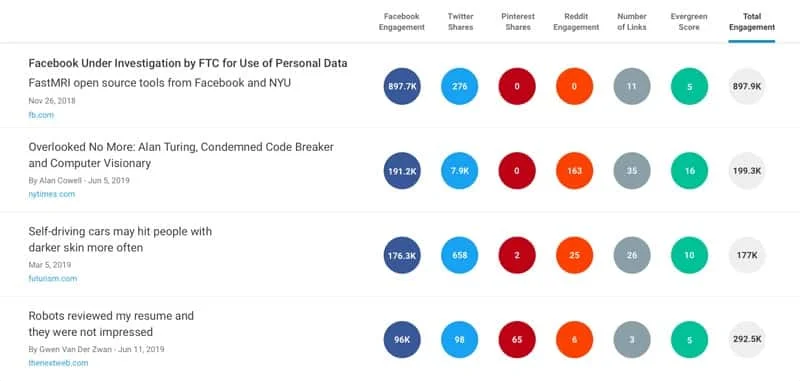 Social Media channels:
Facebook
Twitter
Reddit
Pinterest
Pricing: Users are charged $99/month, $179/month, $299/month, and $499+/month.
Free Trial: You will be given a 7-day trial.
8. Keyhole
Keyhole is another tool that can get you inside the mind of your audience. Along with other features, it allows you to monitor your campaigns and the ratio between positive and negative reactions from your followers.
Features:
The tool displays basic information like engagement data, sentiment, hashtag usage trends, and reach stats.
The reporting can be significantly simplified, which saves your team a lot of time.
Alternatively, you can get as detailed as you want regarding your audience – languages, locations, interests, etc.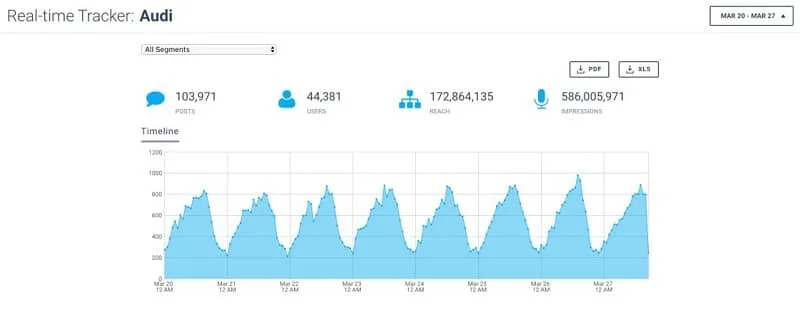 Social Media channels:
Facebook
Instagram
Twitter
Pricing: There three options costing $99/month, $299/month, and $999/month.
Free Trial: There is a 30-day money-back guarantee.
9. Agorapulse
Agorapulse is a multichannel publishing and reporting tool with a variety of customization options. Your social dashboard will contain practically everything managers will need.
Features:
Download a Chrome plug-in to post or schedule content across all your profiles.
There are unique features for several platforms like keyword listening (Twitter) or hashtags and brand username monitoring (Instagram).
Use team functionality to collaborate with other members on your projects.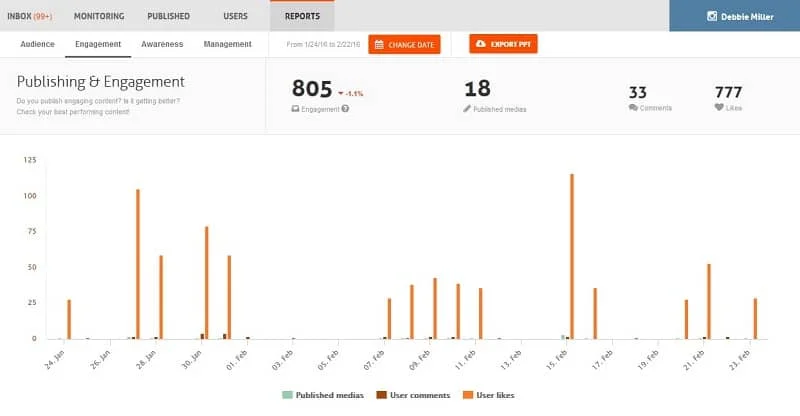 Social Media channels:
Facebook
Twitter
Instagram
LinkedIn
YouTube
Pricing: Available packages cost around $88/month, $177/month, $266/month, and $445/month (billed in euros).
Free Trial: Potential users can sign-u for a 28-day trial.
10. Brandwatch
Lastly, Brandwatch will also be a good choice for social media marketers because of its ability to structure data from multiple sources. The service focuses on a four-step process: search, segment, analyze, and act.
Features:
Filters and search tools to pinpoint specific information.
The personalized sentiment with real-time charting tools.
Marketing metrics and competitor analysis to create better content.
Wide range of charting and data visualization options with the ability to export it.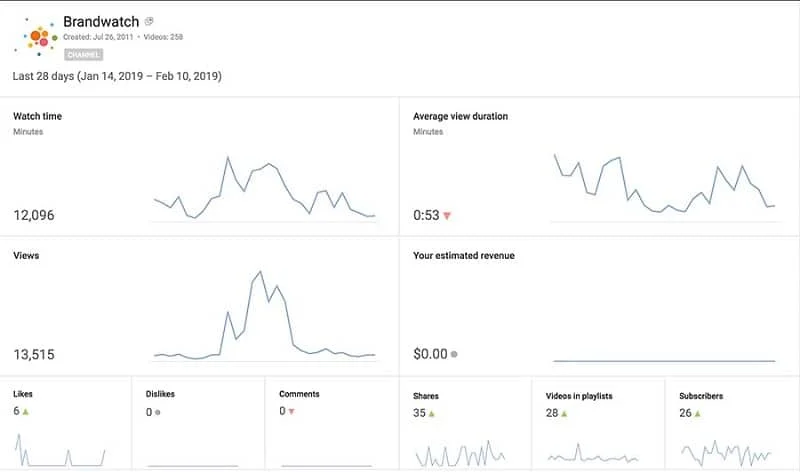 Social Media channels:
Pricing: This analysis tool starts from around $615/month, but you should contact the vendor to specify.
Free Trial: The platform offers no free trial.