When it comes to social media marketing, most businessmen don't look deeper than Instagram and Facebook. But it is imperative for businesses to have a presence on LinkedIn, especially for B2B marketing. It is a platform not only for finding a job or seeking for a professional in a particular sphere, but also for establishing professional connections and attracting potential clients.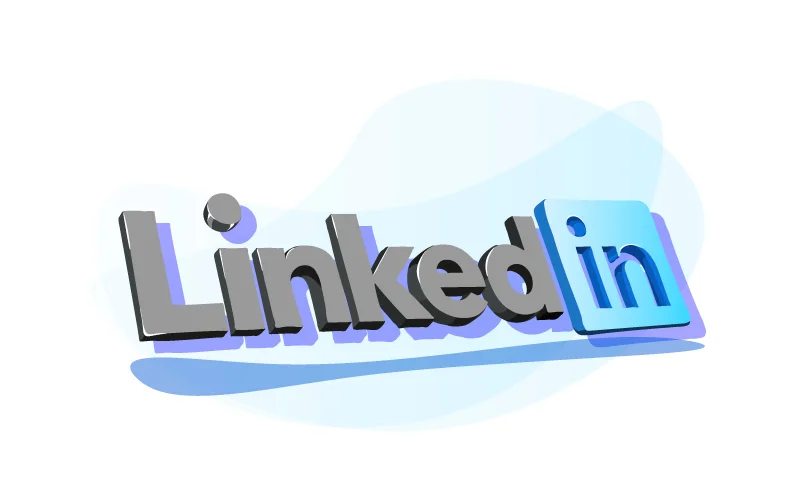 How does it work? Let's have a look at the major points why social media management is essential and why LinkedIn posts can really improve your business in a way you have never expected.
Why You Should Post Content on LinkedIn?
LinkedIn marketing is one of the best ways to get closer to your target audience and the best place to meet with experts in your industry. Thus, it is necessary to be active on the platform and constantly post messages for the right people to see them. If you think posting manually is taking too long, you can use any scheduling tool to accomplish this task (because there is still no built-in tool for this on the platform).
1. LinkedIn can increase your web traffic
When someone likes or comments on your post, they immediately appear in their feed, and their friends can also see it and interact with it. This algorithm helps you get wide reach and engagement on your profile, which means more people get to know about your product and subscribe to your updates. This is the easiest and the least demanding way of engaging people to your profile.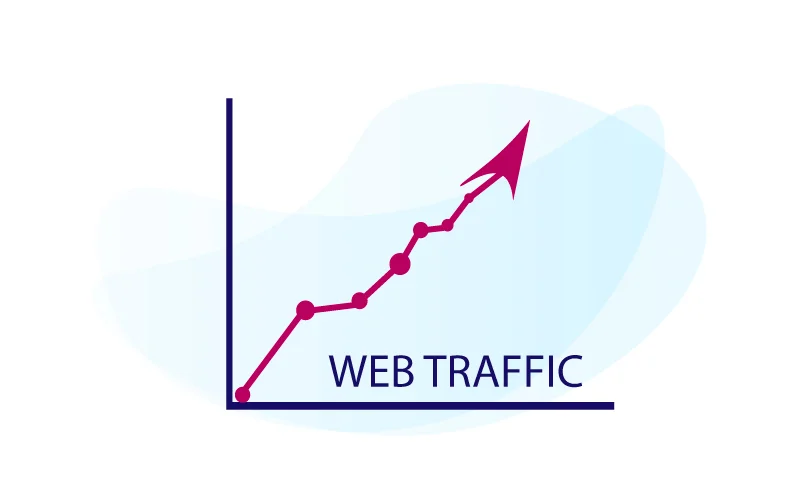 2. LinkedIn has over 300 million active users
LinkedIn has 740 million users and about 300+ million of them are active ones, so don't you really think of widening the audience that knows about your brand and your exceptional product?
LinkedIn has established itself as one of the most important social networks for business, so if you do a deeper analysis of your audience (learning their age group, gender, location, and so on), you will know more about the people who can be potentially interested in your project. Knowing all this data, you will be able to create more relevant content in accordance with your target audience.
3. Sharing a status on LinkedIn reaches 20% of your followers
Status is the first thing people and companies notice and look at when they view your LinkedIn profile. All companies want to be noticed, however, sometimes people just keep scrolling, because it is not something catchy.
While editing your profile, the system prompts you to fill in the status field, because this is highly important to highlight the accomplishments and key achievements of a brand that might capture the attention of any professional on the platform.
It is good to mention your aims or a big client you work with right now (if it is possible), it should be bright and short.
About only one fifth of your followers will see your status, but if it is great enough, you can have even more attention, right?
4. LinkedIn is a pioneer in social media changes
Something rarely changes here: about 60% of people do not fill in all information about themselves, and 50% of all companies don't do social media marketing through LinkedIn, taking LinkedIn not so seriously as a social network, which can make them some good money.
We are still used to coming here only to find a job or an employee. So now it is the time to take advantage of it! You have to believe, 2022 is just the right time to use what others have not yet realized the usefulness of.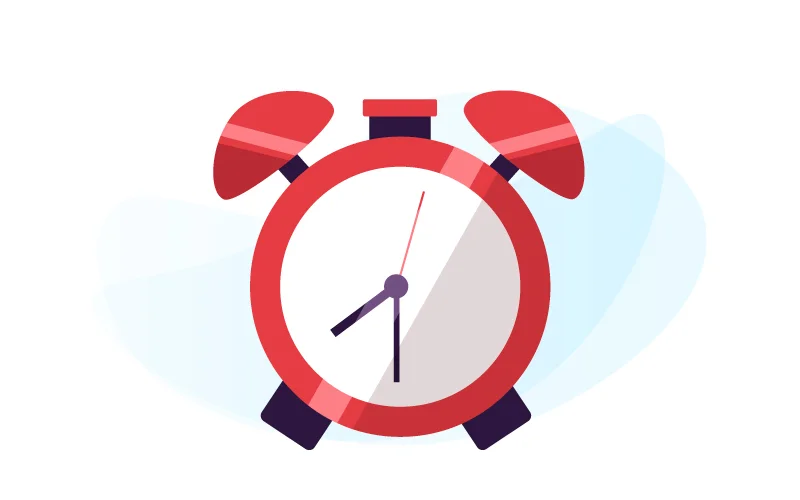 While others are trying to talk about themselves on Instagram, which is overflowed with all types of ads or overloaded with all kinds of business Facebook or TikTok, you can go to LinkedIn, and perhaps you can declare yourself much better and reach out to more people, because there is not that huge a stream of content comparing to the above mentioned ones, where an average person does not even have time to stop for a long time and think.
Be the one of the first ones, make them learn from you.
The Strategy for Posting Schedule on LinkedIn
For example, in the UK, 96% of internet marketers use LinkedIn for B2B marketing. 61% of professionals consider the social network to be the most effective for attracting customers through content. See yourself: 80% of leads are generated from LinkedIn, according to Oktopost's B2B Content Marketing UK 2015 study. Five years have passed since the publication of the scientific work, and LinkedIn is still popular.
Millions of experts from various fields can be found here. So, if you start now, you can get a good piece of the pie.
But when you have business and a lot of different things to do and to take care of, you probably know about all these SMM features allowing you not to always wait for the right time to post something. It is a great way to free time for important deals and make life a bit easier – schedule posting.
If you have a tool for scheduling posting of your content — it is incredible, but the content itself comes first: so, the question remains, what does the perfect post look like? What is it about? Let's have a look at the most important step to pay attention to when writing posts on LinkedIn.
Make your first few sentences extremely powerful
If you thought, 'Who cares about my business and what I do?', remember that your experience will help thousands of professionals who face the same problems as you do every day.
As a rule, in publications on LinkedIn you may share expertise, cases, trends, forecasts and success stories. It is also popular to talk about the lessons learned from different failures.
If you are still in doubt about writing engaging articles for LinkedIn, the GOSS method is always here to help. This principle is abbreviated as 'Go-Obstacle-Solution-Start'. Starting from the GOSS principle, you can create logical and valuable content.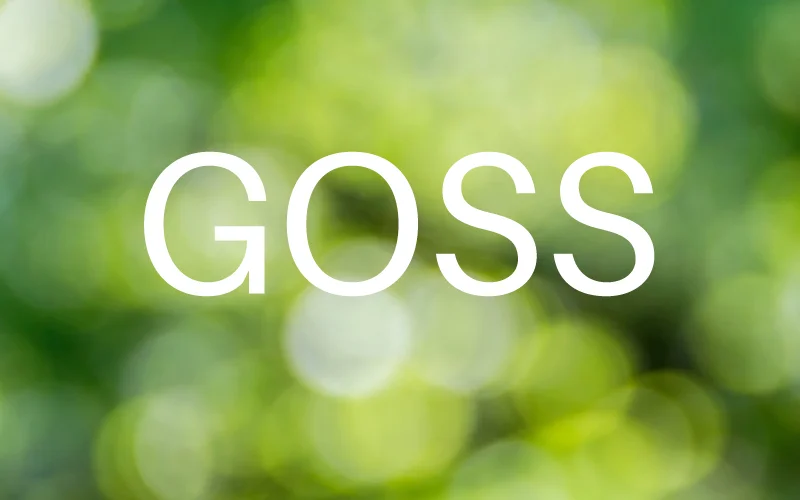 Go. In the first part of the article, tell us what you worked on initially. Perhaps, the idea of ​​the project was not the same as the implementation? What was the reason for this?
Obstacle. Each of us faces difficulties at work. Tell us what difficulties you or your company overcame.
Solution. What conclusions did you come to after solving the problem? It is appropriate to discuss both positive and negative experiences here, so the post can be useful for the people.
Start. Having finished and analyzed the failures and the work on the project, you have gained valuable experience. Undoubtedly, this helped in new activities. Share what you are doing now, what is inspiring.
Research The Right Topic
It's good to write about something that seems important for you and what (in your opinion) people would read about, but it is not enough. It is still the social web, so you have to keep in mind the SOCIAL word: you write FOR society. So, you must take into account what they need in order to give them what they want and be able to offer them your product (if you are a business) or yourself as a great specialist, if you are currently searching for a job.
You don't need to be a journalist to prepare content for LinkedIn. The main thing is expertise and honesty. Tell us what you as a business have to deal with.
It is good to approach the content plan from the other side, like you are a professional. It is necessary to prescribe what a portrait of a representative of the target audience might look like. And of course, it is good to divide the target audience into sectors.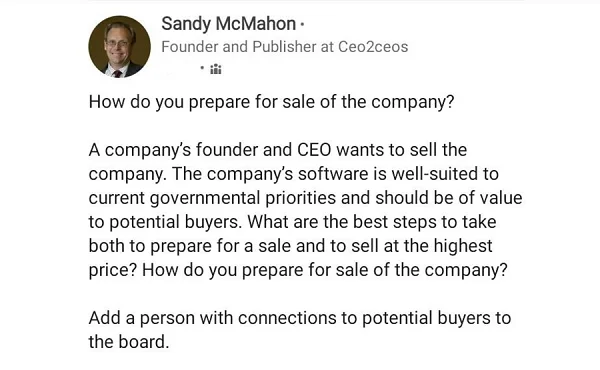 VPN is also a good helper in this situation:
Select the location of the virtual private network that matches the audience region.
In incognito mode, check the interests of potential customers using keywords.
List the main topics that are included in the top ten publications in the search engine.
In fact, the template for the content plan is ready, the only thing needed is to optimize.
Reply to Comments
Your best customers can sell more efficiently than your best salespeople.
When happiness and contentment are genuine, it's hard not to believe it. Therefore, if you have satisfied customers by offering the best service, write down their reviews or purposefully survey them. They will always be happy to help you, feel free to ask.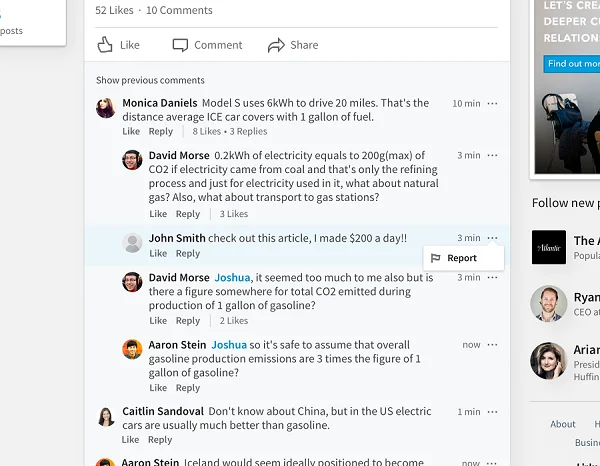 It is also very important to reply to all comments as fast as you can, because nothing can show better the service your company offers than the fastest reaction and the desire to help a potential or a current customer.
Repurpose previously successful content
In fact, you already have dozens of pieces of content that are invisible at first glance. The only thing you need to understand is that there is no content limited in the number of uses.
Grab some comprehensive tutorial from your blog or a long read. Divide it into a bunch of small pieces:
Create a carousel (slider) with key points from the post.
Divide it into 5 parts and post a series of short notes on LinkedIn.
Make a video based on the article (or even a video series).
Turn your longread into a small ebook, checklist, podcast, or other form of lead magnet and provide a link to it.
Draw your infographic using the information in the post.
Take a video source of the interview, seminar or workshop:
Extract the most interesting and informative moments, cut into 1-3 minutes for posts on LinkedIn.
Repeat the process creating clips for 15-30-45-60 seconds.
Convert video to text.
Reformat the video into a slideshow.
Take a summary of 5 key points.
Make a GIF.
Cut out a couple of spectacular shots and write a couple of lines about the footage.
And much, much more can be done from one single article. Pinch off lots of different pieces from it until there is nothing left.
Use LinkedIn Hashtags
Follow your posts with hashtags. Give preference to narrowly targeted hashtags over broad ones. For example, if you are promoting mobile apps, use #mobilemarketing instead of #marketing.

This way you can interact with your target audience. In general, interacting with a narrow audience is a new marketing trend. Many have realized that there is no point in spending budgets for maximum reach, because only a narrow target audience brings real sales.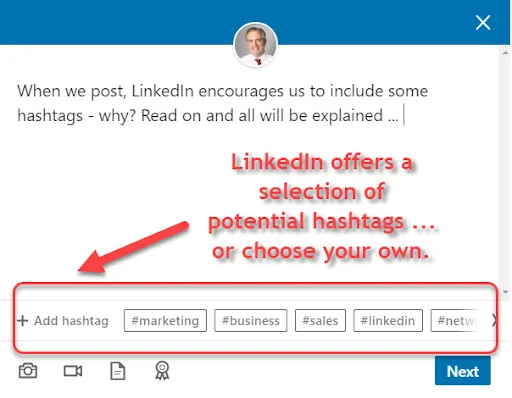 Post on LinkedIn at the optimal times
An extremely important point is the posting time. Consider time zones: what if your audience lives in a different place? Experiment and choose the time at which posts will receive the most views and reactions.
Add a Call-To-Action (put them in the first comment)
The call-to-action button motivates your sales funnel. Calls to action are often a bridge in the journey of a buyer. They span the gap between an intrigued reader to an engaged lead, encouraging the individual to take the next step.
It gives you analytical insight. LinkedIn's new features come with analytics data. This means that you can understand how people are interacting with your CTA, meaning you're better placed to see how effective it is.
Customers want these call-to-action buttons. The purpose of CTA buttons is to guide the customer. Guide so well, so that people now expect and want to have the product. They direct the customer to what they should do if they're interested in your ad, profile, or content.
They make your business visible and successful. A well-crafted call-to-action can be highly effective. Once you have attracted the customer's attention, you want them to click your CTA to further engage with you.
New LinkedIn features include analytics. This means that you can understand how people interact with your call to action, which means that it will be more convenient for you to see how effective it is.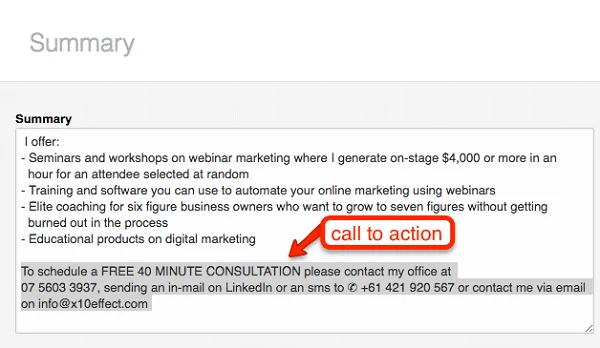 How often should I post on LinkedIn?
Let's have a look at the table we offer below. There is quite clear information about the time when it is most efficient to post anything you need from the name of your company.
The best weekdays are Wednesdays and Thursdays: almost for the whole day you can provide your audience with some important info about your project or product. Mornings are preferable, midday and about 3pm on Wednesday (according to the statistics, 3pm is the time when people already get a little tired of working, but still have to finish something, so they do a small break for a coffee cup, talking, chatting or scrolling).
Thursdays are better in the morning and at lunchtime.
Fridays are the end of the week, so people get tired even faster, so we see that 12pm is already the best time for surfing the internet.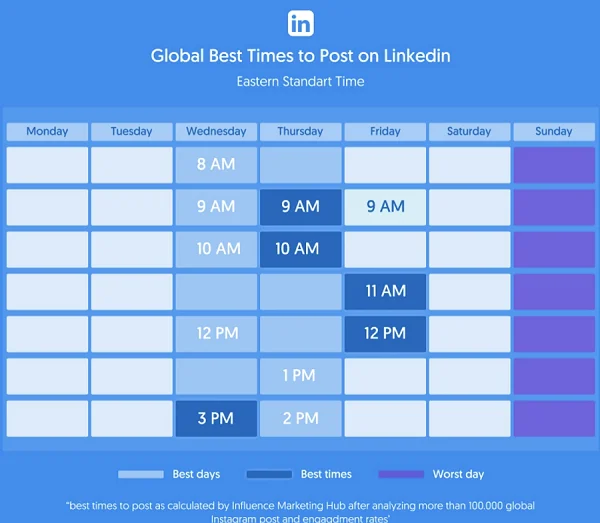 The remaining four days are blank, but it doesn't mean you have to stop working. It is very important to keep in mind the hot hours, but it is the same time when EVERYBODY wants to post something, So it is a very high risk that your post can be scrolled down and forgotten unless you have a content plan covering the hot hours and 'not so hot' ones.
What to Look for in a LinkedIn Scheduling Tool
Schedule posting is the automatic publication of scheduled posts in different social networks at the scheduled time. Today, to help SMMs, they came up with delayed posting services on Instagram, Facebook and other social networks.
Deferred posting platforms allow you to schedule posts for a week or two in advance, and then automatically post to selected social networks according to the schedule. They save time and reduce your work routine.
Let's take a look at which characteristics of the services and in which situation they can be used best. And then we will take a look at each auto-posting service in a more detailed way.
Post content on the maximum number of sites (social networks, instant messengers, video hosting)
Add categories of posts to the content plan (a quote or an article about a product, answers to questions, tips)
Quickly create posts from information from any site (using an extension)
Find relevant content published on social media
Make publications from letters
Automatically download posts from the site and from other channels (via RSS, and also be easily used in mobile version)
Quickly adapt posts for different social networks
Protect images with watermarks
Upload video content to social networks
Analyze work efficiency
Collaborate on posts and quickly reconcile posts
Have a delayed posting option for free (1 week trial, for example)
But when we think about the most important things that every scheduling tool should have, we have to mention the following three points: 1) no 'beating algorithms', 2) easy to use and 3) quick reaction of the Support system.
Doesn't Attempt to 'Beat the Algorithm'
The Scheduling Tool must try to skip the system by beating algorithms, so it is very important to choose one that will not offer you some scamming schemes leading LinkedIn to block you from the system.
Easy to Use
The ease of use is also very important. The intuitive interface, the buttons that are visible, so you can get the result in two-three clicks — these all are the small but major steps for getting your information posted.
Support
The quick and polite Support staff is also one of the key points. When you have business, you don't really have time to manage some small things, so in case you have a question, the Support should come on time, solve all your problems and answer all your questions. That is what we expect from a good service, don't we?
Best LinkedIn Scheduling Tools to Automate Your Content
Platform
Pros
Cons
Rating out of 10
Onlypult

Nice design
Supports many social networks, including the video hosting TikTok, which very few people have, so you can have it all in one
Advanced functionality (allows you to reply to messages in Direct)
There is a mobile application for iOS and Android
Tracking brand mentions (300 mentions)
Creating one page in the constructor

High price
It does not collect analytics from all platforms.

9.5
Loomly

Good value for the price
Really easy to use
Good design
Provides recommendations for different social media platforms, how to make it better or more efficient

Calendars are a little bit glitchy
Notifications are confusing and messy

9.5
Falcon

Intuitive interface, easy to use platform
Provides deep analytics
Social listening feature

Team setup is a little bit bizarre
Reports are not clear or not provided in time

9.4
Social Pilot

Calendar functionality is amazing
Post content natively, provides recommendations about the content
Easy usage and navigation

Bulk scheduling occasionally fails
Support is dissatisfying

9.3
Crowdfire

Content curation provides lots of article and image recommendations
Analytics module is robust and user-friendly

No refunds on premium features
Can not do bulk scheduling at all
Can not do scheduling in the calendar view on the basic plan
Content curation provides lots of article and image restrictions

9.0
Sendible

Support is amazing
Always being improved and updated
Scheduling posts made an easy process and a user may have them repeat anytime they want

Can feel a little bit confusing in the beginning after registering, but later it is okay
Design is quite average, 'everything like I have seen before'

9.4
Agorapulse

Easy to use
Nice looking interface
A very unique tool of responding to LinkedIn comments from the dashboard

Limited search functionality, which is not very comfortable

9.3
Edgar

Automatic posting based on your evergreen content
Easy to repurpose content

Posts are added to a library with only a scramble option to choose the order of posting, which is totally uncomfortable

8.7
Sprout Social

Intuitive and logical interface
Smart Inbox that collects all your social messages
Social listening module
Wide range of reports and analysis
Availability of a chat bot
Modern design in a 'healthy style'

There is no free trial
Aims only at really huge companies

9.4
cal

Quick customer support
Easy to plan content
Web clipper tool is incredibly useful

There is no scheduling videos function

9.0
Onlypult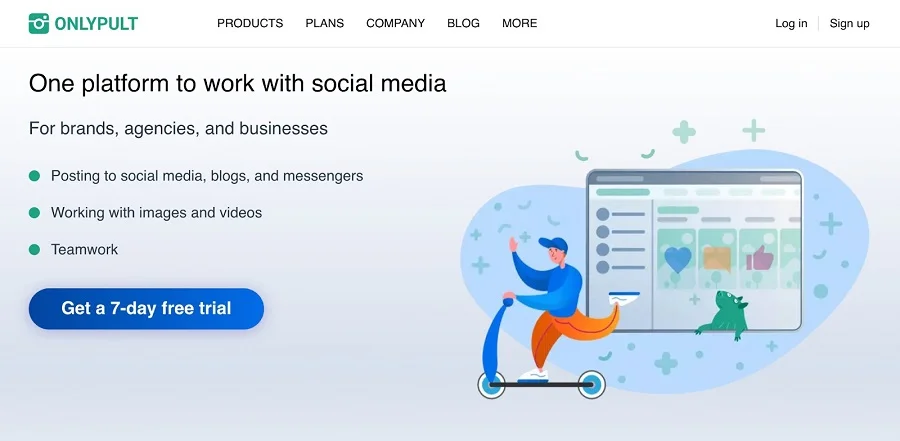 Onlypult is an auto-posting service with a friendly interface, it contains all the necessary functionality for working with different social networks in one window with a couple of clicks.
One of the good features is, when creating a post, the service allows you to set the time after which the post will be automatically removed from the feed. This is useful for sponsored posts and temporary promotions.
Loomly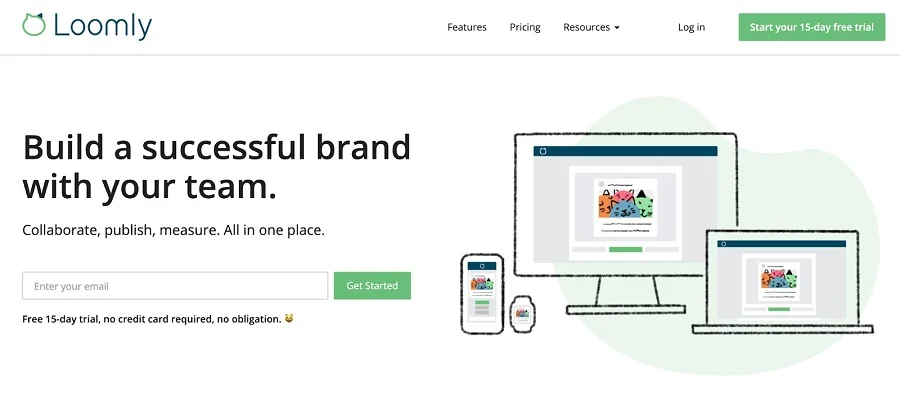 Loomly positions itself as a platform for the brand's success. As they say about themselves: 'You can use it as a single place to collaborate, publish, and measure your company's social engagement. When the competition for attention is fierce and every customer is an influencer, developing an inspiring brand is a key success factor for your organization.'
Loomly helps a user to manage all their social media content (like regular posts and ads) using only one platform and provides all the functions for it.
Falcon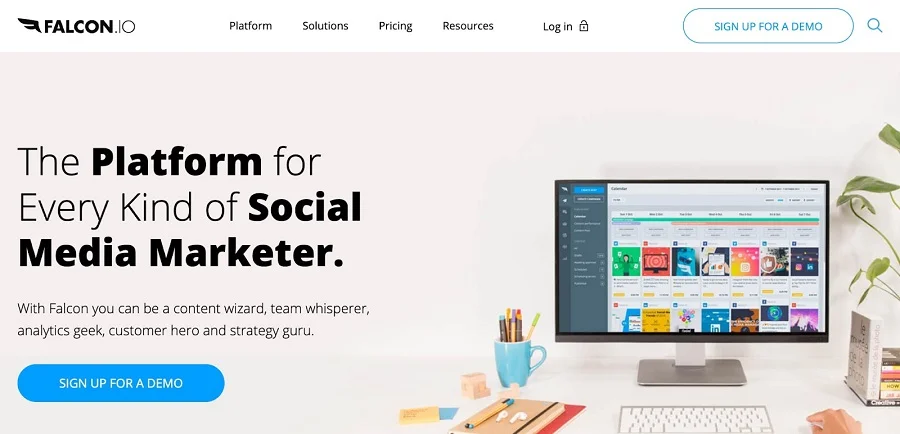 Falcon is a platform for listening, posting, advertising, measuring and managing customer data on social media. It is designed to give brands a stronger competitive advantage by offering the best, most accurate data for making informed decisions.
The value of these features is easy to see. They provide the insights that brands need to be effective. As social media continues to evolve, access to data and understanding what is going on in your market becomes important.
Social Pilot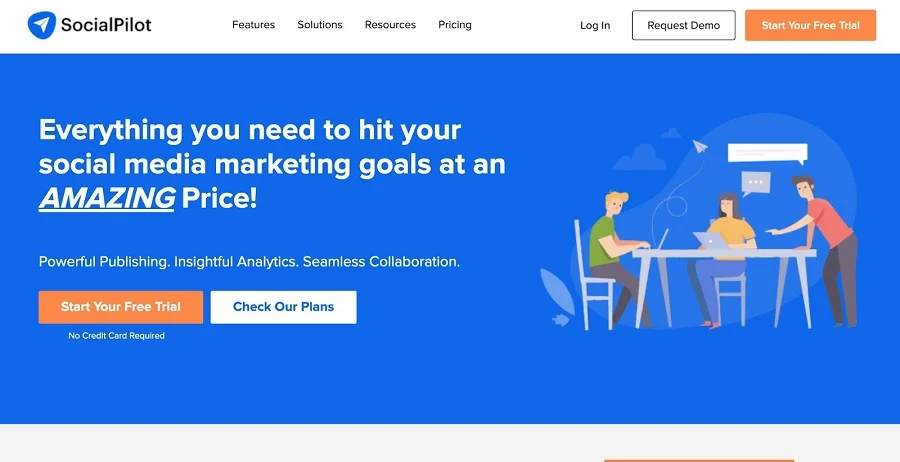 Best of all, SocialPilot offers users a social media calendar feature to help you take control of your social media campaigns. You can include filters in your calendars and track social media campaigns by group and account. What is more, the calendar feature allows users to drag and drop their social media posts and change their schedule based on what has changed.
Crowdfire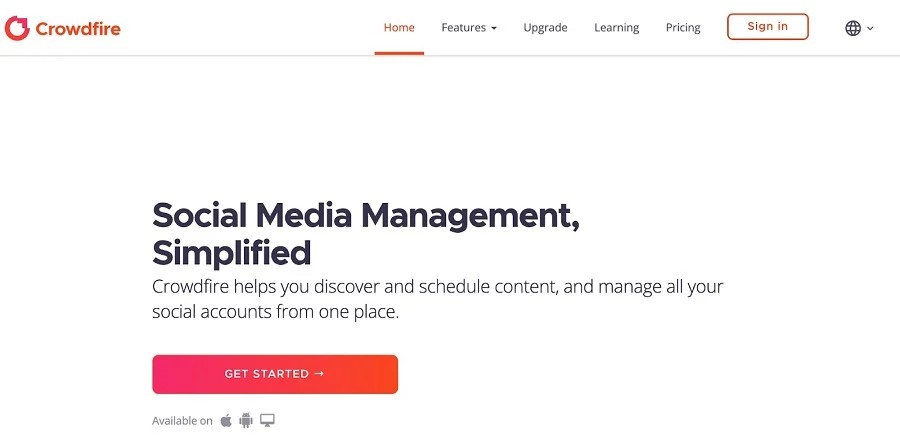 Crowdfire maintains a queue of content and schedules your posts to come out at the best time for your audience. However, you can set this time yourself if you like. Crowdfire gives you the ability to set the best time manually, network after network and day after day. You have a queue counter that shows the number of posts that you have not posted yet in the next week.
Sendible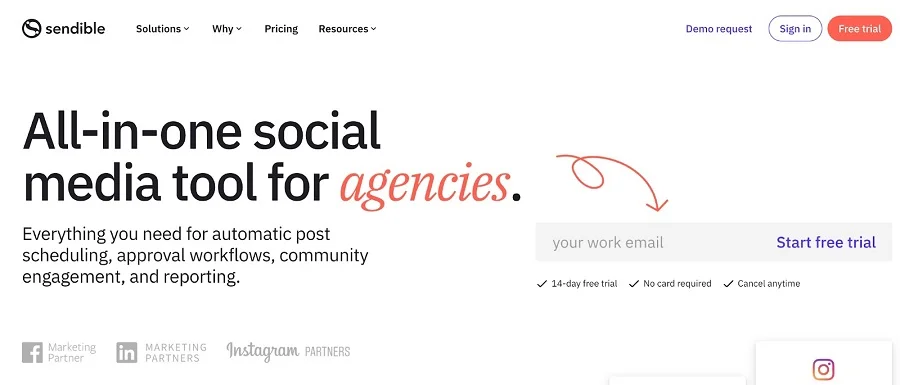 Sendible is another great social media automation tool to help you manage and automate your social media feeds. Sendible not only lets you schedule campaigns on different social accounts one at a time, but it also controls how your campaigns run right from your dashboard.
The best feature is that you can create content and schedule it for a week, a month, or as much as you like. Moreover, you can tailor your content to suit different social platforms using features like emoticons, attachments, and more.
Agorapulse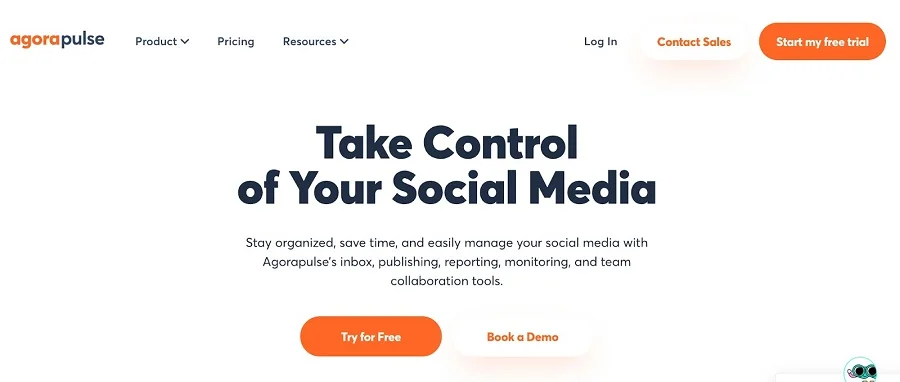 Agorapulse is a versatile social media automation tool that encourages teams to collaborate. Whether you want to schedule, reschedule, queue, or bulk upload your posts, they have a variety of options to populate your calendar with content.
With a social mailbox to track every conversation, it also provides its users with one-click reports. Agorapulse supports social media platforms such as Facebook, Twitter, LinkedIn, Youtube and Instagram.
Edgar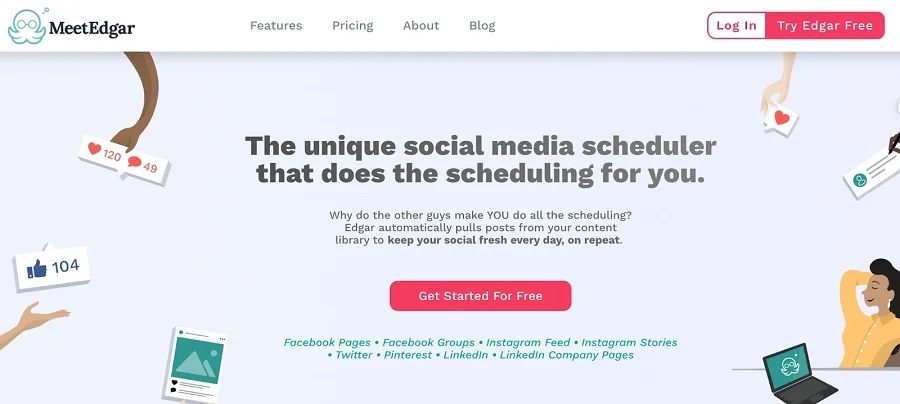 You can use it to queue up as much of your content as possible with minimal input on your part. You can create multiple categories for different types of content such as blog posts, promotions, quotes, and questions. You use the social media calendar to add categories of posts at specific times when you want them to go out.
This makes reposting evergreen content especially easy. Over time, Edgar reworks your updates so that your posts don't go to waste after the initial publication. Because Edgar automatically re-publishes your content over time, it becomes visible to more people and different audiences, without any additional action.
Sprout Social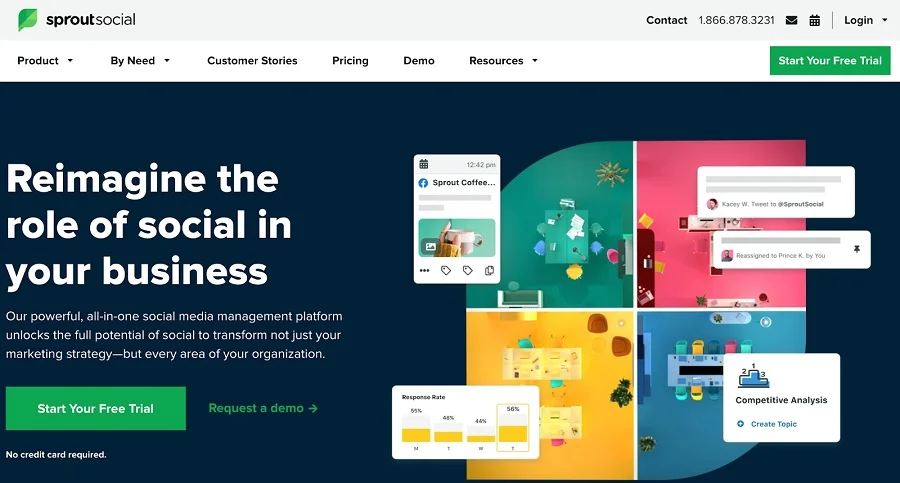 Sprout Social is a professional social media management platform, however, it lacks the free or cheap plan that most other platform reviews have (so you can not really check it before purchasing), but clearly targets larger organizations with more serious needs.
One of the less common features of Sprout Social is the Social Listening module. You select relevant topics to identify trends, analyze sentiment and extract useful insights from social conversations to better inform your marketing strategy. You will be shown a wealth of data on your chosen topics, including sentiment analysis of the analyzed messages.
ContentCal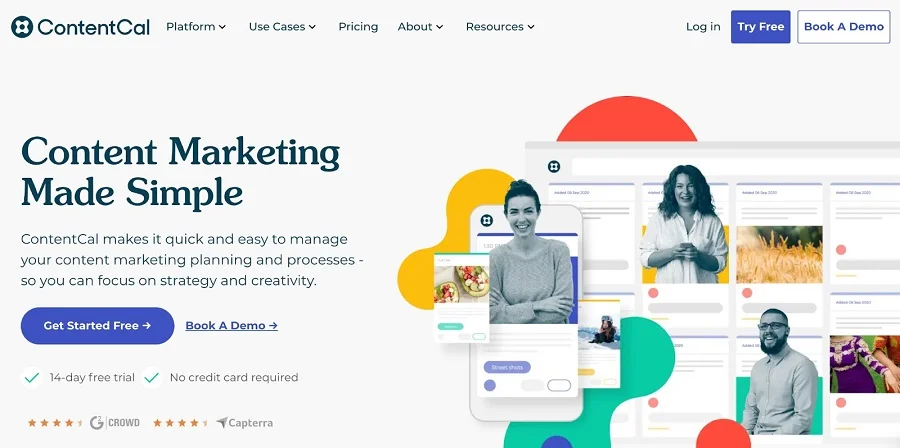 ContentCal is the ultimate content calendar and social media scheduling platform that helps thousands of people, businesses and agencies plan content and social media.
Features of ContentCal include scheduling social media posts, keyword filtering, collaboration, feedback analysis, reporting, project management, and more. Content creators can use the app to design visual content by modifying the layout and adding a title color and a personalized logo. In addition, employees can create and store messages as drafts, get feedback from contributors, and preview messages before publishing.
Summary
Social media marketing has evolved way too fast and you need to be even more proactive to stay relevant to your audience, and for that you need the best social media automation tools to make a lasting impression on your audience. All of the above social media automation tools are top-notch, although they may vary slightly depending on what they offer users.
If you know your preferences about a platform, you can read it and choose the best one that suits your needs.
Good luck with your social media marketing.