Despite the considerable growth in popularity of TikTok, the app's advertising market and its pricing still remain a mystery for many, unlike with Instagram and YouTube. But market uncertainty has not prevented TikTok ads from becoming the fastest growing advertising platform in 2019 – they managed to increase their share in the total mobile promotion market by almost ten times.
The point is that TikTok offers soft and native integration - you put the product in the video and make soft sales. In this guide, we will tell you how to use TikTok for marketing, boost your brand's name on this platform, and get more customers.
What Is TikTok?
TikTok is a social network that allows you to upload short videos and exchange messages. More talented, enthusiastic, and technically experienced participants upload the most original videos and become influencers on the platform.
On TikTok, users who call themselves TikTokers, post short vertical videos up to 15 seconds (if you want, you can post longer stories – videos can be up to 60 seconds) and interact with their subscribers. If you want to become a TikToker but don't know where to start – here is our ultimate guide on how to start on TikTok.
What Can You Do on TikTok?
TikTok can draw you in for a long time – all thanks to the unique features of the application. So what can you do in this new social network?
Shoot and edit videos. Everything here works the same way as on Instagram - you shoot a video by pressing the round red button in the center of the screen. Tip - it's best to upload vertically filmed videos. Once the material is ready, you can edit it using the built-in TikTok tools. Videos can be divided into several parts, use audio tracks, and even be recorded as an answer to someone's else video.
Participate in challenges. If you're witnessing the tenth video on the same theme or with the same plot, you may have stumbled across one of the thousands of challenges, which are the main TikTokers' fun. Try checking hashtags under the video – there may be the name of the challenge, for example, Jimmy Fallon's famous #tumbleweedchallenge. Such activities encourage users to film more videos with this hashtag to get more views and followers – which is an excellent way to promote a brand-new account.
Like, share, and comment. You can send the video you liked to a friend, leave a comment under it, or support your favorite TikToker with a like. This algorithm is pretty much the same as what you can find in many other photo- and video-based social networks like Instagram or YouTube.
Who Is Using TikTok: Demographics & Stats
TikTok is hugely popular among young people, with 66% of its users under 30 years old. It is interesting that when the application was launched, over 50% of its users were younger than 24 years old, and these first users seem to have continued to use the platform. This means that the average age of the application's users is gradually increasing. While TikTok is still very popular among young people, the adult audience also continues to grow.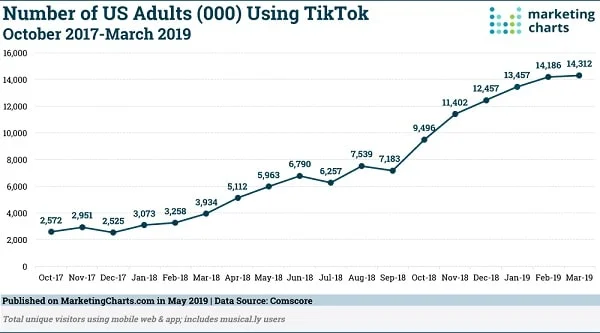 Besides this, you shouldn't think that TikTok is so popular only in the USA. Currently, the application has about 500 million active users worldwide, 150 millions of which are in China and other Asian countries such as Cambodia, Japan, Indonesia, Malaysia, Thailand, and Vietnam. Today, TikTok is available in 155 countries and 75 languages.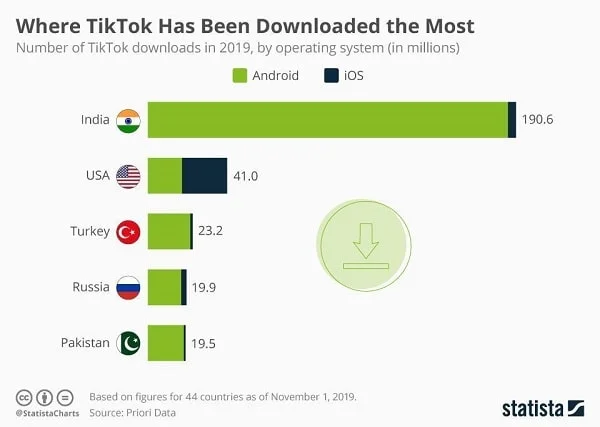 Why Is TikTok Important for Businesses & Brands?
1.5 billion downloads, a young, fresh and solvent audience, ease of interaction with them, instant response, and almost no competition - all this sounds incredibly tempting for a business that goes to advertise its product on TikTok.
The main advantage of TikTok is the ability to collect several million followers in just one or two weeks. There are many examples of this - take 15-year-old Charlie D'Amelio. The girl has 30 million followers, which helps her generate one million in profit in a week! So, what many celebrities do in more than one year can now be done in one week, thanks to TikTok.
Another benefit of TikTok is that it is an incubator for viral trends, hashtags, and challenges. You can be sure – if a tune or a challenge went viral on TikTok, soon you will see and hear it in every corner of the world, no matter if it is in a small café or a kid's center. It is a great way to acquire popularity for your brand – of course, if it has the potential to go viral.
Before you launch a TikTok marketing campaign, you should understand that your commercial should not be too complicated or pretentious. This application is designed for fun content. The most popular will be those commercials that intrigue, motivate action, and force users to watch a video until the end. There is no competition on the stage now - Generation Z values strong and familiar brands. Here you do not sell goods, but introduce your company, helping it become a brand in the eyes of TikTokers.
Before launching a TikTok marketing campaign, you should consider a simple rule: less technical components, and more ideas and creativity. A TikTok marketing strategy would be an effective way to advertise, if:
you can visualize products or services;
your business does not follow a strict tone of voice;
you can explain a product or service within 15 seconds.
Creativity, cooking, fashion, makeup, courses such as foreign languages, etc. - these topics will fit perfectly into the TikTok format. Also, it is relevant to discuss other videos on this platform, so you can express your opinion about any trending content, directly or indirectly related to the sphere of your business.
There are three main ways to work with TikTok marketing tools:
You can create your own channel and upload relevant videos.
You can work with influencers to distribute content to a wider audience.
You can pay for advertising on TikTok. Although it is too early to talk about it, there is certainly no market like YouTube yet.
Many brands combine their own channels and collaborate with influencers to distribute content to a wider audience. You can try some of the ideas listed below on your own channels or invite influencers to create and distribute these types of content.
TikTok Advertising Opportunities
Like on other platforms, in TikTok, we have two ways of getting traffic – organic and paid. First, let's talk about ways to get organic traffic. To start with, a brand needs to create its own channel on the platform so that users have a place to go and see more information. Ideally, your first walk-in to a new territory should be supported by famous influencers or brands already known on TikTok.
The big advantage of TikTok as a marketing platform is that developers intentionally built into the application a function that allows you to share organic video content outside of TikTok. So, you can upload your video to Facebook or YouTube, spreading organic content further and further in terms of your TikTok marketing strategy.
If you need paid advertising in TikTok, the price will directly depend on the method of promotion. There are four of them in TikTok ads:
Brand Takeover. It's a full-screen banner that appears when you log on to the application. It is implemented as a static advertisement up to 3 seconds long or in a video up to 5 seconds long. The purchase model is CPM and CPT. The format allows you to lead users to a third-party site, the App Store/Google Play, or an internal TikTok page. The average price of CPM is $6. The daily entrance threshold from the site is $6000.
In-Feed Native Video. It is a pop-up advertisement in the feed, which appears when the user views the content. It can be compared with promotions in other social networks. It is implemented in the format of video recording lasting up to 15 seconds. The models of purchase are CPM and CPT. The average cost of CPM is $6 at an input threshold of $7800. It allows promoting a business account in the application, adding CTA to a third-party site, and the use of interactive mechanics within the publication.
Hashtag Challenge. This is a banner that appears in the search section and announces fresh activities. This format is used by popular TikTokers, integrating branded hashtags and music jingles into their video. This is how other users will know about a particular challenge. The cost of launching the challenge is $60,000.
Augmented Reality (AR). You have the ability to promote your own brand through masks, stickers, lenses, and other creative elements of the application. It is possible to add 2D and 3D elements.
TikTok Influencer Marketing
Another great way to promote your brand or product is to go for TikTok influencer marketing. If your product suits the audience of an influencer, your TikTok marketing campaign will be successful. In most cases, you leave the content creation to influencers - they know better what their subscribers will like. If you're not sure where to find the right influencer and how much money you should pay, visit the Influencer Marketing Hub TikTok website – there you will find all the info you need.
A great example of an influencer is a girl named Holly that goes by nickname @hollyh. She has almost 17 million followers and 376 million likes. Holly is known as a "girl next door" type, and all of her content is made in a specific way – as if you've come to your friend and you're chatting about makeup, self-love, boys, and all sorts of normal things.
As always, the key to successful, influential marketing is to set the right goals that target a specific part of the customer. For successful marketing for TikTok influencers, young broadcasters at TikTok must remain honest with their subscribers.
Often, all a brand needs is to inspire influencers to record videos of themselves carrying or using the sponsor's product. Again, this will only work if the influencer is the person who normally uses the product. There is no point in trying to encourage the influencer to promote an inappropriate product. You are not going to successfully sell nursing homes or hearing aids on TikTok, are you?
Take as an example, a photographer named Alexander Stemplewski, known on TikTok as @alex.stemp. He has almost 9 million followers, and all he does is tell stories about how he finds models for his shoots.
He also works as an influencer on the platform, making money by sponsorships. For example, he closed a $5,000 contract with a camera manufacturer. Under its terms, the photographer will use bags for photographic equipment and tripods of this brand in his videos.
Another feature of young TikTok users' mindset is that they don't really care about the quality of your video. You should trust your influencer enough to allow them to create videos in their own way, even if it looks amateurish at first glance. TikTokers are interested in originality and fun, not the quality.
Here's another influencer from Russia- a girl named Maria @youngmasha with almost one million followers. Maria covers many complex social topics - and at the same time, makes reviews of adult toys.
She gives most of the information in a playful way. This removes the embarrassment and makes users enjoy such funny reviews more than ordinary ones. She even simply records on a forward-facing camera sometimes – and no one un-follows her for this.
Once again, when in doubt about figures and budgets – try out the Influencer Marketing Hub calculator for TikTok. With this service, you will be able to calculate your marketing budgets for an influencer's work correctly.
What Content Should You Publish on TikTok?
There are 5 most popular ideas for videos on TikTok.
Lip-Sync. This option will suit even those who can't carry a tune - you do not need to sing, just open your mouth along with the audio track, be funny, and have a good command of facial expressions and gesticulation. If the video is presented with various effects and filters, you can easily get more likes and subscribers.
Duets. These joint videos are very unusual and memorable. There are two ways to shoot a duet. The first is in real-time. Go to the user page, be sure to friend him, and click "Start duet now." The second way is to select a video already added to the profile of any user. Duets with celebrities are especially appealing.
Slow-Mo. TikTok is popular with teenagers and young people, and this format is very common among the younger generation. The essence of it is the effect of slow motion. To achieve a greater effect, you can and should work on the sound, focusing on it. Such videos steadily gain a large number of views and are displayed in recommendations.
Sketch. These are short and funny videos that are filmed properly. No one wants to watch a person telling a riddled joke with a boring and monotonous voice. Do not be afraid to fantasize, use your charisma, uniqueness, and talent on 100%!
Tips and Tricks. Everybody loves a good old life hack, and the TikTok audience is no exception. Show some unusual way to use a well-known product, shoot an unusual recipe, tell a secret that only you know - and you will definitely get into recommendations.
Successful Examples
Western brands are mastering TikTok - creating viral videos and starting challenges. Looking at their examples, you can be inspired to do something similar for your product.
Guess. The very first advertising campaign in TikTok is the Guess case. The challenge of the brand was aimed at people who like to share their outfits and clothes purchases on social networks. Under the #InMyDenim hashtag, users were asked to record a video where they first put on old, worn-out clothes and then show off in a stylish fashion look from Guess. More than 5,000 videos were published as part of the challenge, with a total of 40 million views.
Pepsi. The Indian branch of Pepsi has launched the #SwagStepChallenge Dance Challenge. In the first 4 days, the videos gained a record 5.4 billion views, and users began to post their own versions of dance with this hashtag. The number of clips in the campaign rose to several hundred.
EOS. The American brand EOS, which produces natural lip balms, has launched the #MakeItAwesome challenge. Its goal was to show how users' lives are changing with EOS lip balms. A special branded track is always played during the video. The winners received sets of thirty lip balms with different tastes. This challenge became the most popular in the history of TikTok and gained 5 billion views.
How Do TikTok Algorithms Work?
The algorithms of recommended content delivery in various worldwide social networks are approximately the same. Depending on what content a particular user is viewing, he will be offered something on the same subject or a similar one. But at TikTok, the developers went even further. Today this is the place where the most accurate output of the content of interest is given out. TikTok algorithms are very similar to those of Instagram (no wonder, they took a lot of things from there after all), but they are more extended and perfect. So, what is the secret of success?
First, TikTok uses hashtags. But if on Instagram they serve mainly for content search, here they become even the names of the challenges. TikTok has taken this principle to a higher level. If the user likes to look at kittens or puppies, as well as dancing girls and puts his likes to the proper hashtags, they will not disappear from the recommendations.
TikTok has an improved reading of the response to content. We're talking about likes and comments. However, earlier, even the mark "Liked" did not guarantee the output of exactly the content you really need. In TikTok, with the help of likes and comments, the user's range of interests is greatly specified.
In addition, this site has successfully implemented a feature to track the time spent on viewing a particular piece of content. That is, TikTok knows which videos the user has watched to the end, and which ones he turned off in the middle. A comparison of all these parameters helps social networks to provide in the "Recommended" exactly what is the most successful. With these technologies, TikTok takes a minimum amount of time to find an individual approach to each user.
Marketing Strategy for TikTok
Today, TikTok is happy to provide its users with gigantic audience coverage and almost endless opportunities for promotion. So how do you launch a successful marketing campaign on this platform?
Step 1. Identify Your Goals
Before you start working with TikTok, you need to set goals for your progress. They, in general, do not differ from the objectives in any other social network: attracting subscribers from TikTok to other sites, monetizing the account, increasing brand awareness and improving the image, or increasing sales.
Step 2. Identify Your Target Audience
You can roughly define your target audience when you launch the channel - for example, these are young people aged 18-28 who are interested in fashion. With time, when your account becomes popular, TikTok will help you to determine this indicator with statistics. You can find the statistics in your Pro account profile. There are 3 tabs in it: Overview, Content, and Subscribers.
Step 3. Choose a Topic/ Niche/ Theme
Your topic depends directly on your target audience. So, if you are targeting schoolchildren, try to get into the field of challenges or funny videos. If you want an older audience, you can try to slope into educational content - but don't go too far with the lectures!
Step 4. Follow Trends
Watch what's on the trending page, try to create similar videos, do live broadcasts, set up surveys, create contests, and respond to comments. The trendier you make your channel – the more followers and active users you get.
Step 5. Be Creative
Videos should be fun, original, and memorable. Documentaries, complex educational content, tedious lectures, and everything like that, will not cause much response. Think of some unusual ways of demonstrating your product; don't simply tell about its advantages in every video.
Step 6. Push Content & Don't Be Perfect
If you are a novice TikToker, don't forget about the quality of your shots. Fuzzy images and noises in the background are not what users want to see (unless you're a recognized influencer that's being watched for the content, not the quality). This does not mean that you have to buy high-quality, expensive cameras, lights, and microphones – just do your best.
Step 7. Use Hashtags
Specify your channel's hashtags, and keep an eye on popular tags. You can even come up with and run your own challenge – like Pepsi did, as we wrote above.
TikTok Pro Analytics
What does a Pro-account on TikTok give you? It is a special type of account for bloggers and businesses, which gives you the opportunity:
to increase your popularity for free;
to choose a profile category;
to watch analytics by account (viewings, subscribers);
to watch analytics for each video (number of views, likes, viewing time, audience);
to start advertising.
Built-in TikTok statistics are divided into three large sections:
Overview
Content
Followers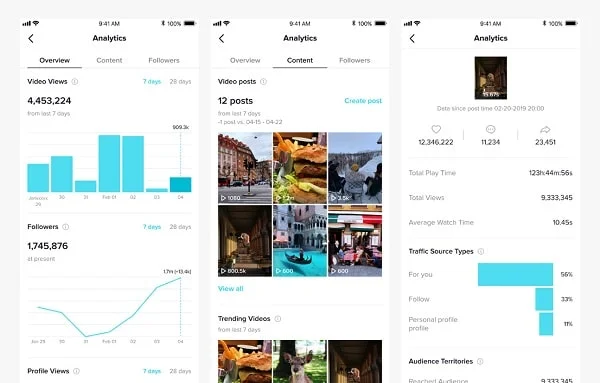 Switch between the tabs to explore the indicators from different sections in more detail. So, in the Overview section, you can find basic information about your profile:
The total number of views of all videos in your account;
The number of subscribers and the schedule, along with their growth dynamics;
The number of views of the profile and the schedule for the selected period.
All indicators in the built-in TikTok analyzer are evaluated in two possible sections: 7 days and 28 days.
In the "Content" section of TikTok analytics, you will find a detailed analysis of videos placed in your account. There are two sections:
Video posts: last posted videos, from old to new, for the last 7 days.
Popular clips: unlike the previous section, there are 9 videos posted here, which have been the most viewed in the last 7 days.
Finally, the Followers section gives you detailed information about the accounts following you: number of subscribers, audience distribution by gender, and geography. Also, in this section, there are graphs of the times of day when subscribers are most active.
An interesting point to analyze is the video that your subscribers are watching. It collects the clips that your audience has seen most often during the analysis period. A similar section is "Music that your subscribers listen to." Quickly go to the statistics of each video in this way: open the video, click the menu button (three points), and then select Analytics.
By collecting the figures, you can conduct a competitive analysis or develop a strategy for your account. Account statistics will help you evaluate the effectiveness of page maintenance: you will see the dynamics of the account's popularity, and you will understand whether it is for better or for worse than other profiles in the category.