All payments made can be seen in the Billing section. Here you can also save your invoices (only for successful payments):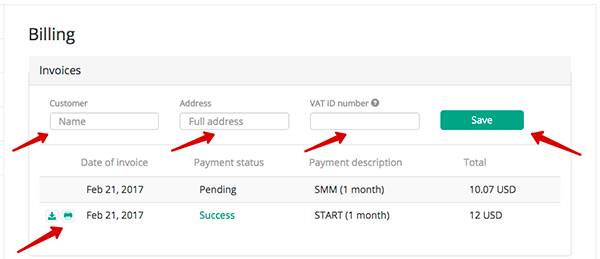 For a template saving, please fill out the fields:
Customer – your (company) name
Address – full (company) address
VAT ID number – optional field for your company's tax ID
When all the fields are filled, press the "Save" button, and this data will be saved for all downloadable documents. If you need to change the content of any field, just edit it and save again.
Important: "Pending" payment status could mean that either the payment did not go through and you weren't charged, or it was registered, but not yet completely processed by a payment operator. In this case,you will be charged and your plan will be updated later, once the payment is fully processed. Payment processing can take up to 10 working days.
You can talk to our support about any questions regarding payments.