We have developed a detailed guide to learn about all the nuances of creating a YouTube channel. Use this information to run a business channel or a personal vlog. We have already talked about who should use YouTube to promote a business or personal brand. In this article, we will discuss the technical aspects of running a YouTube channel.
1. Create a separate Gmail account
It is always a good idea to have separate accounts for business and personal life. Get a new Gmail address to work with your target audience on YouTube. You may be using a Gmail address on a corporate site already. In that case, you can register a YouTube account with an existing e-mail. The e-mail address is not shown on your channel by default — so you can use a …@gmail.com address even for a big company video channel.
Let's start creating a YouTube account. Move to the starting page, enter your e-mail and password and start customizing your YouTube page.
2. Customization
Before you upload your first clip, make your YouTube page attractive for visitors. Begin with a description and main visual elements.
Click on the channel icon on the upper right and select "YouTube Studio" to get to settings; now select Settings on the left.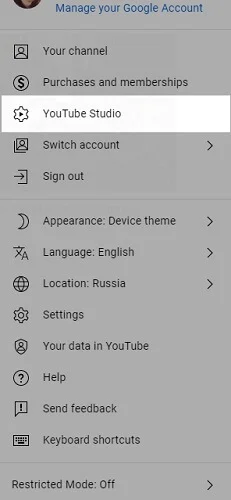 &nbsp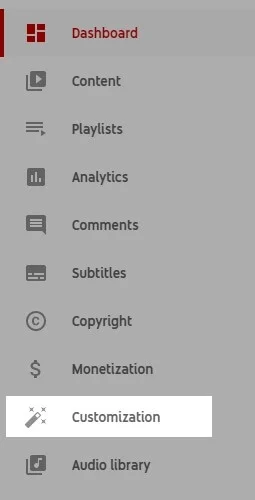 You can also access settings directly from the Customize Channel button on the main page below the cover picture (it is visible only to the administrators).
On the Settings page, there are three tabs:
Layout;
Branding;
Basic info.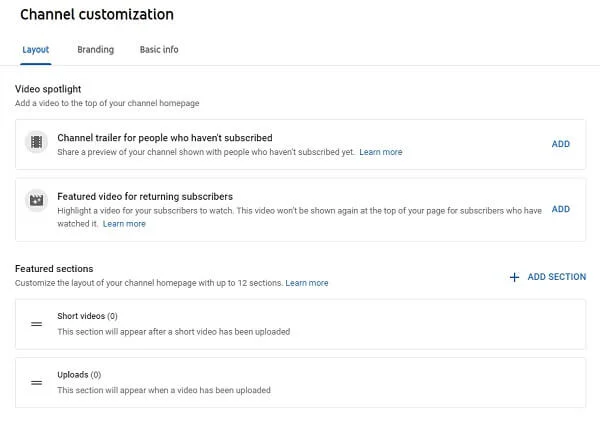 Basic info
Add a description for the channel, something short and to the point about the author or creative team behind it. You can add keywords relevant to your topic to make the channel more searchable. Google Ads or another keyword tool can find key phrases for you.
On this tab, you can add links to the author's website or profiles on other social networks, and you should because users all have their own favorite networks. Let people follow your content the way convenient to them.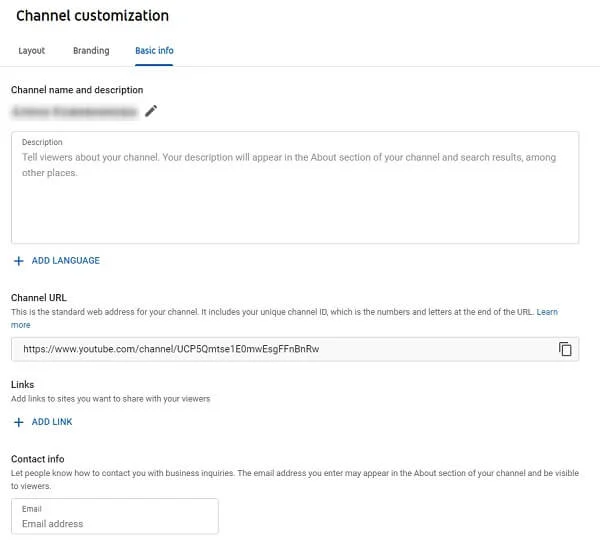 On the "Basic info" tab you will eventually be able to give the channel a custom URL along the lines of "youtube.com/user/marquesbrownlee". You get this opportunity for a readable address instead of the default gibberish on the 31st day of the channel existence if it has at least 100 subscribers.
Branding tab
Here you determine the channel visual style. Adding a profile photo and channel logotype is easy, and you can use the same image in both cases. YouTube will tell you what files are acceptable. They must be square, with a 1:1 aspect ratio, but the profile photo is actually a circle, so do not put anything important in the corners.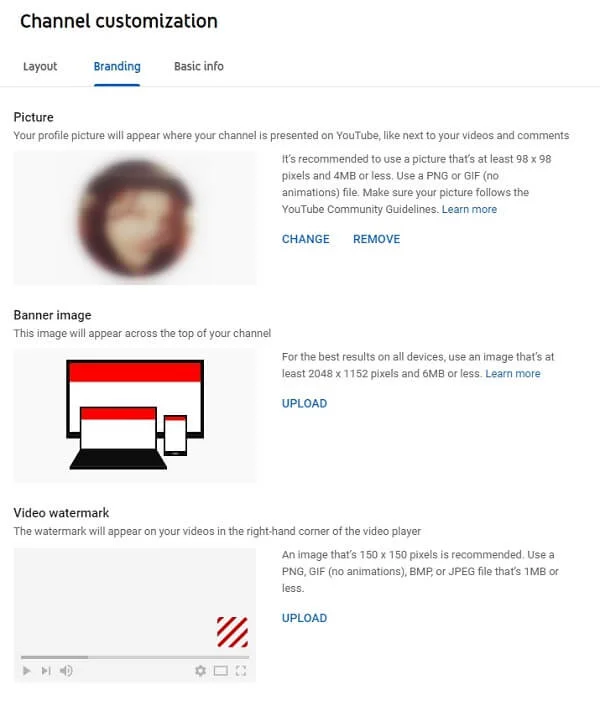 A banner can be added here as well, whether a custom-made photo or a good-quality screenshot from your video. The main thing is to stick to the recommended ratio of dimensions (1:1.78) and always check to see how the banner looks on different desktops and mobile devices. You do not want crucial portions to be snipped away by auto-crop.
There are online services that help create stylish YouTube cover images. We recommend Canva because they have lots of free templates that can be recolored, text and pictures added.
Layout
In this tab, you can change the main page of your channel. Note that visitors will be able to see not only the video you upload but those of others that you add to the public playlist. These playlists are all public by default, and if you want the videos in it to be visible only by you, use the "private" option in the settings of each.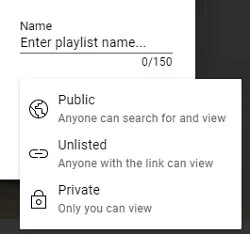 The main page should contain the channel's trailer video. It will be located at the top of the channel page.
It loads for users automatically, so the video had better be about something breaking or showcase your channel in style. The first type is appropriate for bloggers and news channels.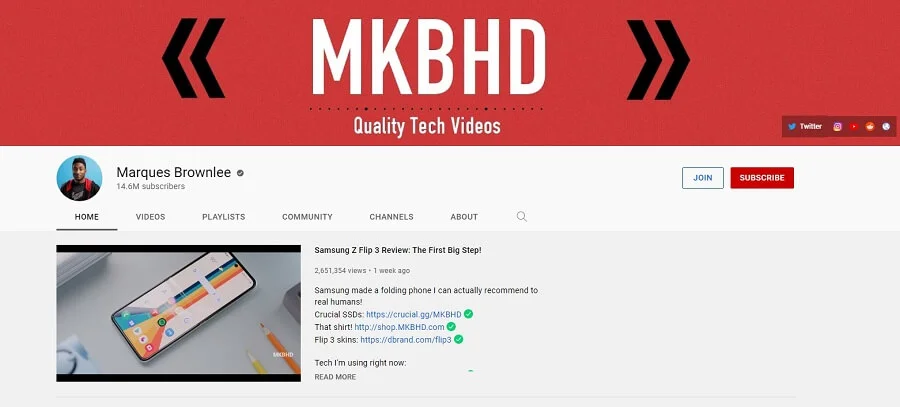 Speaking of electric vehicles, here are two more high-quality sample trailers. A beginning automaker, Lucid Motors, has published a 30-second advertisement about its premium model Lucid Air.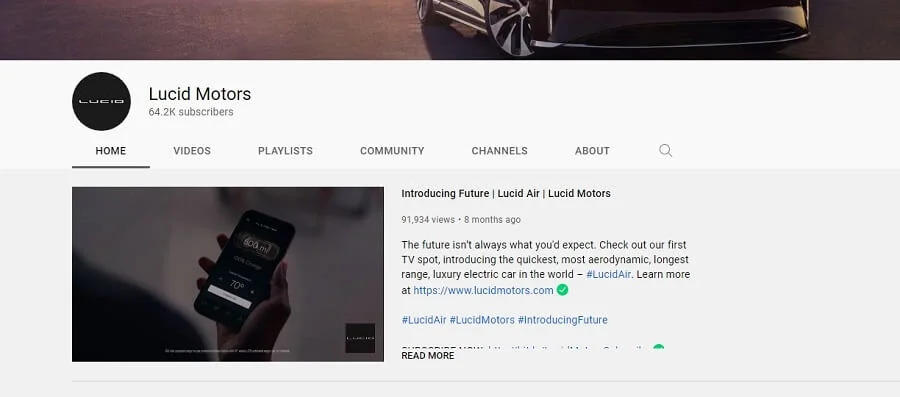 A start-up called Lightyear has put up a 3-minute-long recording of a test drive of its prototype car Lightyear One, which has been able to go for 440 miles (710 km) without a charger (except solar batteries) — a record for electric cars in 2021.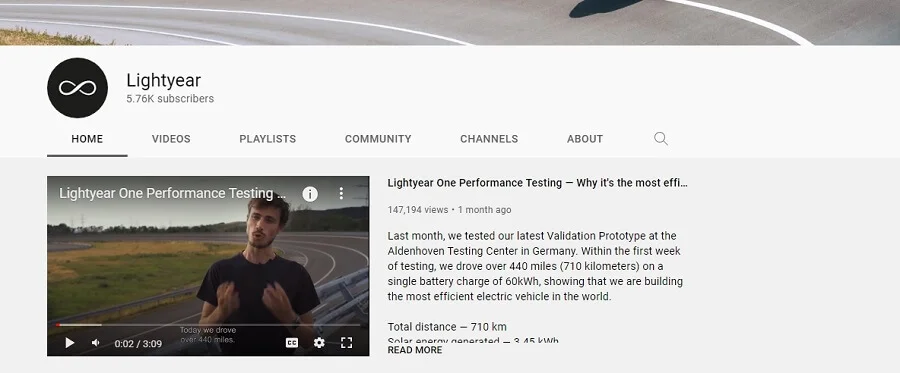 In short, a trailer can showcase the main product or values of the company.
YouTube posting frequency
There is no rule about how often videos need to be published, for two reasons:
Audiences do not hang on to every content update in their subscriptions;
The YouTube suggestions algorithm revolves around pushing similar content whenever it might have been published.
That means that videos from three years ago can get lots of views because of their suddenly regained relevance, while a new video about a talked-about topic can get lost among similar videos.
There is only one piece of advice to give, stoke your channel fires with regular updates, especially early on.
3. Create high-quality video content
We will discuss it in another article. But whatever the channel subject is — only interesting, unusual, and technically perfect content can be popular.
There are probably channels already about the topic you want to cover. Go, then, to your competitors from your country and the English-speaking segment of YouTube, and check them out.
The English language bit is important because the two countries with the highest number of YouTube users are India and the U.S.A., and bloggers from elsewhere want to get global also. So study examples, notice the good and bad sides of the videos, and try to outdo the competition.