If you're not sure what caused the hype around the Clubhouse, here's a guide to using it in 2021. We will tell you how brands, bloggers and everyone involved in the digital world can learn, develop a business and see tangible long-term prospects using it.
Briefly about Clubhouse
The Clubhouse is a social network that allows users to attend online live conversations, interviews, group discussions in clubs and rooms. Anyone can create a room and open it for guests.
The application was created by programmer Paul Davison and former Google engineer Roen Seth in April 2020. Early adopters described the Clubhouse experience as a mixture of live podcasts and panel discussions.
Interest was also heated by the fact that an invite could be received from an already registered member of the community. Now anyone can join the social network. According to Paul Davison, Clubhouse currently has about 2 million weekly active users.
Each room is a real-time interactive podcast. The user goes from one company to another like a house party until he/she finds one that grabs attention. There are two essences inside - clubs and rooms.
Moderators play an important role. A strong moderator sets the direction for the conversation and maintains a friendly environment. Since conversations are not saved, it is the moderator's responsibility to ensure that the conversation in the room is respectful.
To gain the first 1000 subscribers on Clubhouse, you need not only to be active in the rooms but also to design your profile: an avatar pic, a description, especially the first three lines that are visible when a user clicks on you in the room.
6 reasons to integrate Clubhouse into your PR strategy
Clubhouse, like any social network, is just a tool. There is no guarantee that you will achieve your desired business goals out of the starting blocks. Every conversation is real-time and you never know where it will take you. Define a key goal and test different working methods, tracking performance.
1. Participate in communities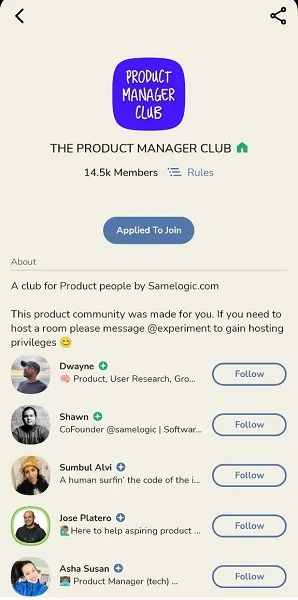 &nbsp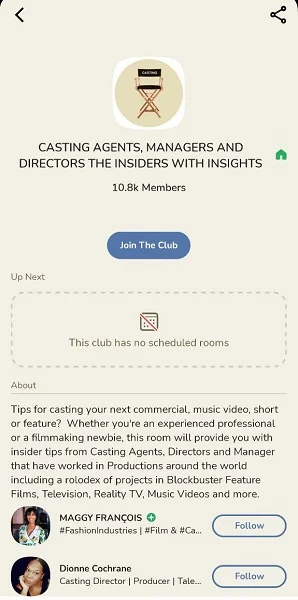 Examples of what the clubs look like on Clubhouse
In a cosy community, not only the personality itself is interesting as a source of expertise, but also the content. It continues to live its own life - to cause controversy and long discussions.
When people start to be active themselves without your participation, the community will bring benefits. Try to push in this direction.
How to implement. Explore what communities already exist, think about how your community might differ and be special.
2. Position yourself as a market expert in the industry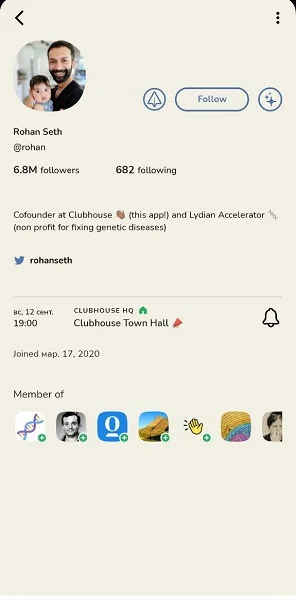 &nbsp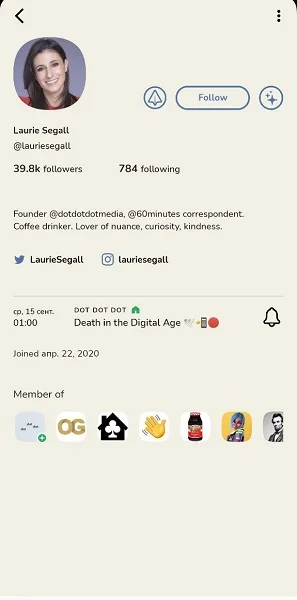 Give brief information about yourself and your social networks
By visiting chat rooms and rooms that are directly or indirectly related to the brand or business, you can meet people with the knowledge and experience you need.
This also works the other way around: some users will take advantage of your professional expertise. Potential investors and business partners will decide whether to contact you outside of the app.
How to implement. Complete your profile using your brand or personal brand USP. Add links to Instagram and Twitter, e-mail.
3. Host virtual events
Another great opportunity is to use the Clubhouse as an online event venue. Users will be able to join the event in a couple of clicks.
It is better to choose a broad topic if you are just starting out so that the room is interesting for the majority of users - focus on 3-4 segments of the target audience at once.
How to implement. Start with simple events: small workshops or answers to questions and tests.
4. Make new acquaintances and conclude contracts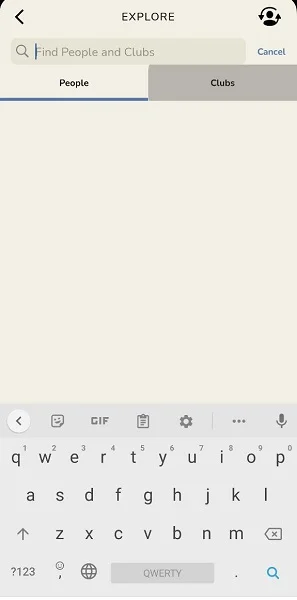 &nbsp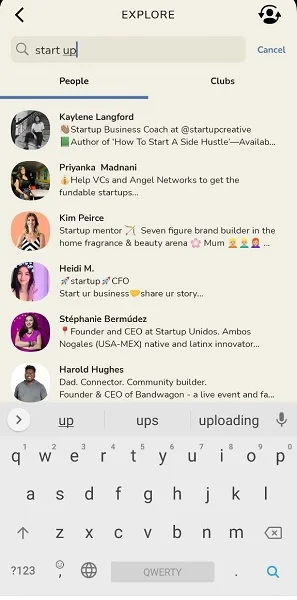 Search keywords for your interests and meet experts
Own chats on those areas of knowledge in which you or the project experts are well versed will help expand the circle of potential buyers and even find investors or partners.
The format of such rooms is usually the same - answers to user questions. Communicating with people, sharing the information they need and getting feedback are indisputable advantages.
How to implement. Make it a rule to run chats as often as possible for you and track where new customers are coming from.
5. Arrange interviews or public talk
To go live on Instagram, you need to prepare: set the light, choose the appropriate image. Sometimes there are video delays with one of the speakers. In the Clubhouse, everything is much simpler in terms of preparation.
Interest in the interview format is still only growing: thanks to Oprah, Jimmy Kimmel and other famous American talk show hosts. In the Clubhouse, you can invite several guests to expand on the chosen topic in more depth.
How to implement. Test this format, reflect on how successful the experience was, and make it your monthly routine.
6. Improve qualifications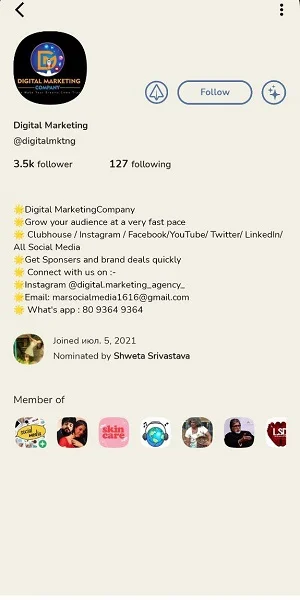 &nbsp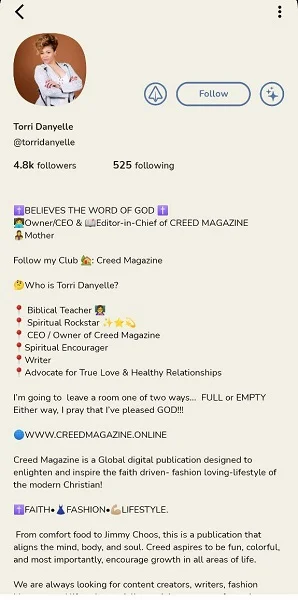 Follow the speakers that interest you the most
In casual conversations, without a clearly written script, as is the case, for example, when working on an online course, industry leaders offer much more useful advice.
Such first-hand recommendations will help you solve the current problems facing you as a specialist in your field, or strengthen your business if you are an entrepreneur and you need the feedback of an experienced colleague.
How to implement. Check if there are speakers of your interest in the Clubhouse. Follow them and monitor their activities.
What are the prospects for Clubhouse
The founders of the application rely on the business community: Clubhouse helps in networking, finding employees, investors. This idea looks especially attractive against the background of the popularity of the social network among celebrities: the participation of Elon Musk instantly increased interest in the platform.
The Clubhouse has led the trend in audio as an important part of social media, which makes the platform attractive for professional communities - podcasters, musicians, and those who are not ready to produce visual content for some reason.
Not enough sleep? Don't want to adjust the light, work on the presentation? It is the Clubhouse that saves, where the main stake is on the voice and the ability to clearly and firmly express the thoughts, to provide concrete benefit to the generated content.
Experts believe that over time, the platform will be able to surpass even such a giant like Facebook.
Two main forecasts: The future of Clubhouse is a paid subscription model. It is also expected that more and more opinion leaders, entrepreneurs, brands will start using Clubhouse to enter foreign markets.