Pavel Belov is an Instagram photographer, musician, and manager of a popular hip-hop label "Respect Production". He has all the rights to consider himself a "veteran" among the popular instagrammers. However, lately he's slightly lost his interest to the service.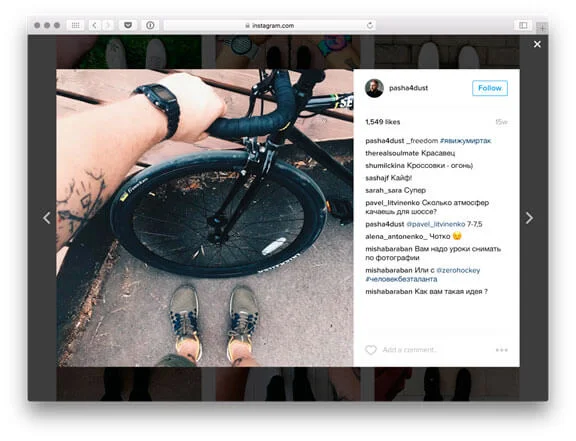 We asked Pavel several questions about how he gained thousands of followers and why he just smiles at young people who outrun him by followers.
How it all began
In 2010 I was traveling in Italy and just for fun I took a photo of my legs. Really, everybody makes selfies like crazy, and I will shoot my legs. I registered on Instagram, invented the hashtag #явижумиртак (rus. "I see the world like this") and the fun began. Soon there would be thirty thousand photos with this hashtag (mine are few, though).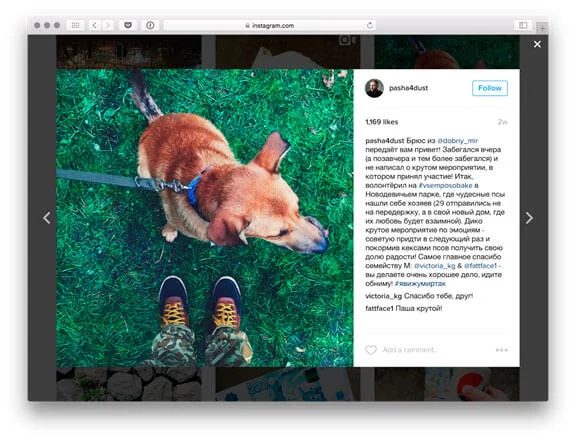 Followers were growing by their own approximately till they reached three thousand. But then it just blew up.
A guy with a thousand followers
I don't know how, but I got into a list of Suggested Users. I got 7 thousand followers in my first day. Then they wrote about me in the blog, and I got 10 thousand followers more. I know that now only the fact that you get into Suggested Users can bring you 100 thousand readers per month, but that time there were less people on Instagram and less activity. Anyway, I got thousands followers just in several days.
Thousands of followers and the fame brought several difficulties. Arabian men were tagging me on tens of photos of their hairy legs. Schoolgirls were posting parodies on my pictures. I was trying to untag myself from those photos, to explain people that it was my own small and cozy hashtag. Didn't work.
You think it is easy to take pictures of your legs? Well, make a hundred of different photos with individual stories, and you'll see.
Nice income
Together with thousands of followers I started getting my first advertisement contacts.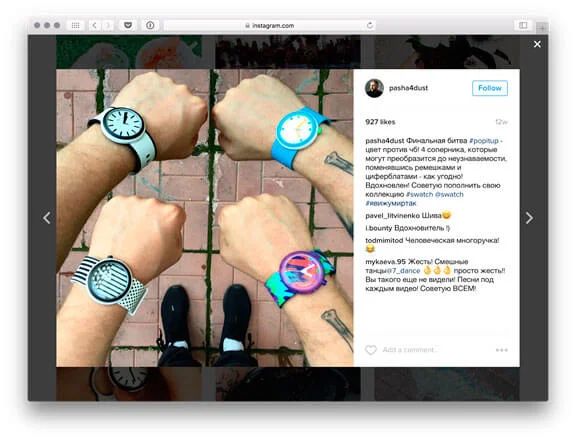 At first I was helping my friends promoting their small brands. They were giving me sneakers or backpack and I was taking pictures in exchange. Then big brands like Levi's came. At the peak of my advertisement work, my Instagram account was binging me enough money to live in Moscow.
In order to be commercially successful it is not enough to have thousands of followers – you could've buy or artificially increase them. It is important that blogs and mass media write about you, that the same Instagram interview you.
Got lazy
Lately I manage my Instagram account reluctantly, put less effort on the creation of high quality content. I understand that it absolutely doesn't match with my thoughts I had two years ago. That time I constantly kept saying: "You need photos and videos of maximum quality"!
However, now my priorities have changed, and Instagram for me has become something it was before – just a photo blog that I keep running when I have time. I still keep making advertisements for different brands, but now I allow myself to choose them.
At the peak
I call my self a "veteran" of Instagram. I'm one of the first bloggers who became popular in a natural way. Although I'm not a TV star or super famous musician, who come to the network already having their off-line popularity. I'm just a guy who takes pictures of his legs and tells the stories everybody likes.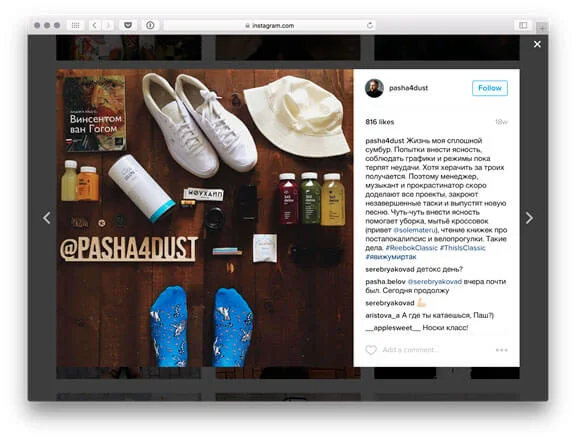 I guess Instagram is moving toward its highest point. Soon it will have so many different contents and different bloggers that people might get tired of such diversity. It means that there is still a chance to quickly make all this way up and become popular.
A good example is viners like Nastia Ivleeva or Andrey Glazunov. It took those young unknown guys only a year to become super popular Instagram bloggers and earn a big amount of money. There are Instagram travelers as well, like Polina, for example, who never stay home.
Long story short, there is always a possibility to become a cool blogger. Trust the veteran.