The most interesting social media updates over the past few months. In this article, we update you on cool features you can use for promotion.
Twitter
Sharing tweets on Instagram
Twitter users of late have an option to share their replies directly to Instagram Stories from their iOS phone. The feature appeared in response to the point that many users want to share their posts, but they have to take screenshots, and the original link goes lost. That is not the first step of the convergence between Twitter and Instagram platforms, but one of the most visible.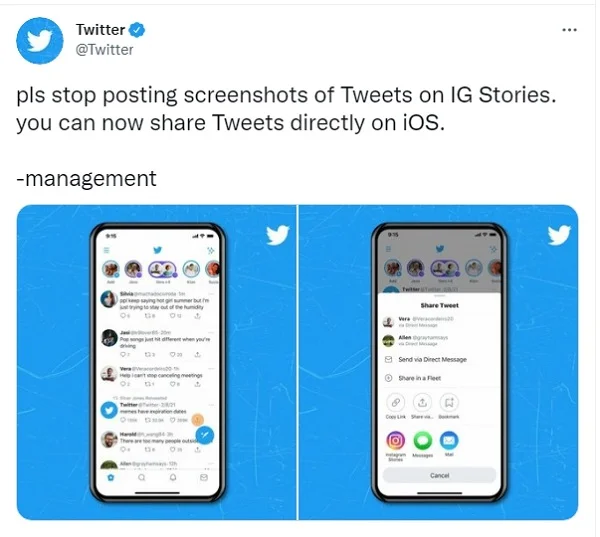 Super follow
Twitter is expanding the possibilities for content monetization for its users. In particular, they introduce a super follow option. This innovation allows you to try a whole new approach to consuming someone else's content on Twitter. Now, according to the Patreon principle, you can support your favorite content maker and, for a separate paid subscription, have access to exclusive tweets, videos, photos, and other information that the influencer wants to share. Authors can set the price of a subscription to their account on their own.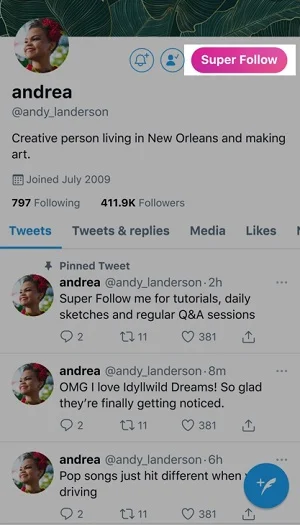 media.twitter.com
Users to see traditional content. To a greater extent, the platform positions the new feature as supporting and thanking a person for sharing information with a large audience. In addition, since Twitter occasionally shows vital insider information about updates and solutions, it will segment how quickly the general public gains access to this data and create an advantage for a loyal audience.
The update will serve as a way to get closer to the person whose life you follow. So, when you leave a comment, particular icons are displayed next to your name, visible to all Twitter users.
To gain access to Super Follow, you must apply and meet the minimum requirements. You need to have more than 10,000 subscribers, be at least 18 years old, and have feed content published no more than 30 days ago. If your application is approved, you will also have to publish at least 25 posts within 30 days. Content makers will receive 97% of the income from their audience in the application until the total income from all integrations does not exceed $ 50,000. After this point, authors can receive up to 80% of the earned money after being charged a commission.
From September 1, 2021, in test mode, this option works only for residents of the United States and Canada using iOS. But in the future, the feature will be available on the android platform and the web version of Twitter.
Ticketed admission
Twitter is introducing an option to sell tickets to followers and make calls using Twitter Spaces. Twitter Space is an audio room where you can discuss questions of interest or listen to an expert's opinion. That is an excellent opportunity to hold a seminar, to have a live discussion. This option is currently being pre-tested with a limited group of people. Twitter also adds everyone to the waiting list.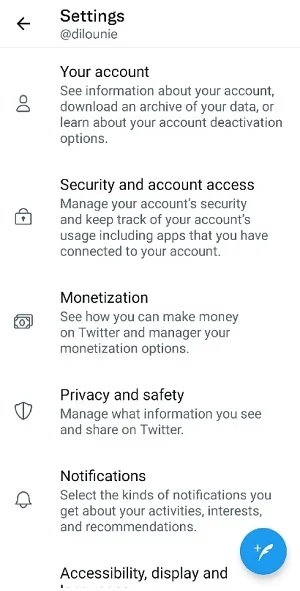 &nbsp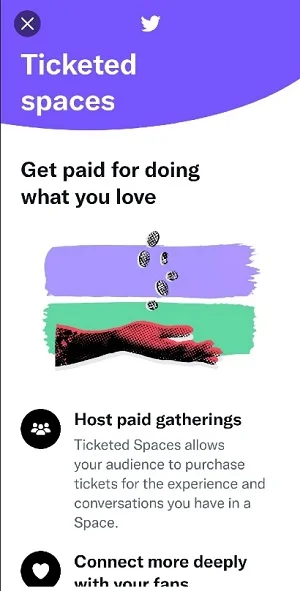 The content maker receives 97% of the revenue from ticket sales since the company takes a fee. Further, similarly to the super follow function, authors receive up to 80% after reaching a profit of $ 50,000. Users determine the number and cost of available tickets by the user themselves. The minimum cash withdrawal is $ 50.
Safe mode
More recently, Twitter introduced Safe Mode. The new feature aims to improve the experience of people using the platform and limit those who do not want to face negative posts and comments. This feature blocks a user for a week for dangerous, offensive, or hate speech, as well as for spam. If Safe Mode is on in your settings, it also works oppositely: the owners of malicious accounts will not get the right to access your content. At any time, you can view the data on blocked users and change your mind.
Twitter Shopping
The developers announced that they are now investing a lot of resources into the store function. As one of the first steps, they launch the new Store module. It will enable users to research the brand before buying, discuss questions of interest on Twitter, and only then make a purchase.
This module is on the profile header, where brands can display their products in a slider format. Currently, this option is being tested on a small number of brands in the United States, but further expansion of this feature will cover the global market. The core Twitter strategy for e-commerce is to enable the creation of business profiles on a modular basis. They should choose only those that meet the specific goals of the brand.
Twitter Blue
It is the paid version of Twitter, which works like a subscription. The main advantages are several additional functions that are not available to ordinary users:
Bookmark folders allow users to arrange saved posts better, as well as to manage content. Now you can find the information you need with just a few clicks. Each folder can have a separate name.
In case of a typo, the user can edit the post before publishing it using a special timer. In other words, you set a buffer period during which you can correct the publication — and then it goes published on its own.
Reading mode will automatically put long threads of tweets into easy-to-read text, ensuring a more user-friendly interface of the platform.
Customization of the app icon for the home screen. Attractive color schemes for the app will allow you to customize the system as much as possible under your preferences.
This option works only for residents of the United States and Canada using iOS.
Pinterest
Pins for e-commerce
Now content creators will be able to tag their products on Pins, which will increase their commercial potential. By clicking on a pin with a product of interest, the user will get redirected to a separate Pinterest page, and then they can put it into the cart and complete the purchase. It is a notch higher than what the similar feature on Instagram offers. In addition to this, you can attach music, stickers to pins, tag other authors through a @-sign. These features will allow bloggers to earn money through affiliate links. And this way, you can collaborate with various brands and promote them, as in other social media networks.
Video Pins
Recently, it became possible to post on Pinterest not only photos but also videos up to 60 seconds. It is the platform response to the steadily growing interest in video content. Such content appears in the general feed along with other formats. It is likely to become a natural part of Pinterest, just like photos.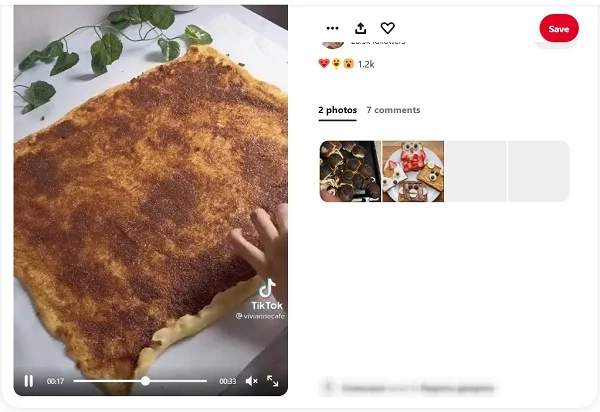 Algorithm update
Pinterest updated its algorithm this summer. Previously, it monitored the behavior of users and suggested in the "home" tab the content to which the user reacted best before. Now the approach has changed. In this collection, Pinterest is putting together catchy cards, video pins, and pin ideas, even if the person has not previously interacted with this content in any way.
VKontakte
VK calls
The company introduces its video conferencing service. Its main advantages are: completely unlimited calls both in duration and in the number of participants. More precisely, the maximum audience of a call is 2048 people. The use of the service is also free, which makes this offer one of the most profitable on the market. Another advantage is accessibility since both account holders on the social network and unregistered users can participate in a video conference.
Among the catchy features of VKontakte Calls is the option to share the screen in 4K resolution. Also, the developers have added a noise suppression option that ensures better sound quality. They also took care of those with not very fast or high-quality Internet. The new service consumes a minimum of traffic and allows you to stay in a stable connection. Like similar analogs, VKontakte Calls has a waiting room, AR backgrounds, and an algorithm to improve the appearance. All calls can be recorded and then sent to the broadcast for subscribers.
You can use the new service both on mobile devices and on a computer. The software is written for macOS, Windows, Linux.
Vkontakte video update
VKontakte announced a large-scale restart of their video platform. Developers said they replaced the architecture with a scalable one and adjusted the protocols and formats to video content. The availability of 4K resolution will make it possible to stream video to network media players AirPlay and Chromecast. This option will soon be available in the desktop version on Android and iOS.
In addition, the users of the platform can now upload and open "heavy" videos up to 256 GB. The number of quality settings has expanded to seven options, including Full HD and 4K.
In addition, the platform users can now upload and open "heavy" videos up to 256 GB. The number of quality settings has expanded to seven options, including Full HD and 4K.
Music offline
The VKontakte press service announced an update that music will, from now on, be available offline. The user will also have an option to save it and be a background. Algorithms can also make music recommendations more accurate. So now, the system does not offer only the usual daily playlist but also collections of similar genres, artists, and sounds. In addition, the developers ensured that not suggested playlists will include not only well-known performers. According to the team, this will allow users to go beyond their preferences and listen to something new.
As you can see, many social platforms are now experiencing a period of active growth and renewal. Besides, we can identify a trend for providing all conditions for content monetization. You can create a safer and more controlled experience for using the platform and adjust applications to individual user preferences.