The bigger audience sees your posts — the more your posts are prioritized and get more engagement and reactions.
Moreover, such an unspoken schedule comes at hand for your followers, shaping a habit to log in to their Instagram accounts and view new materials.
If bloggers know the best time for posting, they will launch successful ad campaigns with top results.
Onlypult Analytics allows you to choose the best hours for posting, and it is much easier to use than Instagram Insights.
There are lots of adjustable widgets for your projects. One is Follower Activity Hours showing the top periods of your followers' activity on Instagram.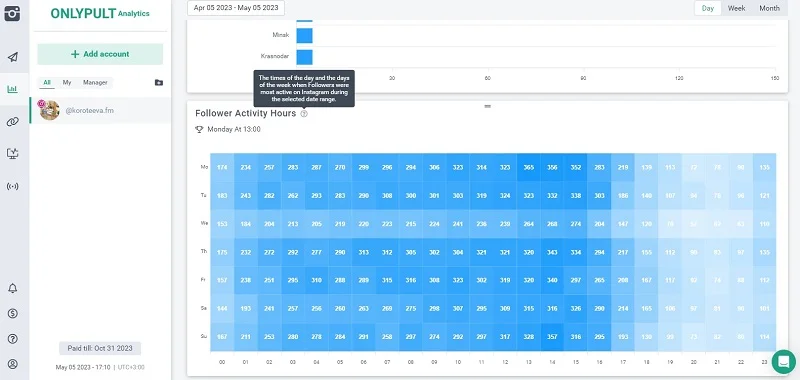 You can't crack the social media algorithms and Instagram, but by doing analytics analysis, you can get to the essence.
So, clearly enough, posting on specific followers' activity hours is good. Your followers will see your new postings and stories daily.
Posting manually at the same time daily is not that handy. Onlypult Planner for Instagram solves the auto-posting problem.
A detailed analytics system provides the most efficient marketing strategy. You will understand what kind of content is viable and be able to scale winning decisions.