To make a user click on a pin, i.e., go to a website or account we need them to, it is necessary to help them.
It means to let them find the pin with a search engine by making it attractive to spur them to look at the pin closer and click on it, not swipe it. Hashtags work for Pinterest — do not forget to add them to attract more interested users.
If you promote your brand in the international market, use English for sure. The text language should be the same for all pins and boards of the account. And it is necessary to name them the way users can easily find them: enter keywords in the search bar and analyze what Pinterest recommends.
Add keywords
Since Pinterest is not just a website with pictures but a search engine, it is vital to understand that the user searches for information and posts running keyword searches. That's why bloggers and brands which publish pins or boards need to remember that.
Use the keywords people use to find similar goods or services. Those people do not know your brand — so you need to think of what they will search for. For example, 'wedding dresses' — all the keywords are already in the heading.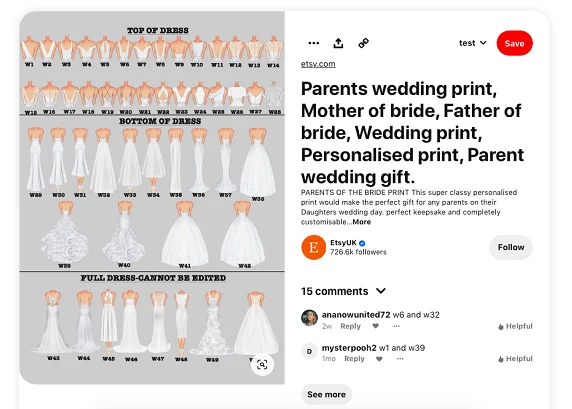 Make your pins more visible
Add text to photos. It will allow making the published pin more attractive. For example, 'Go to the website and download' or 'Go and buy.' Obviously, a user should click on the pin to get helpful content or buy something.
Make the pin as visible as possible using the color palette to single it out from others. Create atmosphere: one of the purposes of Pinterest users is to get inspired.
It is vital to let your reader select the most attractive pins when scrolling through the. For example, in this account, you can see what exercises are in the pictures and how much time it takes to do them.

What pin types exist:
Product card with the description and price;
Pin with a recipe or lifehack;
Pin announcing a blog or website article;
Pin with an app to download it immediately.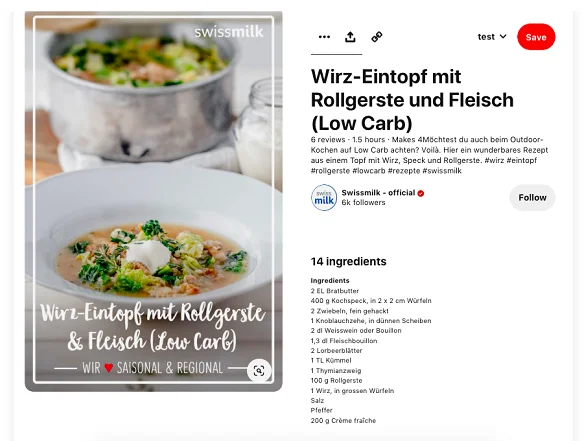 A pin example with a recipe from the food account Swissmilk
How to check a pin before posting
The pin is ready if:
The picture is vertical, and the quality is high;
The picture has a CTA — 'click', 'go', or 'download';
There is an in-depth accompanying text with SEO keywords;
The links are checked — they lead to the correct pages and load quickly and without fail.
Pin pictures on the website
If you post to your blog regularly, do not forget to pin pictures on the website and post pins with links to pages of published material.
In this case, your followers can pin content on Pinterest by clicking on a single button — thus, the brand will get more mentions. To activate this feature, you need to get the code from the profile and add it to the website. You can find the instructions in the help center.
Manage your boards
Create thematic compilations for key user queries. The way you organize pinboards is one more strategic decision. If a user is interested in a pin, they will most likely go to the profile to see the created boards.
While working on the board, you can make it secret. Check every pin before posting — a CTA in the picture, the links added, and a description — all that can promote your profile quickly and efficiently.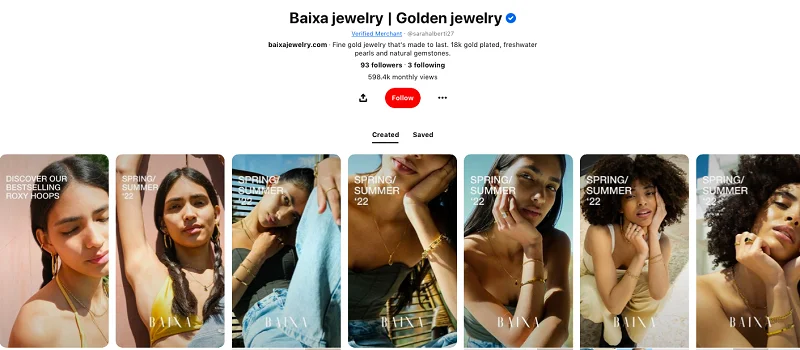 Boards with latest collections at the very beginning of the Baixa jewelry account feed
Interact with influencers
Pinterest allows bloggers and brands to collaborate — and it can help promote a brand account. Influencers will be glad to support an international company or online store which provides delivery worldwide.
Pay attention to influencers who work with international audiences to choose popular relevant ones. Organize joint advertising campaigns and monitor analytics data to understand what bloggers interest your audience.
Pinterest is good for attracting a new audience. It is not only users already subscribed to the brand's account on social media but also potential customers or followers interested in particular goods and services.
As to the official statistics, Pinterest has over 444 million active users who use the platform monthly not only to get inspired but also to find new attractive brands and buy the goods you need.
The main Pinterest advantage is that you can promote your account there for free. You can create an account, switch to a business profile to monitor statistical data and analyze it, and spend 10-20 minutes a day posting. Posts are shown on the user feed, and users can save branded content and share it.
With Pinterest, you can attract additional traffic to your official website, landing, market place or social media account. To be one of the leaders of your niche on Pinterest, start right now: the platform is developing rapidly.