Developing your Instagram account requires a lot of time, creative ideas that will catch thousands of users' eyes, and financial resources in the 21st century. It's a common situation when, all of a sudden, the account activity and metrics fall. Mostly, it affects engagement and reach. This usually means that you are shadowbanned.
What is Shadow Banning – The Meaning
Instagram shadowban is undetected for a user ban that blocks the content from vibrant users throughout social media. It means that only followers will be able to see the posts and have the hashtags appear in the feed. If there is a drop-in engagement of reach, consider this idea.
Even though the term appeared about fifteen years ago, it has gained widespread popularity recently. Instagram is not the only platform that implements such rules to optimize social media. Its primary usage is to clean up the online social space from the accounts that fail to comply with the policy terms. Therefore, the main reason for the shadowban is to ensure that users are receiving acceptable, authentic, and genuine content.
Developing an Instagram account requires a lot of effort and resources, such as time and money. Even if payment is not a problem, it takes months or years to become famous and get thousands of followers. Some bloggers are using inauthentic ways like irrelevant hashtags or automated bots. As a matter of security, the administration brings out "non-abiding users" and puts them under the shadowban. There is no notification when this happens. The users are able to spot that something is wrong only when the number of views has decreased.
Generally, a shadowban affects the users' reach to those who are out of your following circle. It can manifest itself in several ways:
Preventing other users (who don't follow you) from seeing the posts in the recommendation section
Excluding the posts from a search according to hashtags
Under such circumstances, one is able to maintain the existing auditorium. The challenge appears when it comes to growth. However, some bloggers are sure that the content is disappearing even from the followers' feed.
However, a sudden and significant drop in the metrics, such as reach, can be bound to other reasons. Instagram is constantly changing the explore page algorithms. The updates have come out since June of 2016. Ever since, many influencers have suffered from a significant decrease in engagement. This is mainly connected with a hashtag search. The social media administration admitted the existence of such a problem in February 2017.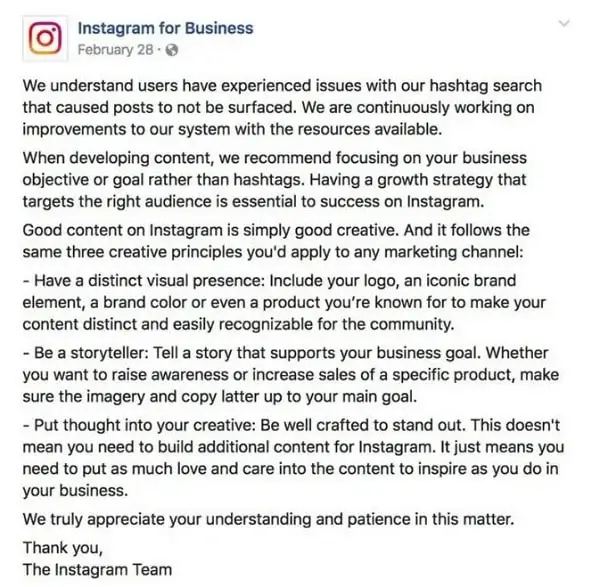 They even provided suggestions on how to create genuine content in order to avoid violation of the polices.
If there is an evident abuse of regulations, the platform can merely delete the content. In such cases, its owner would be notified the following way: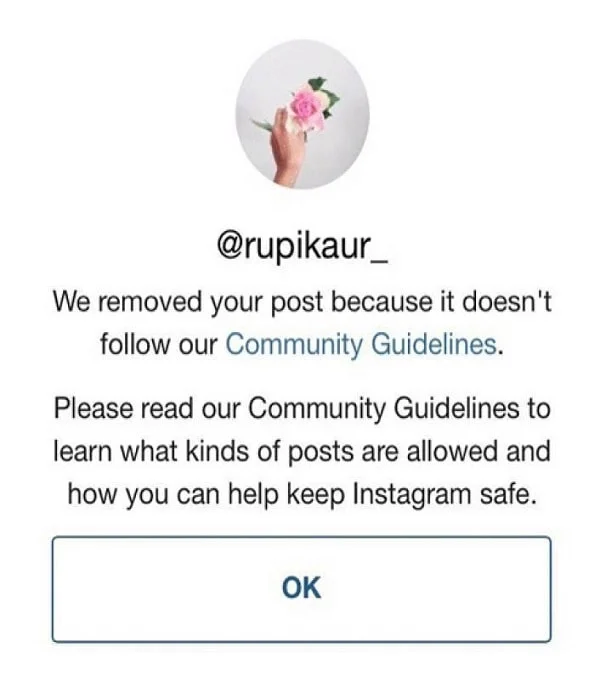 Am I Shadowbanned on Instagram? How to Check That?
While developing a business account, it is important to implement a corresponding approach. Metrics is a good tool to assess the real potential and current state of the account. It's also the key element in determining whether your account has been shadowbanned or not. The reasons for that are as follows:
The decrease in likes and comments. A sudden drop in engagement is frustrating. It kills the authentic followers who are really interested in your content. If the account is under a shadowban, this will occur for several posts.
Failure to reach a new audience via hashtags. If it's an extremely popular hashtag and you are a middle blogger, there is nothing superficial in that case. However, it is a red flag for less popular hashtags. Unfortunately, non-followers won't be able to see your account while searching via hashtags.
Reach downfall. It is a challenging parameter to assess, yet very important. If reach numbers are experiencing a significant downfall, for two-three days, and you are still following a successful marketing strategy, your posts probably aren't appearing to the masses.
It is important to keep in mind that only one factor will not lead to the conclusion that your account is under the ban. It can be explained by a change in algorithms (which was briefly covered in the previous section). No matter whether you are a hundred percent sure or not, there are a number of ways to check whether the shadowban has been implemented to your account or not.
Use Someone's Instagram Account
This option is directly connected with a hashtag search. It is rather simple. All you need to do is:
To create a post with non-popular hashtags. This way, it will be easier to spot out your account due to the fewer number of all publications.
Ask about four to five non-followers to search the hashtag. Someone from your auditorium can unfollow for purposes of the experiment.
If the specific hashtag is found while other metrics are still down, the reason is probably concealed in updated algorithms. On the other hand, if no one has seen the post, it is a strong reason to believe that the account is in a shadow realm.
Use Shadowban Tester or Checker
There is a wide variety of tools that determine whether or not an account is under the shadowban. They can be paid or free, with extra functionality or simple assessment criteria. To start the search, one must only fill in the ID information.
Mostly, the tester will check the last ten posts for the existence of viral, banned hashtags. For example, Triberr marks bad ones with a red color, and good – with green. It also specifies all the "wrong" hashtags, so that it will be easier to remove them. Apart from that, it also assesses other metrics and provides recommendations on how to improve the reach.
Other software like Instagram shadowban tester, go deeper and determine not only the usage of banned hashtags but also general compliance with safety rules and total health at a glance. This is a so-called personalized guide to sustainable content.
Why You Got Shadowbanned? What Causes Instagram Shadowban?
Those who have already suffered from the "perks" of shadowban strive to learn how to avoid it in the future. This information will be beneficial for Instagram business-users as well. For that, one must get acquainted with the most widespread reasons.
Usage of Bots or Other Automated "Instagram Growth" Tools
Instagram's terms of service cover the implementation of automated software. It primarily concerns bots that grow your audience and engagement (for instance, by increasing the number of likes). Among the apps that fulfill such a purpose around the web are Instagress, Followliker, or Boostly. Generally, this is a way to give more credit to authentic influencers and diminish those who try to cheat.
Auto-posting bots are also considered as a threat to account development authenticity. So, if you've been lazy about waking up at 8 am to do a publication, it is better to set up an alarm. This point doesn't include reminder-apps: those, which merely send a push notification that it is post-time.
A small note to remember: using bots for one account, may negatively affect other accounts. The reason is the same IP address.
Usage of Broken Hashtags
Hashtags are a common way to gain a mass audience. They will improve your chance of reaching the authentic auditorium. This is probably the reason why Instagram is strictly following all of the hashtag compliances. Although there are no officially published lists of broken ones, it's pretty simple to check it by yourself. To do so, one needs to do a search for a hashtag. If the only section that appears is top posts, most likely, it is under the ban. In some cases, one may find a note from the administration saying that it doesn't meet the compliance rules.
Another trap here is the continuous usage of certain hashtags. Even though some bloggers come to such a technique in an attempt to develop a convenient navigation system throughout the page, one must be careful. The social media will consider it to be spamming, and, therefore, can put you under the shadowban.
Your Account Is Often Reported
Reporting is the quickest way to put the account under the technical support spotlight. It means that the posted content is infringing copyright or considered inappropriate. In one word, the shared data is somehow violating the community guidelines or terms of service.
If the number of reports is big, Instagram can put your account in a shadow realm or even completely disable it. In case no rules were broken, there is nothing to worry about. All you need to do is to contact technical support and wait until they manually check everything.
You've Been Posting, Commenting, Engaging, or Following People Too Quickly
Instagram has established specific limits for the number of likes, comments, as well as following activity. This is a safety measure to detect those users, who are closely collaborating with the machines. The permitted numbers per hour are:
150 likes
60 comments
60 follows/unfollows
These are the average figures for the majority of users. However, the limits can loosen up depending on the account age. It means the older it is; the more loyal the regulations will be.
Apart from the mentioned above limits, some are applied to the number of hashtags or deleted posts. However, this is unlikely to lead to a shadowban. Usually, the social media site will send the notification immediately.
How to Fix or Avoid Instagram Shadowban?
There is no panacea to the shadowban issue at the moment. The situation will improve when Instagram speaks up about the "virus" and provides the exact steps required in order to avoid it. Those who understand the reason to be banned can use this as a starting point for fixing or avoiding Instagram Shadowban. The most obvious reasons are presented below:
1. Stop Using Banned or Broken Hashtags
Broken hashtags are like a red flag to the bull. It is one of the quickest ways to arrive in the shadow realm. Using them is probably going to cause more damage, rather than a benefit.
Considering this, one should look through all the posts to address the matter of shadowbanned hashtags. We have already mentioned the ways to check their status via an Instagram search. Another solution – the list of banned hashtags, presented by Instagram. Don't forget to go through the comments as well. On the whole, it is better to stop including hashtags in comments at all. It increases your chances of falling under a short-term shadowban.
Don't get too excited if this helped the account to get back to normal. In case you want to use any "unknown" hashtag, it is better to check up on it first. Thus, one will be able to stay out of the shadow zone and consistently grow the business.
2. Take a Short Break from Instagram
Crossing Instagram out of your daily routine for several days can considerably facilitate a Shadowban removal. This applies to likes, comments, and even logging into the app itself. The average amount of time required for social media cleaning is 48 hours. To improve the chances, one can extend the length to 72 hours.
After returning, it is advisable to follow the terms of service and other rules 100% of the time. Some also note that minimization of activity (i.e., liking posts or leaving comments) for some time can also help to fix the Shadowbanning issue.
3. Report Your Shadowban to Instagram
Even though Instagram is known to be pretty difficult to contact, reporting a problem can lead to a certain result. The best way to do so is via the app itself. Any device is suitable. One must go to the profile section, click the cog icon in the top right-hand corner and find a button "Report a problem" from the list. (Scroll down, as it is at the end of it.)
The best description of the Shadowban problem is "something isn't working". After choosing it, one will be allowed to describe the problem so that the technical support can get a better grasp of it. It is essential to remember that Instagram doesn't officially recognize the problem itself. Therefore, it would be useless to complain about an engagement downfall or any other metrics. One of the best descriptions is a posts non-categorization according to the used hashtags.
Anyway, this procedure can be done multiple times, so one can have a plain field for experimentation. Remember that there will be no quick reply if any at all.
4. Switch from a Business Account to a Personal Account
Switching back to a personal account can be considered a rather controversial solution. There no proof of its effectiveness; however, some users around the web claim that it works. The potential reason for that is that a business account automatically implies the role of a marketing tool and, consequently, means gaining profit.
Some people say that since Facebook has acquired Instagram, social media started to focus on extra monetization. Business is a primary resource. A popular way this gained its place throughout Facebook is through paid advertisements. The ability to constantly expand the auditorium and increase the level of engagement, with the existing non-paid way, is limiting the potential ad customers. Therefore, one may assume the roots of Shadowban emergence.
5. Avoid Being Reported by Other Users
Although it is not easy to get connected with an Instagram representative, their technical support is rather responsive. Not to replies, but to complaints. Obviously, it is about the user's reporting. This is a sure sign that something is wrong with your content. Mostly, one gets reported because the posts are inappropriate or spamming.
To avoid this, one must strictly follow all of the social media regulations. They can be divided into two categories: terms of service and community guidelines. To put it in a nutshell, the content must be genuine, non-offensive and appropriate (i.e., without any form of harassment, exposed sexuality, etc.) This regulation also spreads to the ways of growing the account. It means that only manual and consistent options will keep the account out of trouble.
Being reported doesn't always mean that the account history is destroyed. Still, the fall in reach, engagement, and other metrics is guaranteed. In a more severe case, one can lose everything forever.
List of Banned Instagram Hashtags
The first list of banned Instagram hashtags was published in 2018. Before, all banned hashtags had to be checked manually via a search, as has been mentioned above. The lists cannot guarantee 100% quality. It doesn't mean that the compliers made a mistake. The reason for this is that the hashtag ban can be temporary.
The lists may seem too diversified. It includes one of the most common ones like #alone, #always, #italiano, #popular, etc. A lot of them are connected with a sexual topic or such mainstream Instagram themes as #likeforlike.
Here, one can review the up-to-date list covering Instagram banned hashtags.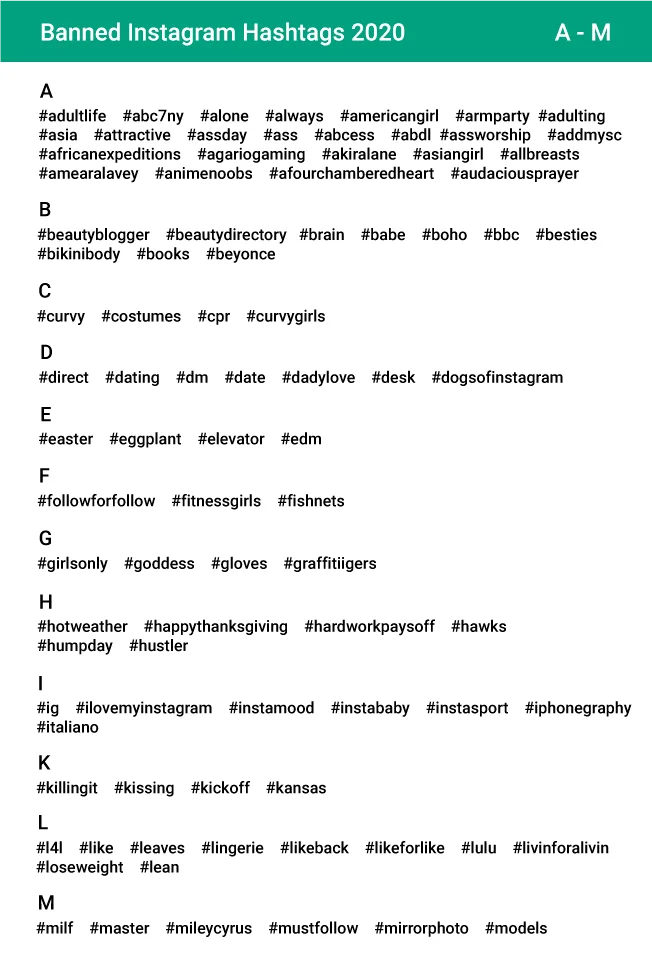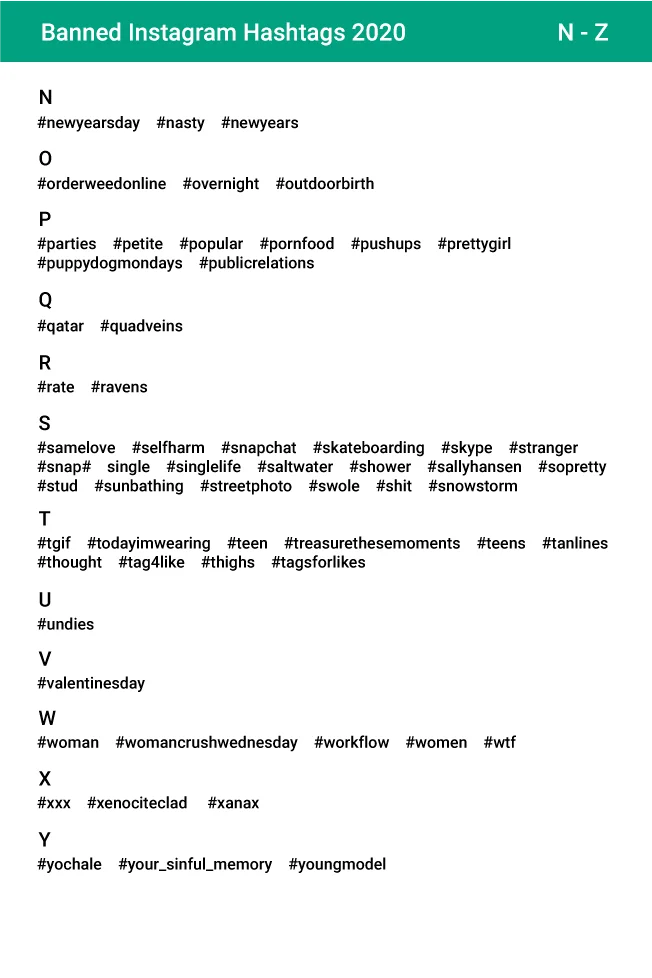 Other Social Networks Shadowbans
The term "shadowban" gained popularity among all social networks. Such giants as Twitter and Facebook, have significantly suffered from several accusations related to this matter. Even though none of them have confirmed that they apply shadowbans, there were several publications regarding the change of algorithms.
Twitter has announced that a special ranking was applied in order to get rid of all the "bad-actors". This mainly covers content authenticity and how accounts are being used. Facebook, in its turn, is suffering from a vast number of published news. In an attempt to detect false ones, some random accounts were banned as well.
They claim to rely on users' reports and fact-checkers. However, both can still put limits on engagement and reach if the account has been too active or has violated any regulations.
Youtube is known to implement shadowban as well. Apart from traditional banning because of a failure to meet the regulations, this social network is shadowbanning certain comments. In this way, they are marked as spam and appear only to the author and video owner.