IGTV or Instagram Television allows you to diversify content on your account and attract new audiences. We are going to tell you how to run an IGTV channel on Instagram and how to make it useful for your business.
What IGTV is and why brands need it
Technically the IGTV format is similar to YouTube or conventional television programs. IGTV resembles Stories that users are accustomed to, but with advanced features:
it allows sharing videos of up to 1 hour with verified accounts (with a verification tick by Instagram), and up to 10 minutes with other users;
it makes it possible to share more information in one place, not having to break the video into several separate 15-second clips;
provides an opportunity to add a headline, as well as description and hashtags to increase reach;
videos can be both full-size vertical or horizontal – it is up to the user.
Even these will be enough to increase reach and user engagement.
Over time IGTV became so popular among users that Instagram issued a standalone app for watching and posting videos on this platform. The app is available for iOS and Android.
How IGTV works
As soon as the user opens the section through the standalone app or Instagram, he can see the main feed with IGTV videos. The first ones are promoted or popular videos, followed by new videos from the accounts the user is following and then recommended materials.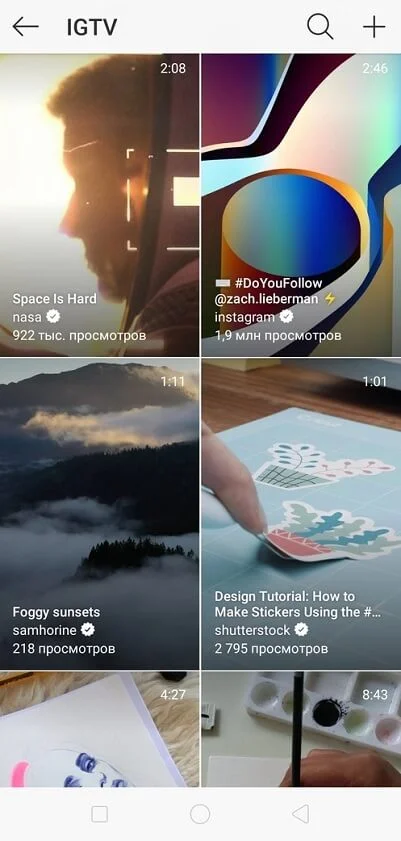 Just like in a traditional feed, clever algorithms are used on IGTV for video recommendation. That's why the "Instagram TV" section will look different for every particular user.
You can always view any available video fully, fast forward it, give it a like, write a comment or share it. There is also an option to "Show fewer videos like this" in case you are not interested in this particular post.
Detailed navigation:
If you swipe up on the main page, you will see further recommended videos and the latest videos by the channels you are following.
If you swipe down on the main page, you will refresh the recommended videos.
If you click on a video, it will start playing.
If you click the heart button or double-click a video, you will give a like.
If you click the dialogue, you will open the comments.
If you click the plane button, you will share the video.
If you click the three dots, it will allow you to copy and save the link, as well as to report the video or to ask Instagram to show you fewer videos like this.
If you click "Up next" or if you swipe up while you are watching a video, you will be shown next recommended videos.
If you scroll left/right, you can choose a video from the "Up next" section.
You can watch a particular user's long videos directly on the main page of the account. When you open a user's profile on Instagram, by default you will see a user's feed with photos. If you click the IGTV icon to the right of the feed icon, all the uploaded videos will open, if there are any.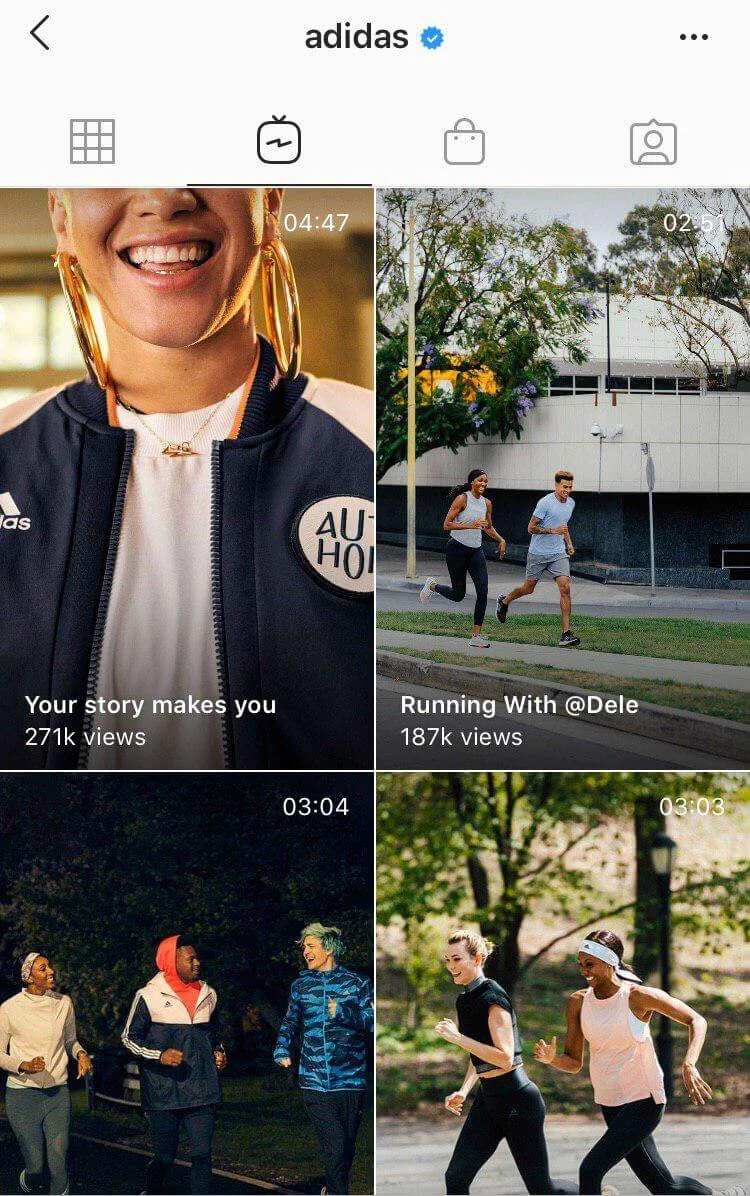 What is the use of IGTV for businesses?
IGTV channel creation will allow a brand to attract a bigger audience, spark interest and share interesting and useful information about the company.

IGTV benefits for businesses
Diverse content
Instagram Television allows showing the user more interesting and useful material, than conventional video clips in posts or stories. At the same time, it doesn't redirect a person to different platforms, hence the user spends more time viewing content on Instagram itself.
Durability
Unlike Stories that are deleted after 24 hours (if you don't save them as highlights), IGTV videos are always available for users. They can be viewed directly from the main account of the brand.
Analytics
Integrated tools for analyzing video efficiency make it possible to understand the audience and offer interesting content. IGTV doesn't only provide general engagement statistics (impressions, likes, comments), but also evaluates audience retention. Thus, it is possible to understand when people stop watching your video.

Some drawbacks
Poorly designed search
As of this writing, it is difficult for users to look for videos of their interest. Currently, the search engine only works well with the words taken from the description of the main profile on Instagram. IGTV videos are ranked according to the subscriptions and earlier watched videos. Videos marked "trending" by Instagram might not necessarily be relevant for the user, trending videos are just videos with a high number of views.
It requires more content
It is another section on Instagram that requires shooting separate videos. It means that now brands, SMM-agencies or bloggers will have more work to do. It is good if the account has lots of information that it can share with its users. In this case, IGTV is a natural continuation of one-minute videos in posts or stories that already can't store all the interesting activities. But it is better to think twice before setting up IGTV just "to have it".
Constant reminders
Not all users watch IGTV. Some of them may not even know that a certain brand or blogger has an IGTV channel until they accidentally see a video. You need to constantly remind your followers about IGTV videos and stimulate interest in this section. Pay attention to our advice on how to create and run IGTV and how not to give it up.

The new format opens the unlimited potential for big brands and owners of small businesses. You can attract users' attention and hold it not only with the help of new videos but also by skillfully using existing ones. Thus, for example, Gucci has uploaded videos from old shows onto IGTV and received hundreds of thousands of new views.
How to create an IGTV channel?
Click the

icon on Instagram and open the IGTV app. An IGTV channel will be created automatically as soon as the user uploads their first video. The channel description will be taken from the corresponding field in the users' Instagram profile.
IGTV format requirements
Videos from 15 seconds up to 60 minutes;
9:16 or 16:9 video format;
file type: MP4;
size: up to 3.6 GB;
cover photo size: 420х654 pixels (1:1,55 format).
Please note. According to upload video requirements for IGTV, the maximum length of your video is 15 minutes, when uploading from a mobile device. Videos with a length of up to one hour can only be uploaded from the web version. You can't edit your cover photo after you've uploaded it. We recommend reading the IGTV guide before creating a channel.
A correctly uploaded video can be shared as a regular post. It will include the first minute of the whole IGTV video. Such a post will be marked with a special symbol in the top right corner, where there is normally a sign for a carousel or a standard video. The video itself will have an active link "Watch full IGTV video" that will redirect a user to the original video.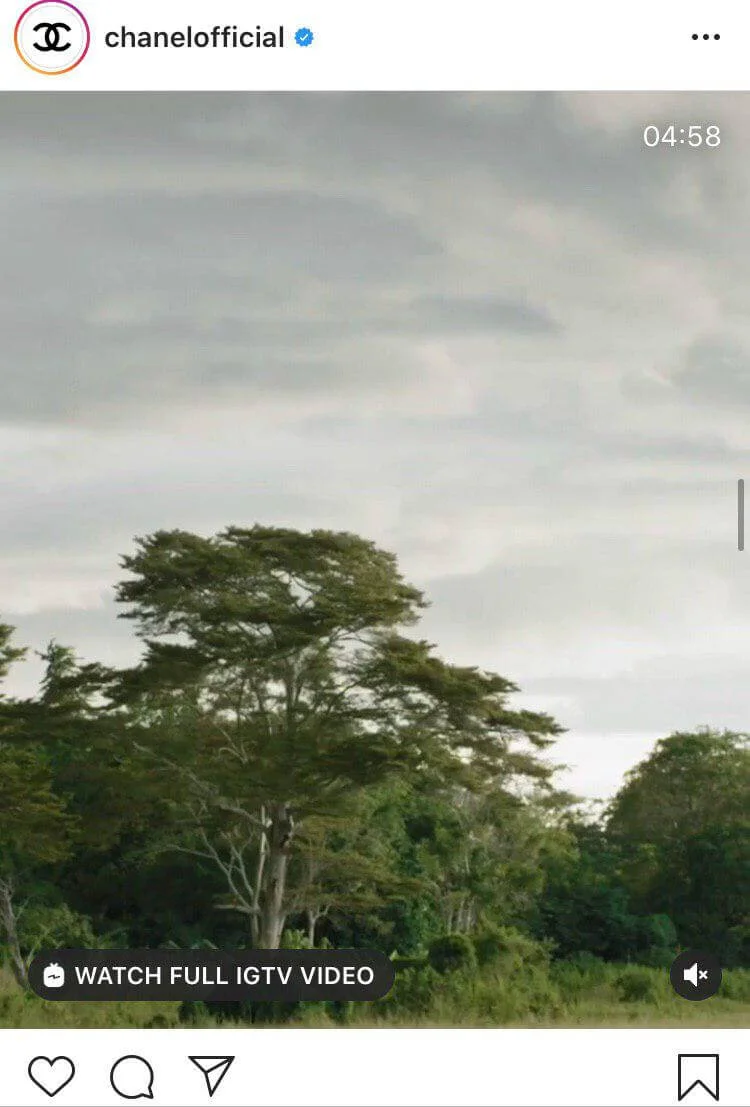 Examples of successful IGTV channels
Nike
The international sportswear brand actively uses Instagram for promotion. As of this writing, Nike's account is followed by more than 93 million people. They are famous for their quality advertising campaigns, interesting collaborations, and various sporting events.
On IGTV the company publishes short promo videos with real sportsmen, who tell their inspiring stories. Some videos are themed by a single motto and are parts of the on-going off-line campaign. For example, at the beginning of 2019, Nike has uploaded a series of videos with a motto "Fight For Your Dream". The advertising campaign was about sportsmen who were doing different martial arts and about their success along the way. Then there was a campaign "Dream Crazier" where people share their, at first sight, unachievable dreams. Some of their recent videos were brought together by the slogan "Don't Change Your Dreams". Each of the videos duplicates the background voice in English. It is quite convenient for many users because it allows watching the video on mute.
Nike videos get millions of views. In its videos, the brand doesn't highlight new models of trainers or sportswear. They publish videos that inspire people to new sporting achievements, and by doing this they build a strong association with the brand. That is why their videos are so popular.
Gucci
The IGTV channel of this famous brand that we have already mentioned, is a real fashion show directly on your phone. The Gucci account is currently followed by 36 million people. Gucci upload videos from new collection shows, announcements of new products and strikingly beautiful promo videos.
Though, some of their videos are not always made according to IGTV standards. Mostly, they are fashion stories that were shot for YouTube. The classic recommendable format for IGTV is a vertical video 9:16. But many users upload horizontal videos. Gucci does it as well. However, it doesn't stop them from getting thousands of views and attracting the attention of IGTV users.
Pottery Barn
The company that specializes in home furniture and décor production publishes quite a few videos on IGTV. All of them are shot specially for Pottery Barn and introduce many life hacks. These will prove useful for a person who wants to keep abreast of home design trends.
For example, there are videos on how to choose a wine glass or 5 ways to decorate your wall. They are all shot in the same style and non-intrusively advertise the objects that can be bought in Pottery Barn. It is a good example of product integration into useful content for users.
Airbnb
This online marketplace for search and booking of accommodation around the world is popular on social networks. It is followed by almost 4.5 million people. Airbnb is famous for offering rooms and unique apartments for hire from locals, instead of traditional hotels.
On IGTV the company posts various content. It can be inspirational travelling videos or interviews with real "hosts" (people, who rent accommodation out and host guests).
Moreover, Airbnb shows on IGTV real examples from the "Airbnb Adventures" section. There, a traveler can find and book one of the hundreds of activities close by. For example, a yoga class at dawn, a homemade pasta workshop, a private tour and so forth.
Cosmopolitan
The magazine about style and the modern world is published in many countries across the world and has always tried to keep up with fashion. Almost 3 million users follow Cosmo on Instagram. The brand actively runs its IGTV and posts interesting entertainment and educational materials.
For example, there are many video interviews with models from the cover that are all titled "Under the covers", where they tell about themselves and answer tricky questions like "Do you prefer to sleep alone or to cuddle up?".
The body positivity movement has also had an impact on Cosmo, so now you can see not only stars but also ordinary women who talk about their everyday life. For example, a fair review of strapless bras and whether they are comfortable in everyday life or not.
All the videos are similarly styled and look bright and vibrant, which corresponds to the media image of Cosmopolitan magazine.
Personal brand promotion on IGTV
IGTV is not only useful when developing a business, but also for a personal brand. Thus, many public figures often post videos about their life and work.
For example, famous chef Jamie Oliver uploads on IGTV videos where he shows the process of cooking his own recipes, tells about his new book and shares his cooking life hacks.
Jimmy Fallon, the host of a popular American show "The Tonight Show Starring Jimmy Fallon", posts on his page funny moments from different shows that get millions of additional views.
The band "Metallica" cares about fans who have never had a chance to visit their concerts so they upload professional recordings from their previous shows.
Streaming service and series production company Netflix posts various videos starring actors from their top projects: from backstage videos to focused interviews.
How should businesses run IGTV
1. Make a content plan and follow it
Posts planned in advance will help you to stick to channel promotion and constantly spark users' interest in your new content.
2. Publish relevant videos
Make your IGTV channel and content in your account coherent. Upload new videos that are relevant to your current and recent posts. Don't forget to announce them in Stories.
3. Use unique content
Publish material that users can't watch on any other platform if you blog on several ones. It is not the best idea to duplicate videos from YouTube, though many brands do so. Less popular accounts should be promoted on IGTV with the help of unique content and different types of videos should be tried out. For example, interviews, tutorials, product displays, recipes and other topics relevant to your business.
4. Be lively!
Live streams, interviews, questions, and answers – it all works well on IGTV. Videos shouldn't be of the best quality, because Instagram users are used to the format of Stories that are often filmed live and without editing. Similarly, you can always upload a video that is shot hand-held or on a tripod in an everyday setting with a minimum of retouching.
5. Engage in a dialogue
Respond to comments and likes on your IGTV channel in a timely fashion. Users love getting feedback. Ask your users for their opinions about your new video in your Stories, find out what they would like to see on the channel and how they like this format.
6. Analyze your statistics
Find out, how users react to your video when they stop watching or start fast-forwarding it. It will help you to understand your audience, review your video creation approach and offer your audience new interesting content.



We hope that this article helped you to understand the peculiarities of IGTV and inspired you to create your own channel if you still don't have one.
If you are still not ready to film long videos, our complete guide to Instagram stories might be of help for you.