How to gain followers on Instagram is a question that interests business owners, novice bloggers, and marketers. The algorithms of the social network are constantly changing. Ways that helped before don't work anymore and can even be harmful. Thus, mass liking and mass following are quite questionable methods to attract your audience, however, there are certain nuances to consider.
In this article, we have collected recommendations that bring results in 2021.
Why You Need to Get Followers on Instagram
Goals may differ for personal and commercial accounts, however, the ultimate motivation almost always comes down to financial gain. Bloggers seek to gain as many followers as possible to become popular, make useful acquaintances, and sell advertising services expensively.
Even with a few thousand subscribers, you can make good money: as a rule, nano- and micro-influencers have a more loyal audience that tends to trust recommendations. This is known to marketers, so cooperation offers come from them regularly. If the number of subscribers reaches hundreds of thousands, the cost can go up to $1k for a series of Stories and up to $1.5k for a post - not in every case, but such rates do occur. Of course, advertisers are looking not only at the number of subscribers, which may turn out to be cheated, but also at profile statistics, popularity level, and other indicators.
Millionaire bloggers are major influencers. Global brands of cosmetics, household, and professional appliances, video gaming, and automotive industry, IT companies, banks, and so on cooperate with them. The cost of a single integration runs into hundreds of dollars.
With the help of an Instagram account, various specialists, e.g. psychologists, fitness coaches, and others - promote their personal brand, achieve recognition as experts. This allows them to mass sell their services and products, such as books, personal-branded sports drinks, beauty products, and running paid marathons.
Commercial accounts expand the audience of potential customers and increase sales. Online stores, marketing agencies, and web design studios can get bids directly in Direct, but it's applicable offline as well. Restaurants and coffee shops, construction companies, design and repair of apartments - business is more successful with a promoted account.
Creativity is also promoted through Instagram. Along with the number of followers grows popularity and the chance to really hit it. An aspiring performer can be noticed by a producer or a popular musician and be offered cooperation.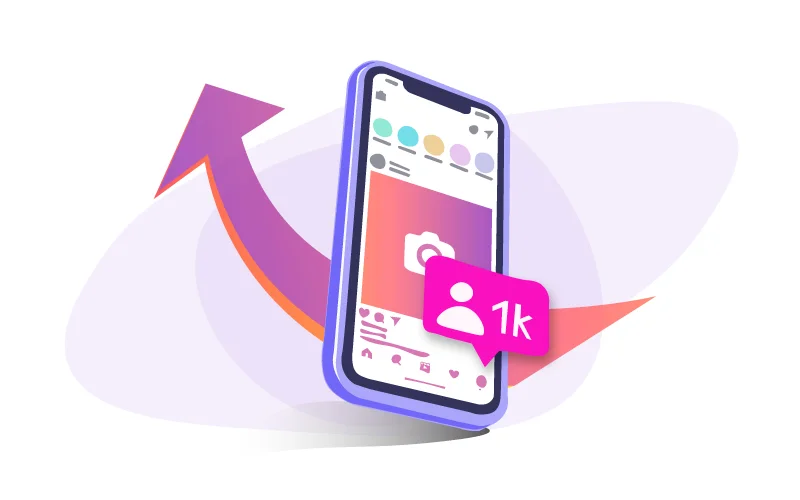 Attracting an Audience. Preparation
Instagram Account
Before you lead people to your account, it's important to work it through. In your commercial account, provide a clear nickname related to your business. Add a profile pic that shows who you are or what product/service you represent. Then add a short description that will explain what your brand is and what benefits you bring to the world. If you have a website, add a link to it.
On Instagram, it's the system that counts - details that work cohesively in a big mechanism. Decent design, competent filling of information, using all the tools that Instagram offers, e.g. pinned Stories, IGTV, tags, branded content, and so on.
All elements of the page should blend in style with related items and send magic vibes to your followers… JK! In fact, they should clearly represent your business. Be clear and pleasant to your target audience.
We all like nice-looking Instagram accounts, don't we? The same goes for buying from a business that offers solid brand packaging. Conciseness, naturalness, and a wild vibe permeate every element, from a brief page description to a photo processing style and high-quality content.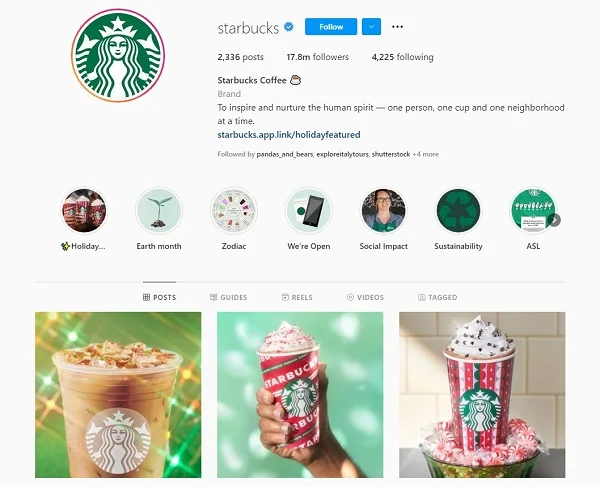 Content Plan
Even if you (or your copywriter) are truly brilliant, in a month or three, there will come a time when you run out of ideas and products to showcase. And you will still need to go live just as regularly. That's why you need a strategic content plan. It's not just a set of ideas from the Internet but a sales system that works through your text. Create a plan for at least a month in advance. Ideally, three to six months.
Depending on your sphere, serious or entertaining posts are more preferable. However, sometimes you still have to alternate. For example, for a law firm, the main share of publications is case studies and FAQs with professional lawyers.
By the way, if you only intend to start your own company, we recommend you pay attention to LLC. Having studied the issue in more detail, you will understand why this form of business organization is more profitable for business. With an LLC, you will have no problems with tax filing, bureaucracy, and paperwork. An LLC implies flexibility in decision-making and a more informal type of business management.
You can dilute all this seriousness with a selection of stupid laws from different countries or curiosities from your experience.
Post high-quality content and stick to the same style (or at least use the same filter). Once you feel that your account looks great, create your promotion strategy and launch it.
What to Post
Lots of stuff! You want to get inspired and generate ideas, lots of ideas every day for your Instagram content. The most important thing is that all of your posts should be positive. Most Instagram users have already formed their feed and are used to seeing positive stuff and feel well because of it. So they are looking towards more positivity.
We guess that there are enough problems and "pains" in everyday life. On social media, people want to relax. So why don't you provide them with such an opportunity?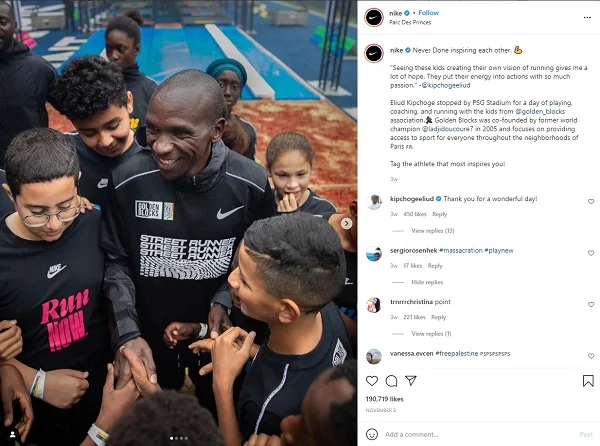 Frequency
As a matter of fact, frequency, on its own, is not that important - it's all about periodicity, in fact - every day or three days. If you post once a week, then stick to your schedule and post once a week, on the same very day. Remember that posting gaps are captured by algorithms and reduce organic reach.
U for "uniqueness"
Talking about unique posts we mean their naturalness, as well. Real product photos sell better than lined-up stock pictures. Galleries get less coverage, videos, on the contrary, - more + they also generate live emotions, which is always good for any business.
Unpacking videos from customers show even better results since they combine social proof and motion, which are more likely to catch our attention. But it all has to be unique, just like website content, to get indexed properly and get more views.
Visuals
Consider your brand style. You can, of course, use filters, but that's a bit out of date. Endless feeds are also gone. These days, block design is trending - a post with 9-12 photos from one photo set or location. You can check @brunellocucinelli_brand for an example.
Play with colors and shapes, use one, preferably inactive, background for your photos. You can experiment with your design, take multi-layered photos, alternate close-ups, far-ups, and macro. Alternatively, a classic chessboard style never gets old. The same goes for light colors.
If this all seems too complex, exhausting, or unbearable to you - order a set of neutral templates from a professional designer. It's not that expensive and it comes in handy when you don't have enough product photos. You can also use Instagram video editing tools for your content.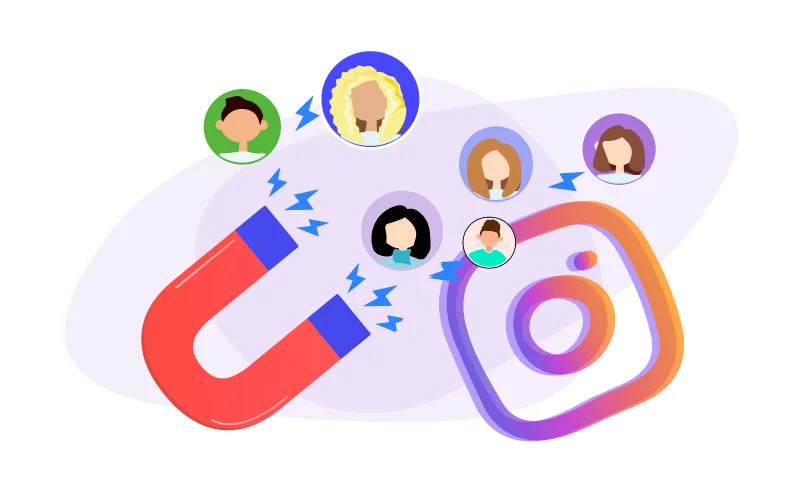 Ways to Get Followers on Instagram
Let's figure out how you can grow your target audience in more detail. Take a look at the main ways to attract customers to your Instagram account below.
Friends and Acquaintances
A small audience can be gained through your surroundings. Ask your family and friends to subscribe to your account and mention it in their Stories - chances are that someone will get interested enough to check it out. Word of mouth is still a powerful tool, especially when it comes to the beauty, dentistry, and event management industries.
Commenting
Commenting is a great way to get your first 1000 subscribers for free and represent yourself on the pages of other users.
Make a list of influencers that your target audience is subscribed to, who have good engagement in their posts. Choose topics of interest to you and leave comments under the posts.
The more often you write, the more interesting your opinions, the more people will click through to your profile and subscribe.
Remember, you should comment on a regular basis and in no way insult anyone to avoid a negative reputation.
TikTok
When creating a post or video, cross-post to other platforms. This way you can increase your reach and make your Instagram account known on other platforms. We highly recommend paying attention to TikTok - this platform is constantly showing rapid growth, and you can still use it to promote for free.
TikTok has long ceased to be a social network for kids and teenagers. Businesses are coming to TikTok since it provides an opportunity for organic promotion with a huge and growing solvent audience. Correspondence in private messages here is only available with friends. That's why there's usually a link to Instagram in the header, which interested users follow for more information and subscriptions.
Newsletters and Messengers
If you're in eCommerce with a customer base, make sure you send newsletters to emails and messengers. Add icons at the end of each email with links to social networks, add this point in your template. You can send a separate newsletter that will let everyone know about your Instagram account. There are plenty of handy online services for quality email marketing. All of them have useful features, including an email template builder, advanced analytics, and chatbots for different messengers.
You can use newsletters to remind people about yourself. To avoid ending up in a spam folder, make sure your emails always contain useful information - tell your subscribers about promotions and innovations.
Show Your Products
Turn your Instagram account into a storefront - invest in creating professional photos. When you take a picture of your custom cake with your phone, it can, of course, look beautiful. But when you hire a professional photographer, the cake not only looks good - your customers really want to buy it. Feel the difference.
Other than that, try to give your audience a reason to smile every day. It's good if entertaining photos are related to your business. Did your customer service manager spill coffee on his keyboard? Show your users that your staff tries not to leave a single request unattended, so they can't even take a 5-minute break.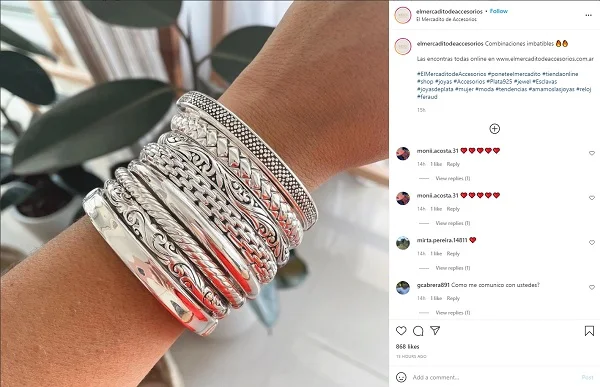 Collaborative Live Streams
Regardless of the number of subscribers, turn your attention to co-hosting live events. As co-hosts, choose people whose accounts are more popular than yours. It's important that the direction of the channels be similar (or close) to your blog. This way you can make yourself known and attract a new audience.
For live streams, you need to choose a conversation topic in advance, as well as discuss all the nuances of the stream. Try to choose topics that you feel you are an expert in. It's enough to stream once a week. Just make sure you have an interesting person for your live broadcast.
Hashtags
Hashtags are one of the easiest ways to promote with no material investment. Yes, it's still a working method. Proper hashtags will increase your reach and help get your post into the recommended ones. There's no need to cheat people and add every hashtag you can remember - only relevant to the topic.
Hashtags help users quickly find posts on the same topic, so with the right hashtags, you can increase the reach of your publications.
The smaller your profile, the more low-frequency queries should be used. To choose a hashtag, enter a keyword into the search box, and Instagram will show the frequency of the query. The number of hashtags can be up to 30. You can add them in the post or in the comments section. The second option is preferable.
Hashtags are divided into three groups according to the number of uses. High-frequency hashtags are used in 100 thousand or more posts. Such posts quickly go down, and the reaction will only come from bots, so there's no point in using them often. Sometimes you can, though.
Medium-frequency ones have between 50,000 and 100,000 posts. They are needed so that Instagram algorithms can identify topics and recommend your blog to users. Such queries are longer and more specific. Tags like #loseweightwithnoharm, #living china will give you a better chance of attracting subscribers than #losing weight and #travel.
Low-frequency hashtags are less than 50,000 uses, with some estimates being less than 10,000. Often, they are highly specialized, and people come in with a specific purpose. In this case, not only can you get a subscriber but also a new customer.
Combine medium- and low-frequency tags: the former - to expand your audience, the latter - to find customers. Don't repeat yourself in every post to avoid getting caught by the spam filter. The optimal ratio is 40-50% for medium-frequency, 20% for low-frequency, no more than 15% for high-frequency, the rest is geotagging and branded tags.
You can find the necessary hashtags manually through an Instagram search or use special services like Hopper HQ.
Additional Channels
Put a link to your Instagram account on all other social networks where you are present, and on your website, if you have one. Since the link may go unnoticed, write and anchor a post, tell a story, ask for a repost - do whatever it takes to get noticed. On your site, add information on the home page with a call to action.
If you're blogging, add a link at the end of your article. The same goes for extensive reviews of movies, TV series, or video games, as long as it coincides with the topic of your Instagram account.
Influencers
Advertising with influencers in Stories or posts is still a working method of promotion. However, it's important to choose the right one so that there's no fake engagement, and your target audience subscribes to the influencer.
Choose influencers with topics similar to yours. You can Google them yourself or use various online services like Heepsy.
Collabs
Collabs happen when several experts with similar topics get together in a kind of collaboration: they create a common account, invite their followers to subscribe, and provide their audience with some useful insights.
Collabs increase and sell your expertise, therefore, making your brand more recognizable and increasing your credibility.
The advantage of Instagram collabs is that they attract a large number of subscribers at a low cost. Be sure to include expert opinions, invite guests who can teach viewers useful things. The cost of advertising a marathon is usually shared among all the speakers.
Mutual PR
Mutual PR is the easiest way to promote a blog with a partner and increase the number of your subscribers.
You mention a blogger or an influencer in your IG Story or post, and he/she recommends your account, in return. This is how you exchange your audiences. Choose accounts with related themes or the ones similar to yours, and check if they have the same number of subscribers. Otherwise, the exchange is not going to be fair.
You can use hashtags #vp, #mutualPR to find posts whose authors are ready for mutual PR.
Geotagging
A geotag is an indication of a specific location that your mobile device identifies.
If you travel or visit interesting places, you can put such tags to attract those who are curious about it. Users don't often search by geotagging, but we advise you not to ignore this opportunity to get subscribers. Geo-location tags are more useful if you have an offline business in a particular area or need to get the attention of those living nearby.
Generic hashtags-names of cities don't make sense to use, only if it's a very small town. Be specific, but do not complicate it: "#nailsinla," "#tireshopinseattle" will do.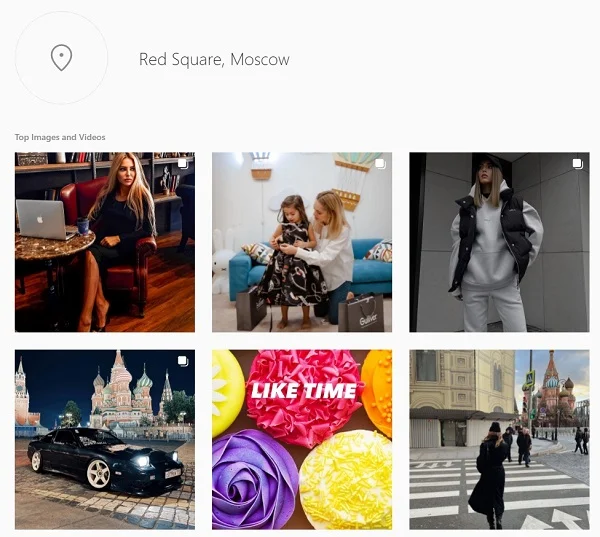 Targeted Advertising
We are 100% convinced that official Instagram/Facebook ads are the most important and effective method of promotion. Only with its help, you can systematically bring customers and subscribers to your blog. Provided that the advertising campaign is set up for the right audience, the account is well-designed and contains quality content. Targeting can be very costly but it surely pays off when done right.
Before you start, make sure that your Instagram account is well-designed and will be able to interest your target audience. The recommended minimum number of posts is 9.
You can set up your ads with the help of experts or by yourself through your Facebook account and the "Promote" button in the app on your phone.
Even with a minimum budget, you can get results but try to allocate a larger amount. Test hypotheses, create more content, track metrics, and turn off ineffective ads and campaigns.
As a last resort, you can set up targeting on your phone directly on Instagram, but the hit will be fuzzy. Run ads from your Facebook account - there are more options and detailed statistics.
Sometimes, Facebook blocks ad accounts or campaigns for violations that didn't actually happen. This is a disadvantage - even an experienced targeting specialist may be powerless, and tech support is of no help.
If you are not confident that you can handle the setup yourself, use specialists. You can find them in recruiting services or freelancing exchanges, in thematic communities, LinkedIn, WhatsApp, Telegram channels, or on job search sites. Read reviews, see cases, and work on a contract.
If you decide to promote your posts, choose ones that immediately make the blog's focus clear and show your strengths. The image should attract attention and not evoke negative emotions. You can make a reference to your previous posts. Post as a follow-up in such a way that users want to come to your page and find your previous posts. Promise more details in the next post to encourage them to subscribe.
See what kind of post a financial expert chooses to promote: it should be a relevant topic, eye-catching text content, emphasized accessibility, regardless of financial literacy level, and getting straight to the point using clear comparisons. Such a post motivates users to visit the account, check the mentioned Stories, posts, etc. High-quality content in an Instagram account does not spoil the impression of a good promotional post, and there's a high probability of subscription.
After launching targeted ads, when you have a few hundred subscribers, publish a welcome post with a story about yourself.
Instagram for Business
The Instagram for Business blog provides tips on how to use the network to promote your project. You'll also receive notifications about new features and examples of successful use of Instagram by established brands.
Summary
Finally, let's run through the basic steps of promoting a business on Instagram one more time:
Preparation: analyze your target audience, determine that this social network is suitable;
Identify your promotion goals and plan the budget. A comprehensive promotion will require 4-6 months, at least;
Conduct competitive analysis and find out who your competitors are on Instagram and how they work;
Build a sales funnel. Decide how to handle the traffic. In all projects, we use a single sales funnel strategy, which we adapt to a specific task, depending on its specifics. Divide the work with traffic into three stages: for cold, warm, and hot audience segments. Working with traffic always includes three stages: attracting and engaging ("cold" traffic); warming up ("warm" traffic); selling ("hot" traffic);
Develop a content strategy. Determine what content you'll post to meet your objectives. According to the sales funnel, content is divided into three groups: engaging, warming up, and selling. Each unit of content should work at a certain stage of the sales funnel. The specifics of promotion in Instagram is that the content strategy includes posting and Stories. Stories are interactive + they engage users well and increase reach;
Develop a metrics system to analyze promotion effectiveness. To track the effectiveness of working with cold audiences, look at how much it costs to display, click, subscribe, and what the conversion is at each stage. To assess how the audience perceives the content, count the number of audience reactions. We count both the total number of likes and reposts, as well as relative measures (ER, LR, TR, etc.). To evaluate "hot" audiences, count the number of leads, sales, conversions, and the cost of action at each stage. The same goes for tracking the numbers of the sales funnel - do it regularly and adjust your strategy promptly;
Process your social media requests in a quality manner. On Instagram, promptness and completeness of answers to users' questions are crucial.