Pinterest keeps expanding. Telegram is bringing good old forums back in a new format. In our article, you will find last month's news on social media.
Telegram
Forum revival
Groups with over 200 members will now be able to create separate chats within groups for discussions. For example, a channel for job offers can now create three different chats. Job offers in one channel, placing portfolios and self-presentations in the second channel, and holding conversations in the third channel.
Each topic thread will have its own notification settings and it will also support the standard tools: pools, bots, pinned messages, games, and so forth.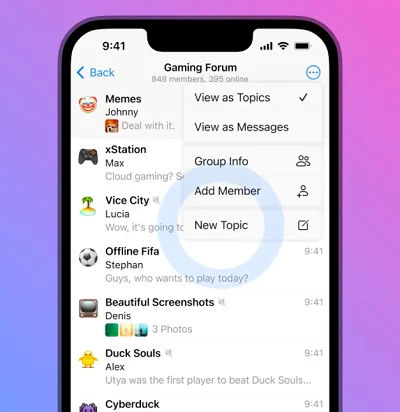 To activate a new topic, admins should go to the Group settings section, opt for the Permissions tab, and choose people who can create new topics.
Unique usernames
You can now attach a few unique public names via the Fragment platform. Users can buy and sell those as they please. People will use the gained name immediately or save it for later.
Outside the social platform, the names will be displayed in two formats — username.t and t.me/username and can be shorter than five symbols. The ownership right is secured with a TON blockchain.
Video-messaging transcription
Users with a premium account will transcribe the speech from the video to the text. The tool is like the one used for transcribing audio messages. You will need to press A next to the video.
It will allow users to find out what the message is about even if the circumstances do not let them listen to it at that moment.
New emojis
Telegram keeps surprising its users with emojis by new artists. The collections are getting more varied. Currently, there are 12 new official sets users can attach to their messages if they have Telegram Premium.
Pinterest
Pinterest has released pin support in three languages — Afrikaans, Croatian and Bulgarian. It will open new possibilities for new regions, allowing the platform to keep its growth trajectory of 2022.
'Over 400 million people visit Pinterest monthly to find the inspiration they need. With millions of pins in Afrikaans, Croatian and Bulgarian, it will be easier for pinners to discover fresh ideas in their preferred language.' —representatives of the platform say.
Pinterest is available in 41 languages, and the platform is working to extend this potential.