LinkedIn is a social network for business. So, customized content gets a much bigger response than on any other platform — highlight your account content.
Your profile should contain answers to these three questions: Who are you? How are you different from others? What do they say about you?
Trying to please each and everybody can be not a good idea. Get an image of your perfect audience and focus on that when writing anything instead. If the reader can catch what you can do for a client or partner — your account works well. A good page will get you an extensive network of professional connections that will grow into actual working relations later.
1. The first impressions are the most lasting
A LinkedIn profile is not your CV — but a great tool to show your identity and to talk to your audience for yourself. The network is about social communication, so share what you like about your work and what you are interested in besides your professional growth. But, at the same time, keep a business attitude and avoid formal style and cliches.

The title is another crucial element of your profile. LinkedIn automatically shows your current position, but you can adjust that wording and add any information manually. The title of your account is displayed right below your name — therefore, the title should be an attention-getting one.
Here are some options to make the title of your account an eye-catching one: state your area of expertise or name some well-known brands you worked with.
2. Choose relevant photos
As statistics shows, profiles with photos get much more views compared to those with no photos. A photo gets you 21x more views and requests. Use a creative photo if the area of your business provides for that. Getting a professional photo shoot is a great idea —your photo is your first visual appearance, so keep in mind the following aspects:
A full-length picture is not distinct enough for viewing, so choose a photo with a closer look;
Your head should be more than half of the full picture size;
Look straight into the camera;
Wear business-style clothing.
The background photo is also your tool for standing out from millions of other users. The company logo, a banner for the event or product presentation, a portfolio screenshot, etc., can be a good idea to put as a background photo. If your activity is not related to a PC (you are a pastry chef, a photographer, a florist, etc.), put a picture of your daily routine as a background photo.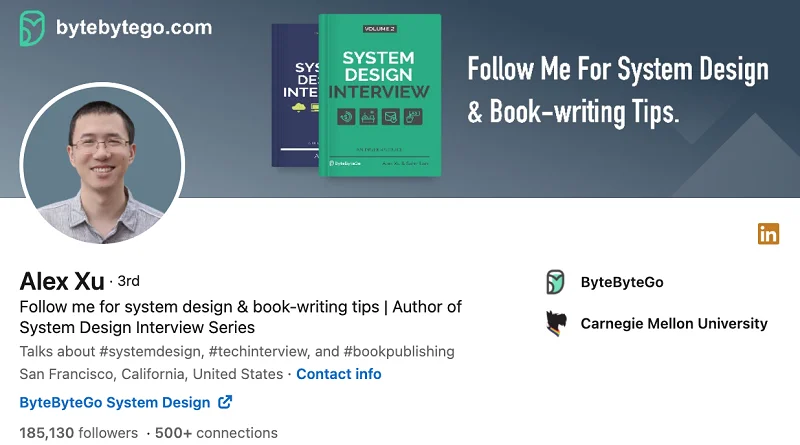 3. Tell people about yourself
Do your best in storytelling when writing your short bio, as this is your chance to share a story, to tell people about your current prospects and plans, your priorities and achievements, or to remember how your business started and what makes you proud. But at the same time, do not go too deep into details — a list of 3-5 numbered paragraphs would be more than enough even for those skimming over the text.

Here is an example of a short narrative:
Tell about your most impressive achievement supported by numbers and performance indices;
Why did you choose this area of business or expertise?
What is your target audience? What are its pain points? How do you resolve them?
What are your hobbies, interests, and other projects?
LinkedIn allows adding links to other platforms and sites — so you may share your blog, any other social media page, your portfolio, or a company website.
Display your achievements — add a PDF file with actual cases, creative works, long reads, etc. — your operational experience will heavily support your expertise in the eyes of your potential partners and customers.
4. Provide social proofs
If you are using LinkedIn for a job search, tell other users about your achievements as a process: start with a goal, proceed with 'an action,' and end with the results. Select the three catchiest, successful, or relevant cases for your business area. LinkedIn provides for telling your audience about the specifics of your work and adding details, such as budget, number of subordinates, unique aspects of your occupation, nature, and conditions of your work.
You can add skills your connections may acknowledge you for on your profile. It increases your page's credibility and raises the loyalty of your audience: ask your customers, partners, and colleagues to give you endorsements. And do not skip feedback requests from any of your connections if you know they possess those skills.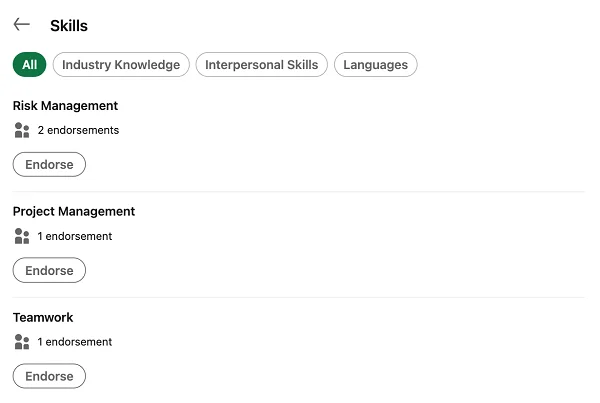 5. Increase the visibility of your page
Use key words. It will help your page to be present in search queries. For example, if you are working with texts, use terms and connected definitions (SEO copywriter, editor, or author of economic texts, newsletters, and SMM). Your page should be informative to be displayed in search queries and to raise the percentage of requests.
Make your page public. Check the privacy settings and make sure your phone number, e-mail, and other social media accounts are available for contacting you — too much hiding will not get you many chances.
Make the achievements block outstanding. Mixing texts and documents supporting your successful cases and career development is an excellent idea. It might be your certificates, patents, complete courses, your level of foreign language, any rewards, publications, etc. Recommendations from your partners and customers will prove your expertise.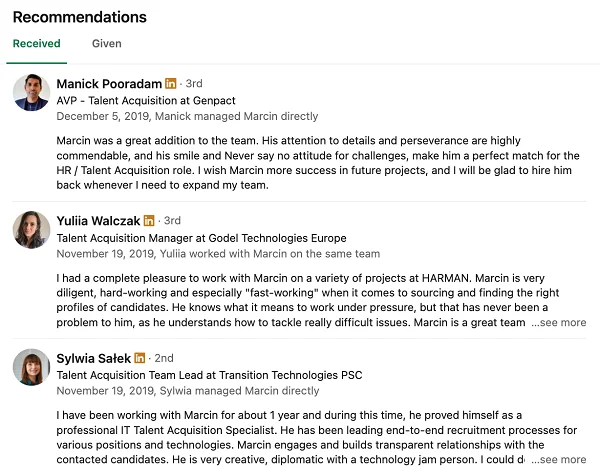 It is not just about making a credible page — it is vital to make that page active and update it regularly. In a short while, we will share how to create a content strategy for a company blog on LinkedIn.
Now, here are some examples of updates for a personal page. A review of a professional book you have read, an abstract from an article, an announcement of the event you are planning to attend, latest news of your current project.