The social network with short videos is gaining more and more popularity. Currently, it is the fourth most popular international entertainment platform. Only Instagram, YouTube and Facebook are ahead of it. We are going to tell you why it is useful for businesses and what advertising opportunities it has.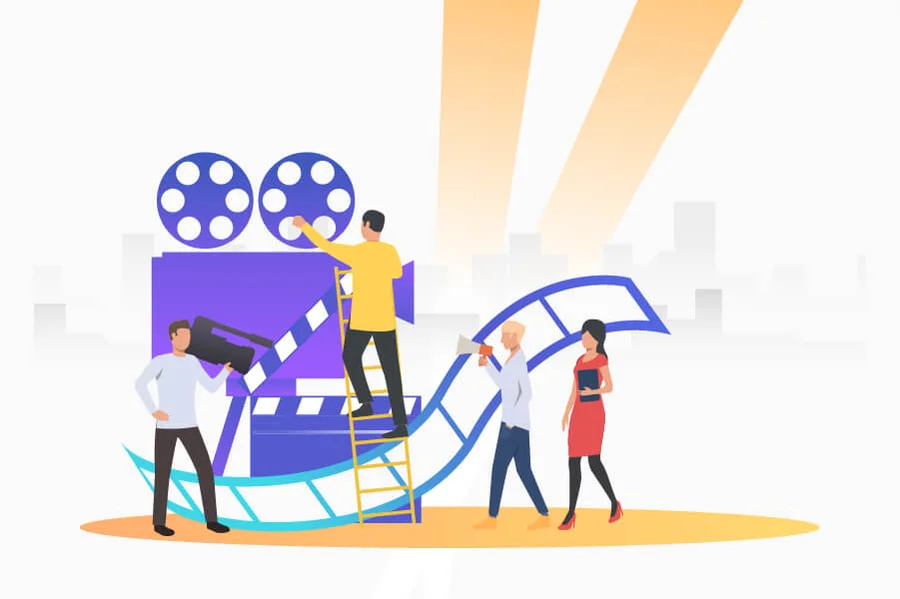 On TikTok, users exchange short videos and messages. Low-key entertainment content is preferential. Previously we wrote about the reasons why brands should get an account on TikTok.
TikTok audience
By the end of 2018, TikTok became the fourth most popular social network by the number of downloads among non-gaming apps. At the beginning of 2019, the overall number of downloads worldwide exceeded 1 billion.
Unlike other social networks, TikTok's main audience is young people under 25 or even 20 years. In the meantime, the number of users under 18 is constantly rising and minimal age is going down to 12.
The original app in China is mainly being used by men, however worldwide, the majority of TikTok users are women. On average a user opens the app 6-10 times a day and spends around 40 minutes watching videos.
5 types of adverts on TikTok
Top View
It is the big full-screen advertising that appears once you open the app.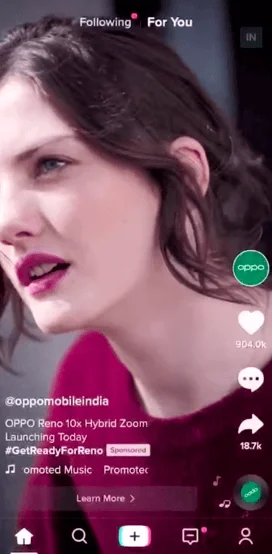 At a click, you can view an official account of the promoted brand on TikTok and carry on watching the advertising video there if it has been uploaded as an advertisement. The benefit of this format is that you can buy it for 24 hours and it reaches all the daily audiences every time they open the app.
Brand Takeover
The format is similar to the previous one, but the difference is that instead of a static screen or a video with the length up to 60 seconds there is an option to use short 5-second videos or banners. You can attach a link to the advert or an active unique hashtag.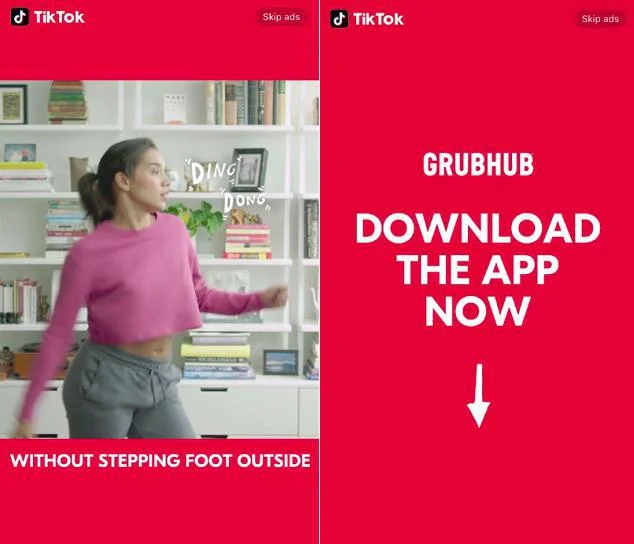 Maximum file size: 2 Мb.
Efficiency metrics: reach, tracking, views.
In-feed Native Video
This is a promoted video that appears in the users' feed when they view other videos. It contains a call for action, link or a hashtag.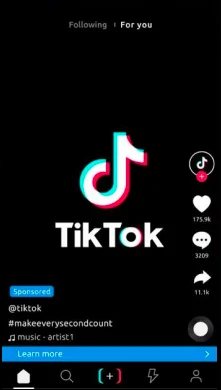 It is similar in format to adverts in Instagram Stories. You can also skip it and view the next video on the feed.
Length: from 9 to 15 seconds.
Efficiency metrics: views, clicks, impressions, engagement.
Hashtag Challenge
It is a unique advertising format on TikTok that allows promoting almost every brand natively.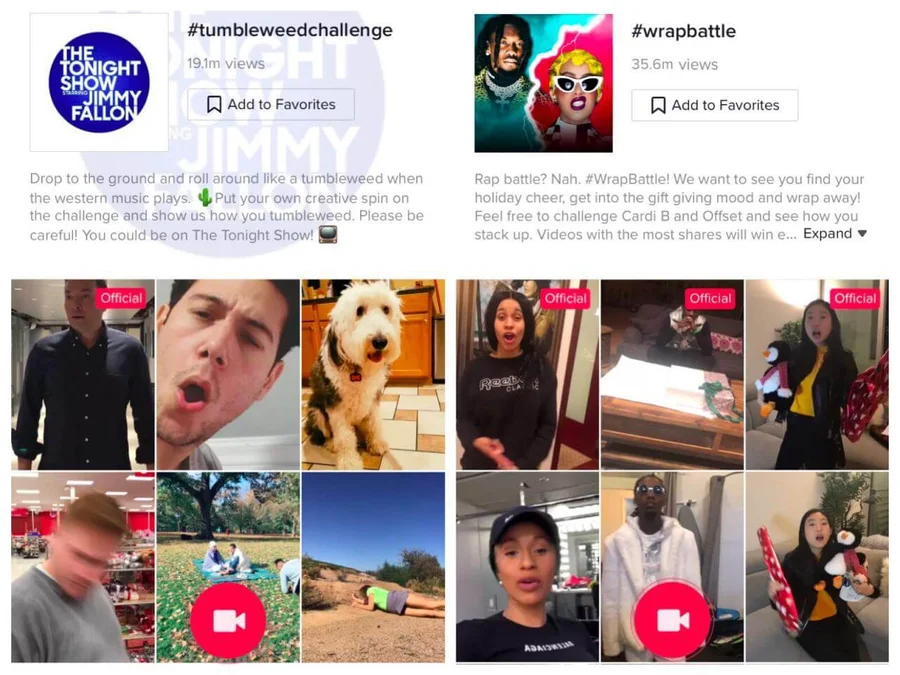 TikTok is pretty much based on hashtags. Users look for all interesting content with the help of hashtags or create their own ones by launching a challenge. When they first launched the advertising and music service integration, music challenges attached to a certain track, became very popular. It allowed promoting new releases and artists.
Now hashtags have moved to a new level. Many brands start their own Hashtag Challenges where they call participants for certain actions and ask them to upload them on TikTok with the hashtag of the challenge. Usually, according to the results of the promo activity, the brand decides on the winner and awards them with prizes.
Such hashtags prepaid by companies go to the upper banner in the "Interesting" section that allows them to get millions of views and participants.
Branded Lenses
It is an equivalent to masks on Instagram or filters on Snapchat that brands can develop exclusively for TikTok.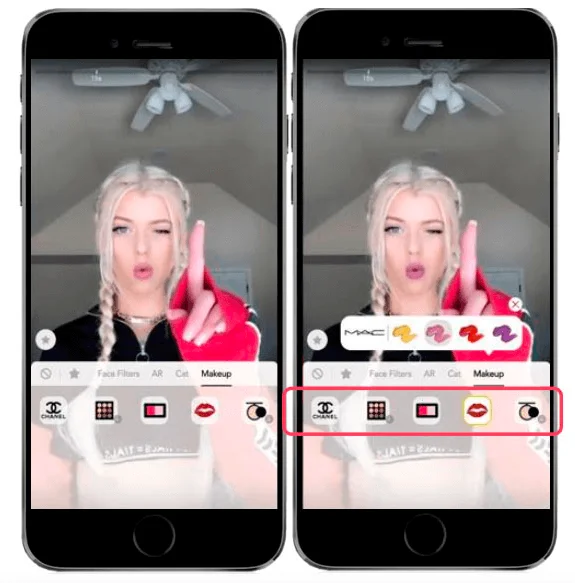 Lenses and stickers allow users to apply unique effects in their videos. The brand name will be visible in the key places of the app where the lenses are used.
How do you promote business on TikTok
Almost every brand can be integrated into a popular social network. On TikTok it should be:
Fun
The main idea of TikTok is to post short entertaining videos with music. That is to say that the content should be rather light-hearted, but engaging. Serious videos do not produce the same effect, get fewer views and rarely go viral.
In other words, TikTok is all about fun. The audience of TikTok adds to it. On TikTok there is far less negative content (discrimination of any kind, political statements, etc.) in comparison to other platforms. People come here for entertainment and positive vibes. You should bear it in mind when you create material for TikTok.
Qualitative
TikTok users, just like users of any other social network, highly appreciate high-quality videos. This is why videos filmed with a stained lens or with poor resolution won't be beneficial for your promotion.
Original
Adjust your content to the platform and it won't take long to see results. If you are producing clothes, film your models dancing to a happy song while dressed in the latest collection. If you are a florist, post magical transformations of bouquets or film videos from your workshop. If you are selling cars, post funny and dynamic videos of driving to a good beat.
Native
Use what works the best on this platform, for example, unique challenges that the TikTok audience is so loyal to. Most importantly it should be fun and people should be willing to take part in it not only to win the prize but also to make their day.
How brands use TikTok
A lot of big companies already have an account on TikTok. Let's have a look at how they run them and why they are so popular among users.
The Tonight Show Starring Jimmy Fallon
Famous for his humor and positive attitude to life, the host of a famous night show Jimmy Fallon has started one of the most popular hashtag challenges on TikTok — #tumbleweedchallenge.
Its idea is to roll on the floor just like tumbleweed as you hear music from a western.
"Upload your creative videos with the hashtag and show us how you roll. But, please, be careful! You might get on The Tonight Show! "
To this date, more than 15 thousand people have taken part in the challenge. It doesn't only attract attention to the show, but also allows people to get creative and to have fun.
McDonalds
In 2018 fast-food chain McDonald's started a challenge #bigmactiktok that was devoted to the legendary Big Mac burger. The slogan of the campaign was «Dance and win». Members had to post a creative video to any track and publish it on TikTok with the hashtag.
The overall prize money was around $5000. "Each of you is a winner" – McDonald's said and gave every participant a free Big Mac burger. As a result, the hashtag has got more than 10 million views.
Washington Post
The famous newspaper has a verified account on TikTok and more than 150 followers. «Newspapers are like ipads but on paper», — it says in the profile description.
The Washington Post runs its account on TikTok with humor. They publish funny videos filmed right in the editorial office in Washington. For example, a sketch about a hungry journalist during the lunch break with a reference to Harry Potter:
Or the favorite format of TikTok users that can be described as «open your mouth to a song», using their own newspaper:
The Washington Post managed to integrate a difficult theme such as a daily newspaper into the format of the platform and it is indeed interesting for the users to follow it.
Guess
Fashion brand Guess has blended seamlessly onto TikTok and has got the audience interested in its challenge #inmydenim. Its idea was to transform your casual look into a stylish outfit with Guess, and the videos were meant to show the contrast between the casual style and a trendy brand-name outfit. In addition to it, they not only started a campaign but chose a song by American artist Bebe Rexha "I'm a mess" as its official soundtrack. All videos from users for the challenge should be uploaded with this particular soundtrack.
Some of the videos with this hashtag are marked as "official". It means that Guess has paid famous bloggers for the promotion. It is also marked in the description as #sponsored @guess.
If you are still in doubt whether to use TikTok and run adverts there, our answer to you is, "Yes!". Try different formats, be original and it won't take you long to see the results.