How can you keep track of online conversations about your brand, and is there a benefit for your business? Luckily for those who are responsible for social media marketing, there are automated monitoring tools. These platforms make a great impact on the social media manager's job by providing insight, saving time, and informing marketing strategies.
But there is such a wide range of platforms available online. To help you make the right choice, we'll describe the best tools in detail.
What Is Social Monitoring?
Social monitoring is the process of identifying online content related to a brand to determine what people are saying about it. The sources of information can be varied – social networks, blogs, news sites, wikis, forums, message boards, and other websites.
Monitoring focuses on:
Brand mentions (with or without direct tagging);
Mentions of your competitors;
Relevant hashtags;
Common industry trends.
No one wants to promote their account by physically checking every single message, post, and reply on each social network. Therefore, every social media account will require monitoring at some point. If you realize that it's time for your account to grow, head over to our Social Monitoring Tool.
Social Monitoring vs. Social Listening: What Is the Difference?
Media monitoring allows you to join online discussions about your brand. It helps you respond to those discussions in a timely manner and address customer concerns to show that you care.
Social listening is when you take social monitoring one step further. It turns findings from these conversations into actionable insights and opportunities. Listening is generally conducted on a larger scale, but without direct contact from monitoring, it wouldn't be possible.
Do you want to know more about social listening? Read our guide about listening tools, strategies, and much more.
Social Media Monitoring Importance
Monitoring your social media is an integral part of your brand's relationship with your audience. Here are just a few examples of what it can help you accomplish:
Form a better relationship with your customers – Do you know whether people mention your brand in a positive way? Are they sharing concerns, complaints, or praise? With monitoring, you can stop guessing.
Get feedback – There is a wide variety of insights scattered all over the Internet. If you know where to look, you'll pick up on new feature ideas and challenges to work on. Then, make the improvements that your audience is waiting for.
Reach more people – Learn what topics your customer and potential customers can relate to or aspire to. You can adjust your brand message and ways of communication to align with these topics. As a result, you'll attract the exact audience that you need.
Keep up with the competition – Monitor other brands, industry buzzwords, product mentions, and a lot more. With the right data, you can exploit opportunities your competitors are missing and surpass the competition.
Identify influencers and advocates – Look for opinions that are valued in the industry and use them in future collaborations. Also, find users who already share your posts or recommend your product.
How Does Social Media Monitoring Work?
Online conversations and viral posts can have a huge impact on a brand's image. It might be every modern brand's nightmare to let regular complaints turn into a big deal when left unrecognized and unresolved. So, the ability to spot them early on through social monitoring allows companies to avoid reputational damage.
What social monitoring tools do is point out what's brewing at the moment. Then, managers should use their own judgment on how to respond. When your data is reliable, you can act quickly and, most importantly, appropriately. The main focus here is awareness. Even though blindly responding to online hate can be even more damaging, it's still crucial to know what's drawing attention to your brand.
Social Media Monitoring Tools
While searching for the best social media monitoring tools, we tried and tested numerous platforms. Here are our top picks based on the essential criteria for choosing a monitoring platform.
Onlypult
Onlypult is a platform with extensive functionality and designed for smart social media management. Initially designed as a post scheduling service, it branched out to other areas like social monitoring, team collaboration, and analytics.
The tool automates time-consuming, repetitive tasks, allowing managers and marketers to focus on building effective strategies. For example, it goes through an immense amount of Internet data looking for brand mentions, keywords, and other data points. Then, it presents the findings in easy-to-understand reports.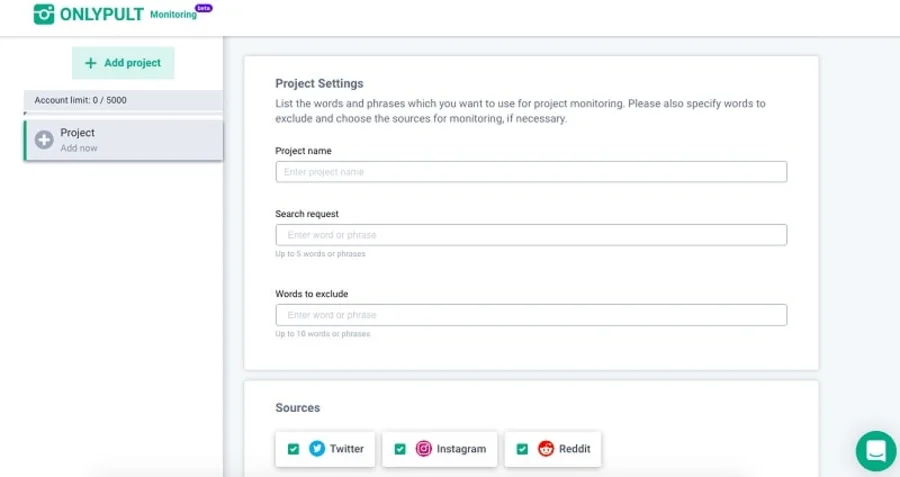 Ideal for: companies of various sizes, marketing agencies, freelancers handling multiple accounts, bloggers, media outlets.
Main features:
Keyword and hashtag monitoring
Competitor monitoring
Social media posting and scheduling
Multiple account management
Page & link builder
Analytics and customizable reporting
Supported social media networks: Twitter, Instagram, Reddit
Free trial: Interestingly, Onlypult offers a free plan for one project and up to 300 mentions.
Prices: As for paid packages, there is a plan for $9.50/month (5,000 mentions and 3 projects) and $39.50/month (30,000 mentions and 10 projects). If you want access to up to 1,000,000 mentions and up to 100 projects, you can request a custom plan.
To get quality audience data using Onlypult, you need to:
Click on the Monitoring tab on your main dashboard.
Add a new topic and input the settings necessary for your research.
Start data collection. You'll start receiving the first pieces of data within the first 10 minutes after launching the process.
Save your reports and analyze the findings.
Change the settings at any time so that you only get relevant data.
As you can see, in a few simple steps, you can pick out relevant conversations on social media almost instantly. For the most in-depth analysis, consider using other Onlypult features. It will simplify many other processes associated with social media management.
Hootsuite
Hootsuite is another versatile social media monitoring software. It has comprehensive offerings, including global monitoring and incisive analytics. You can also browse their latest additions to see what other functionality is now included in the package.
The app offers many integrations with other platforms to maximize the outcomes. However, it will involve additional costs, which is not ideal.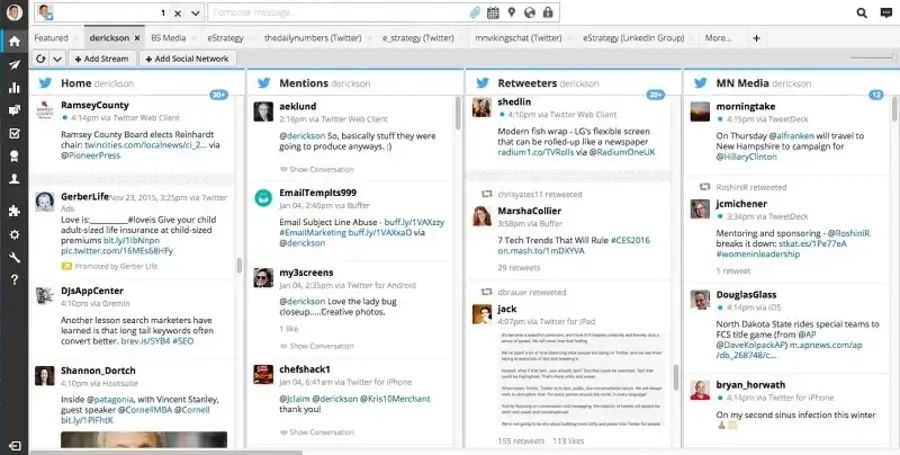 Ideal for: Small and medium companies, freelance specialists.
Main features:
Monitoring of key topics and locations
Content curation
Social media security features
Team management
Integrations with other maps
Supported social media networks: Twitter, Instagram, Facebook, LinkedIn
Free trial: 30 days for professional and team pricing plans, which grants access to 3 social profiles, 30 Scheduled Messages, and 1 user. For business and enterprise plans, you can request a demo.
Prices: Monitoring only comes as part of a larger package with all other features. Prices start from $19/month – for 10 social profiles, unlimited scheduling, and 1 user. Other plans cost $99/month and $599/month.
Pros
Cons

Many supported social networks
Affordable
Detailed reports
App directory

Confusing interface
Extra app fees
Auto scheduling problems
Brandwatch
Brandwatch offers reporting & engagement features for promoting brands' social media accounts. According to Brandwatch itself, it sifts through 90 million sources in many different languages. Thus, it makes for good business insights on their social media data.
The richness of Brandwatch's consumer research data is greater than many other leading platforms. However, it also means that it has a more intense skill curve than most.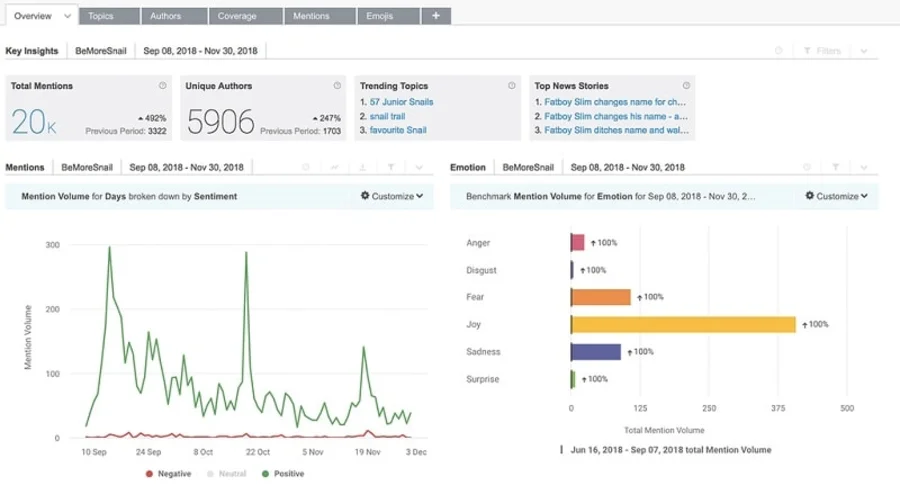 Ideal for: Depending on your pricing tier, it can work for both small/medium companies and large enterprises.
Main features:
Follower analysis
Sentiment scoring
Influencer identification
Reporting and dashboards
API/integrations
Supported social media networks:
Free trial: Brandwatch doesn't offer a trial period.
Prices: There are two plans – $500/month for basic social analysis and $2000/month for advanced research.
Pros
Cons

High customization
Access to historic data
Detailed and thematic
Great customer support

Expensive
Query building learning curve
Unreliable classifications
Talkwalker
Talkwalker positions itself as a social listening platform, but some of its features have a more versatile use. This service performs online, social media, print, TV, and radio content analysis, which is then presented to managers in graphs and visualizations.
An interesting feature that Talkwalker has is the use of AI. With this technology, the Talkwalker engine can even pick up sarcasm and irony in online posts.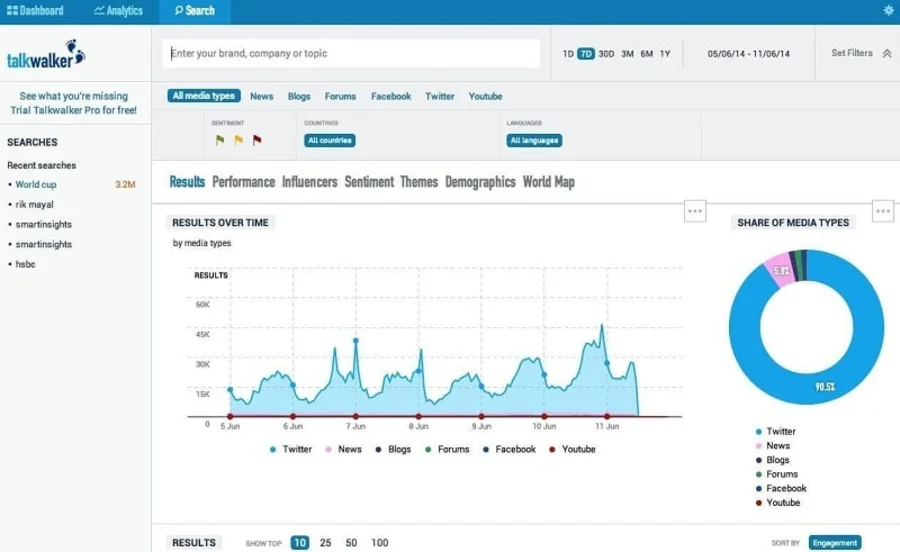 Ideal for: Well-established agencies and brands with numerous channels to justify the price
Main features:
Hashtag and campaign tracking
Crisis management
Social publishing
Data visualization
Business intelligence
Supported social media networks: Facebook, Instagram, Twitter, YouTube, websites, blogs, print media
Free trial: You can request a free demo, and all the details will be provided to you later.
Prices: The basic plan costs $9,600 for a yearly subscription, which is limited in advanced integration. The other two plans are called corporate and enterprise, and the prices are generated on request.
Pros
Cons

Accurate sentiment calculation
Customizable reports
Incorporates AI
Supports several languages

Expensive
Not intuitive or user-friendly
Reports may get off-target
Buzzsumo
Buzzsumo specializes in big data analytics. The platform is mainly focused on content analysis, but it additionally supports functionality to monitor your brand reputation and its mentions online. The data sources are varied, so it helps in handling different types of publicity.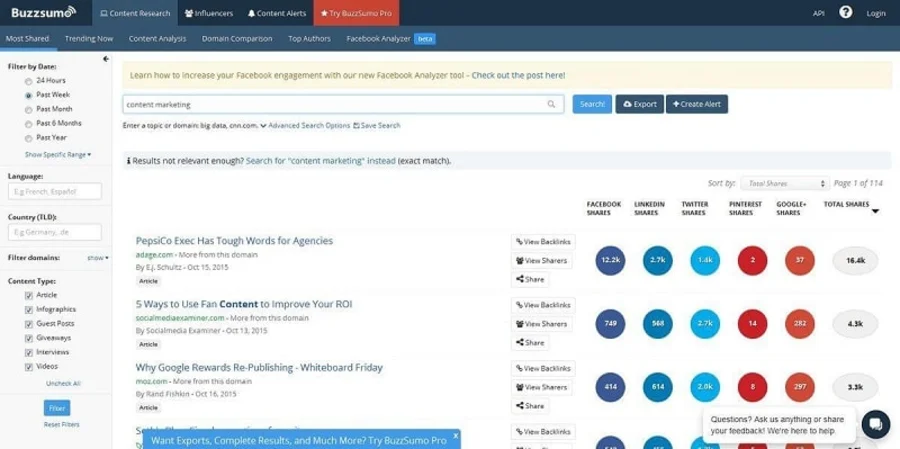 Ideal for: Companies and specialists managing one account at a time
Main features:
Content insights
Advanced filtering
Influencer amplification
Content alerts
Competitor comparisons
Supported social media networks: Facebook, Twitter, LinkedIn, Reddit
Free trial: You get access to the platform for 7 days.
Prices: Buzzsumo monitoring also comes in a pack of other functionalities ranging from $99/month (5 Alerts and 5,000 Mentions) to $499+/month (50+ alerts).
Pros
Cons

Visualizations features
Trending content for niche industry
Influencer search
Responsive customer service

Limited features in the free plan
Steep learning curve
Not useful for multiple accounts
Sproutsocial
Sproutsocial is a marketing management tool that isn't limited to social media. It provides meaningful insights at scale in a one-stop interface. It has a great collection of data points but, unfortunately, lacks in smooth app integrations. Overall, it's a solid platform for a variety of tasks.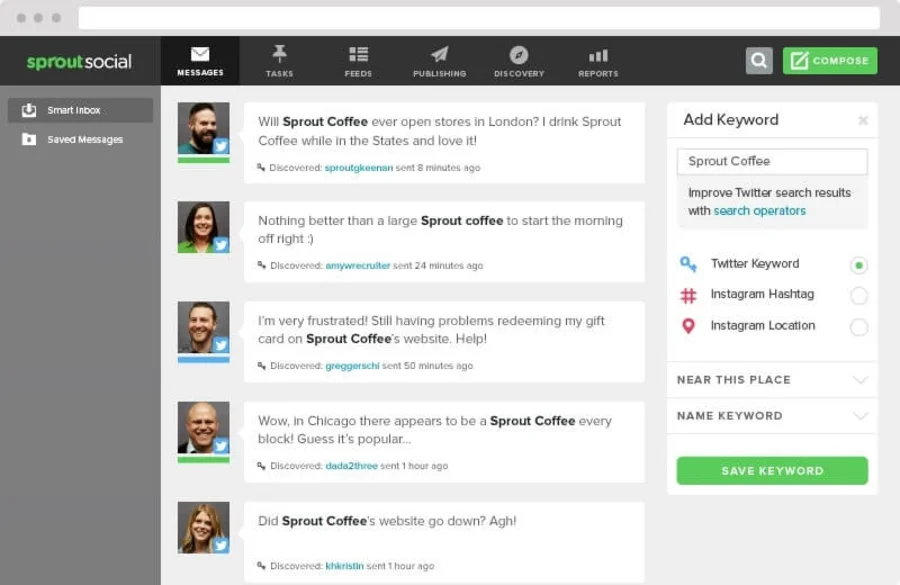 Ideal for: According to clients' stories, the platform is well suited for both smaller businesses and enterprise corporations.
Main features:
Message spike alerts
Brands keywords
Comment moderation
Custom influencer lists
Suggested Twitter replies
Supported social media networks: Twitter, Facebook, LinkedIn, Pinterest, and Instagram
Free trial: Its 30-day trial should give you the same functionality as the standard pricing plan.
Prices: The standard plan will cost managers $99 per user/month for 5 social profiles. Professional and advanced plans cost $149 per user/month and $249 per user/month, respectively.
Pros
Cons

Well-organized dashboard
Robust analytics
Possibility to apply filters
Helpful mobile app

Not enough functions in the standard license
Insufficient connectivity
Hashtag analysis isn't great
Agorapulse
Agorapulse is a social media management and CRM platform. It shows comments, mentions, conversations, and reviews that are related to your brand. If you want to explore the functionality in greater detail, you can use its clear help tutorials to assist you.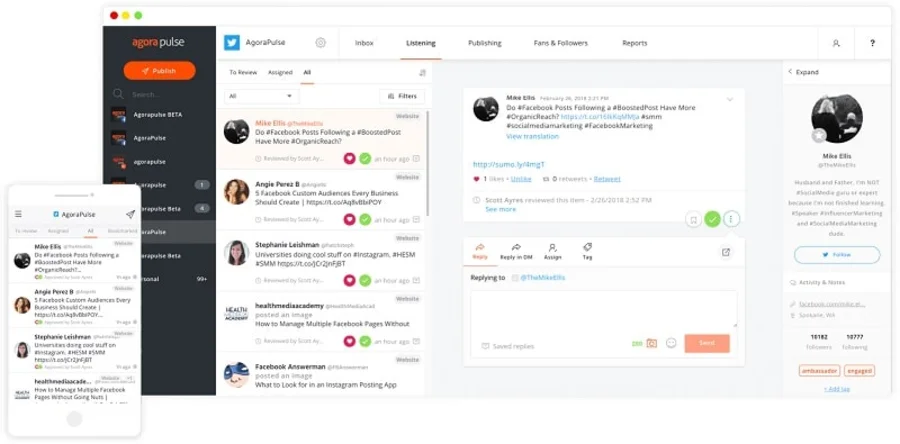 Ideal for: The functionality is divided across different pricing plans that will work for small businesses, agencies, and large teams.
Main features:
Keyword monitoring for Twitter
Facebook analytics
Customer service analytics
Team functionality
Post scheduling
Supported social media networks: Twitter, Facebook
Free trial: The offer lasts 15 days and will imitate the Medium pricing package.
Prices: The cheapest plan is $79/month (10 social profiles and 2 users), and the advanced plan costs $399/month (60 social profiles and 20 users).
Pros
Cons

Extended analytical information
Plenty of features
Simple user interface
Data on user/fan history

Might be hard to connect to social platforms
Unpolished reports
No categorization
No draft feature
Mention
Mention specializes in various types of business monitoring activities over the Internet. Compared to other social listening and influencer identification tools, it has great functionality for the price. For example, it provides a highly-segmented summary of activities and generates reports by source type, date, location, sentiment, language, and influence.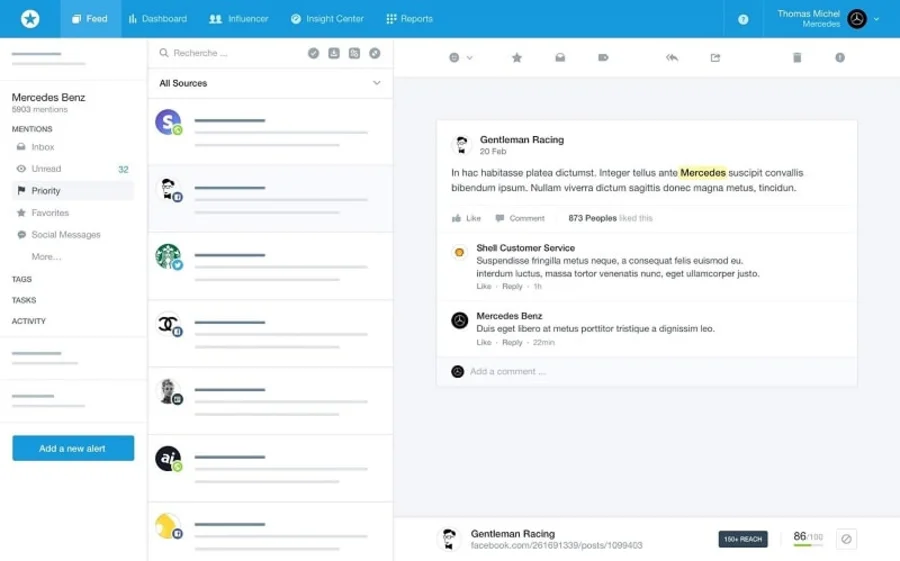 Ideal for: When implemented correctly, the tool can be used for brand/company accounts and social media management agencies.
Main features:
Mentions filtering by sentiment
Tagged alerts
Post scheduling
Competitive reports
Integration with Slack
Supported social media networks: Facebook, Twitter, Instagram
Free trial: There is a free plan that offers you 1 alert, 250 mentions, 3 social accounts, and 1 user.
Prices: For $25/month, you will get 2 alerts, 3000 mentions, 5 social accounts, and 1 user. The so-called enterprise plan costs $450+/month (10+ alerts, 100,000+ mentions, unlimited social accounts, and users).
Pros
Cons

Personalized dashboard
Daily summaries
Monitoring by language and country
Easy to review and digest

Difficult to refine searches
Pricing doesn't scale
Slow speed of loading
Reports aren't as detailed
Keyhole
The Keyhole software identifies real influencers in your niche and tracks your own relative influence with your audience. Additionally, it covers campaign, brand and event monitoring, and market research. However, we recommend for its core purpose as it performs better than the other functions.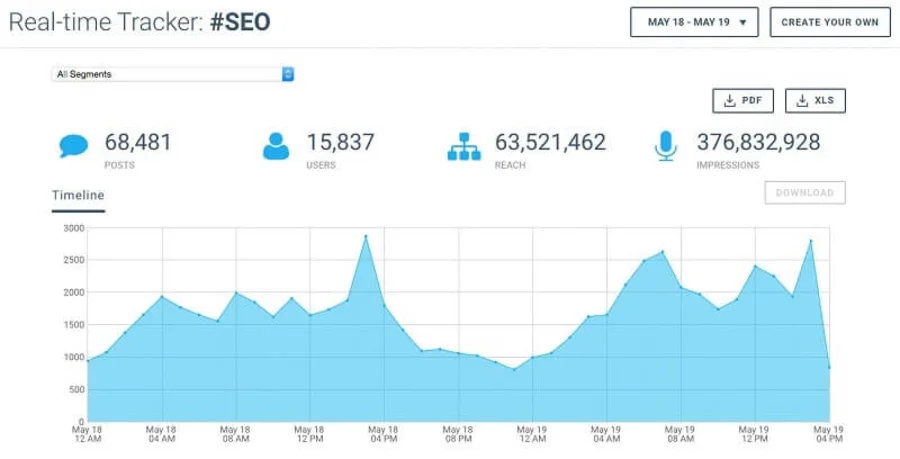 Ideal for: The platform is designed for organizations and agencies that predominantly work with influencers and content contributors.
Main features:
Hashtags & keyword trackers
Competitor and influencer tracking
Historical data
Account trackers
Alerts
Supported social media networks: Twitter and Instagram
Free trial: During the 30-day trial, you can test the functionality that's offered under the standard and medium plans.
Prices: The basic account analysis is priced at $29/month, campaign & keyword tracking – $99/month, and enterprise suite – $999/month.
Pros
Cons

Shareable dashboards
Clear stats
Segmentations of results
Language filtering and geolocation

Unaffordable
Inconvenient for smaller businesses
Some features are too complex
Average customer support
Reputology
If you have a strong brand representation on Facebook, Reputology will be a great tool for you. It's not big on other social networks, apart from several other reviewing sources. Overall, the alerts are timely, and the analytics are actionable and insightful, despite limited data points.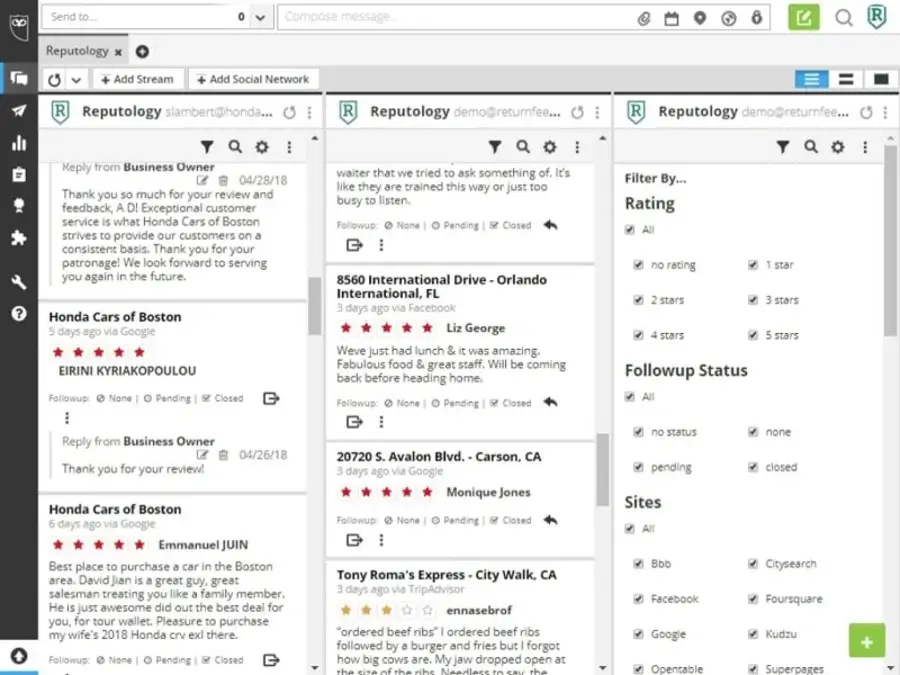 Ideal for: Reputology supports only one social network, so it's suitable for brands with Facebook presence only.
Main features:
Keyword filtering
Review monitoring
Response management
Performance analytics
Competitive benchmarking
Supported social media networks: Reputology's only supported social media network is Facebook, but it can also analyze Google My Business and comment cards.
Free trial: The period lasts 7 days with the same features as the paid plans.
Prices: The pricing is set differently than for other services. A single-location package is $29-$49/month/location, multi-location – $10-$49/month/location, agencies – $10-$49/month/location.
Pros
Cons

Simplicity
Adjustable pricing
Filtering features
Multi-account management

Limited number of features
No desktop or mobile application
No documentation available
Better suited for feedback analysis
Best Social Media Monitoring Tool: Ultimate Rating
Now that you've learned the most important details about each service, we can make final comparisons. The table below shows our final thoughts on leading social monitoring services.